10 Low Cost Interior Design Ideas For A Luxury Look
It's a myth that interior design has to expensive, takes a long time or requires a pro. With some inspiration from Pinterest and a bit of planning, you can breath new life into your interior.
If you don't know where to start then here are 10 low cost interior design ideas. All are simple to do and each will have a huge impact! Plus most of these design ideas cost nothing! They simply require a bit of planning and some effort!
#1 Virtual Re-arrange!
Starting with our favourite! If you're uninspired by the current layout of a room, then use a floor planning software, like RoomSketcher to try out a range of designs. Using software takes the hard work out of the process!
#2 Hid Mess In Boxes
Organize open shelving or armoires with storage bins or baskets. It not only pulls the room together, but turns a cluttered mess into a trendy designer look!
#3 Top Tip For Small Budgets
If you only have a small budget, spend it on your entryway. Start by bringing in a small dresser, table or bench to create a focal point and then add accessories. Place an umbrella stand or a tall vase next to the table/dresser to give it some dimension.
Pretend you are a stranger and open your front door. What do you see? is there anything that grabs your attention? If not, change some items around until it feels inviting.
#4 Simple Colours
Try using neutrals as the main building blocks, things like the colour of the walls, and/or the largest pieces of furniture. Then add texture, design, and colour by layering in accessories and eye-catching decor items. By doing this, you can easily change the whole feel of a room with just a few minor tweaks.
#5 Trust Yourself
Go with your gut. Make decisions based on what YOU like, not what you think is on trend, popular, or what you think other people will like. Ultimately you are the one who has to live in your house. If you want to do a room in top to bottom leopard print, then do it if it makes you happy.
#6 Along With The Entry
Other than the entry the second most important room in the house is your own bedroom. A clever tip is to update your bed linen and add plenty of cushions and throws. This will revitalise your bedroom.
#7 Up Cycle Furniture
Get Crafty and Repaint Furniture. Either a new lick of paint and having some fun by antiquing some furniture can be a great way to add a new lease of life. One area you can do this in is the kitchen, paint old, outdated cupboard doors and cabinet framing with white or crème melamine, and switch out knobs for a new, updated look.
#8 Replace Weighty Fabrics
Keep It Airy and Light by removing heavy drapes and replace them with sheer materials such as voile or lace. You can find affordable materials at local fabric stores or use old pieces of fabric you may have lying around. Simply pin-up fabrics with some tacks or sew a rod pocket at either end.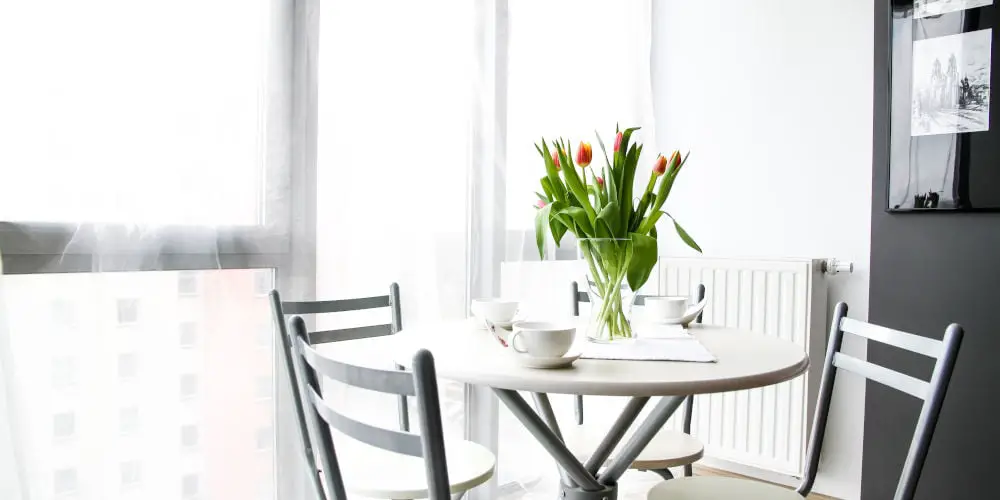 #9 Don't Ignore The Front Door!
Spruce up your front door first. For just a few pounds, a fresh coat of paint, a new knocker or even a shiny knob will work wonders. And while you are at it, make sure your doorbell works. No one likes to be ignored.
#10 Art
The last of our low cost interior design ideas is add some art! Choose artwork that means something to you and fits with the overall feeling and mood of the room. Quality art doesn't have to be expensive, so look at ebay, charity shops and local tourist shops.