10 Basic gardening tools every gardener needs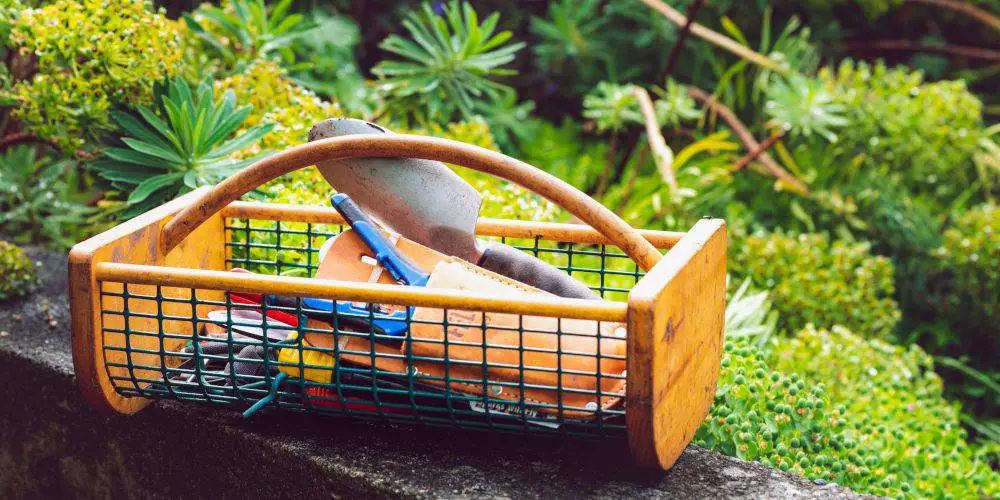 If you're a long-term gardener then you'll instantly know what basic gardening tools you need. You probably have a shed full of various gardening tools with a few doubles, for good measure.
However, if you're just starting out, then you might be a little confused as to what you'll need and why. Don't worry, we've got you covered.
As our aim is to help you find and purchase only the basic gardening tools, we'll cover what each tool does and how it's useful.
So don't worry if you don't know your weeding fork from a regular one or are struck choosing gloves.
#1 Hyundai HYM3800E Corded Electric Lawnmower
Starting with the most predictable tool, the humble lawn mower! We recently did a shootout of 10 electric mowers under £100. So if you're unsure about which mower works for you, then start there.
We didn't cover this Hyundai in our last piece, however, it's a great all-rounder. The powerful 1600W motor will enable you to cover most small and medium-sized gardens, with easy.
The wide 38cm metal blades can be adjusted from 2 to 7 cm, meaning you can change the cut depending on the season. The cut selector has 6 positions, which are easy to select and require no additional tools. This makes changing settings on the fly possible.
The Hyundai HYM3800E folds down nicely and has a long 12-metre cable. While it does have a 40-litre grass container, we don't like that it's a bag and not a plastic box. Bags generally store less than boxes, so it's something to bear in mind.
Overall we quite like the Hyundai HYM3800E Corded Electric Lawnmower and Amazon purchasers do too.
#2 Draper Adjustable Lawn Rake
We're the first to admit that shopping for a rake isn't that sexy or even interesting. However, this adjustable rake from Draper is a worthwhile purchase. So what can we use it for?
Starting with the obvious, you can gather grass cuttings or leaves into an easy to move pile. A rake makes clearing moss or twigs from a garden path simple.
You should also be able to use the Draper rake to disrupt the soil's surface and bring up the roots of old plants and loosely rooted weeds. This massively cuts down the time you'll spend weeding or getting the ground ready for new plants.
If you're adding fertilizer or a new layer of topsoil, then a rake can help you to spread these evenly on small areas. However, a rake won't perform as well over a large area, so you'll need some other basic gardening tools.
#3 Spear & Jackson Select Stainless Digging Spade
As another one of our basic gardening tools is a spade from Spear & Jackson. The humble spade is useful for moving soil, roots and plants. It's also valuable for marking out spaces and creating borders.
Priced at £23, this Spear and Jackson spade will last years and is designed with ease of use in mind. There's a flange at the top of the blade, which means your shoes and more importantly, toes are safe!
#4 Spear & Jackson – Elements Hand Trowel
While you use a spade for heavy lifting and moving, trowels take care of the small details. You can use a trowel in many ways including moving plants, topping up pots with soil or compost, and even for weeding.
Also, if you're looking for treasure with a metal detector, a garden trowel is often used to dig up finds!
This Spear & Jackson – Elements Hand Trowel is less than £5 and features an epoxy coated blade and clear lacquered ashwood handle.
#5 Spear & Jackson – Elements Weed Fork
Unlike shovels and trowels, weeding forks enable you to cleanly remove plants from the soil at the roots without digging up large clumps of dirt.
There's also useful for harvesting root plants like potatoes and onions, transplanting plants safely, and tilling compost or other additives into the soil. As far as basic gardening tools go, the multiple uses of weeding forks make them worth buying.
If you have hard or clayous soil, you can use a weeding fork dirt to mix in peat and therefore improve the quality of the soil. Again we've chosen a Spear & Jackson weeding fork as it's affordable (only £7 at Amazon), well-designed and should last for years.
#6 Vilapur Professional Premium Pruning Shears
Moving on to trimming plants. The 6th tool in our list has a range of uses including cutting, cleaning, removing and trimming.
You can use pruning shears to give shape to your bushes, safely cut thorny flowers such as roses and remove damaged foliage.
These Vilapur pruning shears use steel blades and feature a non-slip handle, making using them easy. At £9 on Amazon, they might appear to be a little pricey, but given the use of superior materials, they're well worth it.
#7 Pine Tree Tools – Bamboo Working Gloves
Gloves aren't all equal! The market is full of cheap options. However, we'd encourage you to spend more up front as it'll more than likely save you in the long run. So how do we know a pair of gloves is worth the price?
Ideally, they would be strong enough to withstand thorns but light enough to move with the hand and so feel like a second skin, just with inbuilt protection!
These Bamboo Working Gloves by Pine Tree Tools are designed for the gardener with durable and feel in mind. The Bamboo material absorbs perspiration and is naturally very breathable. Your hands will be cool in summer and warm in winter.
While not totally thorn proof, these gloves have a snug fit and can handle stinging nettles easily. The natural rubber, which is used to tighten the wrist, provides further protection.
Available in four sizes (small, medium, large and extra large) at a cost of £8 from Amazon. It's worth investing in quality gloves as you'll be looking after your hand and make working in the garden more enjoyable.
#8 Davaon Pro Ratchet Telescopic Anvil Loppers
If pruning shears provide a detailed cut, then garden loppers bring the power and help to shape the big picture. So you'll need both as they're basic gardening tools.
Loppers have extendable arms, which enable you to reach up high or into tight spaces. As you can open the blades up to an inch(on average), you can easily cut through thick branches in one fell swoop. Typically, if you're trying to cut a branch within a bush or up high, then loppers are the right tool for the job. If you're cutting something up close then pruners win!
While useful, loppers are the first to dull and so require TLC in order to keep them sharp and performing at the best. And so, you'll want to oil after every use and sharpen once a year.
At the top of our list is the Davaon Pro Ratchet Telescopic Anvil Loppers, which at £30 are a steal! With carbon steel blades, non-slip handles and extendable arms, these loppers can cut up to 45 mm in thickness.
#9 Davaon Pro Garden Hedge Shears
The ninth of our basic gardening tools is another Davaon product, namely the Davaon Pro Garden Hedge Shears.
Hedge shears sit between pruning shears and loppers, in terms of overall size and use. Shears have long blades which allow you to cut a wide area with each move. While a worthwhile part of any tool collection, shears are only used in three ways, and so you might be able to do without them.
The three uses of shears are maintaining a formal hedge, cutting back perennials, and yearly deadheading of fast-growing soft plants.
Again you might not need shears if you none of these three apply to you. However, if you're looking for some then consider Davaon Pro Garden Hedge Shears. Available from Amazon at £23, these feature 21cm carbon steel blades and non-slip handles.
#10 Hozelock 25m Hose
Every garden deserves a good watering from time to time and while you can count on rain during the winter, you might need to help a little in the summer.
As far as hoses go, there's little difference despite what the marketing material says. Therefore we've selected the highest rated hose on Amazon.
The Hozelock 25-metre hose comes with a threaded tap connector, a hose nozzle and a 30-metre reel, meaning you can store your hose safely.
Be aware that the instructions are terrible, so you can chuck them along with the packaging. Priced at just over £25, it's highly affordable and the 25-metre variety is cheaper than the 15-metre!
Bonus! #11 Keter Store-It Out Max
If you have a shed to store your new tool collection in then great. However, if you don't then consider buying a Keter Store-It Out Max. This storage solution is ideal for storing all of your basic gardening tools and equipment or two 240 Litre wheelie bins. At 146 x 85 x 24 cm, there's plenty of flexible space.
As this Keter will rearrive flat-packed you will have to do some DIY but they're easy enough to assemble. Once put together it's a solid unit which will keep your tools safe and dry all year round.
The Store-it Out Max features a piston-assisted lid and two wide opening doors for easy access to contents. Also, two lid-lifter chains are included to facilitate hands-free opening of wheelie bins stored inside.
The unit costs £114 and you'll still need to add a Marine Grade Aquasafe padlock, which costs around £15.
Our favourite basic gardening tools
So there you have our top basic gardening tools as well as a storage unit. If you're starting out you now have a list of must buys and how to use each of them. All of these gardening tools will last for years, so it's worth spending a little extra and buying the best quality you can.