Bathroom design ideas: 6 simple ways to refresh your space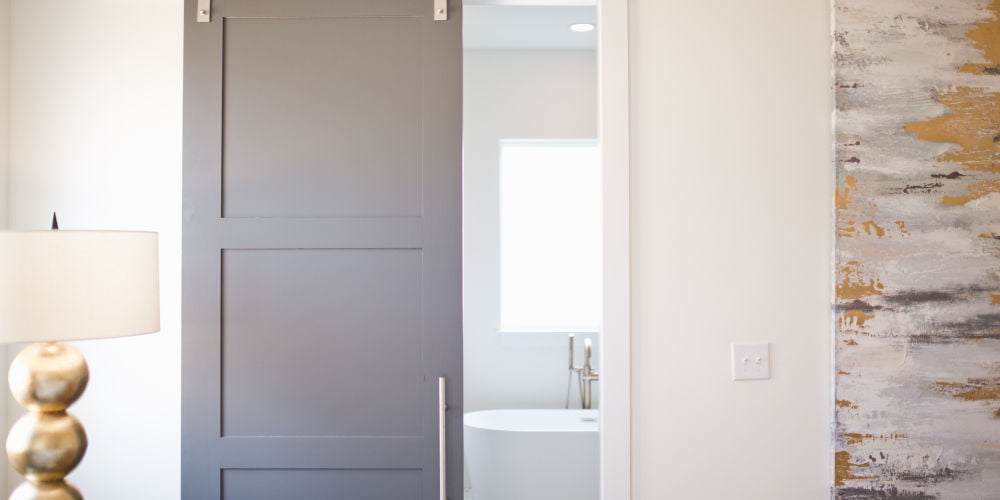 Whether you prefer long baths or short showers, the bathroom is an often used but overlooked room in the house. With the right bathroom design ideas, you can transform it from purely functional to a space that's also ideal for relaxing where you can think, read and switch off.
So how do we create our dream bathroom design?
If you're starting a fresh then you'll need to consider flow, layout and proportions. However, if you're taking a more DIY route and want to improve your current room then here are our top bathroom design ideas.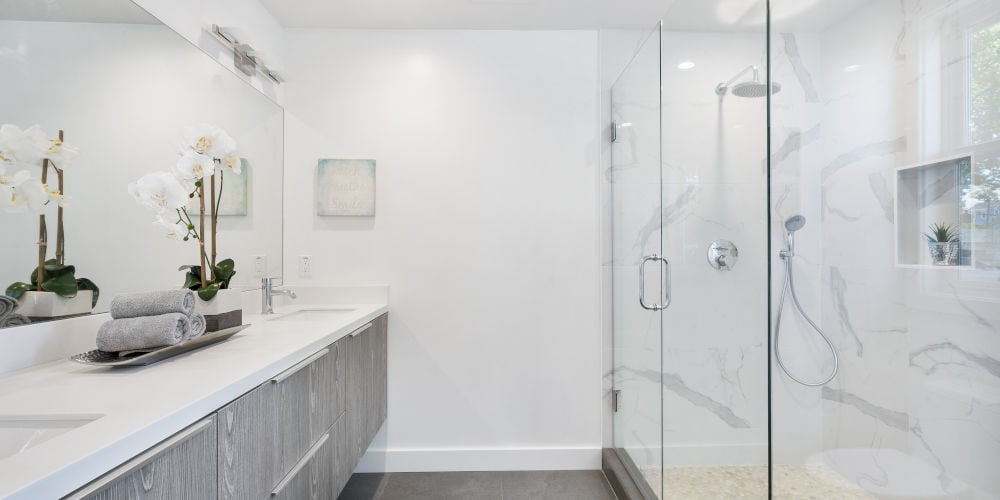 Remove half of what's visible
Before you spent any time or money on your bathroom, the first of our bathroom design ideas is to simplifying what's on display. By taking the time to sort, bin and reorder your bathroom will feel bigger and you'll be able to see what needs improvement.
Start with what's already there
Whether you love or hate your current room, there's always some new bathroom design ideas we can incorporate to improve the space. Plus there's plenty of cheap bathroom upgrades that are DIY friendly.
The worse case would be having to rip out what's currently there and replace it with something more modern. However, a better option is to replace one of the key elements and change the feel using tile paint, clever storage and accessories.
If you're planning to slightly change the layout to add a new feature such as a walk in shower, then you'll want to start with a piece of paper and a pen. Sketch out a few options and then use a room planner to draw up how the room will look.
Unfortunately, you can't move items around in the space like you can with a living room or bedroom. So you'll want to use software to imagine the finished result.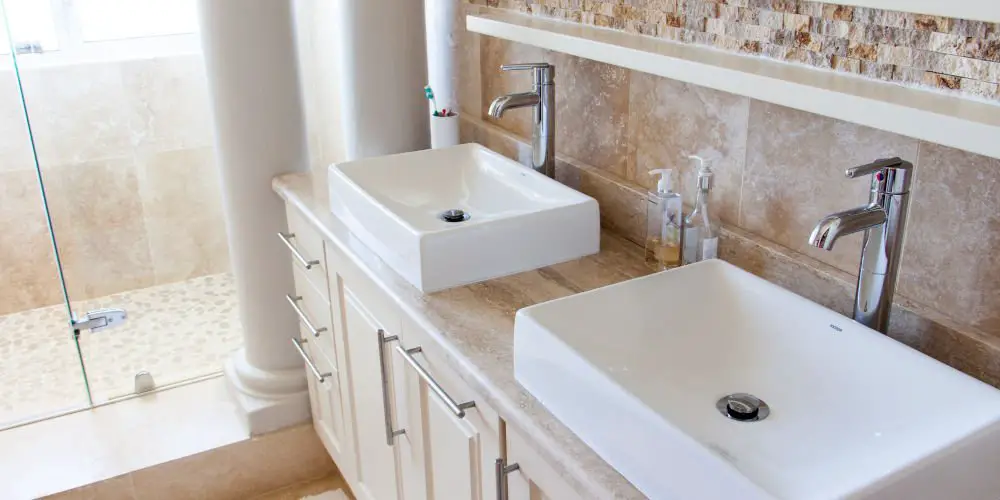 Weekend updates
While you might not be able to change your whole bathroom in two days, you can achieve a lot, especially if you put some time to plan beforehand. Here are a few bathroom design ideas for you to consider.
Rather than retiling, you can easily paint your old tiles with two coats in one weekend.
You could repaint your bathroom vanity or replace the doors and handles to refresh your bathroom's look.
You could paint the floor with a stencil and create a fancy looking 'rug' art.
If you have dated free hanging mirrors then you could change them to more modern designs or simple upcycle them with a new lick of paint.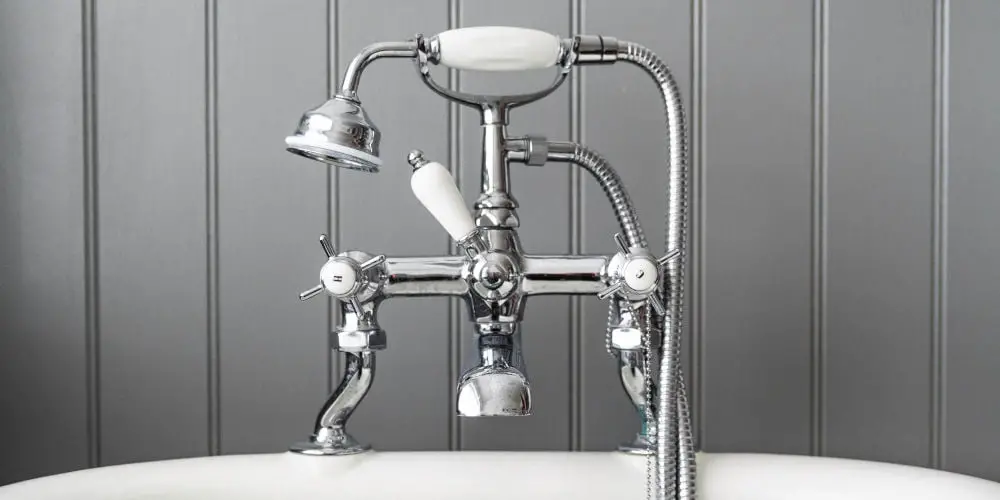 Enlarge with mirrors
Continuing with mirrors, we can use them to great effect and trick the brain to believe the room is much bigger than it is. There are plenty of options for decorating with mirrors in a bathroom.
Whether you hang a mirror on the wall or go for adventurous mirrored bathroom tiles, the reflection is guaranteed to brighten your bathroom.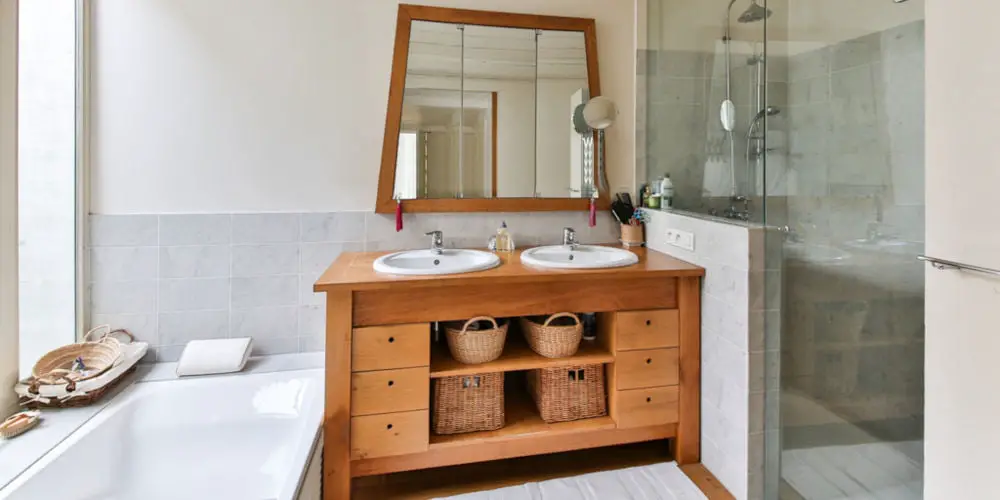 Use colours effectively
Like mirrors, colours can make or break your bathroom design. You can easily suck the life out of the space with dark colour. So consider how you can effectively use colours to bring the feeling of serenity and calm.
If you have a small bathroom, consider using a bold or striking wallpaper (yes, you can buy waterproof bathroom friendly wallpaper!) as this will draw the eye to the pattern and you'll forget how small the space is!
Tiles are a great way to fool the mind into believing it's a big space. Consider using the same tiles on the bath's panel and the walls as this will blur where they start and end, and thus make it feel bigger. Marble is particularly effective here, as it looks almost like one huge sheet and the individual tiles aren't very obvious.
Another tile trick is to use them on from the floor to the top of the walls. not only does this make your bathroom feel like a luxury spa, but the continuous run of tiles creates a spacious feel. If you think this might be a little bland, then you use accessories to add colour and depth.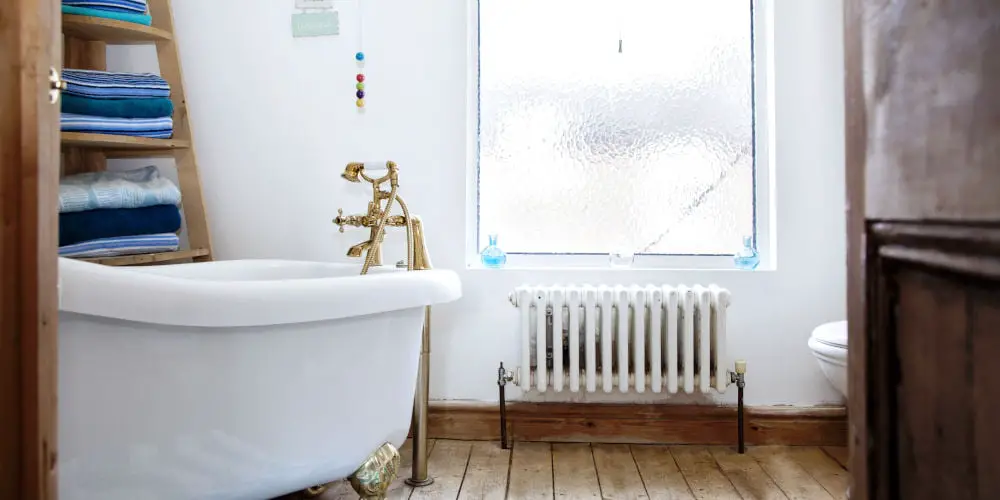 Creative bathroom storage
It's likely that you could use your bathroom storage better, or even create more within your current bathroom. Plus you might be able to do both and make your small space feel bigger.
Look for space you could carve a niche and install some recessed shelves. The spot that instantly springs to mind is the tiled overhang at the end of the bath. You could reclaim this area and build a niche. It will look a lot better than the current pile of stuff on display!
Wall units are also a practical way to create more storage. Of course, you'll want it to match with the current units. That said, you can usually simply change the fronts.
One of our favourite bathroom design ideas is to turn wooden crates into rustic bathroom shelving by fixing the back to the wall. These are ideal for storing towels, loo rolls and baskets of toiletries.
Finally, freestanding storage can be a great way to create more space without having to do serious DIY. Plus you can always change how the room feels by moving it around.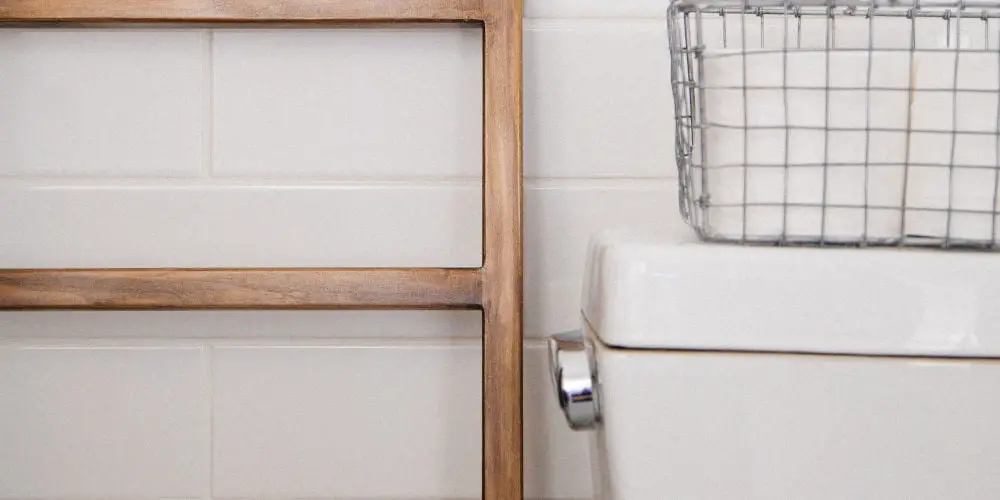 Top bathroom design ideas
Create storage by decluttering
Use colours and mirrors to create a sense of space
Plan a few weekends where you can do major makeovers
Think creatively about storage options including upcycling and free standing
If in doubt use tiles!