25 Impressive bathroom designs for small spaces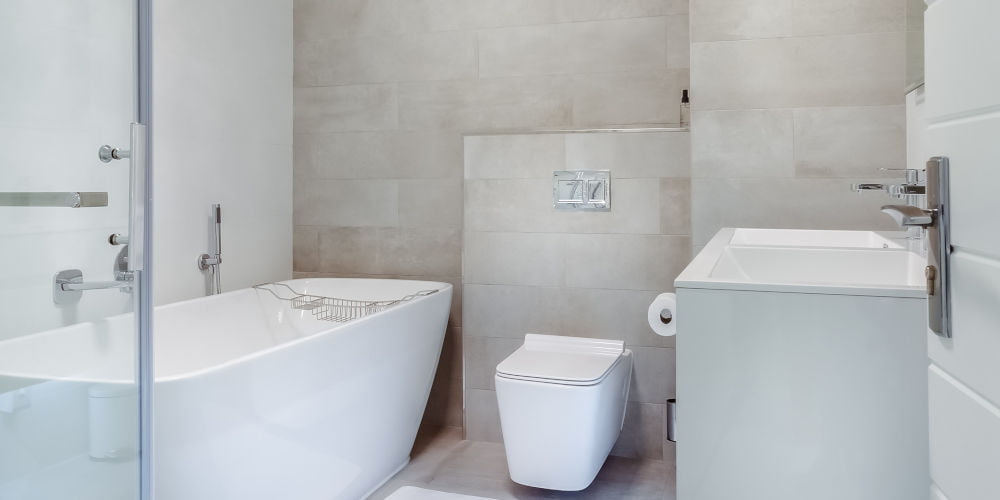 Bathrooms present a unique design challenge as they need to be calming, functional and adaptable. Creating bathroom designs for small spaces is a unique challenge.
Thankfully there are plenty of ways to make even the tiniest of bathroom's feel larger and have plenty of storage too. So rather than wishing for more space, be smarter with how you use what you've already got!
We've tried to cover all aspects of bathroom designs for small spaces and given you plenty of inspiration along the way.
#1 Combine bathroom fixtures
With space at a premium and an equally tight budget, consider combing bathroom fixtures. There's a range of combination vanities on the market that will enable you to save space regardless of your bathroom's layout.
Combing the toilet with a vanity unit and basin not only saves space but is usually cheaper and easier to install. Plus, they typically have a decent amount of space to store items.
#2 Mirror tricks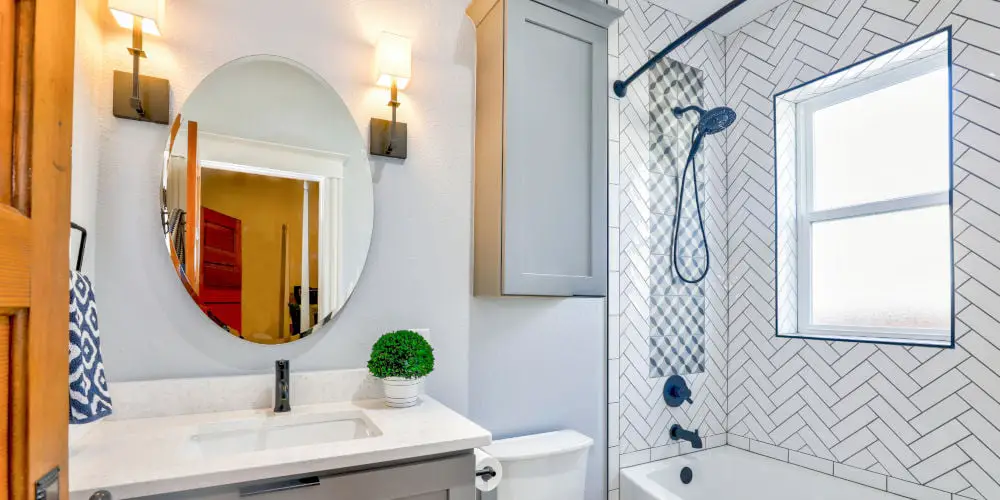 It's easy to trick your eyes! When used correctly, mirrors make a bathroom feel bigger and lighter. Rather than having a mirror covering the width of your sink/vanity, consider having a larger mirror which stretches across the wall.
If you can't, choose a mirror with a unique shape as this will create interest and then use a shaving mirror or two to spread light throughout the room.
#3 Slide right in!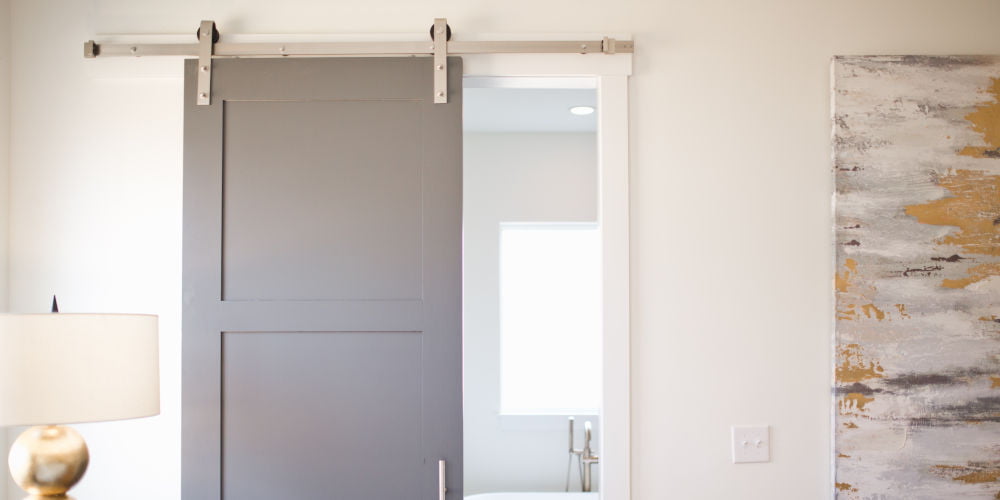 Traditional doors use need quite a bit of space and can even make some of the room unusable. It doesn't have to be that way! Sliding or pocket doors are simple to install yourself and as they run parallel to the wall, they free up space you can use better.
#4 Tile it!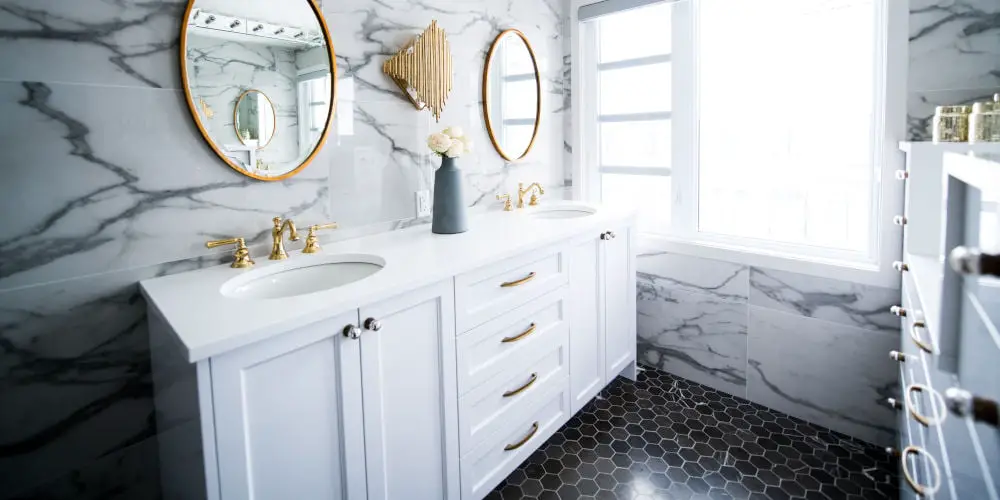 Most don't realise how powerful bathroom tiles are. Use tiny tiles in a small bathroom, and the room will feel compact. Laying tiles vertical will have a different feel to a horizontal arrangement.
In a small bathroom, it's a good idea to use a medium-sized tile across the whole room. You'll trick your eyes into believing it's a bigger space.
If you're confused by tiles, start with our bathroom tile buying guide.
#5 Fill your corners
Regardless of the room, corners are largely unloved and wasted. While this is generally fine, especially if you're working with a big space, in a small bathroom, corners can make a huge difference.
There's a massive range of bathroom fittings and fixtures which are designed to maximise corner space.
Showers are ideal for making effective use of a corner in a small bathroom. In addition to corner showers, there are even corner baths on the market which look chic yet are functional. If you need both options, don't worry as corner shower baths are a thing!
Another fantastic idea is corner toilets. However, be aware that moving a toilet around in a bathroom can cost quite a bit. You could literally end up flushing cash down the loo!
If you don't need to move piping that far to install corner toilet, then it's worth considering, especially as you'll have plenty of additional space to use.
#6 Create storage with shelves
Even in the smallest room, there's still space to install shelves and store items vertically. Adding more shelves is one of the easiest ways to create more bathroom storage.
Another interesting small bathroom design idea is consider adding a shelf or two above the door. This dead space is ideal for reclaiming and can be useful for storing spare towels or toilet rolls.
#7 Paint walls lighter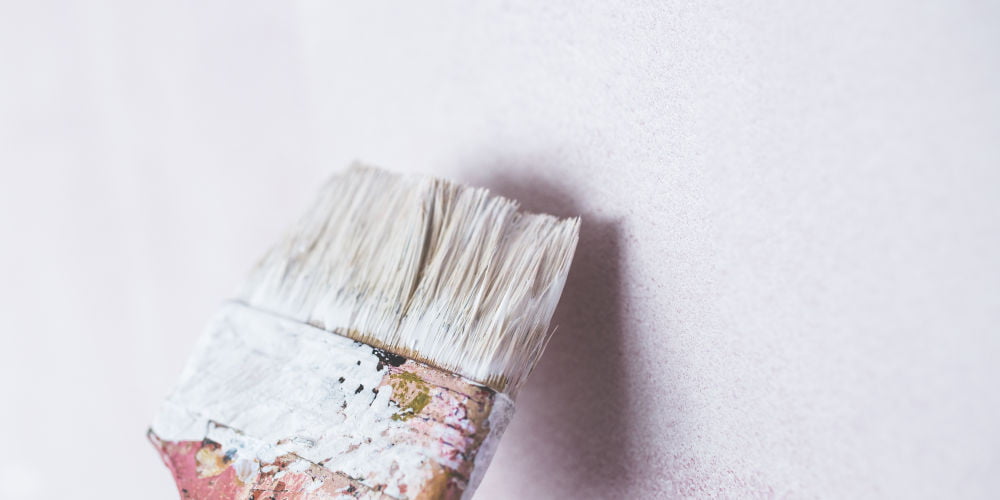 Like mirrors, lighter colours trick the eyes into believing a room is bigger. Ideal colours include off-white, light greys and light blues. All will help to create a calming atmosphere.
#8 Bath/Shower combo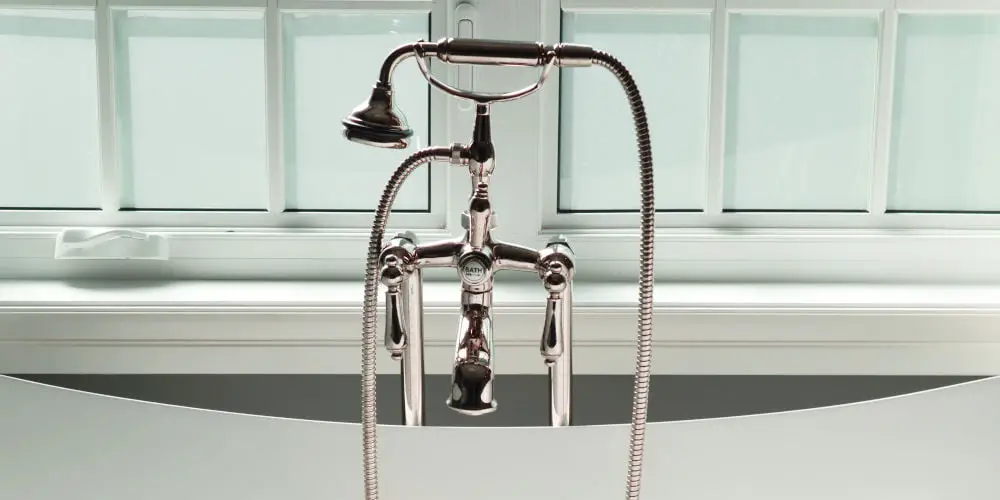 If you have to have a bath and a shower, but don't like the idea of having a corner unit, then combine the two with an over-shower bath. You'll have the best of both worlds and please the whole family.
#9 Mirrored tiles
If one massive mirror feels like it would look out of place, then consider using mirrored tiles. They'll reflect light around the room and increase space perception. Plus they're a fantastic way of breaking up cheap, boring tiles.
#10 Light up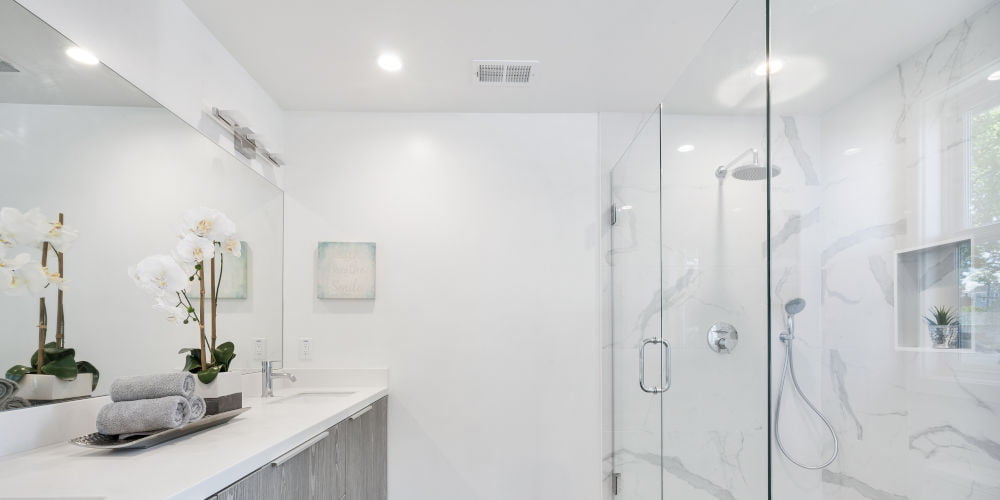 Increasing the amount of lighting is one of the cheapest design ideas you can try. The bright your room appears, the larger it will feel. And using the right smart bathroom technology will help you achieve this.
LED lighting is ideal for bathrooms and is highly affordable. As you don't need to add a load, a few small, simple lights will have a big impact. If you already have a ceiling light, then consider adding a light above the mirror or install spotlights.
If your budget doesn't stretch to add more lights, then upgrade your current ceiling light so that it's brighter.
#11 Throw out the bath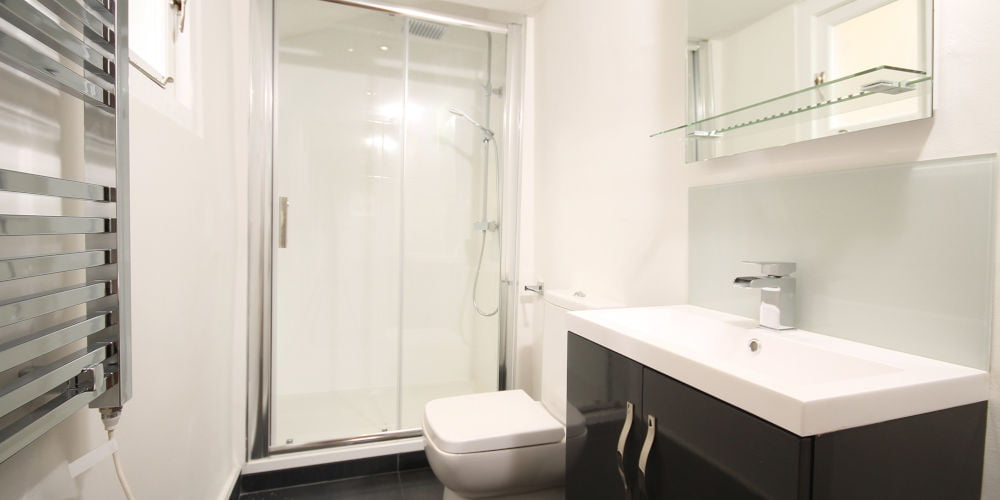 Before you close the page, this idea isn't as crazy as it first sounds. Baths take up a lot of space and if you don't have much of it available, then it's worth considering a range of simple bathroom design ideas!
Showering is quicker, more eco-efficient and a shower uses a lot less space. Try using a frameless shower enclosure to create a more inviting, larger-feeling space. Thanks to sliding doors, this type of shower takes up less space.
If you can't stomach the idea of removing your bath, then maybe replacing your existing one with a smaller bath. There's plenty of choice of small baths available, that are very affordable. If you can, purchase one with hidden storage.
#12 Use slimline bathroom fittings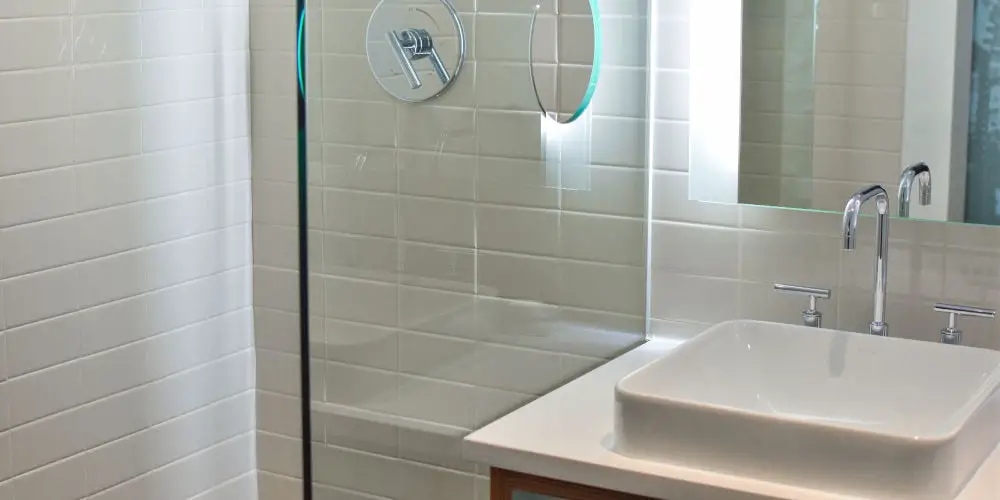 With space at a premium, turn your attention to the size and scale of fittings and furnishings. Changing your toilet, tower rail and bath for slimline options may only save a few inches. However, in a small bathroom, even a few inches saved can increase the sense of space.
#13 Swap window dressings for window film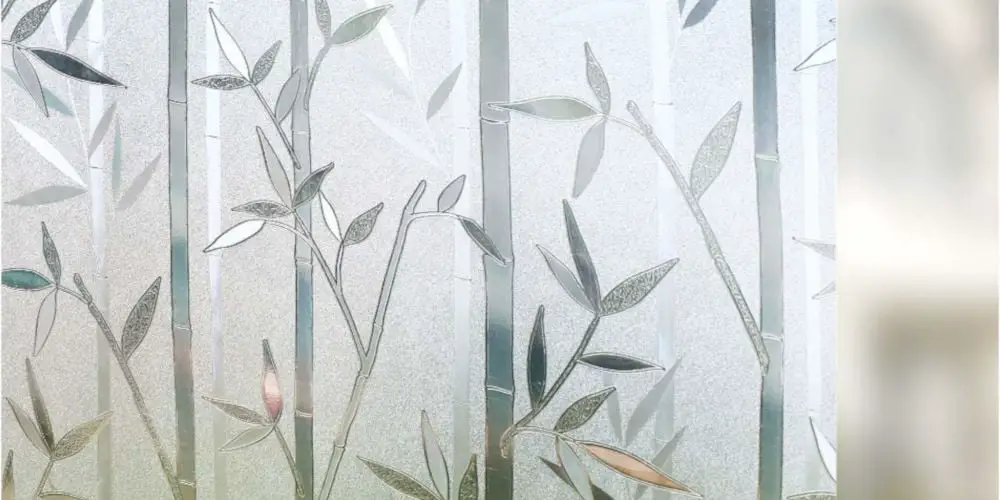 So long as your bathroom isn't directly overlooked, you might be able to swap out your current bathroom window treatment for window film. Available in a range of finishes, window film is an affordable way to add privacy while maximising light and without the bulky scale of blinds or curtains.
#14 Go bold!
Just as dark colours draw the walls in, making the space feel more compact, bold colours can enliven a room. Try bright floral wallpaper in your small bathroom design and watch as the room expands. Don't worry, you can get waterproof wallpaper!
Match your floral wallpaper with an oval mirror either in a dark wood tone or gold to really make your bathroom chic.
#15 Basins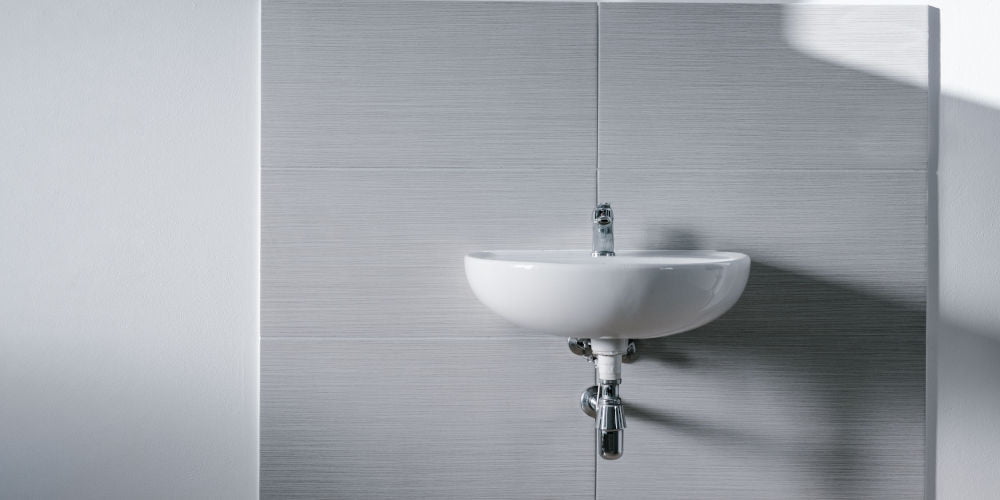 Not all basins are created equally, especially when space is at a premium. Choosing one that's slightly too large will affect the flow and the sense of space.
As you're limited on space, it's worth choosing either a floating or wall-mounted basin. Both types are slimline and don't require a pedestal, freeing up floor space and creating a better flow.
This space can then be re-purposed for storage, whether as floating shelves or a vanity unit. Luckily, a range of vanity units are available including compact designs, meaning you can find a suitable option no matter how small the space.
You may find that a vanity unit has enough storage for your situation and so you don't need any additional units. Not only does this save space, but it also helps to maximise your budget.
A final element to consider when purchasing a basin is the taps. Ideally, choose a single mixer tap as this will add to the slimline design while freeing up space for all of your small bathroom essentials.
#16 Add a skylight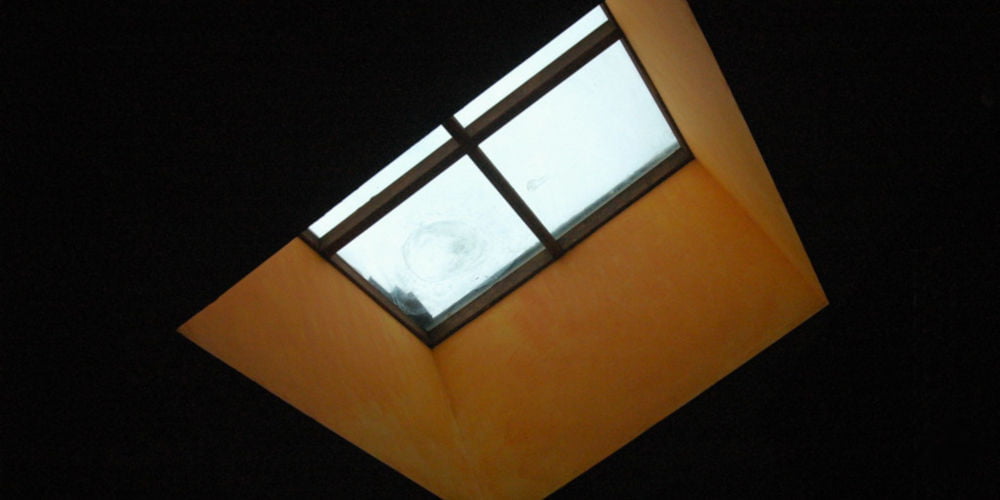 Natural light will always trump artificial brightness. While you can add more lighting, a skylight will automatically make your small bathroom feel larger. Unlike windows, which take up wall space, skylights create more space while increasing the amount of ambient light.
#17 Built-in Niches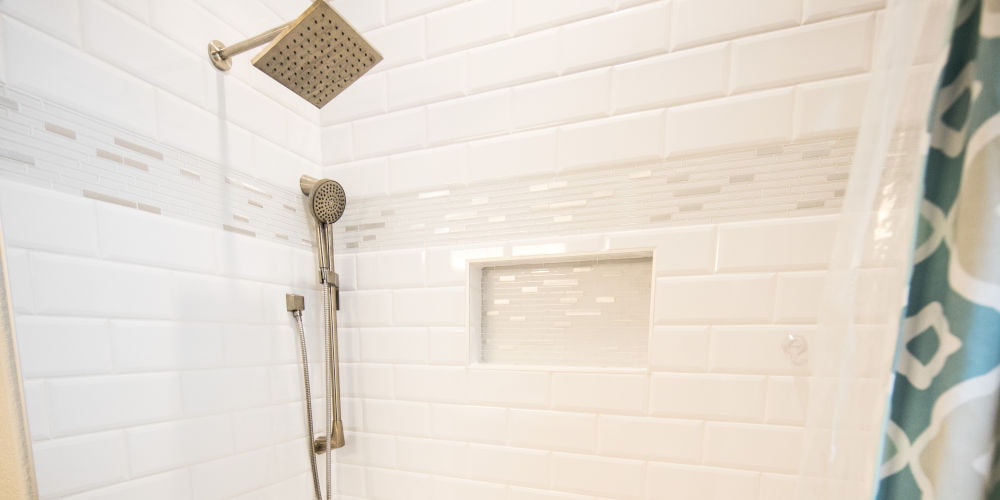 If you fancy a DIY project, then increase your storage with built-in niches. They're  a fantastic idea and are an interesting way to re-purposing dead space. That said, it does involve quite a bit of work. You can further increase the amount of storage by adding shelves.
#18 Try a small table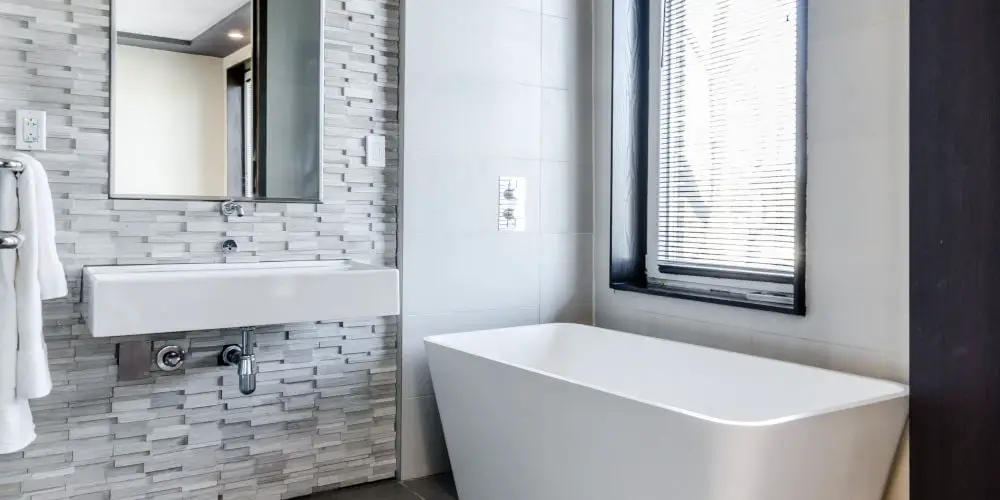 A small table with an open base increases your storage space and create a focal point that can be styled with magazines, flowers and candles. You can easily and affordably refresh your bathroom with new flowers, candles or accessories each season.
#19 Don't block windows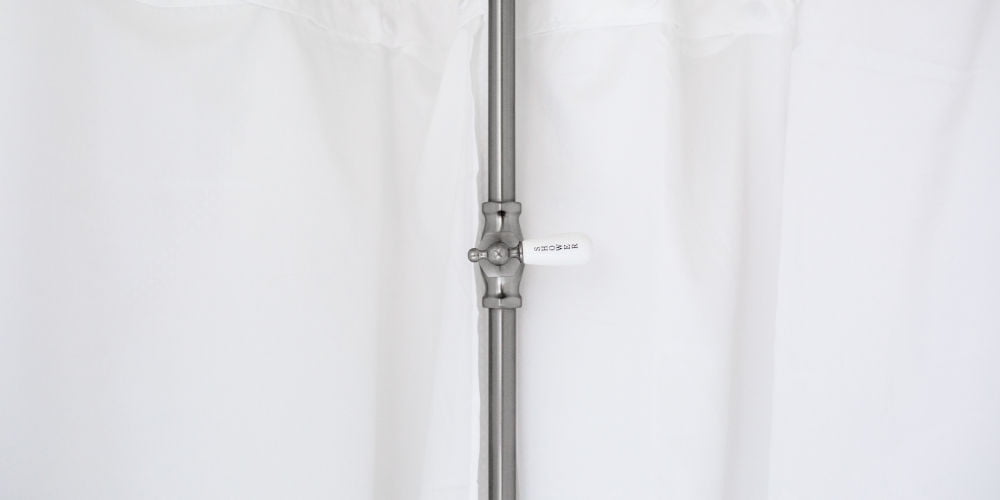 Daylight is far too important in cramped spaces. If your dingy shower curtain is blocking the window, then it's time to swap it for clear glass door panels. Similarly, if there's bulky storage blocking outside light getting in, replace it with a slimline option with a mirror front.
#20 Feel the heat
Radiators traditionally take up a lot of space that can be used better. Thankfully, many innovative and space-saving alternatives are on offer.
Instead of a full-size radiator, consider using a towel warmer. They are far more compact and have more space to store towels. Plus they'll ensure you have a warm towel after you bathe!
Also as towel radiator are available in a wide range of stylish finishes, you can match one to your current design scheme. If you're unsure, choose either a white or metallic finish as they enhance the illusion of space.
Another element to consider is underfloor heating. However, replacing a floor can be expensive, not to mention the cost of underfloor heating. So the numbers have to add up or you could get a nasty surprise.
Underfloor heating allows you to remove bulky radiators and so create more usable space. Plus you'll never have to step from the bath or shower onto a cold floor again!
#21 Unusual accent colour
Use bright colours to add life and warmth to your neutral bathroom suite. You don't need to over the top but can introduce some interest using a different accent colour.
For example, in a white bathroom, using brass or matt black fittings will make the room come alive. So consider changing door handle, knobs, and even drain.
Even the tiniest of decorative elements can create a striking impact and make your bathroom feel more open.
#22 Tall tiered storage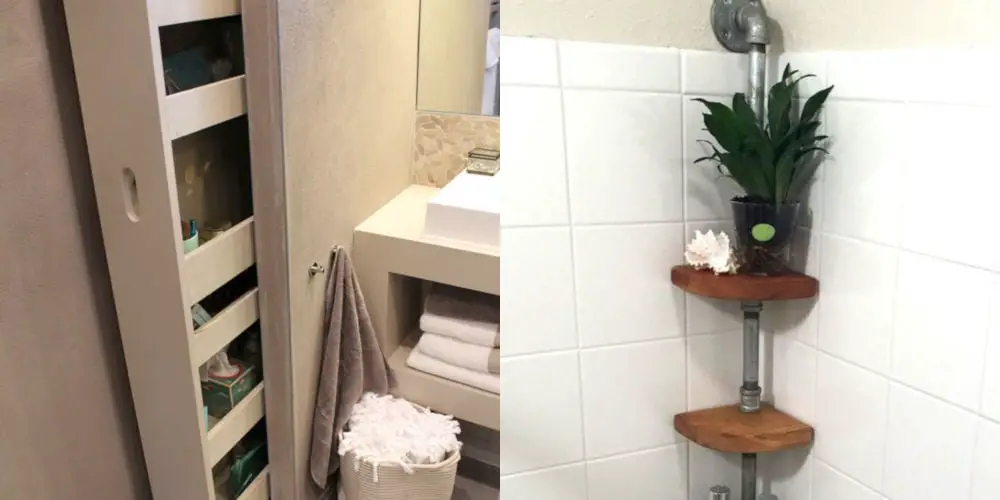 Vertical is the way to go if you're working with a small bathroom. Tiered wire storage allows you to store all the essentials in an attractive way that's easy to grab format.
When adding storage, consider using pieces that can be moved as you can easily create extra space or reimagine your bathroom.
#23 Scale
Large furniture can easily dwarf a small room. So always consider the size and scale of the room when buying pieces. If in doubt pair back and use free-standing pieces to add interest.
For small bathrooms, it's best to stick to the basics of a vanity unit and wall-mounted storage solution. If that sound quite bland, then add your personality through tile choices and accessories.
#24 Just bathe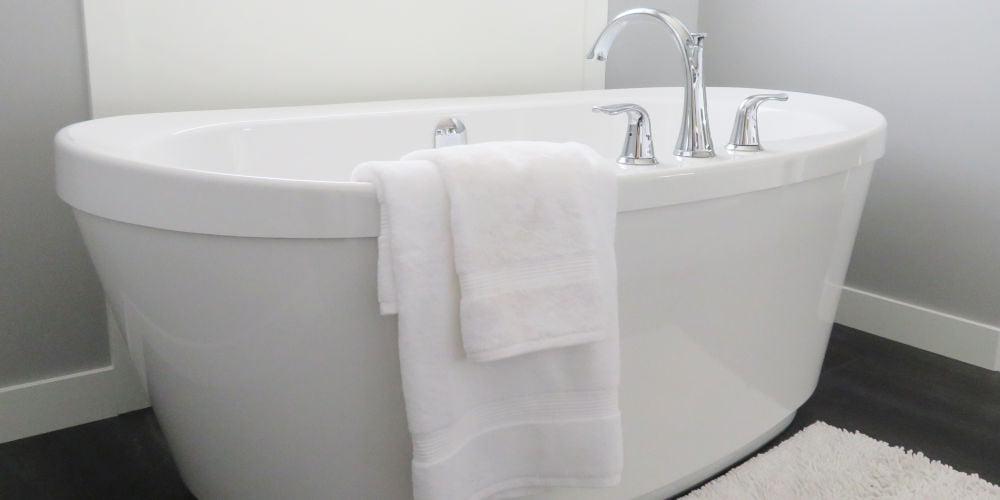 If you must have a bath, make a focal point of it and choose a free-standing one! They're not all as big as you think and you can even buy smaller versions that will fit into tighter spaces.
Create the illusion of space by using a pretty stencil on the wall above. You'll instantly notice it and it'll highlighting the tub!
#25 Simple bathroom designs for small spaces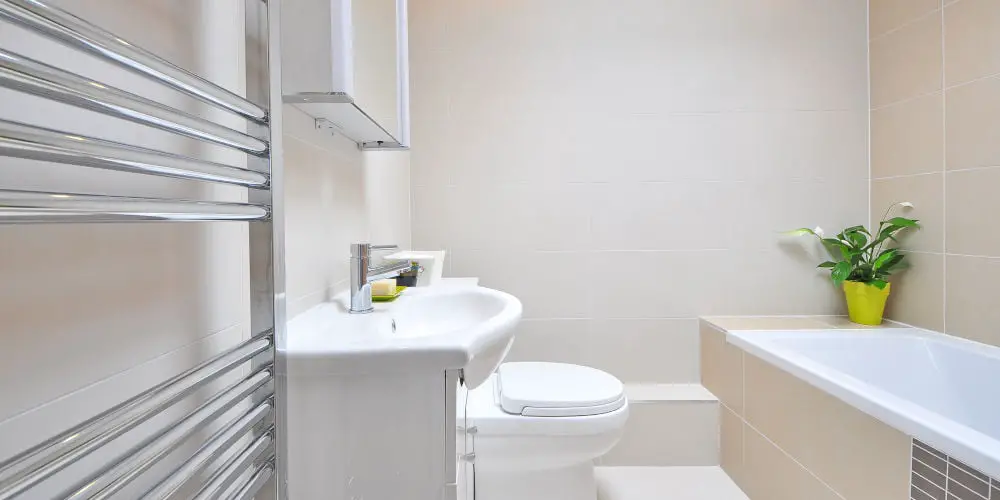 If all else fails, then keep it simple! Use soft, natural shades and a single accent colour. Match this calming backdrop with furniture and accessories that have clean lines and subtle accents.
Also, keep your bathroom as clutter-free as possible to create a feeling of space. Our top small bathroom ideas are to continually tweak and style accessories for the season.