15 Best bookcases for your living room reviewed 2021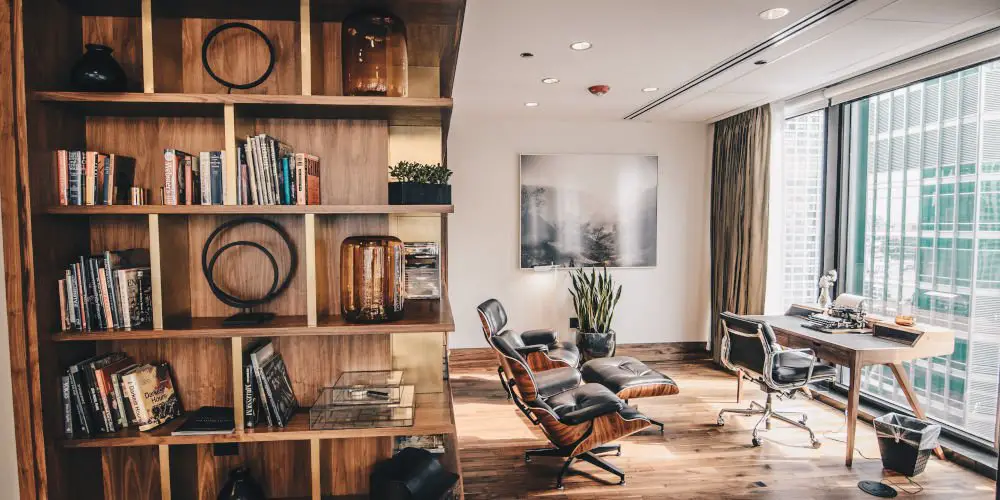 We've teamed up with Cox & Cox to present the best bookcases in their range. If you're trying to create your dream living room or trying to create a relaxing home office design on a budget, bookcases are a way to add interest and storage to a room.
Bookcases are also superb for creating a meaningful display of items in an empty nook, adding further depth to a room.
You don't need to fill a bookcase with only books. They look best with small piles of books interspersed with photo frames, ornaments and other keepsakes. So don't feel you need to rush out and buy piles of books! Instead experiment with items and books you already have.
Cox & Cox have a superb range of furniture and bookcases that are manufactured from the best materials. And so while a solid wood bookcase, for example, will cost more, it will last many more years than a cheap MDF unit.
Whether you're buying a bookcase to show off your impressive book collection or for more practical reasons, here are 15 of the best bookcases available from Cox & Cox.
Loft Open Shelf Unit
Ideal for displaying large coffee table books along with a mix of family photos and oversized ornaments, the Cox & Cox Loft Open Shelf Unit adds an industrial flavour to any interior. Assembly is required.
Using reclaimed materials to amplify the industrial look, it measures 124 cm (w) by 39 cm (d) by 178 cm (h). The striking black iron frame complements the wooden plank shelves. Each shelve measures 124 cm (w) by 34 cm (d) by 4 cm (h) and there is 41 cm between shelves.
The bottom shelf is raised 19 cm from the ground, allowing you to storage slim boxes or reach plugs and power sockets. As plenty of display space is available, it's ideal for the living room, dining or entry hallway.
Provence Tall Bookcase
Sporting a more traditional design, the Cox & Cox Provence Tall Bookcase is crafted from raw, reclaimed timber, which gives it a unique rustic look. Ideal for country cottage style interior or softening a modern, sleek interior. It will instantly warm your room and would look superb in a home office.
It's hard not to love this bookcase with its superb wood grain and a matte finish. Plus with a slight, naturally weathered finish, each piece unique with slightly different colours! Fill with your favourite books, or style with vases, objects and photos of your loved ones.
It arrives ready to use and measures 97 cm (w) by 34 cm (d) by 195 cm (h). The 10 cm tall legs ensure you easily reach underneath it to reclaim items or hoover! Each shelf measures 87 cm (w) by 27 cm (d) by 4 cm (h). They are spaced 40 cm apart.
Lotte Bookcase
The Cox & Cox Lotte Bookcase is ideal for the home office as it combines open shelves with a cupboard. You could easily hide your printer and home office paper shredder while having plenty of space to display books and other items.
Made from pine with a washed paint effect finish, which is hand applied in layers to let the natural colour and the wood's grain show. Thanks to this paint finish, each piece is unique.
Drawing inspiration from traditional designs, this bookcase adds a touch of elegance to any room. The design lends itself to use within a plethora of interior styles while being subtle enough to seamlessly blend in.
The four adjustable shelves allow you to tailor the storage to your item for the best presentation. Overall, the unit measures 110 cm (w) by 41 cm(d) by 220 cm (h). The cupboard is 62 cm tall. The Lotte Bookcase arrives fully assembled.
Grey Topped Shelf Unit
If you're looking for a unique way to store items and bookcases, then this Cox & Cox Grey Topped Shelf Unit could be just the ticket! Using an elegant triangular wooden frame, this unique ladder style unit features four dark coloured resin shelves.
The striking interplay of the mindy ash wood frame with the dark grey coloured resin shelves creates an industrial-looking unit that's ideal for a range of interiors. It would be especially iconic in a more traditional interior as it would provide a remarkable contrast between the different aesthetics.
Each shelf has a generous capacity for storing and displaying your favourite items. It measures 43 cm (h) by 37 cm (d) by 136 cm (h) and arrives ready to use.
Industrial Shelf Trolley Low
A problem with most low storage is that they aren't very portable, which is fine for an office but isn't practical if you live in a studio apartment where you'd like to be able to change the layout quickly. Thankfully, the Cox & Cox Industrial Shelf Trolley Low solves this issue, stylishly!
Drawing inspiration from the 60s, add an industrial look in your living room. A black iron frame is complete with castors for easy mobility. Three paulownia wood shelves expertly contrast with the frame yet provide a deceptive amount of storage space.
Ideal for storing books, plants, file folders or office equipment, yet versatile enough to be positioned anywhere in the home. It measures 114 cm (w) by 30 cm (d) by 80 cm (h). Each shelf measures 113 cm (w) by 27 cm (d) by 2 cm (h), and there is 29 cm between each shelf.
Marble Topped Shelf Unit
This Cox & Cox Marble Topped Shelf Unit is a unique twist on mid-century modern design. The imposing design is mirrored by the rich acacia wood frame and luxurious marble surfaces. It measures 100 cm (w) by 35 cm (d) by 158 cm (h).
Mixing open shelves with cupboards, this unit is ideal around the home as you can hide and display items with ease. The acacia wood frame is bold and crafted into an interesting design. As the cupboard is raised, you could store items underneath it or just be able to reach power sockets.
An elegant inlaid marble surface adds a luxurious feature which creates a subtle interplay of materials. Together, these materials and the overall design will add an air of understated sophistication to any interior.
Textured Gold Topped Shelf Unit
The words subtle and bling aren't often put together and might even seem like opposites. However, this Cox & Cox Textured Gold Topped Shelf Unit manages to blend a subtle frame with intricately detailed shelves to create an impressive bookcase worthy of any interior.
A square metal frame with a black powder-coat finish creates an understated backdrop. Added to this, five generous shelves which feature pitted gold finish which gives the appearance of a hand-hammered look.
What makes this bookcase distinctive is that some of the shelves feature cut-outs allowing you to place different height items across the unit to create a cascading feel! Ideal for mixing books, objects, plants and lighting.
This bold piece measures 80 cm (w) by 31 cm (d) by 165 cm (h) and is a superb statement piece for any room within the home.
Low Oak Shelving Unit
As simple is often best, we can imagine using this Cox & Cox Low Oak Shelving Unit around the home. While intended as a low bookcase, it would make a superb side table, especially if you lack space. Plus it would be ideal in a home office for storing essentials with a printer on top.
Crafted by hand from oak veneer, the visible wood grain creates a sense of warmth, while the smooth surfaces are highly practical. The sleek frame holds three generous, deep shelves, which sit 30 cm apart. Overall, it measures 80 cm (w) by 45 cm (d) by 90 cm (h).
Allston Tall Metal Trolley
Complete your interior with the industrial-inspired Cox & Cox Allston Tall Metal Trolley. Sitting on four casters, this bookcase is ideal for the living room, home office and even the dining room, and is easily moved depending on your mood.
Blending a stark metal frame with rough sawn wooden shelves which display their grain in stunning detail. These materials, together create a bookcase or storage solution that's ideal for a range of contemporary interiors including Nordic schemes.
Measuring 91 cm (w) by 41 cm (d) by 181 cm (h), it's ideal as an ever-changing display of your favourite sentimental items.
Oak Display Shelf
With its Scandinavian design, the Cox & Cox Oak Display Shelf feels fresh and uncluttered. Crafted from blonde oak, its slender design means it perfect for compact space or nooks that need some storage that doesn't stand out.
Its four-tiered shelves get deeper as they descend, while two cylindrical poles support them. This ladder-style piece will enable you to store and display your favourite objects. This superb bookcase measures 70 cm (w) by 35 cm (d) by 180 cm (h).
Chesil Tall Bookcase
Made from reclaimed timber, add a coastal cottage feel with this Cox & Cox Chesil Tall Bookcase. Finished with a soft cream paint and a natural wood top, its simplistic design ensures it fits into almost every interior scheme. It measures 97 cm (w) by 35 cm (d) by 195 cm (h).
It features a panelled effect to the back, sides and shelves, which adds further to the seaside feel. Offering five shelves, you can easily style it with books, ornaments and photographs. Arriving ready to use, it would look superb in just about every room within the home!
Sora Bookcase
Featuring a minimalist design, the Sora Bookcase from Cox & Cox is perfect for the living room, dining area or study. As a versatile piece, the eight open shelf compartments are ideal for decorative accessories, small plants, books and frames.
Its clean lines draw their inspiration from the beautiful solid oak used to construct the unit. The Sora is designed to add understated elegance to any room with its contemporary design. Arriving flat-packed with full instructions. Once assembled, it measures 80 cm (w) by 33 cm (d) by 175 cm (h).
Brookville Shelf Unit
If you're looking for a statement piece rather than a traditional bookcase, then the Cox & Cox Brookville Shelf Unit might be ideal. Crafted from graded oak, the sturdy, solid frame is superbly juxtaposed by three shelves made from burnished resin, which have the appearance of polished stone.
While the combination of such materials might seem odd on paper, together they create a versatile and striking piece that's perfect for around the home. The generous shelves are a bare canvas that can easily be styled with books, plants and other such beautiful items.
It arrives ready to use and measures 120 cm (w) by 42 cm (d) by 175 cm (h).
Black Ash Shelf Unit
This Cox & Cox Black Ash Shelf Unit is a prominent piece of furniture that blends into any room yet provides plenty of personality. As a more modern take on a traditional storage solution, this unit is highly versatile and arrives ready to use!
The matte black finished iron frame effortlessly blends with the four dark ash wood shelves. They create a subtle unit that's perfect for displaying a range of items, whether you use this bookcase in the living room, dining room or study. Overall, it measures 100 cm (w) by 39 cm (d) by 150 cm (h).
Rustic Wooden Ladder Shelf
Hand-crafted from rustic style spruce wood, this iconic Cox & Cox Rustic Wooden Ladder Shelf is ideal for the home and garden. Its original design creates a versatile display with six wide shelves of varying depths.
The uses are endless. You could use for plants and flowers in the garden room, as a unique way to store your kitchen essentials or as a bookcase. No assembly is required, simply prop the flat shelf against the wall and begin your display. If you want, it can be easily fixed to any wall.
This shelving unit even folds flat for easy storage when not in use. Made from a completely natural material, yours will have a slightly different colour than the next. It measures 79 cm (w) by 35 cm (d) by 180 cm (h).
What are the best bookcases for your living room?
Whether you're trying to pick the best bookcases for your living room, home study or dining room, we hope you've found at least one unit from Cox & Cox that excite you.
Our favourites include the classical designed Provence Tall Bookcase. If you're looking for a moveable unit then consider the Allston Tall Metal Trolley. It's tall with plenty of storage and is on casters.
We love the simplicity of the Sora Bookcase yet it feels modern and fresh. Finally, if you're looking for unique bookcase then consider the Brookville Shelf Unit.