What's the best driveway material to use?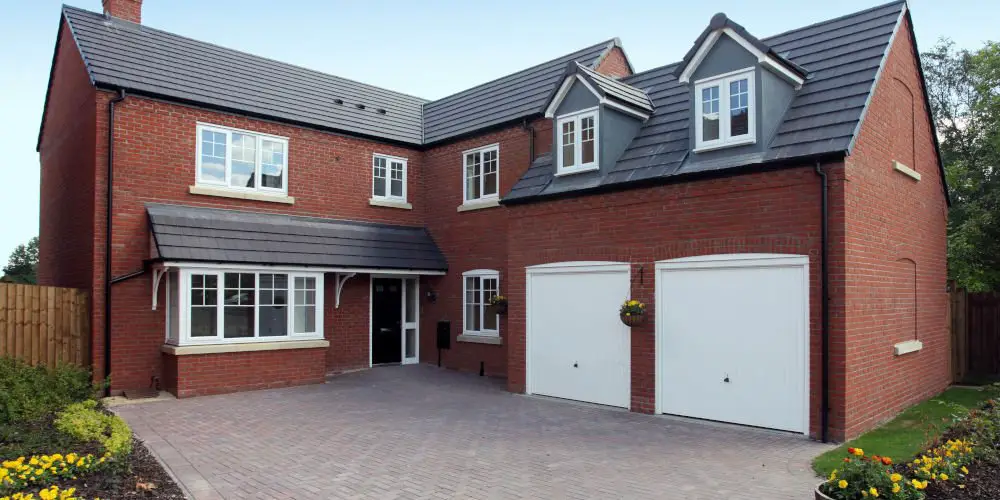 First impressions matter, and that why keeping your driveway looking well-maintained is important. That said with such a wide range of options, it can be difficult to choose the best driveway material for your home.
To make the choice easier, we've narrowed the options down to the most popular and best driveway materials and tried to give you an estimate of the price.
For each, we'll explain why you might want to use that material as well as why it might not be your best option. This should make finding the best driveway material far easier!
Why it's important to find the best driveway material
Resurfacing your driveway probably isn't that high your to-do list, even if you're about to put your home on the market. However, it's the first thing everyone sees when arriving at your home.
Done right, a driveway can boost your home's kerb appeal and create a strong welcome.
Even if you're not planning to sell or have just moved, it's worth investing in creating a welcoming driveway as it can make your home look even more beautiful and inviting.
Choosing the best driveway material for your home involves balancing cost, aesthetics and durability. As the British weather changes frequently, you'll need to choose a driveway surface that can withstand the weather and whatever it decides to throw at us!
Which are the best driveway surface materials?
This depends on the aesthetic you're hoping to end up with. Some will love gravel, but others will see it as a material that needs constant raking! You might even consider block paving as it's durable and easily maintained, while others will discount it due to the upfront cost.
Choosing the best driveway material is more often than not, down to personal taste as well as ongoing maintenance and how long you envision the new driveway lasting.
Do I need planning permission to build a driveway?
In most cases, driveways fall under Permitted Development rights, meaning as long as you stay within the rules you don't need planning permission. That said, as the planning system varies depending on your local authority, it's worth checking their website for the latest guidelines.
Concrete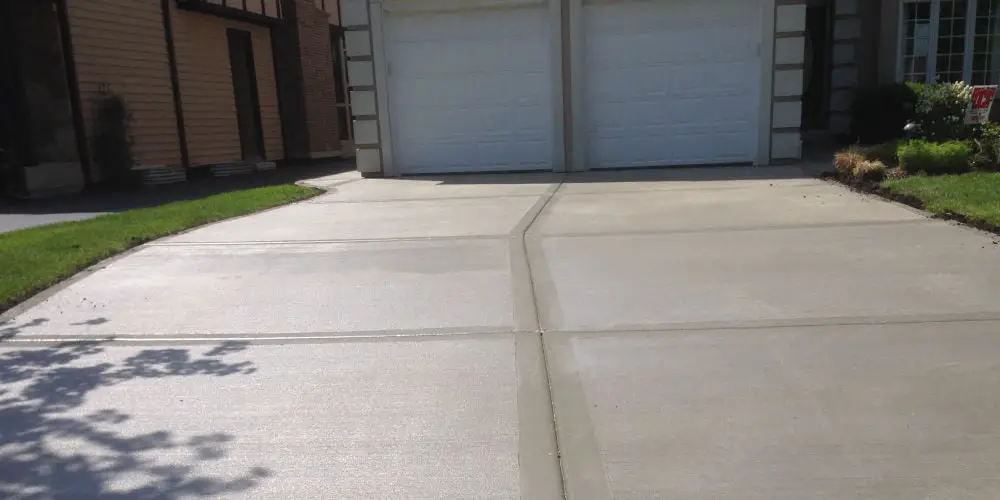 Highly affordable, concrete is a basic option for relaying your driveway on a tight budget as it costs around £40 per m2. It's not the most attractive finish or may have little impact on your property's kerb appeal.
Correctly laying concrete is best left to an experienced contractor as if poorly laid, concrete driveways can start to crack within months. So, it's worth hiring a reputable contractor as when properly installed, a concrete driveway will last year and be pretty much maintenance-free.
Decorative concrete (imprinted)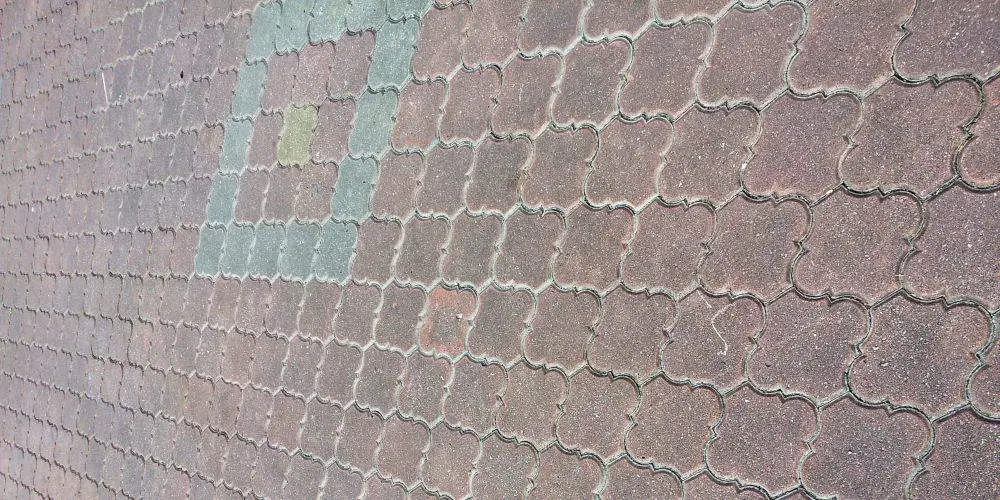 As an excellent alternative to basic concrete, Decorative or imprinted concrete offers an improved aesthetic and is available in a wide range of colours, patterns, and design. Just like ordinate concrete, it's hard-wearing, long-lasting and relatively maintenance-free.
Sharing much of the same initial process as standard concrete. After a solid foundation is prepared and levelled, a concrete mix is poured over the area. The result is a simple, solid surface.
That said, there are two key differences. Firstly, you can choose the colour of the concrete. A pigment is mixed with the concrete resulting in the desired colour when dried.
Secondly, you can decide on a decorative pattern which will be imprinted. When the concrete is wet, the pattern is carved in, meaning as it dries the design is set into the concrete.
Typically, the result is the look of an individually laid stone driveway, just without the maintenance and sinkage issues. That said, it can cost around £85 per m2 or double the price of standard concrete. So, you'll need a decent sized budget if you choose this best driveway material.
Asphalt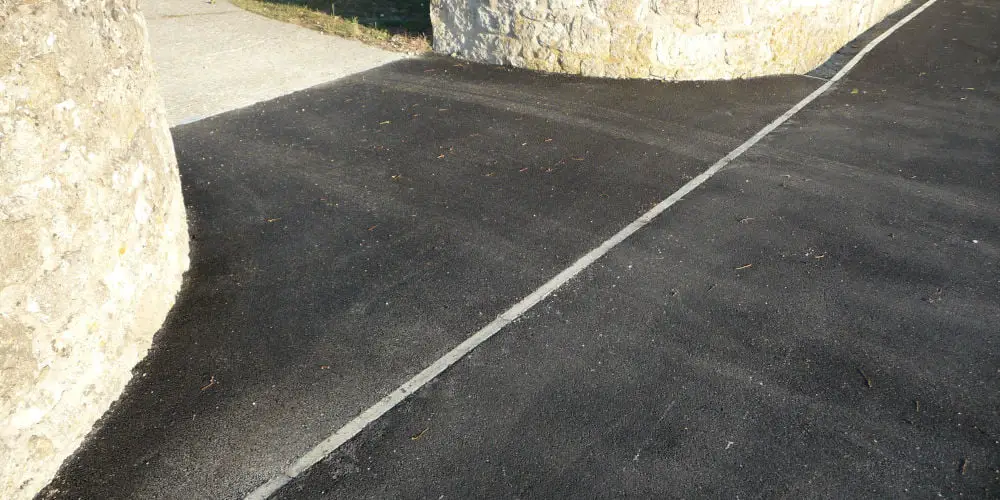 Most commonly and wrongly called Tarmac (which is a brand name!), Asphalt is another best driveway material that affordable, typically costing around £20 per m2 and long-lasting.
It does have a fair share of problems, most of which can be seen on roads up and down the country! The big issues during the summer months including, an increase in temperature, which results in a sticky driveway and in the worse cases, warping.
As some of  the best driveway materials are more visually appealing and have fewer issues, asphalt has declined in popularity.
Gravel
Often found covering the last little bit of the driveway of a country pile, many are shocked to discover that a gravel, pebble or shingle driveway is the cheapest option available, costing around £4 per m2. Yet is considered one of the most aesthetically pleasing materials to look at!
That said, maintaining a gravel driveway is hard work as the stones naturally move around a lot, scattering across the surrounding area. You'll notice a surprising amount disappears and quickly.
While other driveway materials will kill off any vegetation underneath them, gravel doesn't have the same effect. You'll spot new weeds whenever you look and so it's a constant battle to keep them at bay.
Also, unlike with other surface materials, removing snow is near impossible without taking half of the gravel with you. So it can make your driveway unsafe to use.
That said, gravel is fantastic as home security basics as it's noisy and so opportunist thieves will walk past, looking for an easier target.
Block paving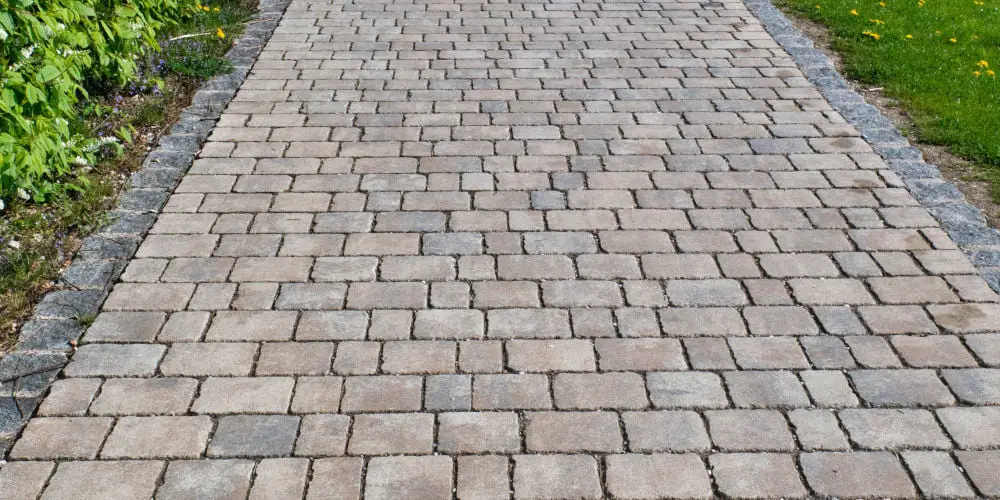 Easily one of the most popular and best driveway materials, block paving is more expensive, costing around £30 per m2 yet the results create instant kerb appeal! As a range of patterns are available, you can easily stamp your personality on the driveway yet still maintain a traditional and aesthetically pleasing look.
If you're considering block paving, ideally you'd work with a specialist contractor as it's not the easiest material to correctly lay.
As block paving is made up of individual blocks, before laying any, the base needs to be even and the soil below should be compacted to create a firm base. The design will need to consider any slopes as well. You'll also need to factor in rainfall.
A block paving driveway requires maintenance a few times a year as it should be cleaned with a power washer to keep it clean and weed-free.
Grass paving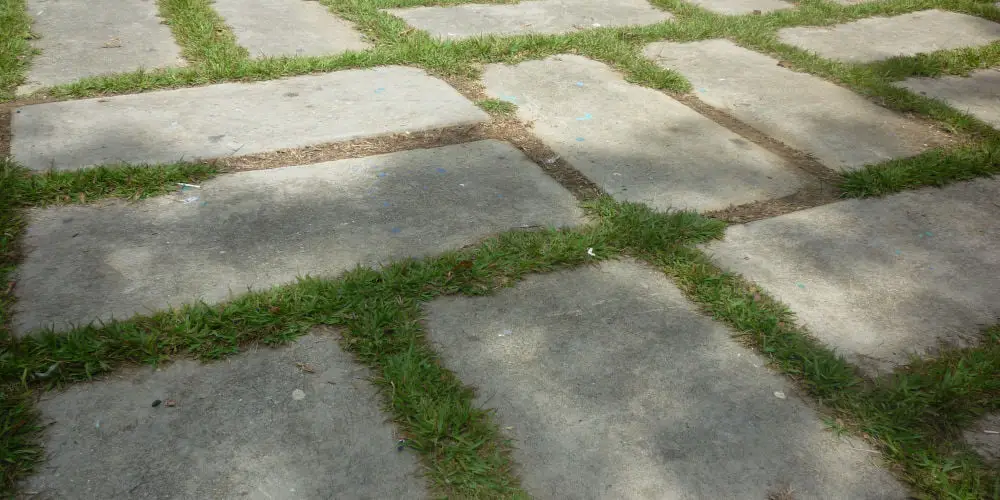 Driveways have long been associated with increased flood risks and increased water pollution, so eco-friendly options like grass paving offer an alternative. When properly maintained, grass paving looks superb. However, they require a fair amount of work to keep them looking pristine.
Grass paving isn't cheap as it costs around £75 per m2 and has a fairly short lifespan when compared to asphalt or concrete. That said, if you're trying to create a more eco-friendly home and have the budget, grass paving is a great way to make your property stand out from the rest.
Natural stone
As one of the best driveway materials available, Natural stone is difficult to beat, especially if you want to create a wow factor. As natural stone ages, the colour changes creating interest and unique patterns, that are pleasant to look at.
However, natural stone is expensive, costing around £85 per m2 and isn't the most environmentally friendly.
Resin
Resin is one of the best driveway materials as it's relatively affordable and can be applied in two ways, either bonded or bound. Bonded resin driveways are less expensive of the two, but can be prone to deterioration. Whereas a bound resin driveway will cost more but lasts longer.
Both types of resin driveway do have their issues. Cracks can occur, sunlight can affect their look (always use a UV stable resin), and streaking can cheapen a property should the mix be incorrectly handled or if the aggregate is covered in dust.
You'll also need to ensure that your new driveway meets the Environment Agencies SUDs regulations, hence why you'll want to work with a reputable contractor. Prices start at £55 per m2.
The best driveway material for you?
Even after looking at the most popular materials, it's still a hard task to choose the best driveway material for your home. As there are benefits and negatives to each type, your final decision will be largely be based around your desired look, budget and the maintainance involved with the upkeep.