Top 15 best home office desks for work at home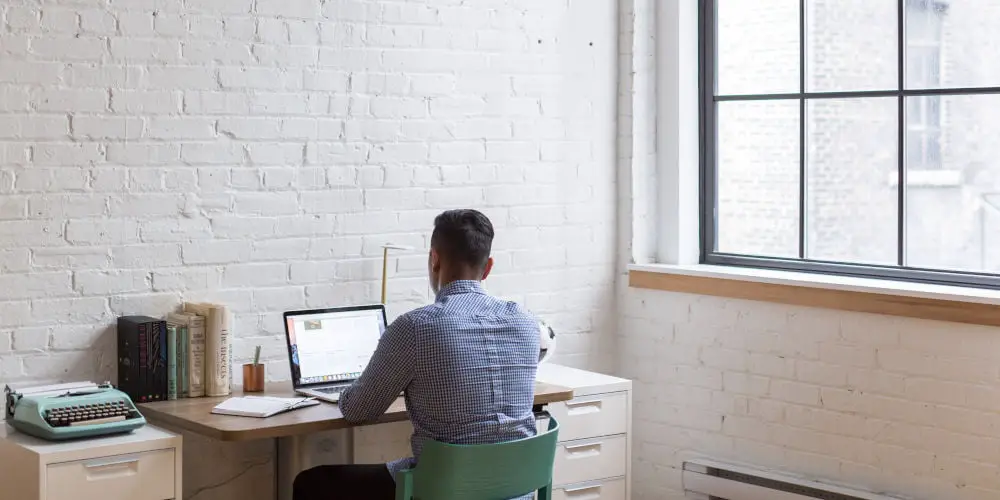 With seemingly no end of the work-from-home trend, it's worth investing in the best home office desk for your space. Regardless of whether you have a tiny corner you're using for a home office or converting a spare bedroom, you want your workspace to reflect you.
We've recently covered 15 of the best home office chairs. So, it makes sense to turn our attention to desks. Just like with chairs, there are hundreds of options. Quite simply, you'll run out of patience before you've exhausted all the options!
As the aim is to showcase a range of the best home office desks, we've hopefully included at least one that will be ideal, especially if your aiming to create a home office design on a budget.
Cox & Cox Mette Desk
Crafted from a mixture of pine and spruce wood, and complete with a beautiful painted finish and contrast top, the Cox & Cox Mette Desk is a classic desk that's ideal for most interiors. Measuring a comfortable 111 cm (w) by 52 cm (d) by 80 cm (h).
Featuring a timeless aesthetic and superb details, the quality is apparent from the first glance. You'll enjoy working at this best home office desk for many years. The natural texture of the top contrast superbly with the painted base, allowing it to fit both in a traditional or contemporary home.
The design encompasses two drawers with traditional integral wooden glides. Available with a choice of handles, pick from a complementing metal finish, a cup or small knob handle. You can customise this desk to suit your space.
DESIGNA Study 2 Tier Ladder Desk
The industrial design of the DESIGNA Study 2 Tier Ladder Desk combines vintage-inspired varnished timber top and shelves with a black powder-coat metal frame. It measures 120 cm (w) by 56 cm (d) by 130 cm (h).
With two-tiers, this computer ladder desk provides plenty of room for your computer and other things. Anti-drop panels ensure your items can be safely stored without the risk of falling! It even offers double cable management holes, which help you keep your desk and cables tidy.
The thick and durable metal frame provides stability, regardless of what you're using the desk for. X-struts in the rear area provides additional strength and stability. Non-slip and protective foot pads help keep the table stable and protect the floor, extending its life.
Office Hippo 18 Rectangular Desk
If you want to recreate a generic office vibe, then you'll want to consider the Office Hippo 18 Rectangular Desk! It measures 123 cm (w) by 75 cm (d) by 72 cm (h). Simple self-assembly is required. It comes with a 5-year guarantee.
The metal frame design is completed by a beech top and full-width rear modesty panel. To the rear of the top, two integrated cable ports enable you to keep untidy cables out of sight.
The tabletop features protective edge banding and an 18 mm MFC, heat and stain resistant desktop. All of these features contribute to create a durable desk that's ideal for work from home. Each of the feet is height-adjustable, allowing you to level the desk on uneven floors.
Movian Côa 4-Drawer Desk
Movian Côa 4-Drawer Desk features a large work surface and four drawers. This german design is crafted from Particleboard panels and a steel powder-coated iron frame. Due to the natural material choices, your desk will unique as no two have the same grain colour or finish.
Measuring 160 cm (w) by 73 cm (d) by 77 cm (h), it arrives flat-packed and requires assembly. It comes with a 2-year warranty. It uses scratch-resistant "Real Touch" melamine that looks and feels like genuine solid wood.
Offering plenty of room for work and multiple storage sections, you'll be able to work with all you need close-by. The vintage oak finish contrasts superbly with the metal handles and frame, resulting in a refreshing cool blend of modern and traditional.
Dripex White Computer Desk
If you're limited for space, then the Dripex White Computer Desk is ideal. Made of MDF with a white painted finish and four solid oak table legs. It's simple and stylish design can easily be combined with any style of furniture to create a modern-looking space.
Designed to be durable and stable, it measures 100 cm (w) by 50 cm (d) by 77 cm (h). As a multi-functional computer desk, it can double as a workstation, study desk, writing desk or gaming desk. It would also make a superb dressing table!
The spacious desktop has plenty of room for a PC or laptop without feeling cluttered. 2 drawers offer plenty of storage space for stationery, files and even a make-up collection. Arriving flat packed, it is easy to assemble, taking around 10 minutes with accessories and tools included.
Prima-Combi Office Workstation
Prima-Combi Office Workstation is ideal for a range of uses including professional office and home study use. Its flexible design makes it ideal for homework, office work, gaming or as a crafts table.
The white colour finish is calming and ensures you can easily focus without distraction. The sturdy steel frame provides stability, while the desktop ensure you have plenty of space to work, even with a PC. The matching modesty panels increase the privacy afforded and continue the subtle white colouring.
Relatively easy to assemble in about 20 minutes, it measures 120 cm (w) by 80 cm (d) by 75 cm (h).
HOMCOM Writing Desk
As the perfect addition to the home or the office, the HOMCOM Writing Desk sports a stylish yet sleek design. The classic dark walnut colour of the wood and black frame, means it slots into virtually all interiors yet still adds its only personality to the room.
Easy to assemble with instructions supplied, the desk measures 84 cm (w) by 45 cm (d) by 85 cm (h). Made from high-quality particle board with a metal frame for enhanced stability and durability. The melamine desktop is stylish, yet is easy to maintain.
The two-tier design offers a fantastic amount of space both on the desktop and the storage shelf. Plus there's plenty of under-desk space for your legs or the best home office paper shredder.
As a flexible piece of furniture, this desk is ideal as a study desk, writing desk, workstation, computer table, games table, etc.
Homfa L-Shaped Corner Workstation
With a ton of space and an industrial look to match, the Homfa L-Shaped Corner Workstation is ideal if you need multiple worktops. Coming flat-packed with instruction, one person can assemble the desk. It measures 135 cm (w) x 135 cm (d) x 75 cm (h).
The large capacity tabletop and open 2-tier shelves provide plenty of room for laptops, monitors, books, and documents as well as decorative items. Below, there is plenty of legroom, meaning you can stretch your legs freely at any point.
Constructed from heavy-duty steel tube and premium MDF board, the two sides are the same length, ensuring excellent stability and anti-toppling. Protective caps keep your floor from being scratched.
The design makes multitasking easy and allows you to keep it tidy. The 2-tier shelves are adjustable, allowing you to customise the height to your room and set-up.
Cabinet Bits 3 Drawer Desk
The Cabinet Bits 3 Drawer Desk has a simple and pleasing design. Ideal for use in a home office, kid's homework or an occansion table. Produced to the highest standards using solid wood and veneers, this desk is suitable for a range of uses within the home.
The combination of the white-painted solid pine frame, with the natural wood desktop, creates an aesthetically pleasing unit. Metal draw knobs add interest. The pedestal can be position on the left or on the right, allowing you to customise the desk for your room.
Its simple construction allows for easy assembly. It measure 100 cm (w) by 40 cm (d) by 75 cm (h).
Furniture To Go Oslo Desk
Timeless, yet modern, this Furniture To Go Oslo Desk is inspired by Scandinavian design. With a streamlined crisp white finish and modern accents, and solid oak tapered legs, this fresh interpretation of mid-century design.
Made in Denmark to very strict standards, all panels are manufactured using PEFC certified wood from sustainable sources. This Oslo desk uses only the best fixings and fittings. The easy-clean surface is resistant to damage from scratches, moisture and high temperatures.
With it's retro modern charm, this L-shaped desk features a large table top, three open shelves and two drawers with cut-out drawer pulls in place of handles. It offers you a great space for work and storage space for stationery, electronics and computer equipment.
Designed for easy self-assembly at home, with simple instructions and high quality fittings all included. Once assembled, it measures 145 cm (w) by 81 cm (d) by 76 cm (h).
VASAGLE Industrial Writing Desk
Highly affordable, the VASAGLE Industrial Writing desk will add a modern vibe to any room. Ideal for crafts, homework, gaming and office work. Its simple design, allows you to concentrate on your task.
Thanks to a clever design, this office desk can hold the supplies you need to get your work done during the day. The desk's design combines durable particleboard and a 1.2 mm thick steel frame with metal reinforcements to ensure a robust desk.
The adjustable feet allow you to place the desk on an uneven surface and they also protect your floor from scratches. With only a few individual parts, assembly takes a few simple steps. Dimensions: 100 cm (w) by 50 cm (d) by 75 cm (h).
Millhouse Computer Desk
Simplistic in design and colours, the Millhouse Computer Desk is ideal for work, crafts, homework, and so much more. You could even use it as a kitchen island or a small dining table! It measures 120 cm (w) by 60 cm (d) by 75 cm (h).
The sturdy steel metal frame is finished with an anti-rust and corrosion coat ensuring durability. A 1.6cm thick Eco-Friendly MDF desktop completes the design. The solid structure of this computer desk ensures it will last a long time.
Steel legs with adjustable pads allow you to adjust the height of each leg on uneven flooring, while the protective feet to prevent any damage to your floor. Very quick and easy to assemble and comes in a range of colours.
This simple Millhouse computer desk is spacious and multifunctional. It's ideal for a range of uses throughout the house.
Yurupa Computer Desk
Featuring a subtle interplay of colours and material, the Yurupa Computer Desk includes plenty of storage despite its sleek look. The desk measures 90 cm (w) by 60 cm (d) by 74 cm (h).
Designed to fit with a range of interior styles, thanks to its functionality. It would look equally good as a standalone piece or as part of a design scheme. The desktop is of a nice size, while the shelves on each side ensure you have plenty of storage space for books, ornaments and files.
With a detailed assembly document, it is very simple to get it set-up and start using it! YURUPA furniture are well regarded for their durability and longevity yet simplistic design.
FLEXISPOT E1 Height Adjustable Electric Standing Desk
The FLEXISPOT E1 Height Adjustable Electric Standing Desk is a little different. As a standing desk, you can raise the height from 74 cm to 124 cm, allowing you to sit or stand depending on what's best for you.
Some people prefer to stand as it reduces the strain on the back, neck and knees. Others like to switch it up and adjust the desk's height to the task or their mood.
A motor lift mechanism offers smoother height adjustments allowing for better stabilization and a high weight capability (70kg). The motor is very quiet at 50 dB while running and is programmable with sit-stand alarm setting and 3 customizable height preset options.
The desktop measures 120 cm (w) by 60 cm (d) by 3 cm (thick), meaning there's plenty of space for a PC, dual monitors or for paperwork. It would be excellent for crafts, gaming and of course, work.
Aingoo L-Shaped Corner Office Desk
Treat yourself with an efficient and inspiring work environment with the Aingoo L-Shaped Corner Office Desk. You can use this desk for multi-tasking at work, gaming, studying, crafts or doing paperwork. The long desk measures 128 cm (w) by 48 cm (d) by 75 cm (h) and the smaller desk measures 108 cm (w) by 48 cm (d) by 75 cm (h).
This workstation offers a large amount of legroom and space for dual computer monitors, thanks to its unique arc-shaped frame design. As an L-shaped desk, it fits well in the corner and allows you to maximize your room.
Combining a powder-coat metal frame and 15 mm thick particleboard desktop to ensure a stylish and durable design. Adjustable feet protect your floor and allow you to place the desk on an uneven surface. Installation is simple thanks to clearly labelled park and assembly tools included.
And the best home office desk is?
Having looked at 15 of the best home office desks, there should be at least one that grabs your attention.
Our top tips are consider what you need a desk for. Next, measure your space before ordering a desk. Find one with a simple design, in a neutral colour as it will still look good in a few years.
In terms of our favourites, we like Millhouse Computer Desk for it's pure simplicity. It'd look fantastic around any home and is
versatile enough.
Another one is the Homfa L-Shaped Corner Workstation, which does require a bit of space but includes plenty of storage and worktop space.
Finally, the Cox & Cox Mette Desk is a chic unit, that will blend with most interior schemes and the draws will come in handy!