What is the best patio material for your garden?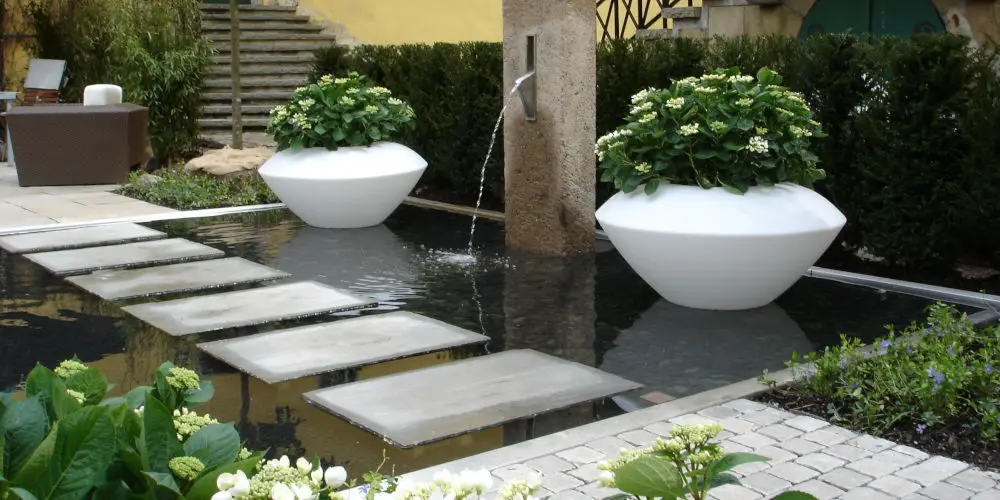 Adding a patio to your property can be a great way to improve your outdoor space and create an area that is personalised and customised to your needs.You might wonder what is the best patio material for your garden?
Whether you are looking for an outdoor escape or a place to spend time with your friends a patio is a great addition to your home. A nice patio can also increase the value of your property. So, if you plan on moving, it can be a great way to improve your chances of getting a great offer on your house.
When planning the project, one of the things you will have to carefully consider is which material you'll use to construct your patio. There are many options, and each one has its own unique benefits.
It's important to pick materials that are durable and weather resistant as the British weather can change frequently. You'll also likely want to find something that looks good and matches the design of your house and your personal tastes.
It also truly depends on your lifestyle and how much maintenance you're willing to do.
And finally, it depends on your budget! You will have to consider the cost of the materials and any additional costs that may come along with it such as additional tools, any materials to prepare the plot of land where you want to construct the patio, and possibly the fees to hire a contractor to complete the job for you.
Ultimately, the best patio material for your garden depends on your personal choices. Discover some of the most common types of patio materials, cost and level of maintenance to help you make your decision.
Poured concrete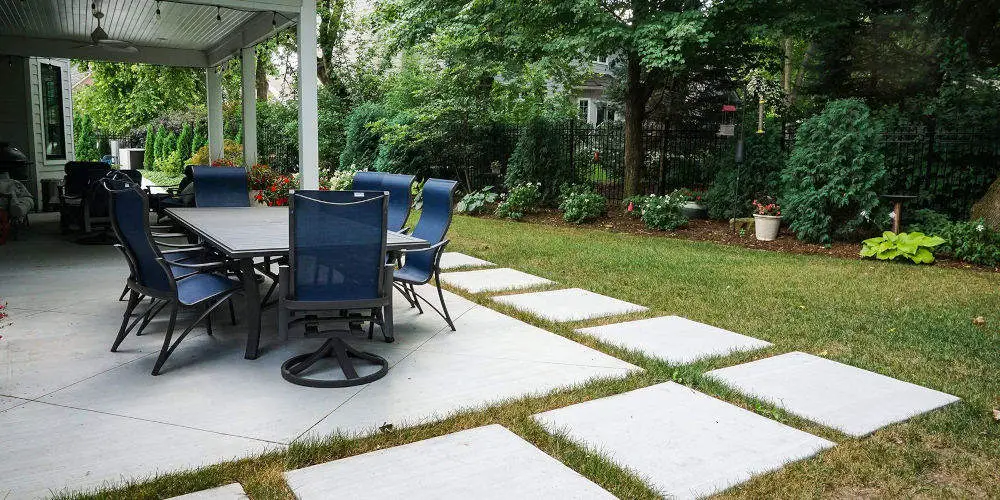 One of the most popular patio materials, concrete is durable and generally much cheaper than the other options. Concrete should always be installed by an experienced landscaping firm, as improperly poured concrete can crack and break away quickly.
However, if poured correctly, concrete can last for years and will not require much maintenance – at most, you'll have to wash it once or twice a year. An experienced contractor can also make sure that the drainage under the patio is set up properly.
When it comes to functionality, concrete is one of your best options. But if you are looking for something aesthetically pleasing it may fall short. Concrete doesn't necessarily look bad, but it doesn't have the added edge that the other materials may have.
Decorative concrete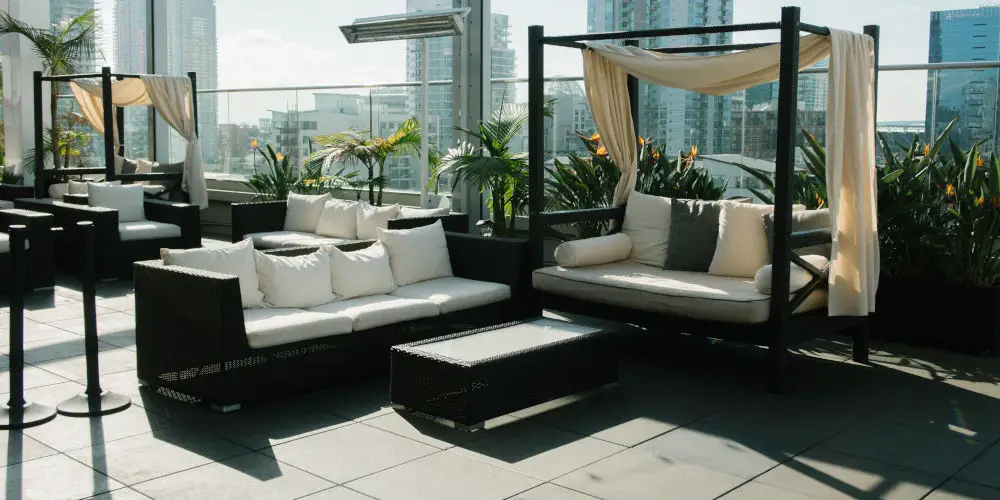 Decorative concrete is simply a poured concrete patio with a decorative pattern stamped into it. Many of the benefits of poured concrete apply to this style of concrete, including durability. Like with poured concrete, it's essential to hire a contractor.
You can choose the colour for the concrete used, and you can of course pick a pattern. You can choose simple rectangles, straight rows of squares, curved lines of rectangles, large random shapes… the list goes on and on.
This is a popular and aesthetically-pleasing method that can be quite expensive. Although the poured concrete base can be affordable, the additional design and planning can increase the cost.
Block paving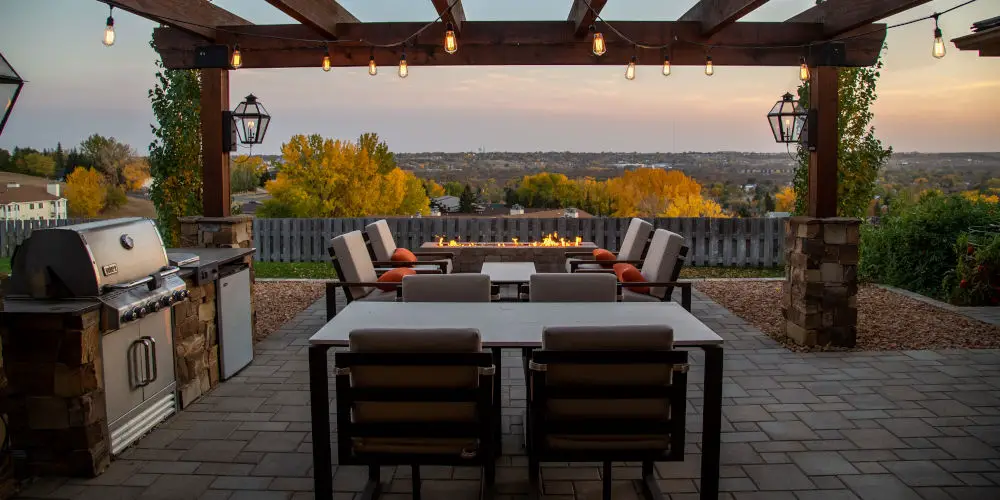 Block paving, or brick paving, is a commonly used and beautiful material you can use to create a patio. It can be one of the most expensive materials, averaging at £30 per m2. You have more opportunity to customize the appearance of the patio if you use this material, as you can work with a contractor to design a pattern that suits you.
A contractor is also essential to making sure this process is done correctly, as making sure the bricks are laid properly in your desired pattern can be quite tricky. They'll also ensure that the drainage under the block paving is set up correctly. So, you don't have to deal with any flooding or unexpected maintenance.
Block paving can last 20 or 30 years if cared for properly. If you choose block pavers for your patio, you should plan on power washing them once or twice a year and checking for any weeds, moss, or anything else that may be growing between the pavers.
If one of the pavers starts to crack or show wear in any way, it's also possible to replace individual sections so you can fix the appearance without having to replace the entire patio.
Stone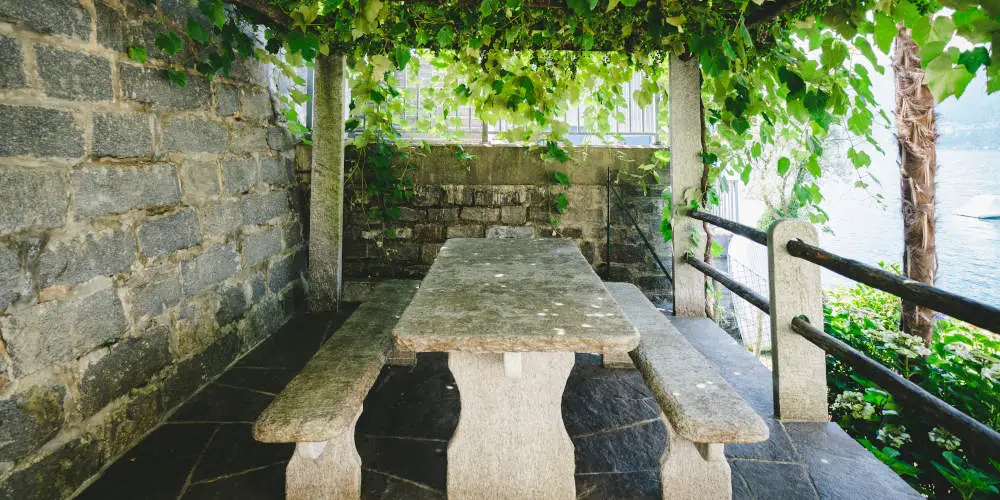 Stone is a great option. It's durable and can have a sleek and stylish look. Stone patios can also last an incredibly long time, with some being in the same place for over a hundred years. They tend to adapt easily to any changes the ground goes through.
Stone patios are also made with multiple pieces of stone that are not directly connected so if one piece breaks, usually only that specific piece needs to be replaced.
Stone can be quite expensive as it can cost around £85 per m2. But if you are looking for a material that will last you a long time and require almost no maintenance, stone is a great option for you. It is also highly recommended to hire a professional to help you install a patio built with this material.
Gravel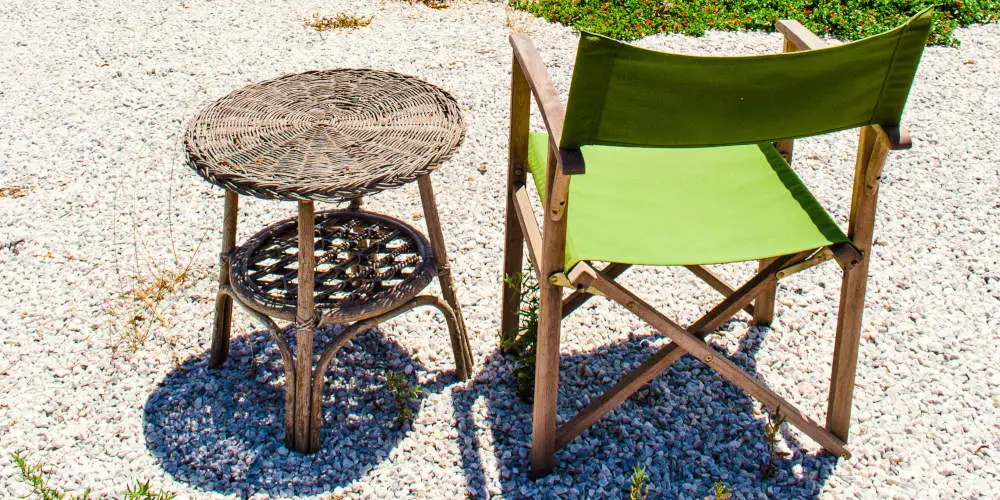 For a more cost effective option, consider gravel. It's also generally easy to install yourself. The gravel stones are loose so they can be poured and shaped easily. Gravel can also make for a classic and stylish patio.
One of the downsides to gravel patios is the fact that it's a less stable material. Gravel itself is durable, but it doesn't form a solid surface for furniture to be placed on top of. Removing snow from gravel can be tricky as well as the pieces of gravel can be scooped up as well as the snow.
When it comes to maintenance, gravel can be tricky. The pieces can scatter outside of the designated area and need to be cleaned up. Weeds may also spring up and need to be cleaned out.
Choosing the best patio material for your garden
Having looked at a range of the best patio materials, you can easily improve the look of your garden. All of the materials are hard-wearing and will survive no matter what the British weather throws at them!
Our top piece of advice is to consider how much maintenance you're willing to do. Even if you hire a landscaping firm to build your new patio, you'll still need to look after it.
Even with a small budget, you can create a highly useable space with plenty of kerb appeal. Somewhere you'll enjoy relaxing in the summer with a glass of wine and a book.