10 Best wardrobe organisers for a tidy closet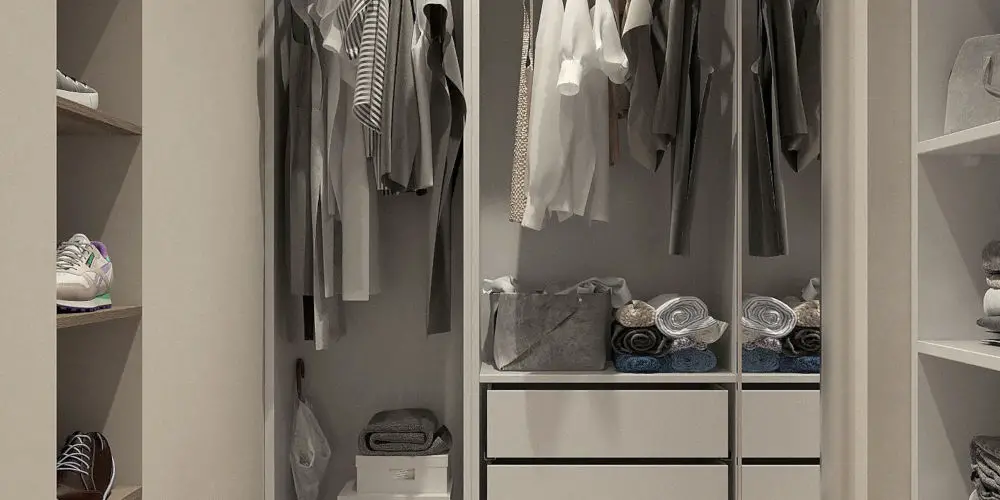 Choosing an outfit is more difficult if you have a messy closet and bedroom. While guys might not admit it, they suffer just as much as the ladies. Using some of the best wardrobe organisers, you can regain control of your closet and make it easy to find items.
Even the world's best wardrobe organisers can't magically transform your wardrobe or dressing room into a state of organised bliss. So it's worth starting with a good old de-clutter. Any items you haven't worn in the last 6 months should be put on eBay, given away or thrown.
As having less brings clarity, you can start to organise what's left better without being clouded by the piles and piles of clothes. And this is where having the right wardrobe organisers will come in handy. They'll make storing and more importantly, finding clothes easier.
We've tried to select a range of the best wardrobe organisers that can be used by either sex to arrange items better. So there's plenty for guys who (secretly) want to bring order or for their better half to steer them in the right direction. Plus ladies should be impressed by our options!
SONGMICS interlocking storage rack
Ideal for storing shoes, handbags, shirts/jumpers or hat collection, the SONGMICS Interlocking Storage Rack is made up of six cubes which can be arranged in a variety of ways depending on your requirements. Ideal for inside or next to your wardrobe.
Built from PP sheets and wire mesh, each cube holds up to 10 kg. Anti-toppling fittings (screws and expansion bolts) are included and prevents the unit from tipping over.
We'd use this to store foldable items that we want to be able to easily grab (things like jumpers, t-shirts and jeans). It looks stylish, plus the mesh design makes it easy to spot what's on each shelf. Also, the sides are ideal for attaching a shoe holder or hanging jewellery holder.
The industrial design means it would also look superb in the living room as a bookcase or room divider, if you were to combine several.
MISSLO over the door shoe rack
Struggling to find the right pair of shoes or can only find left shoes, then you need to organise your collection with the MISSLO over the door shoe rack. Featuring 24 roomy see-through mesh pockets, allowing you to store up to 12 pairs of shoes with ease.
Using four large hooks, you can easily hang this shoe rack over any door. It's ideal for hanging shoes on the inside or outside of your wardrobe, or even in the hall cupboard. It folds down for travelling, ensuring your shoe collection is protected.
While designed for shoes, you could use it for storing underwear, ties, belts or even accessories like hair clippers, shavers and hair straighteners. It uses are, simply endless!
BGH closet rod for hanging clothes
An issue that plagues all of us from time to time is matching colours correctly, no matters how monotone one's clothes are! In a fairly dark bedroom, all blues meld into a near single hue and even white and off-white appear too similar yet could cause a fashion faux pas!
You can solve this issue with the BGH Closet Rod which offers the built-in bonus of battery-powered LEDs. These lights will ensure you can pick different coloured clothes that will match without having to guess or using every available light in your home!
Made of thick aluminium alloy and able to hold up to 50kg, an embedded rubber strip stops clothes from moving. Thanks to an automatic sensor, the LED lights turn on when you approach the closet and turn off 30 seconds of no motion detected.
The built-in lithium battery provides 2-3 months of use per charge. A 3-meter USB power cable is included and allows you to connect it to a power bank for charging.
DIMJ 10 pockets handbag organiser
Your extensive handbag collection might need some arranging to look a little chicer and less like a pile! With ten large slots, the DIMJ handbag organiser is ideal for quickly sorting a pile or handbags, purses, wallet or accessories into a curated collection.
Using two durable flexible hooks, you can hang it in closet, wardrobe and any place with a hook or bar. It's easy to rotate, allowing you to view everything that it's holding. You can even detach and fold it for storage when not in use.
Made of non-woven material with meticulous stitches, this storage solution is breathable and dustproof. The two hooks on top are made of metal and attached with a metal bracket.
VICIDAY drawer dividers set
Highly useful for a range of purposes, the VICIDAY Drawer Dividers come as a set of 9. You, therefore have plenty of containers to store your underwear, sock, ties, pocket square and any other such accessories.
This set of foldable fabric drawer organisers include four different sizes: small, medium, large and extra-large, allowing you to tailor the container size to the item. It's easy to remove one container without disturbing the rest or to experiment with different layouts.
If you don't need all nine, then any unused ones can be folded flat for storage! That said, you'll probably find uses for all of them. Made from recyclable materials of corrugated cardboard and non-woven material. Buying this storage solution is very eco-friendly.
Yishik wardrobe clothes wonder hanger
At first glance, the Yishik Wardrobe Clothes Wonder Hanger doesn't look like much but it will revolutionize your wardrobe! It can be used with your existing hangers.
Easily hang multiple garments on a single organizer and take up minimal space within your wardrobe, and therefore creating more space. It's ideal if you have a lot of clothes or limited hanger space. You could easily attach shower hooks and use it to store handbags, purses and other accessories.
As it can hang vertically or horizontally, it's very versatile yet durable enough to hang shirts, pants, and heavy winter coats all on the same hook. Your clothes will be neatly arranged and wrinkle-free, making choosing an outfit quicker!
Emuca sliding organizer rack for 11 trousers
A problem with most wardrobes today is that they only have a single rail at the top. And while this is fine if you have a lot of dresses to store, it's not ideal if you need two rails with space for jackets and trousers. Thankfully, the Emuca sliding organizer rack is a superb solution.
Offering 11 hangers, each has plastic anti-slip caps in the edges, you can create plenty of storage inside your wardrobe that easily accessible. It can sit flush within a wardrobe or extend out beyond the frame, making it easy to view, arrange and pick trousers from it.
It comes with an instruction sheet and assembly screws. Installation is simple as it can be positioned for both left and right hand of the cabinet.
BrilliantJo hanging storage with 4 shelves
The BrilliantJo Hanging Storage with 4 Shelves is excellent if you're tight on space or have a wardrobe with a single rail and want to use the space more efficiently. Made from fabric, this wardrobe organizer has 4 compartments, each measures 30 cm (w) by 30 cm (d) by 21 cm (h).
The high-quality non-woven fabric is very soft and skin-friendly and is matched by a cardboard bottom, which provides durability. Ideal for storing jumpers, towels, gloves, socks, and more! It could even be ideal for shoes or handbags!
The metal hooks make it easy to install and as it folds flat if you're travelling or no longer need it, then it takes up a small amount of space.
HomeFairy hanging jewellery holder with 80 pockets
Don't just see the HomeFairy Hanging Jewellery Holder as an item for the ladies! Guys can use it to store underwear, pocket squares, belts, ties and cufflinks. With 80 pockets, this double-sided wardrobe organiser is ideal for safely storing a lot of items into a small space.
Made of PE non-woven fabric backing and transparent PE for the pocket, it's solid and durable. Plus it's convenient to clean and looks superb. Easily rolled up for carrying or for placing in luggage for travel.
Each side has 40 transparent pockets to hold all kinds of jewellery and other small accessories. There are 4 different size pockets at the bottom of each side for storing long necklaces, scarves, etc. You can quickly access jewellery, underwear, hair clips or whatever you're using it for!
Funime Single Canvas Wardrobe
While not a wardrobe organiser, having a portal closet such as the Funime Single Canvas Wardrobe is always handy. It takes about 15 minutes to assemble and folds flat for storage. You could use as extra storage, for guests or travelling.
Made from stylish non-woven fabric, it measures 69cm (w) by 43 cm (d) by 160 cm (h) and uses a high-quality zipper to protect clothes from dust and water. A steel tube frame ensures the wardrobe is rigid, strong yet lightweight.
Even as a single wardrobe, there's plenty of space to store item. The middle compartment is perfect for hanging shirts, dresses or coats, while the two small shelves that are ideal for storing shoes, jeans, hats or toys.
Create your dream closet using the best wardrobe organisers
Hopefully, you're feeling inspired by these best wardrobe organisers and plan on using some of them to simplify your closet. As we've tried to demonstrate, with a bit of creativity, you can repurpose most of our Best wardrobe organisers to store a range of items.