Bosch PSB 1800 LI-2 cordless combi drill review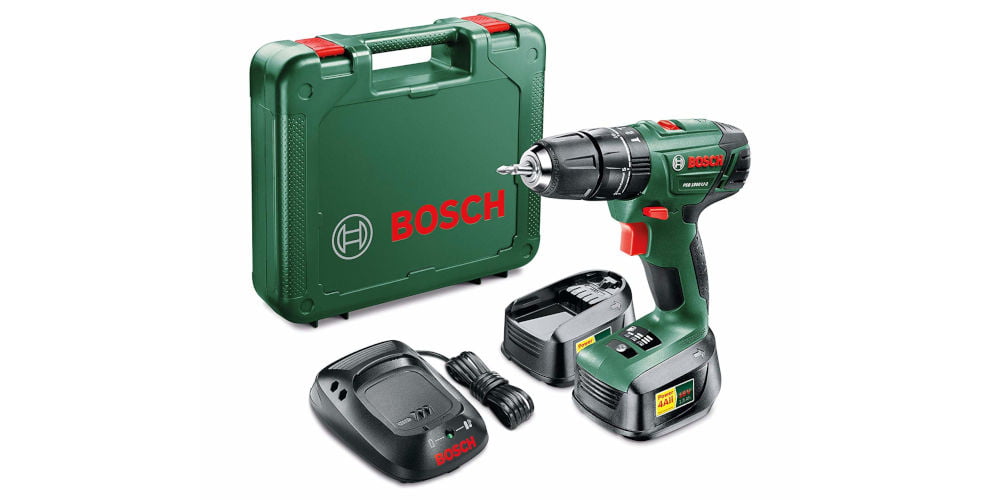 If you're looking for a good all-around cordless drill, then the Bosch PSB 1800 LI-2 Cordless Combi Drill is worth every penny of its £77.72 price tag (available from Amazon).
Included in the package are two 18 V Lithium-Ion Batteries, a double screwdriver bit, a charger and a carry case. Sadly, you'll need to supply drill bits.
This drill uses Bosch's innovative Syneon Chip technology. Not only does this ensures optimum power, but it also provides maximum endurance regardless of the task.
These fast-charging batteries are ready to use in an hour and can be used with any of DIY and garden tools in the Bosch 18 volt system.
Whether you're screwing or drilling wood, metal or masonry, the PSB 1800 handles it with ease. The two-speed planetary gearbox as 20 torque, drill and impact drill settings.
Changing drills bit is simple and quick, thanks to a keyless chuck which uses Bosch Auto-Lock. While an integrated LED light makes working in dark spaces easier without draining the battery.
As one of the best cordless drills currently on the market, the Bosch PSB 1800 LI-2 Cordless Combi Drill scores 9/10.
Pros
20 torque, drill and impact drill settings
10mm keyless chuck
Includes 2 fast charging lithium-ion batteries
Design
Sporting the classic Bosch colours and traditional design, the Bosch PSB 1800 LI-2 is lightweight yet doesn't lack power.
At 38 cm tall, it's of a good size and even with the battery added, it still only weighs 1.3 Kg. That said, it has a maximum torque of 38 Nm, so has plenty of power available.
Several design features make using the PSB 1800 enjoyable. These include a soft-grip handle, oversized buttons and integrated LED work light.
Starting with the keyless chuck. This enables the user to quickly change drill bits and uses Bosch Auto-Lock. Surrounding the chuck are two rotary controls. The first controls the torque settings and the second enables the user to select the mode.
The final control on top enables controls over the 2-speed gearbox. Surrounding the soft-grip handle is a pull trigger, which when suppressed starts the drill and a forward/backward control knob.
Continuing to moving down, the integrated LED sits parallel to the chuck, illuminating whatever you're working on when it switched on.
Next to this is a battery level monitor which uses 3 LEDs to indicate the remaining charge. Usually, this is built into the battery, however, BOSCH has included it on the body.
Finally, the battery slides onto the bottom and clicks in place, making it easy to change or remove for charging.
Features
One of the Bosch PSB 1800 LI-2 Drill's best feature is the batteries. The 18 V 1.5 Ah lithium-ion battery charge within an hour and provide sufficient run time (we're unsure exactly how much drilling time is provided by a fully charged battery).
As the package comes with two batteries, you should always be able to finish a job as you can leave a battery charging. There's nothing worse than having to wait for a battery to charge, to finish a job!
These batteries can be used with any of DIY and garden tools in the Bosch 18 volt system.
At the heart of this drill is a Bosch Syneon Chip, which intelligently manages the interaction between the battery, motor and gearbox. It ensures the drill delivers the perfect amount of energy required for your project.
The Syneon Chip is used in all Bosch cordless Lithium-ion 10.8V, 18V and 36V DIY products.
The robust motor coupled with a two-speed gearbox ensure whatever the material or task, that you have enough power to complete it. While the 20 pre-selectable torque, drill and impact drill settings enable you to fine-tune its performance even further.
The 10 mm keyless chuck makes changing bits very easy and doesn't need any tools. And the integrated LED light, illuminates dark work areas enabling you to complete the task quicker.
Set-up
Getting started with the Bosch PSB 1800 LI-2 couldn't be simpler. Firstly you'll need to charge the battery, which only takes an hour. As there are two batteries in the package, it's best to start the 2nd charging when the first is done.
With the battery charged and slid into the body, select the right mode (screwdriving/drilling/impact drilling) using the second rotary switch near to the chuck.
Next set the torque using the first rotary switch, select one of the 2 gearbox speeds and select the direction.
Finally, add a drill bit (sadly none are supplied) and you're ready to go. If you need more light on the work area, then simply switch the LED light.
As you work, you can easily check the battery status by looking at the 3 LEDs. When the last LED starts to flash then you'll need to change the battery or charge it.
Over time you can experiment with the gearbox on the Bosch PSB 1800 LI-2 and its 20 different torque settings and decide on the best combination for the task.
Performance
The first impressive feature is the battery charge time. While we couldn't find the average operation time per battery charge, the hour charge time is very good.
We recommend for battery-powered tools that you pay attention to the charge to use ratio. This is important as you don't want to wait 4 hours for a battery to charge, only to be able to use it for 15 minutes. So it's worth bearing this in mind when buying tools.
It's advertised as being able to drill through wood, plastic and brick. While it handles the first two with ease, it struggles with brick and masonry. So if you're planning to mount a porch light or security camera, you'll most likely need a mains power drill.
That said, it as enough power for use around the home, whether you're building flat-pack furniture, mounting a TV or hanging pictures. Designed to be light, this coupled with the soft-grip handle makes using the Bosch PSB 1800 LI-2 enjoyable and easy on the wrist.
Changing bits is very easy thanks to the 10 mm keyless chuck and the automatic lock. You don't need any other tools.
In terms of operation, there's a range of controls which allow you to fine-tune the drill's performance to the task. These coupled with the 2-speed gearbox and the variable speed Start-Stop control, makes this BOSCH drill highly veritable.
The plastic carry case enables you to keep the drill, batteries and charge together yet is robust enough to last years. Finally, the 24-month warranty ensures peace of mind.
Is the Bosch PSB 1800 LI-2 worth buying?
Overall, the Bosch PSB 1800 LI-2 Cordless Combi Drill is full of features and very affordably priced. It's light, designed to be easy to hold over long periods and has a useful LED work light and a keyless chuck. Plus it comes with two batteries.
While BOSCH does sell drill bits (a 70 piece accessory set costs £22), only a double-ended screwdriver bit comes with the PSB 1800. It would be nice for them to include a few drill bits.
This Bosch product performs well at most DIY tasks but lacks the power to drill into exterior brick or masonry. So you'll need a mains powered drill for any heavy-duty task.
With multiple settings, it's easy to configure the drill to the task. For example, if you were building a flat-pack bookcase, then you could set the drill to screwdriving mode and select a low torque setting.
However, if you're hanging paintings, then you could use a higher torque setting and select the drilling mode.
As it comes with two fast-charging batteries, you shouldn't run out of battery power but if you do, you'll only be waiting an hour for one to charge. Again the battery charge to use ratio is very important.
The 2-year warranty, plastic carry case and compact design makes the Bosch PSB 1800 LI-2 Cordless Combi Drill Review a worthwhile addition to your tool collection. 9/10