How easy is it to build a swimming pool?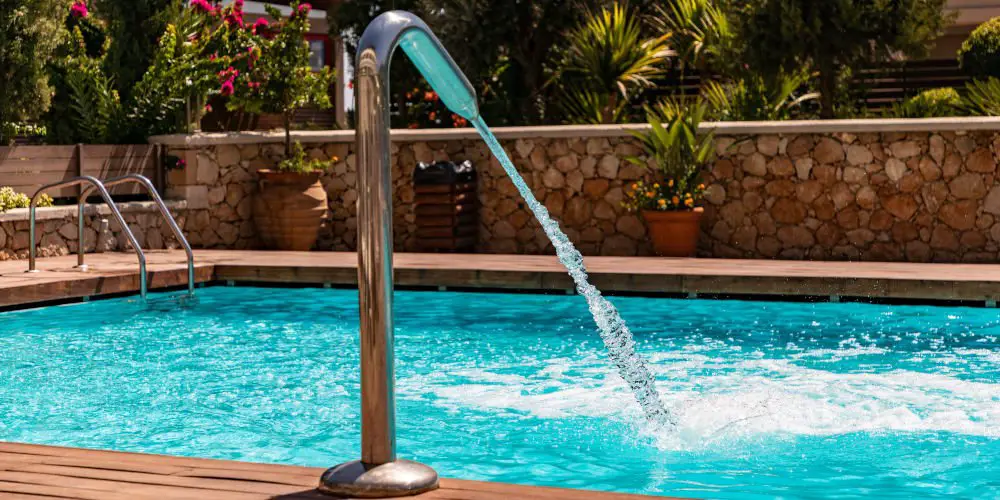 Just imagine relaxing by your very own private swimming pool. You can swim whenever you feel like it. Not to mention summers full of parties! Many homeowners desire their own pool but most don't consider if they should actually build a swimming pool in their home.
There are many reasons to have a swimming pool. For example, you might enjoy swimming but hate having to deal with your local leisure centre. If you have kids, you might want to encourage them to learn to swim. You could just fancy owning a pool to complement your outdoor kitchen!
If you want build a swimming pool, you'll need to know the basics including the different pool types you can potentially build, what the law says and how to maintain a pool.
Pool options
The temperamental nature of the British weather may leave you dreaming of an indoor pool but your budget might only extend to one in the garden. Regardless of your budget or dreams, one of your main concerns is probably whether adding a pool will increase your home's value.
If you're concerned about return on investment, we'd recommend talking to a few local agents before you dive head first (pun intended!) and build a swimming pool.
Outdoors: Above-ground
Your cheapest option is to install an above-ground pool in your garden. Price start from £2,500 for a generously sized 16 ft x 10 ft pool. As they can be installed by someone with good DIY skills, once you've purchased the pool kit, there's little additional expense.
Installing an above-ground swimming pool in your garden, sadly, won't impact your home's value, however, they are far easier to remove than the other options.
Outdoors: In-ground
As the name suggests, building an in-ground pool requires the excavation of soil. There are DIY options available that start from about £6,000. However, that's just the cost of the pool kit. You'll also need to hire machinery and purchase building materials.
Installing an in-ground pool, therefore, requires having some knowledge of construction and being confident in your DIY skills. Otherwise, your project could easily double or triple in cost as you'll have to hire a contractor to put it right.
However, if you have the budget to hire a contractor then prices range from £25,000 for a custom liner kit to in excess of £50,000 for a mosaic-tiled concrete pool.
There are even companies who produce ready to drop-in pools made from carbon-ceramic. After excavating a suitable hole and laying the pipework, the new pool is craned into place. Finally, it's plumbed in and ready to use. As you might expect, this option starts at £50,000 and up.
Depending on the pool's size, design and how well maintained it is, you could see a slight return when selling. However, an eyesore of a pool is likely to negatively impact your property's value.
Indoors
As there is a myriad of factors involved, building an indoor swimming pool could cost from £60,000 to well over £200,000 as you'll need to hire a specialist swimming pool contractor. The figure will be higher still if you plan on building a mini-health spa and a changing room.
As you might be extending your property, this will also need to be budgeted for. Depending on the specifications and finish, expect to spend at least £1,000 per m².
If you can't quite stretch to this figure then it's worth considering building an outdoor pool and covering it with sliding dome covers. This is the best of both worlds. If the weather is poor, you can enjoy an indoor pool, then when the sun rears its head, pull the covers back and have fun in your outdoor pool!
If indoor swimming pools are quite rare in your local property market but highly desirable then you might be able to command a higher price. Be aware, however, in certain prime property markets like London and villages surrounding Manchester, a sizeable percentage of buyers expect to see a pool on the particulars and as such won't pay a premium for one.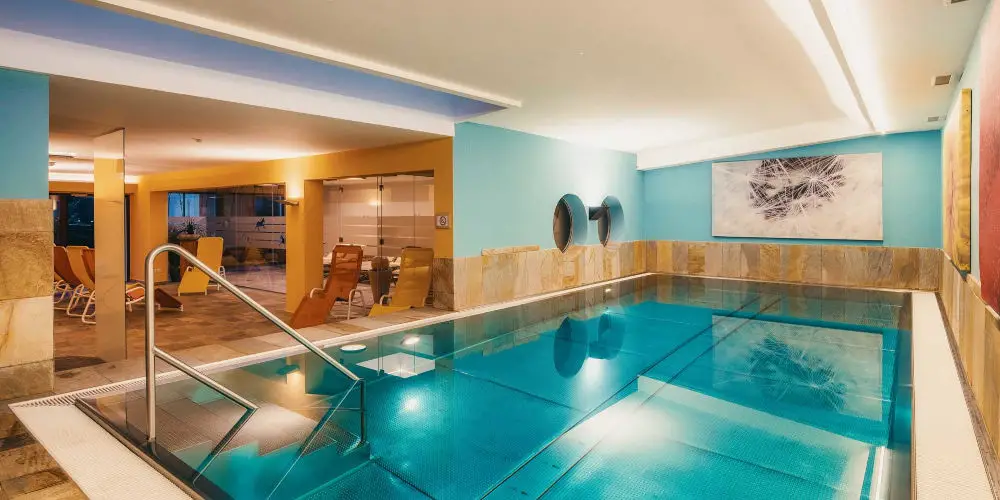 Do I need planning permission?
Depending on the type and size of your intended pool, you may not need planning permission. That said, it's worth calling or emailing your local planning authority before embarking on any work.
Swimming pools fall under Part 'L' of the building regulations, which lays out how to correctly and safely construct a swimming pool. Whether you hire a contractor or build it yourself, you have a legal obligation to comply with building regs.
Outdoors
Technically, both above-ground and in-ground swimming pools are classed as an outbuilding. Under Permitted Development rights (PD), you're able to build a swimming pool so long as it doesn't along with your other outbuildings exceed the 50% limit on coverage of grounds by buildings.
Over this 50% limit, then you'll need to apply for planning permission. You'll also need planning consent if your garden is part of an Area of Outstanding National Beauty or is located in a National Park, the greenbelt, a conservation site or a World Heritage site.
Indoors
Technically, you can add a rear extension of up to 4 metres (detached) and 3 metres (semi-detached) under PD to house your swimming pool. However, you're unlikely to be able to fit anything other than a large hot tub in this space! So you'll need to apply for planning permission.
Ideally, you'd hire an architect with experience of designing indoor swimming pools as it's a complex project with multiple moving parts. They should also be able to introduce you to specialist contractors.
If you're struggling to a specialist contractor then start by look for local members of The Swimming Pool & Allied Trade Association (SPATA).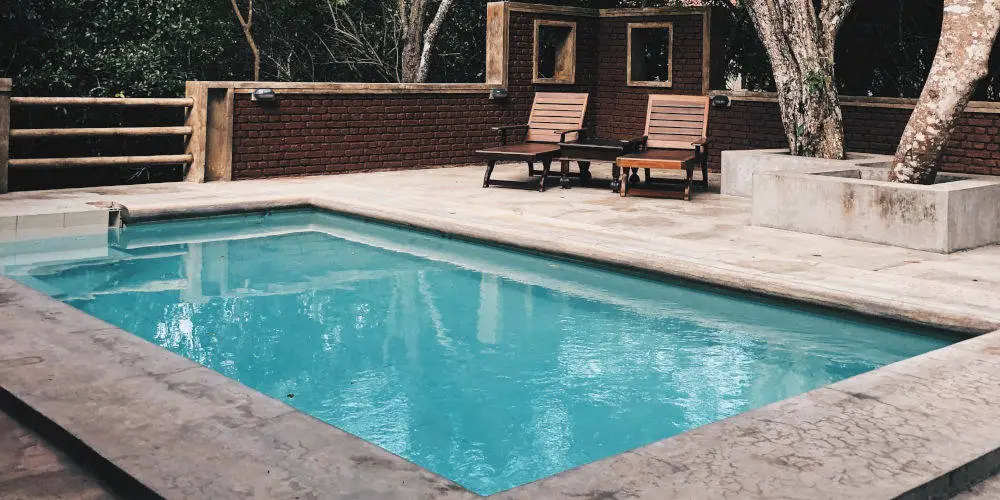 How large can I build a swimming pool?
We often see homeowners attempt to control both construction and running costs by building a relatively small pool. This usually ends in disappointment as their new pool feels more like an oversize hot tub albeit without the jets than a comfortable place to swim.
So while you can build a swimming pool that measures 6 by 3 metres pool, it's not the most useable space. You'll need to clock up a serious amount of lengths to stay fit. Many who install a fairly small pool, end up adding a swim jet or counter-current machine to turn their pool into a treadmill.
The typical standard size is 11 by 4 metres and 1.5 metres deep. This is often seen as a happy medium between usability and running costs. Of course, most companies will offer several larger sizes and many will happily create a bespoke sized pool.
Bear in mind that the bigger the pool, the more expensive it becomes to heat the water and maintain it.
Regardless of the size of your pool, you'll need to add at least a metre of clearance around each side. You'll also need room for a plant and filtration kit.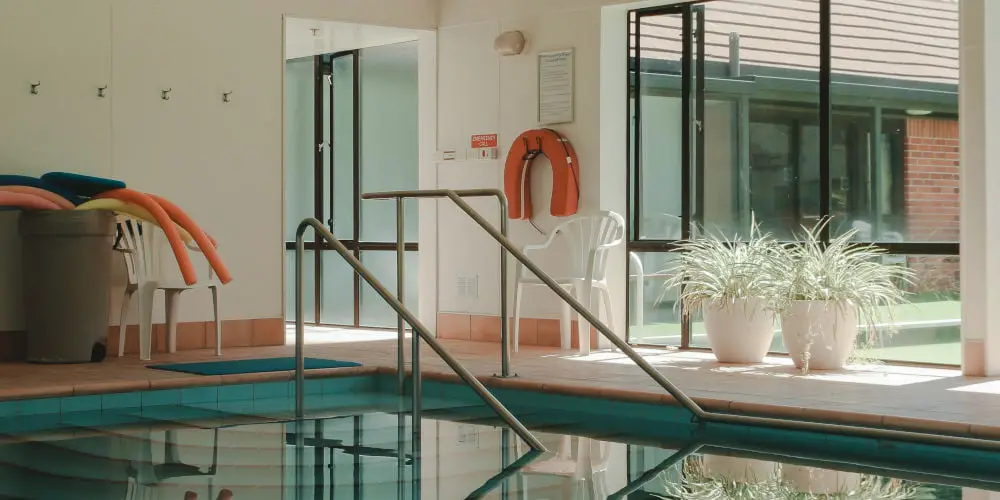 How should I heat my pool?
Outdoor pools represent a unique challenge when it comes to maintaining water temperature. They take a significant amount of energy to keep warm due to heat loss.
Many install a pool heater, which looks similar to a boiler and can be run off oil, electricity or gas. Some even use air-source heat pumps to extract energy from the air.
The pool shell's material also plays a role in the running cost. Regardless of whether you're using concrete, liner or single-piece prefab, you need to ensure that your pool shell is energy efficient and designed to retain heat.
It's also worth investing in a solar cover as this will help to minimise heat loss when not in use. The pool's surface accounts for around 80% of heat loss.
Ideally, you would invest in a hybrid system which uses renewables (air-source heat pumps and solar arrays) to power a heat exchanger to warm the water yet has the back up of using oil/gas/electricity. This will allow you to heat your pool no matter the weather.
You can apply the same ideas to an indoor pool, although it will be cheaper to run as the heat loss will be minimal in comparison.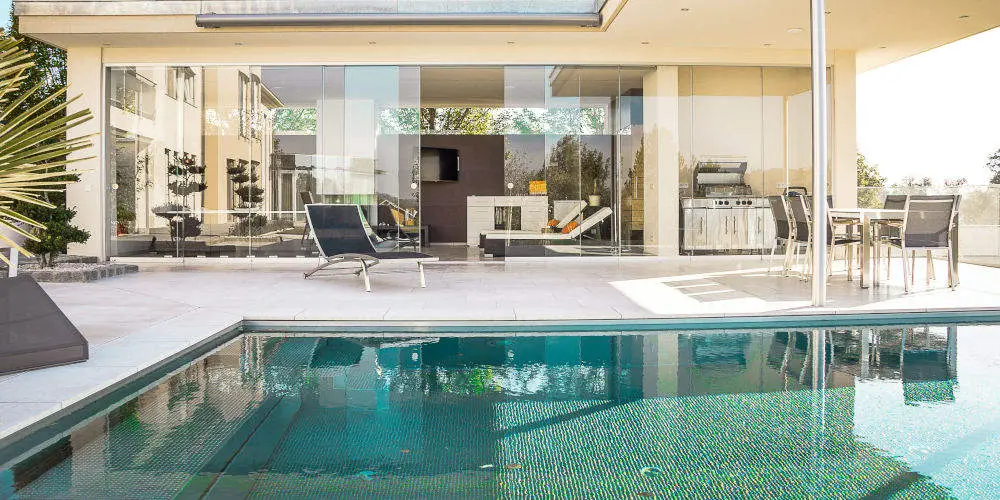 How should I maintain my pool?
One of the major maintenance tasks is checking pH and chlorine levels and adjusting them. There are even apps that will monitor pH and temperature levels. You can also buy automatic dosing systems, allowing you to maintain your pool from anywhere!
Outdoor pools can require more work especially, if it's covered in winter as the water can turn green. Thankfully, it's fairly simply to sort.
If you dislike the idea of using chlorine, then you can easily install a pool salt system. You could go completely chemical-free and use something like a Clear Water Revival's ClearSpring™ system.
Keeping your swimming pool running and clean is quite affordable. Indoor pools generally cost about £5 per day to heat and treat the water. That said, you'll also have to pay for repairs on top.
For outdoor pools, the cost could be as low as £5 per day in summer and around £10 per day if you use it year-round. Again these figures include all heating and chemicals, with repairs costing extra.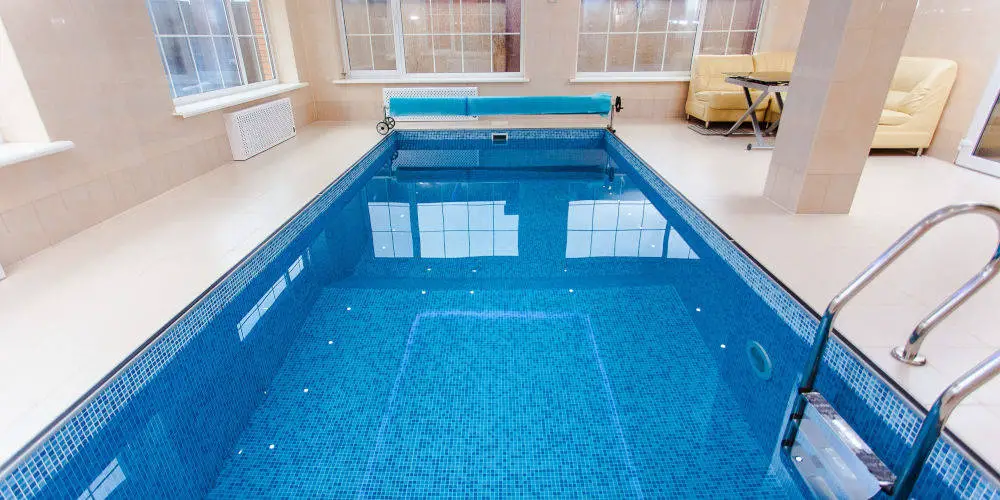 How can I keep it safe?
You can minimise the risks involved in pool ownership with a common-sense approach. But they can never be entirely removed.
As a minimum, invest in rescue equipment and install it close to your pool. It's worth checking these items at least twice a year to check they're in good repair.
Indoors we recommend installing security cameras and a lockable door into the pool area. This way you can easily control who uses the space and when. Also, when in use, you can easily monitor the situation.
Outdoor, you can install a safety cover, which cost at least £10,000. However, they can be life-saving. A safety cover will reduce heat loss, keep dirt out and at the push of a button, will automatically roll-up.
If you can't quite stretch to safety cover, you can affordably install a 1 metre high locked and alarmed fence around the pool. You might want to research French-standard pool alarms, which starts from £500. They use infra-red technology to protects the perimeter of the pool.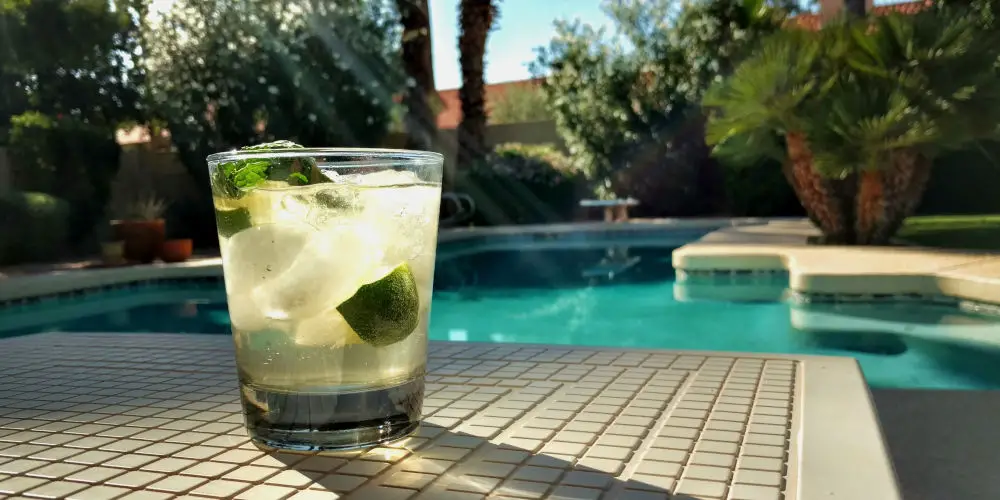 Should you build a swimming pool in your home?
If you're considering whether to build a swimming pool, your primary concern should be if you'll use it enough to make the investment worth it.
We'd advise against building a pool if you're planning to sell within the next year unless you've done your research and talked with local estate agents and the conclusion is that a pool would increase the property's value.
If you enjoy entertaining and like to swim, then do consider building a swimming pool as it will make a good investment.
It might be worth starting with an above-ground pool and test the waters (pun, intended!). When your confident that it's worth the investment, you can build a swimming pool in your home.