How to choose a dining table that's ideal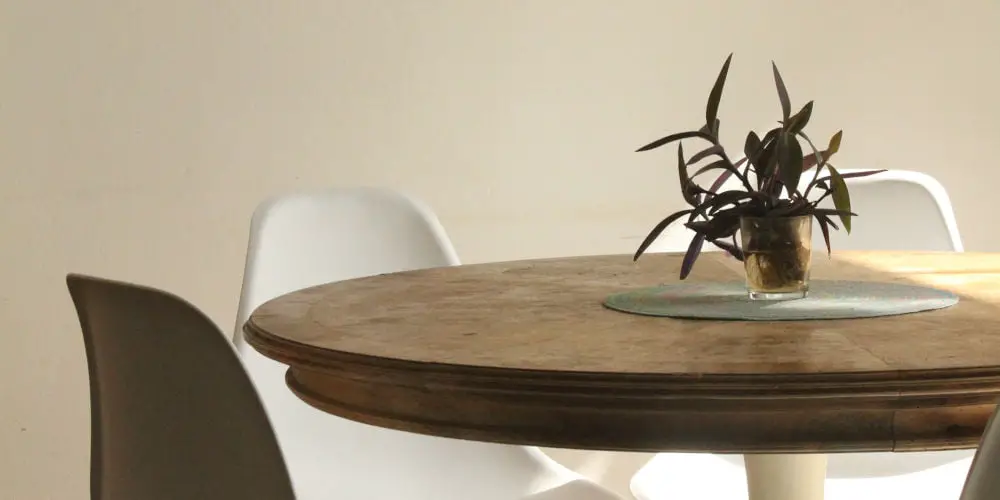 The dining table is more than just somewhere to eat food. It's the setting for many family events from dining, board games, and is a quiet place to complete homework. Your dining table may even double as an office space, especially as more of us are working from home.
It's worth considering how to choose a dining table before visiting a furniture shop and following some basic design principals.
Choosing the ideal table when designing your dining room can be tricky. It has to fit within the space, be durable yet comfy, affordable and of a timeless design.
For example, a plain wooden dining table with French-style chairs will always look classy and timeless. A glass table with an intricate copper base might look fantastic and on-trend now but might appear dated within a few years.
Here's how to choose a dining table that's timeless, doesn't break the bank and will be the backdrop for many memories.
How much space do I need?
One of the most common mistakes when people choose a dining table is getting the size wrong. It's a bit like Goldilocks! Too big and you'll have to shout and get up to pass plates. Too small and you'll feel cramped. Just right, plates can be easily past and conversation flows.
As a rule of thumb, ideally need a metre of space between all of the side of the dining table and the wall. So you'll need to measure the width and the depth of your room or space. With these two figures, you want to subtract 2 metres from each.
You now have a figure for the maximum dining table size your room will accommodate. But how many can we comfortable fit around it?
Ideally, each person needs at least 60 cm W by 40 cm H of table space. They'll require more if you'll use oversized dining chairs with arms. It's better to start by allowing each person more space than for everyone to feel cramped because you've shaved a few cms off here and there.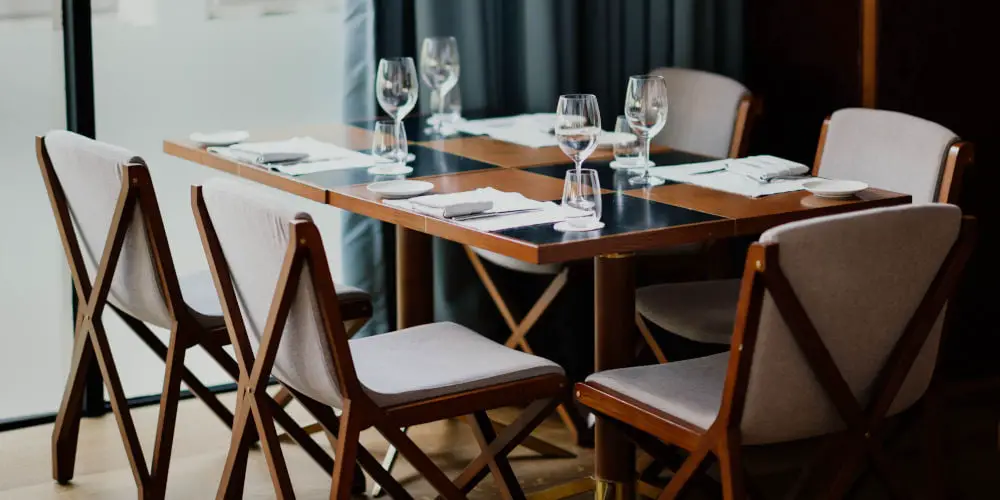 Does scale matter?
Using the right scale dining table is equally important. For example, a chunky wood table may look fantastic but will make a small room feel tiny. Whereas a sleek glass table on a chrome stand will reflect light making the space seem larger.
Colour also has a similar impact. A lighter glossy wood dining table will enhance the room and will help to spread the light. Darker tones will always pull the room inwards, making it feel more intimate.
If you're unsure either recreate your room using an online floor planner and try different dining tables or using masking tape, mark out the table's dimension on your floor and hold up a measuring tape to get an idea of the height.
Another way to correctly size a dining table to a room is to use an extendable table. For normal day to day use, you can remove the extension, then add them in when entertaining. Of course, you'll still need a room which can comfortably accommodate the maximum table.
Deciding on a table shape
While the room will largely dictate the shape and size of the table you're able to use, you may still have options.
Square dining table
Square dining tables are superb if you lack space in an apartment or there are only two of you, for example. However, you won't be able to tuck all the dining chairs under the table. Again if there's only two of you, this won't matter.
If a large rectangular table takes up too much space, you can consider using two smaller square tables. When you don't need much space, they can be pushed apart creating dining and office spaces. Yet with minutes can be pushed together to form a larger dining table, ideal for entertaining.
Rectangular dining table
Ideal for formal dining rooms, you need to consider the table's width and if you'll have enough table space for serving dishes or to easily past plates.
It might be a better idea to use an oval dining table, especially in a smaller space as they use less space yet still have the same impact.
Circular dining tables
If you prefer a more informal setting and have the space, consider using a circular dining table. They improve communication between the diners while allowing everyone to equal space.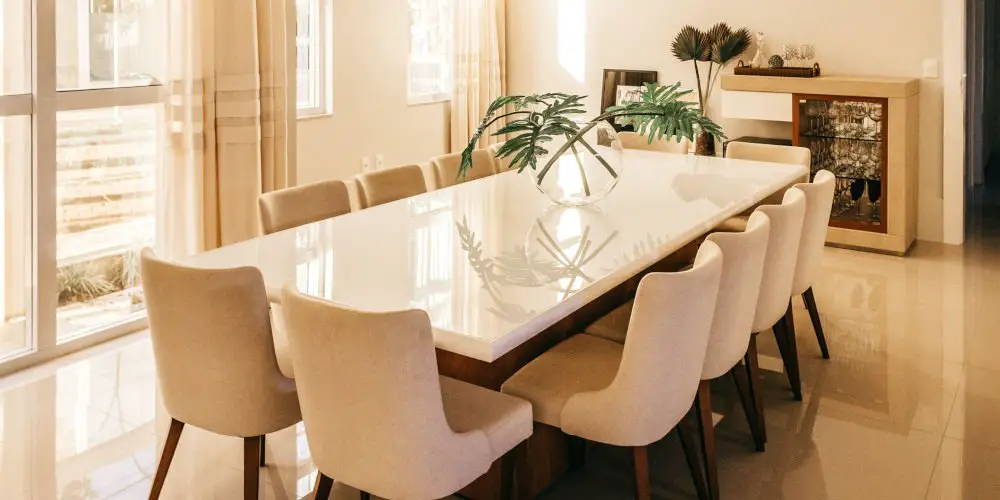 Table material
Unless you have a bottomless budget, you will be limited to a few materials and styles. However, there are still plenty of options even for a tiny budget.
Wood
There's nothing as traditional as a wooden dining table. They look fantastic, age well and are easy to repair. Plus you use a tablecloth to hide any imperfections.
Wood is also a fantastic medium to paint or varnish, with the option of striping it down and reapply a new coat when it starts to crack or look old. As a versatile material, wood is the material of choice for a wide range of design and styles.
In terms of options, you can choose from a variety of species. At the inexpensive end is Pine, which is cheap and very 80s! To hardwoods such as Oak and Walnut which cost more but have a distinctive look and last longer.
Glass
A glass-topped dining table will reflect light around the room, making it feel larger. That said, glass does show every fingerprint and smear. So isn't ideal if you have children unless you love permanently cleaning!
Plastics
A dining table made from plastic won't last more than a few years but will be very inexpensive and easy to wipe clean. If you plan on updating your interior every few years and want a striking design, a plastic table could be ideal.
Metal
Anything metallic instantly creates an industrial vibe. However, it does show every fingerprint and smear. A metal dining table can have an iconic design and be very hygienic, hence why professional kitchens use metal surfaces.
Stone
Much like wood, stone comes in a multitude of varieties and prices vary accordingly. For example, a cement topped dining table will be highly affordable and create an industrial vibe, whereas a marble-topped table will be more opulent and cost far more.
It's worth researching your options and choosing a stone which doesn't easily crack, can be sealed and is easy to maintain.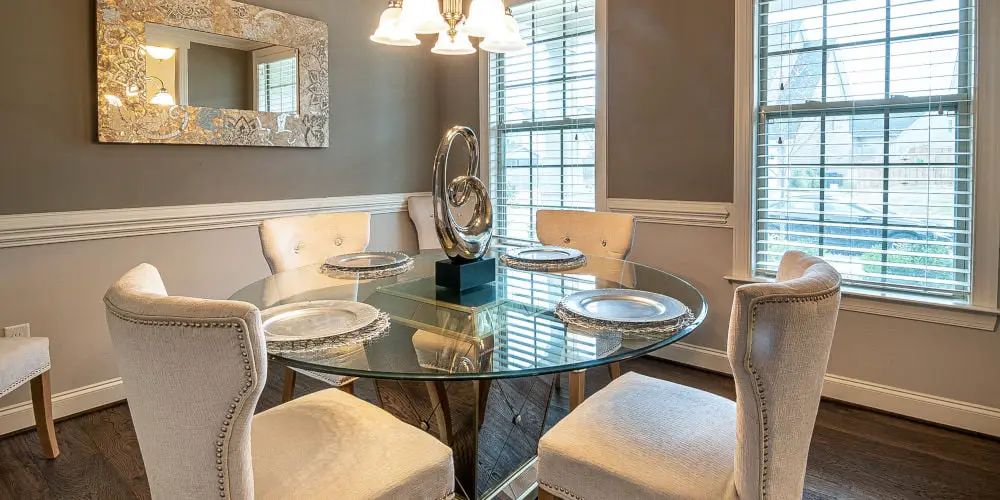 Table construction
One of the most important elements to consider when buying a dining table is the quality of construction. A higher standard of construction translates into a longer-lasting table.
With any table look for complex joints as the more parts, the weaker the joint can be. For example, wood directly joint to wood is likely to be far stronger than wood glued or stapled to plastic.
It's also worth looking underneath at joints and pushing firmly on the tabletop to see if it moves or is firm. Poor construction is easy to spot especially if you run your hands over the table and apply some pressure to joints.
Legs
It can be easy to forget that the legs are equally as important as the tabletop. Legs and supports can dictate the number of people who can dine at the table and how comfortable they'll be.
Also taller friends and family will appreciate a little more legroom. Plus there's nothing worse than finding a table leg in the centre of your chair!
A pedestal style table can fit more chairs around it but aren't as less sturdy than four-legged tables.
The traditional design of having legs in each corner makes it easier to tuck chairs in.
Trestle tables typically have more room at the sides. However, the design makes fitting a chair at the end harder.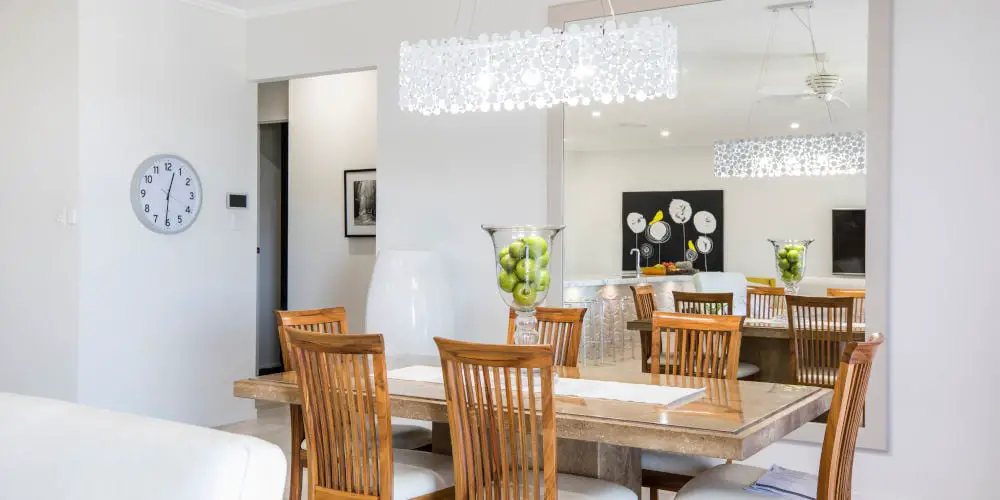 That's how to choose a dining table for your home
Choosing a dining table for your home isn't as simple as shopping for a design you like at an affordable price. You also need to take into account how much space you have, your interior style and the number of people you'll need to sit at the table.
However, bearing all of this in mind will ensure that you will choose a dining table that's ideal for your home and will provide years of use and enjoyment.