How to choose paint colours for your walls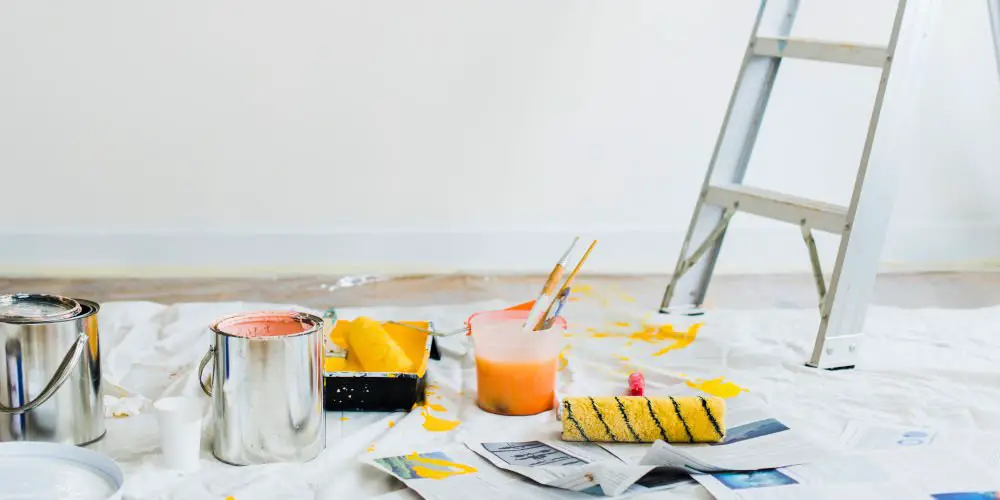 With literally thousands of shades available, choosing paint colours can easily turn into analysis paralysis. But don't worry, we've all been there when trying to choose paint colours.
Thankfully it's easy to simplify your options down to a few and end up with a result you love.
After helping you decide on your general colour scheme, we'll turn our attention to how to effectively use paint. Next, we'll cover key rooms and give you plenty of ideas.
Finally, there's a glossary of key terms, just in case you get stuck! Here's how to choose paint colours for your home.
Find inspiration to choose paint colours
Before you can choose paint colours, you need to be inspired! Luckily there's loads of inspiration available within a few simple clicks.
Let's start with Pinterest and Instagram as both fantastic for drawing inspiration from a wide range of sources. Both also make it easy to save ideas to review later.
You could go old school and buy some magazine and start cutting out designs that speak to you. Plus you could draw inspiration from a favourite painting, a rug you already own or even nature.
Also, paint companies have loads of great ideas on their websites that will inspire you and help you to choose paint colours that will work best or your home.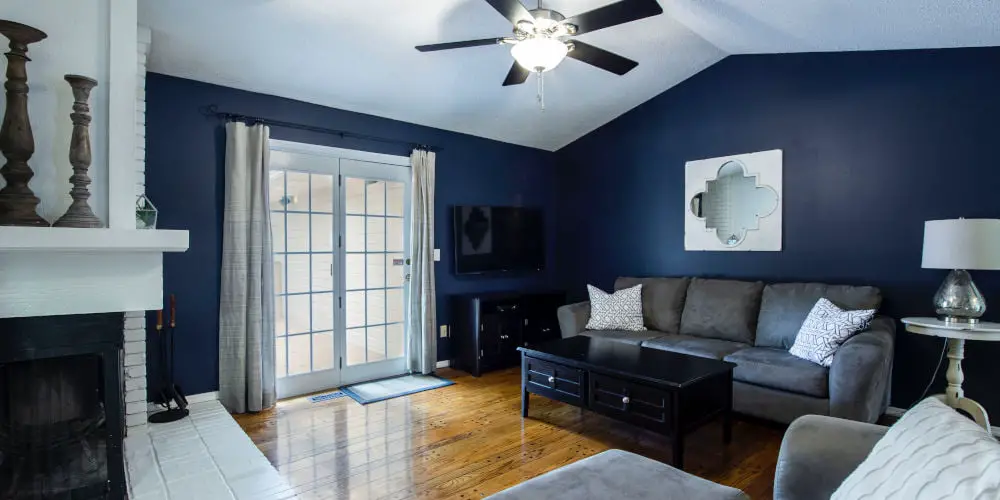 Colour space tricks
Light vs dark
For example, if you have a small snug media room, using a light colour probably won't work. Instead, try using a darker colour as this will make the room feel more intimate and cosier.
As a feature
You can use colour to break up large rooms. For example, in a large reception room with living and dining areas, you might use a neutral tone as the base. You could then use a brighter colour at each end or on one single wall. Together, the room will feel light and airy, yet each section is subtly marked.
Room orientation
The way light hits your walls has an impact on how colour feels.
North facing rooms receive cooler and harsher light. It's worth avoiding cool colours. Instead, use yellows and pinks (even if they're an undertone) or darker tones.
East-facing rooms start the day bright and cool as the hours go by. You, therefore, need to balance the intensity of the sunlight. Colours like blue or green, or pale neutrals with a blue or green base will provide enough contrast.
South-facing rooms get warm light all day, which makes colours appear flat and yellower. So choose cooler paint colours as they will be naturally brightened by the sun.
West-facing rooms warm up as the day goes on. So choose paint colours with a blue or green base.
Lighting
Most people forget that lighting has a massive impact on how a colour feels in a space.
For example, if you only ever use a room at night, then under halogen the paint colour will appear warmer. Or colder if you have LED bulbs.
It's therefore important to match your paint colour to the room and its function.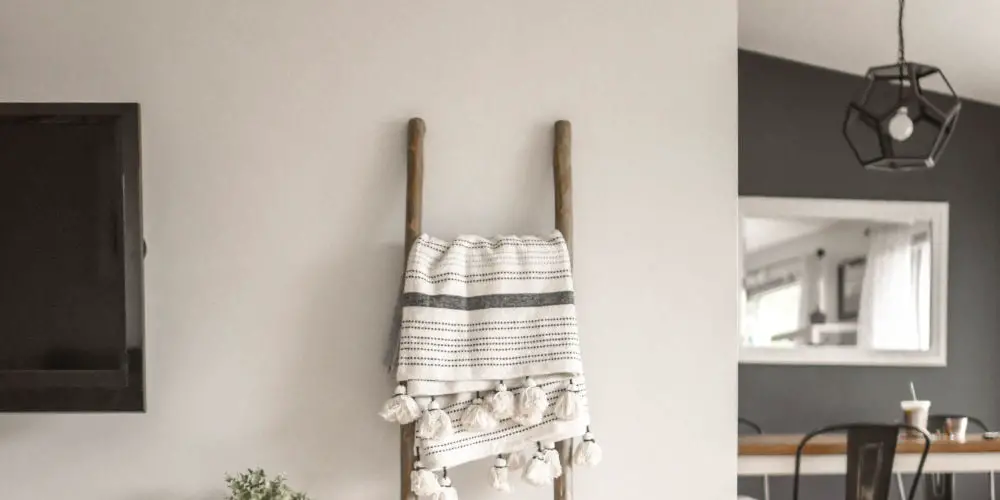 Sample paint colours before committing
Now that you're inspired and have some of the basic principals down, you'll want to choose paint colours to sample.
But first, a don't. You probably are tempted to paint squares of all the new colours onto the wall. However, this isn't the best idea as colours react with each other and could give you the wrong impression.
For example, a pure white suddenly develops a greenish hue. Browns look pink and greys turn lavender.
Instead, cut a square from cardboard or wood and apply 2 coats of paint. Also, A4 sized pieces of lining paper work just as well. This way you can see how the colour reacts to the room, light and furniture.
Remember, dry paint looks radically different from wet. So wait for it completely dry before making your final decision. If you love the finish, trust your instincts and choose that paint!
You can easily pair two squares together if you're planning on blending colours or deciding on a tone for the walls and another for the skirting boards.
Also with a movable square, you can take it shopping, enabling you to clearly match fabrics with wall colours.
If you don't fancy buying some tester pot or are trying to narrow the choice down, then use the Dulux's free Visualizer app. Using augmented reality, the app allows you to visualise how colours will work in the room.
Simply take a photo or video of the room, then scroll through a huge number of shades. Tapping a colour will instantly transform your virtual walls, enabling you to see how certain tones work in your room.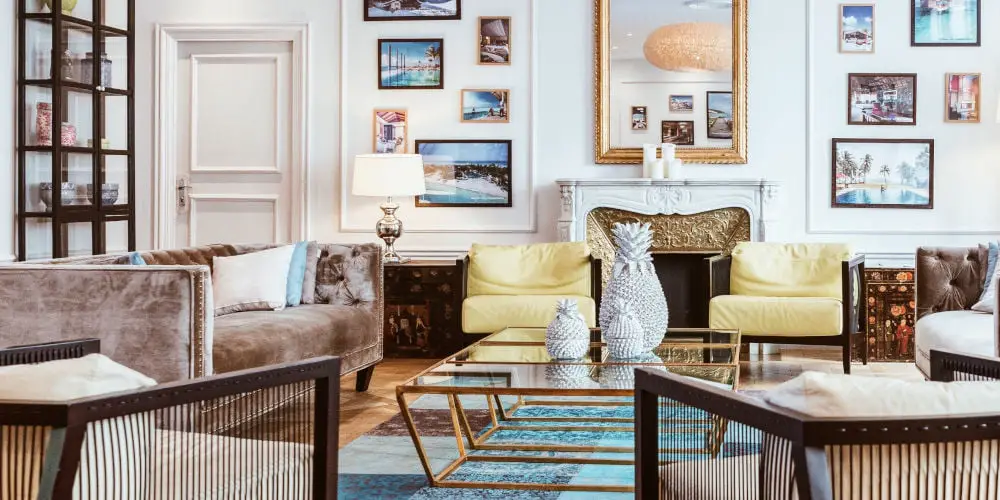 Which paint works best in a living room
If you're trying to choose paint colours for your living room, you'll need to take a little more time as it's the room everyone sees. That said, it's not worth panicking over as once furniture, curtains, and art are added, the wall colour stand-out less.
Since light greys are on trend, there's nothing wrong with using a muted tone. Plus a more subtle tone can create a superb backdrop, which can be brighten up with furniture, art, and soft furnishings.
If you're looking to make a statement,but struggling to choose paint colours, then using a bright blue will make your living come to life and make a smaller room feel spacious.
Using a pale blue or off-white will bring a sense of calm and create an inviting environment.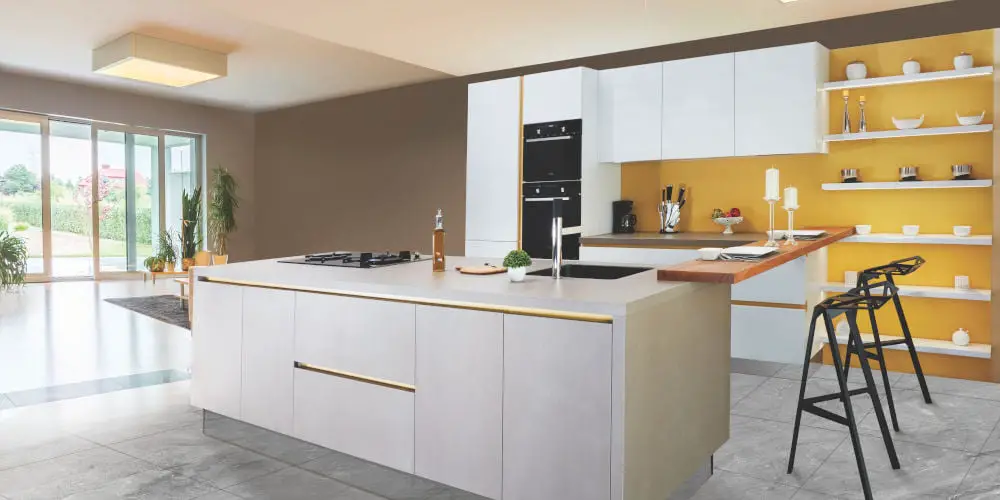 Best paint colour for kitchens
Kitchens are equally as tricky to find a colour that works. Follow the trend and you might have a tired looking kitchen within a few years. However, selecting a white finish could make it look like a lab.
Choose paint colours that are interesting, but still neutral enough that you don't get sick of it year after year.
If you can't decide on a colour, then consider off-white as it will always look fresh but not clinical. Use tiles or a feature wall in a brighter colour to add contrast to the off-white.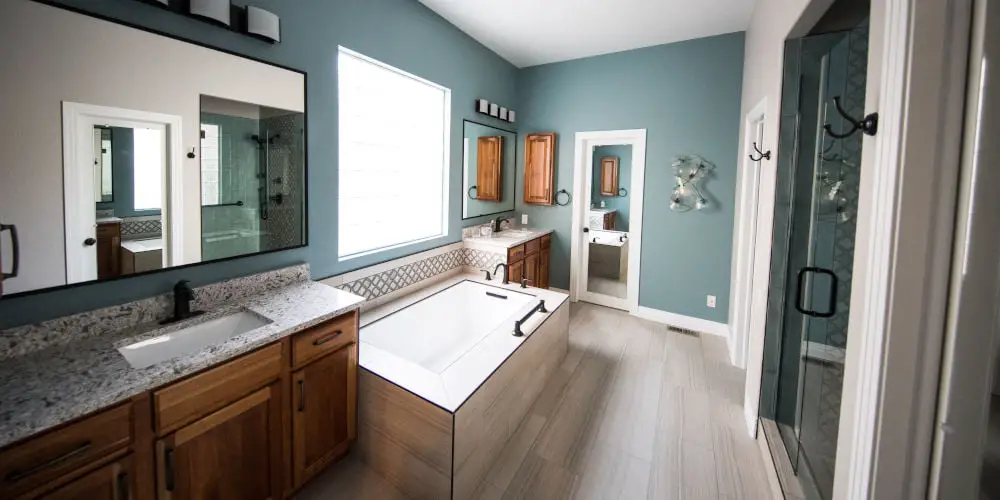 The right paint colour for bathroom
Bathrooms look best with some colour other than white. So you can create interest in two ways. Either paint the walls white and use colour in the tiles or use plain bathroom tiles and paint the wall in a bold colour such as blue.
With family bathrooms, you can afford to go bold and use an acid green, sunshine yellow or fizzy orange.
If you decide to play it safe and use white, then you always add interest by using bold colours in towels and accessories.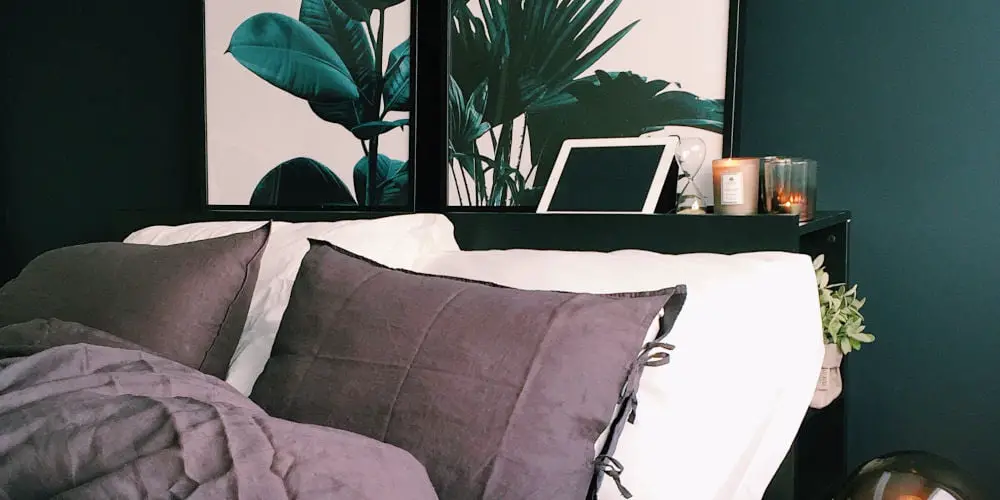 Make your bedroom colour calming
As our bedroom is our retreat from the world, it should be calming. You should feel the stress start to melt away just by walking into your bedroom.
Dark blues and greys will make your bedroom feel snug and can easily be muted by lighter flooring. Various green tones work equally as well and can have the effect of bringing the outside, in.
If you have children, think about stripes or bright blues or yellows. If you have space, use some blackboard paint to create to an arts/craft area. This way your child can abuse a certain section of the wall and should leave the rest relatively intact.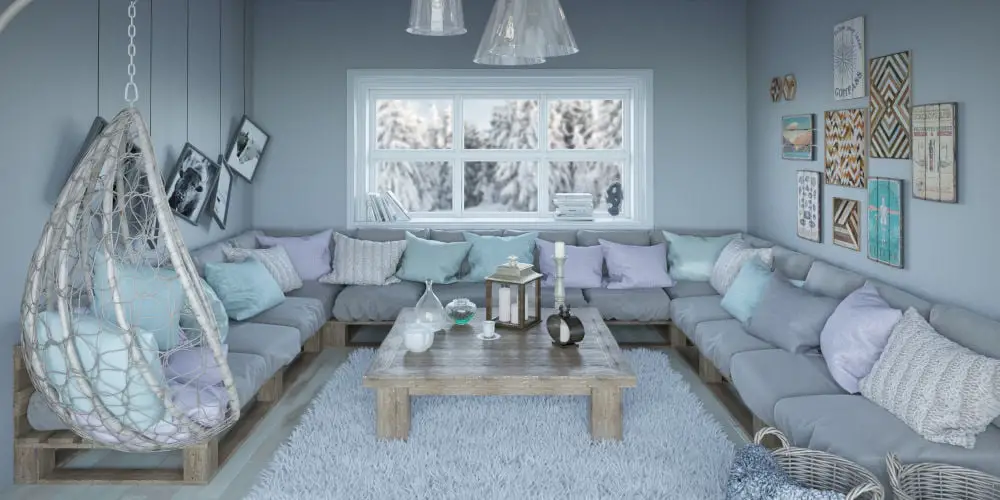 How to select the right white paint tone
There are a million and one shades of white. Well, maybe not that many, but still, there are a lot. It's easy to choose any white paint colour and end up disliking it.
One of our favourite interior designers, Rebecca Wakefield, has painted her entire house in Farrow and Ball Shaded White. As her home is a Victorian terrace, it's on the small size and this colour is superb. It always looks fresh and makes spaces feel bigger.
If you must use white paint, choose a tone with a hint of grey. You'll love it and won't be bored with it.
When to use neutral paint colours
Neutrals such as off-white, light grey and black are all fantastic for creating a calming backdrop.
Never be afraid to use one of these colours and then use different colours in furniture and accessories. Doing so will create an interesting room with depth, which you'll enjoy using.
If you want a total calm, then use neutrals throughout the colour scheme and see elements blend seamlessly to create a relaxing, big room.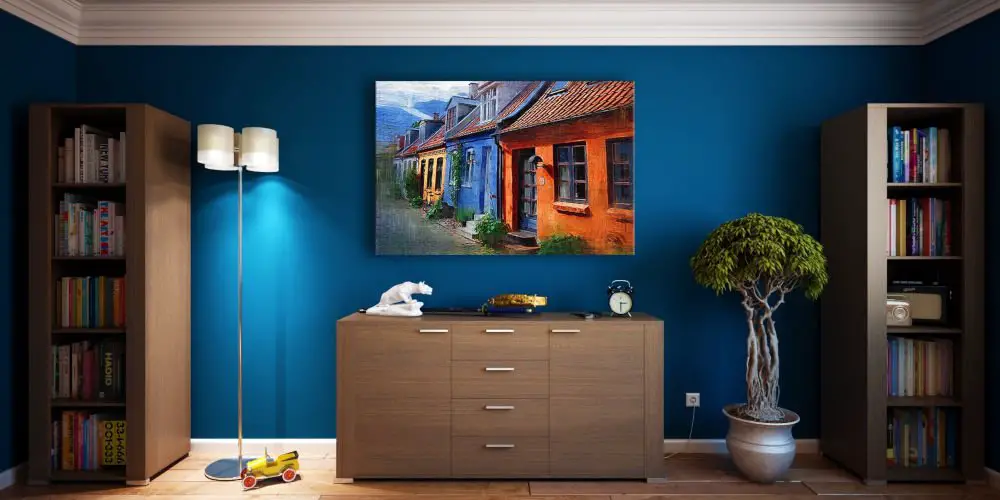 How to choose paint colours for the outside
Painting your exterior requires a slightly different approach. As the outside will get a good covering of bright light, you'll want to choose paint colours that are a darker shade than you would on the interior.
If you live in a period home, your external paint choice might be limited by the local council or listing status. So it's worth contacting your local planning department.
However, if you're free from red tape, then you probably still want to use a reproduction paint, which will enhance the charter of the property.
Paint colour glossary
`
Colour – How a surface looks as a result of the way it reflects light.
Hue – Synonym for colour.
Shade – A darker version of a colour, which is made by adding black.
Tint – A lighter version of a colour, which is made by adding white.
Tone – Lighter or darker version of a colour.
Colour wheel – A circular diagram which shows the primary colours (red, blue, yellow); secondary colours created by mixing the primaries (red + blue = purple; red + yellow = orange; yellow + blue = green); and the tertiary colours (red-orange; yellow-orange; yellow-green; blue-green; blue-purple; red-purple).
Warm colours– Such as reds, oranges and yellows.
Cool colours – Such as greens, blues and blue-purples.
Neutral colours – These aren't warm or cool. For example greys and whites as well as browns and blacks.