How to clean tile grout: 10 Cheap dirt busting ideas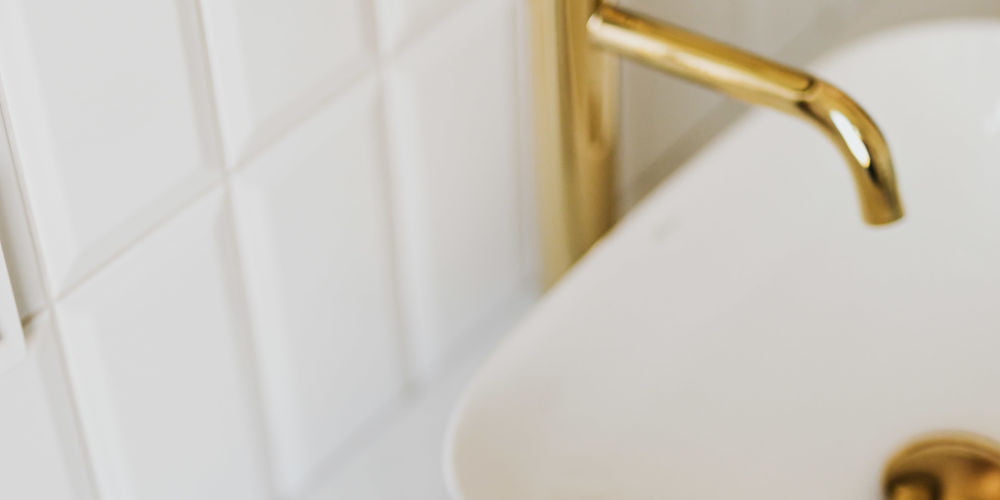 We've been using tiles since Roman times yet grout is a fairly modern invention in comparison! Over time grout easily becomes discoloured. Here is how to clean tile grout and end up with sparling tiles.
You probably have several types of tiles in your home that all require regular cleaning to maintain a shiny finish. So whether you have a bathroom with tiles on the walls and floor or tiles in your kitchen, here are several ways you can maintain them and clean tile grout.
Why cleaning your grout is important
If you can currently see little black spots on your tile grout, then you have a build-up of mildew. It's probably releasing spores into the room that are harmful whether you have asthma or not.
So, knowing how to clean tile grout is more than just about caring for your bathroom or kitchen's appearance, it's also about your health.
#1 Scrub with warm water
Before you try a home-made solution or buy a product from the supermarket or DIY shop, give your grout a good scrub! You can use a scrubbing brush or an old electric toothbrush and some warm water. Scrub the grouting in a circular motion.
If you don't have an old electric toothbrush lying around, consider buying a DERCLIVE 4in1 Electric Scrubber. Coming with 4 different brushes, it's battery-powered and highly effective. You might find all you need is some warm water and a DERCLIVE Scrubber!
#2 Cleaning tile grout with commercial products
Before we take a look at home-made solutions to clean tile grout, it's worth considering what's available at the supermarket and DIY shop. Both will offer a range of specially formulated products including our recommendation, Pro-Kleen Tile Grout Cleaner.
Ideally, choose one with anti-fungal properties that kills both mould and mildew. Most commercial products are foolproof but they should be used with caution as they contain strong chemicals. So, you'll want to wear rubber gloves and properly ventilate the space.
Before spreading the solution across the entirety of your tiles, test it on a small, inconspicuous area first. Then follow the direction as you apply it to all the grout.
#3 Cleaning tile grout with whitening toothpaste
Just like on slightly yellowing teeth, whitening toothpaste can remove marks from your grout! Using a small amount of the toothpaste and scrubbing brush, give your grouting a good scrub. The toothpaste should act as a mild abrasive that will help remove any discolourations.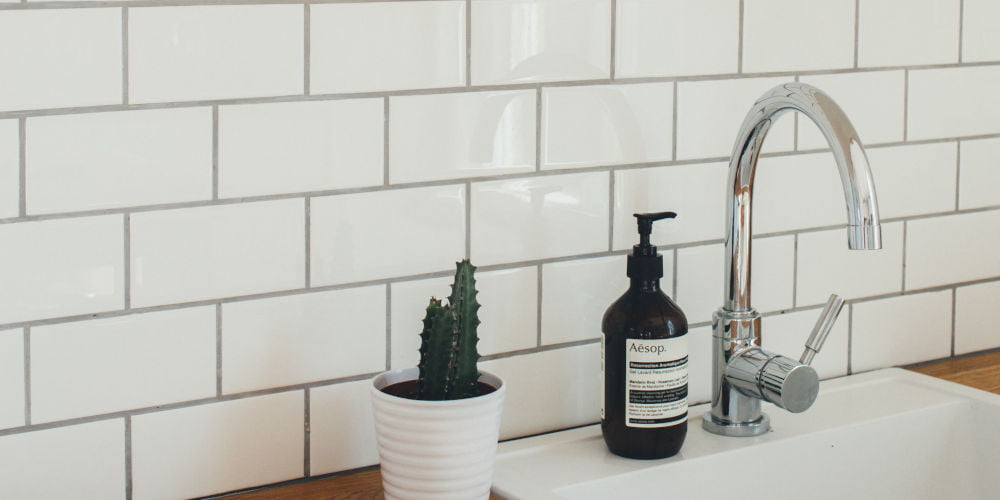 #4 Use vinegar to clean your grout
If your grout is stained, then mix equal parts of vinegar and warm water. Fill a spray bottle with the solution and spray it onto the grout, leaving it for about 5 minutes. Finally, give them a good scrub with a stiff brush. Using this solution should help restore your grout to its original colour.
#5 Try using bleach
Ideally, you'd use bleach as a last result to clean tile grout with stubborn stains that won't budge. As with chemical products, you'll only want to use bleach in well-ventilated spaces and with rubber gloves.
You can pour a small amount of bleach into a cup then dip an old toothbrush into the bleach before scrubbing your grout.
Another idea is to mix bleach with bicarbonate of soda to create a paste. Aim for the mixture to resemble toothpaste consistency. Apply it to the grout and leave for 15 minutes. Take an old brush and scrub the paste away before rinsing with water or a damp cloth. Allow the grout to dry.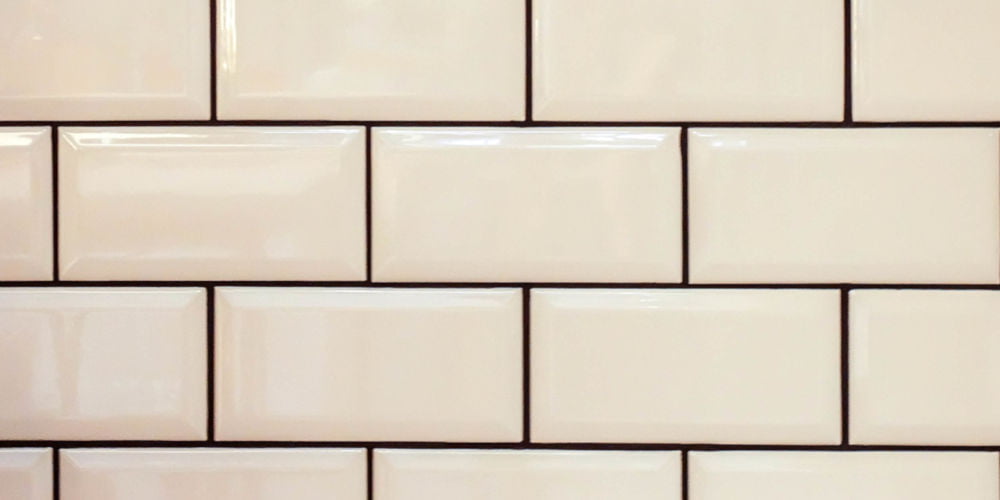 #6 Clean tile grout with bicarbonate soda and vinegar
Again create a thick paste of bicarbonate of soda and white wine vinegar. Apply the paste to the grout with a small brush or an old toothbrush. Leave for 15 minutes to settle and then clean with a wet cloth. Any marks or discolouration will be gone!
#7 Grout pen
If, once you've cleaned your tile grout, they still look unsatisfyingly yellow or grey, then try using a grout pen. While it won't magically make your grout look like new, it will be close!
However, it won't last forever. But it will brighten the tile grout for some time. These pens usually have anti-fungal properties so they'll also discourage mould growth.
#8 How to clean tile grout without scrubbing
Using the above methods you should be able to clean tile grout on walls or small areas. However, you can't really use any of these ideas on a floor, unless you love spending hours on your hands and knees scrubbing!
Instead, you'll want to use a steam cleaner as they effectively clean and sanitize all types of tiles and grouts, and don't use chemicals. If you're buying one, ensure it comes with the proper attachments for cleaning grout!
#9 How to keep your shower grout in good shape
Showers can be challenging when it comes to keeping grout clean, especially as they can be home to the biggest build-up of grime. Thankfully, keeping your grout looking it's best is easy.
A few minutes before you start cleaning, run a hot shower. Leave the door and any windows closed. When you're ready, turn off the shower. You can use a chemical solution or any of our home-made cleaners above.
Unlike in previous examples, where we've used a toothbrush or scrubbing brush, use a softer material like cotton wool. This will enable you to reach into every nook and cranny. Regardless of what you use, leave it to settle for 5 to 10 minutes, then with a dry cloth wipe down the walls.
Using a clean, dry cloth can help limit the grime and mould that water encourages. Again ensure you get deep into the grout and clean it thoroughly.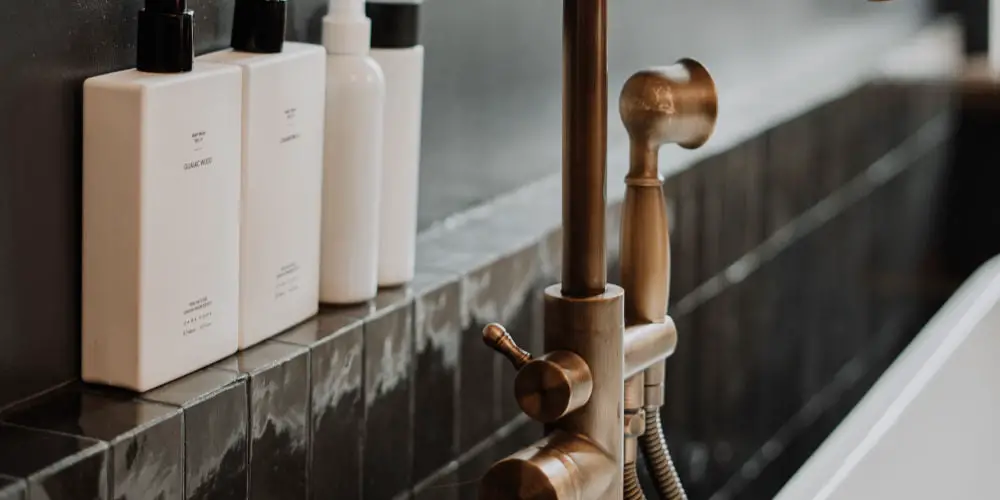 #10 How to clean tile grout in the kitchen
As with the bathroom shower, the kitchen requires special attention to remove any grease that's stuck to the grouting. Thankfully, you can use a quality kitchen cleaner like Botanical Origin Multipurpose Eco Cleaner to clean tile grout.
Simply spray onto grease-splattered tiles and grout, leave for a few minutes. Then with an old toothbrush, give them a good scrub and rinsing lukewarm water.
Protect your tiles with a grout sealant
After cleaning your grout, the most effective way to keep it cleaner longer is to use a sealant. A range of products is available, allowing you to use one that's compatible with your type of tile and grout.
Keep your grout clean
It's worth spraying your grout with vinegar and wiping it down, weekly. You can also wipe grout with alcohol to keep mould and mildew under control.
Regrouting
If despite your best efforts the grout between your tiles fails to scrub up a better solution may be to re-grout the tiles. Like other simple bathroom design ideas, fresh grout breathes life back into the space, making it feel and look almost new!