8 Impressive yet cosy container home floor plan ideas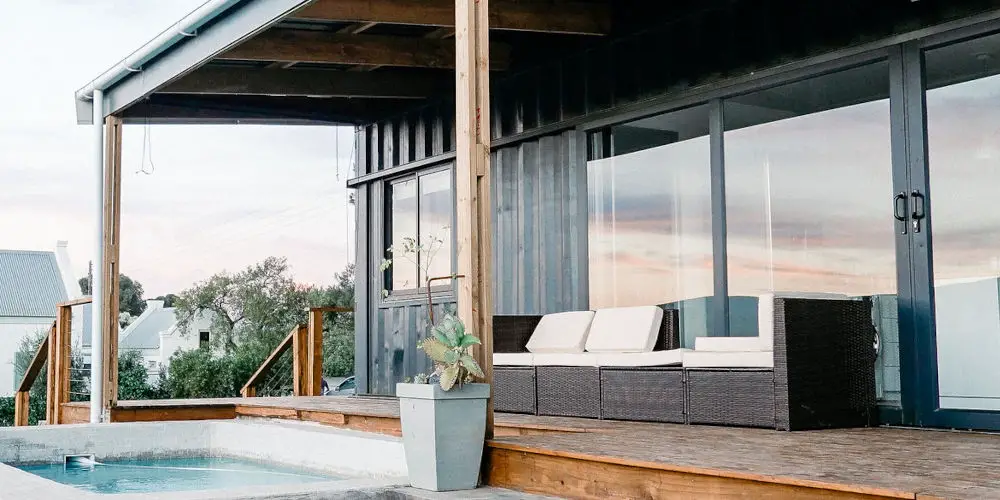 Deciding to convert shipping containers into a home is no easy feat. There are near limitless arrangement options to form a home. Not to mention the countless ways to divide the inside into liveable spaces. So, you might want to look at some container home floor plan ideas for inspiration.
Shipping containers come in four sizes, but typically only two are used when building homes. These measure 20ft or 40ft in length and are 8ft wide and 8.5ft high.
At first, these two options might seem quite limiting in terms of what you can build. However, imagine they are giant LEGO bricks that can be arranged or stacked in several ways, and you'll start to see just how many configurations are possible.
After researching some of the most impressive container home floor plan ideas, here are a range to inspire you as you consider building a home from standard shipping containers.
Should you aim for a complex container home layout?
As you probably don't need planning permission for your container home, you're free to let your imagination run wild. That said, as many consider living in a shipping container home as a way to live nearly mortgage-free or with a tiny mortgage, it's best to keep the inside simple.
Another benefit of focusing on creating a cosy interior over a flashy one is you're able to keep the plumbing and electrics simple. A nightmare for any homeowner is a leak or dodgy socket! Plus, the less stuff you have in your container home, the cheaper the running costs, even if you plan to live off the grid.
Is it best to work with a conversion company?
For the majority, it's probably best to work with a shipping container conversion company as they can help you design and manufacture a home within your budget. That said, there is something fun about trying to find a plot of land, then design and self-build a home.
Regardless of the route you take, you'll need some inspiration, ideas and a basic understanding of what you're looking for. but don't worry, we have plenty of container home floor plan ideas to spark your creativity.
2 Bedroom container home floor plan
This impressive floor plan is designed by Compact House Plans and uses two shipping containers. The main floor area is made up of 40ft container and a 10ft container used for the second bedroom.
Features
2 Bedrooms
1 Bathroom
400 sq ft
2 Shipping containers used
Single 40ft container with 1 bedroom and large deck
Using a single 40ft shipping container, this superb floor plan by Australian Floor Plans is ideal if you're only a limited budget. The plan includes a large decking area that runs the entire length, allowing you to enjoy the outdoors with ease.
Features
1 Bedroom
1 Bathroom
320 sq ft
1 Shipping container used
3 bed home using 2 x 40 ft shipping containers
By joining two 40 ft containers side by side, you can create enough space for 3 bedrooms, a large living space with a separate kitchen and a bathroom. As CW Dwellings' most popular unit, the House Owl 640 is cosy yet highly functional.
Features
3 Bedroom
1 Bathroom
640 sq ft
2 Shipping container used
2 Story shipping container home
If you're looking for a two-story container home, then consider The Helm from CargoHome. Combining a 40 ft container for the ground floor and a 20 ft container for the first floor. The downstairs sports a small bedroom along with bathroom, kitchen, dining and living areas.
Upstairs is a master suite with a full-size bathroom and giant, full-glass doors that open onto the private upper deck. Ideal for long summer nights with a glass or bottle of wine and a good book!
Features
2 Bedroom
1 Bathroom
480 sq ft
2 Shipping container used
3 bedroom home with interesting design
By staggering two 40 ft shipping containers, Nova Deko Modular has created a spacious home complete with 3 bedrooms, a large living/dining/kitchen room, 2 bathrooms and even found space for a laundry room!
We also love how they have used decking of different designs to add further interest and soften the harsh line of the metal shipping containers.
Features
3 Bedroom
2 Bathroom
Laundry room
640 sq ft
2 Shipping container used
Spacious 2 bed with large lounge
At 800 sq ft, Kubed living has left plenty of open space rather than trying to cram in more bedrooms. Combining 2 x 40 ft with a 20ft shipping containers, and some clever engineering, they have created a home that's fit for a small family.
The front snug is excellent, especially for cold winter nights and yet there's still plenty of living space as well as two-bedroom and two bathrooms.
Features
2 Bedroom
2 Bathroom
800 sq ft
3 Shipping container used
Go large with 4 x 40ft that form 3 bedroom home
Ideal for a family, this massive home (1,162 sq ft to be exact) is created by CDB DESIGN & BUILD LTD. Spread over two floors and built from four 40ft shipping containers, there's space for three bedrooms, two bathrooms and a large reception room.
Each floor is created by joining two 2 40 ft shipping containers together. The two floors are then stacked on top of each together. Not only does this reinforce the structure but provides plenty of flexible living space.
Features
3 Bedroom
2 Bathroom
1,162 sq ft
4 Shipping container used
Artsy 3-storey home built from 31 shipping containers
Granted, the last of our container home floor plan ideas is over the top. However, it does illustrate what's possible with some creativity and 31 new 20 ft shipping containers.
Designed by Todd Miller of Ziegler Build, this 6,000 sq ft 3-storey home includes a study, home office, workshop, gym space and a sparkling saltwater pool, as well as four bedrooms and four bathrooms. Despite the long list of rooms, the home feels light, bright and spacious.
We'd encourage you to visit the case study on the home to see just how impressive it is! Very inspiring stuff!
Features
4 Bedroom
4 Bathroom
Study
Gym
6,000 sq ft
31 Shipping container used!
Be inspired with these container home floor plan ideas
Hopefully, you have plenty of inspiration for the home you'll design using shipping containers. All of these container home floor plan ideas are a fantastic starting point and should help you solidify what you're looking for and what's possible.