Decking vs Patio: Which is your best option?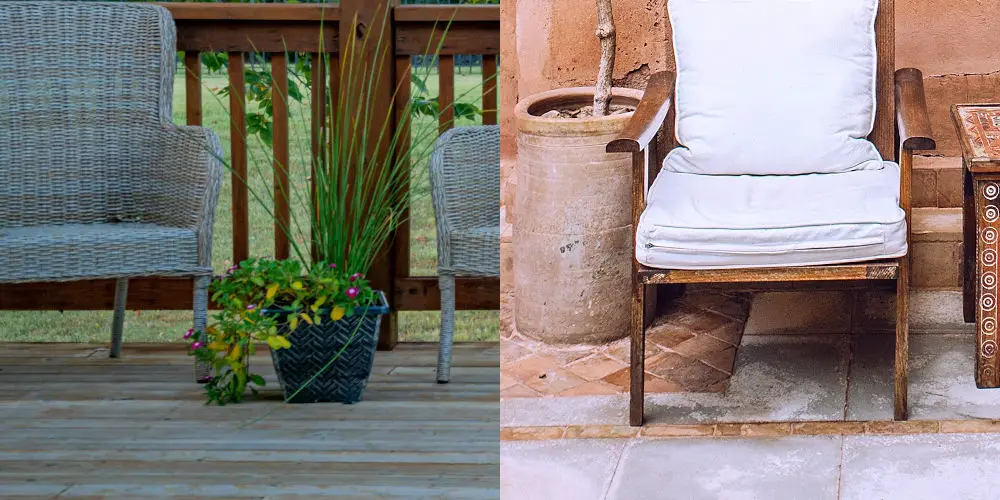 If you enjoy relaxing in your garden but don't quite have enough space for dining and lounge areas, then you might consider extending or adding a patio or deck. Many find it hard to settle the decking vs patio debate.
The good news is neither is better than the other as both offer different qualities. For some, a patio will work better as it's more affordable to install and maintain. Others will instead choose decking as they prefer the look and don't mind the extra cost or maintenance.
With that in mind, let's look at the pros and cons for each and help you decide between decking vs patio for your garden.
How does your dream garden look?
By understanding what you're trying to create or what isn't working in your current garden layout is important. You'll want to consider if you like clean lines, a mixture of textures or interesting details.
Paving lends itself better to creating interesting patterns with a mixture of textures than decking. On the other hand, if you like a more minimalist and natural look, decking will be ideal.
Admittedly, they both serve a very similar purpose of creating more useable outside space. However, they're very different visually and each has different qualities, leading you to prefer one over the other.
Why patios are great
Dating back to the Romans, patio paving has been used for centuries. Fast forward to 1973, when the first concrete paving slab was formed into a brick-like shape and the rest, as they say, is history!
What makes interlocking pavers popular and hard-wearing is that they create a hard surface yet allow water to drain between them. As water runs off them, you don't run the risk of it sitting there and end up causing cracks to appear.
Stone patio pavers are available in a variety of colours and finishes depending on their stone type and cut. You could install a concrete patio, which allows you to select from an even wider range of colours, finishes and patterns.
Typically, a patio is installed directly onto the ground and extending the living area from your back door. You could create a separate area that's purpose-built for a hot tub or portable fire pit area.
Here are some of the main things to consider when looking at at adding a patio:
Pros
Good quality paving is easy to maintain (see: How to clean a concrete patio)
Wide variety of colours, shapes and textures
Paving looks good with a larger selection of property eras
Longevity
Cons
More intensive construction required underneath a patio
Environmental impact of using concrete
Costs can easily rise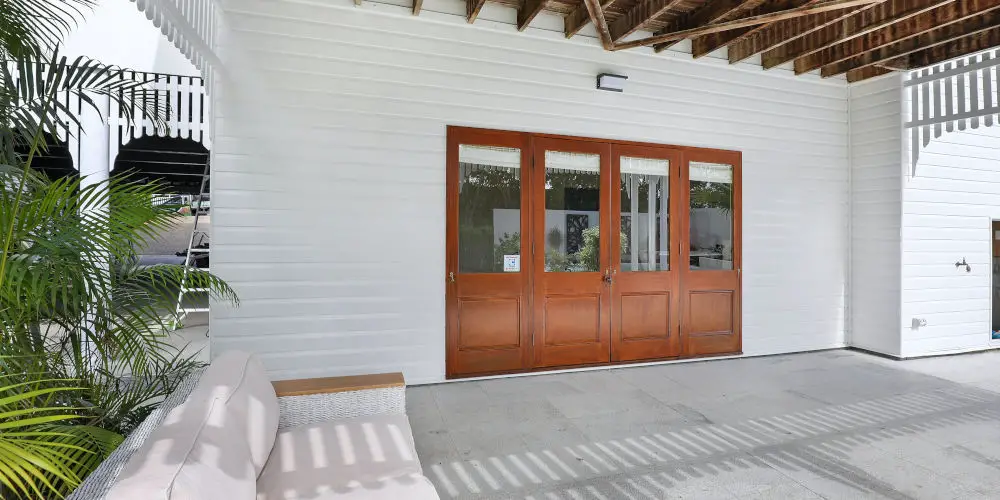 What about decking?
Traditionally made from hardwood, decking ranges from red cedar wood to dark brown mahogany, reclaimed woods and even recycled. You can even cheat, and buy artificial woods which are typically made with a poly binder and plastic. These are also known as lumber composite.
That said, as we become more eco-conscious, many are concerned by the sheer quantity of trees that are needed to keep up with the demand for decking and the impact this has on nature.
Decking planks are used for various elements within the garden from creating a deck for a summer house and extending your living area from the house for summer BBQs as they last a long time with the right maintenance.
Just beware of tiny creatures who love to burrow underneath decking and can have a disastrous effect! Here are some of the main things to consider when looking at at adding a deck:
Pros
Quicker, easier construction, especially if raised above ground level
Natural-looking material
Slightly more affordable (depending on the wood used)
Cons
Maintenance (requires regular oiling to maintain its brown colour)
Longevity (more of an issue with untreated softwood decking)
Can be very slippery in winter
Consider your home's style
Part of what makes choosing between decking vs patio hard is there's no right answer. So, it's worth starting by considering what will fit your home's style and era.
For example, if you live in a 16th-century cottage in a quaint village, a simple rustic patio will be more in keeping with the local style. If your home is more modern, then decking might look great, thanks to its simplicity.
If you're trying to emulate a new England style then you might want to pair a wooden deck with some wooden cladding to complete the look.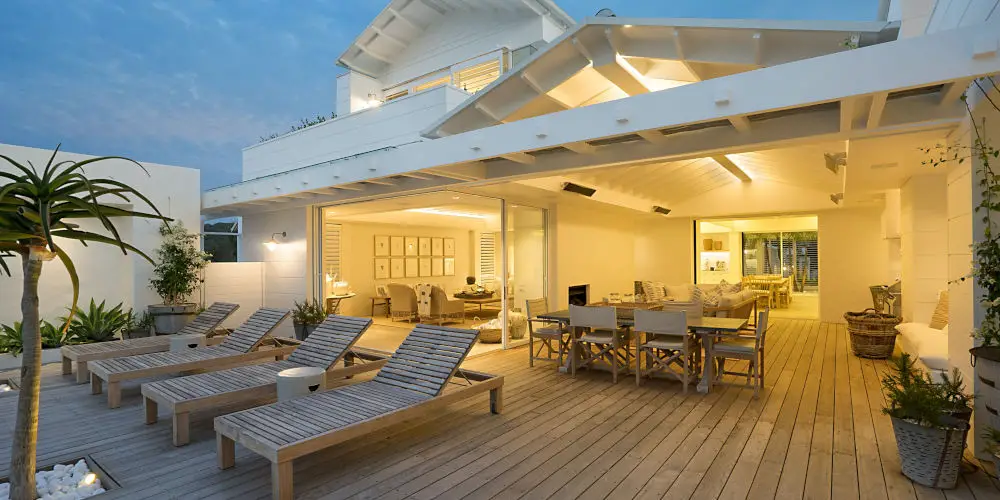 Personal preference of decking vs patio
If you're not willing to place it safe and take a cue from your property's era or style, then consider your taste. When deciding between decking vs patio, one might grab your more than the other. Of course, if you'd already decided, then you wouldn't need to read this!
If you're still having trouble picking one, then ask yourself if you prefer more of a traditional or modern garden. Paving is more traditional, especially as you can choose between a range of designs, colours and finishes. For a more modern look, a deck will be more your style.
Can you use both materials?!
Of course, if you can't decide or want to try something different then use a combination of both paving and decking. Using the two together can create an interesting contrast that's well suited to modern gardens.
Instead of using two different materials, consider using vitrified, wood-effect porcelain tiles. These combine the look of timber with the longevity of paving slabs and are available in several finishes. They look like decking yet will survive indefinitely but are on the costlier end of the spectrum.
How big is the space you intend to use?
Before you can settle on a final design, you need to have an idea of how big the area you are going to add decking or paving. So you'll want to measure the intended area before thinking about designs or materials as this will make your life easier.
If you have an irregular shape or want to maintain existing paths, then you'll want to split the area into separate rectangles and measure them individually before adding the totals together. Even a rough idea of the area is better than none.
What's your budget?
Unless you're working with an unlimited budget, whether you end with up decking vs patio will come down to how much cash you have to spend. By being realistic with your budget, time and expectations, you'll be happier with the results.
By having measured your space, you can estimate if your budget will be enough for your intended material. Let's look at the typical material costs.
Decking
The cost of DIY installing budget decking is between £15 – £25 per m².
Professionally installed medium quality decking costs about £80 per m².
High-quality decking that professionally installed costs £150+ per m².
Paving
DIY Installing a basic sandstone/limestone patio (including all materials) costs £35 per m².
Professionally installed paving with high-quality materials cost at least £100 per m².
Costing formula
Of course, what you'll pay depends on where you live, the material and the quality of the finish. The above rates should help you work out which bracket may fit your budget. There is a simple formula you can use to estimate how far your budget will go:
Total Budget ÷ Area = Square Meter Budget
For example: If you have £1,500 to spend and need to cover an area of 32 m² then: £1500 ÷ 32 = £46.88 per m²
So you'll have to DIY the project unless you can increase your budget as it's unlikely a tradesperson will work for such a small amount. That said, you could use a higher quality material.
Decking vs Patio installation time
There isn't a huge amount of difference in installing decking vs patio. On average, paving takes 1 extra day to install per 20m2 area.
For example, a 20m2 deck may take 2-3 days to install, whereas a patio may take 4 (1 extra day).
A 40m2 deck may take 3-4 days to install, whereas a patio may take 6 (2 extra days).
While it's worth bearing in mind that paving takes slightly longer, it shouldn't affect your decision as the difference is tiny. So make your choice based on other factors.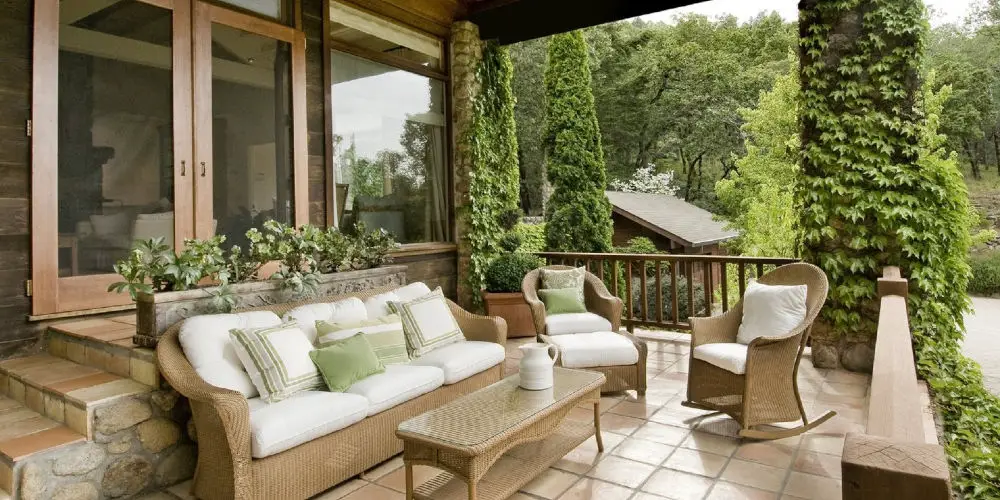 Be careful when designing a deck or patio
We've only covered the basics and there's far more involved than choosing between decking vs patio. The overall design is just as important as the material, particularly if you care about longevity.
So you'll want to spend some time experimenting with different designs, shapes and layouts before deciding on the best for your garden. A good patio or deck should enhance your current garden design while adding interest.
Is paving or decking the best option for you?
Hopefully, you have a better idea of which material is the best fit. Start with your budget but don't forget to make your choice around your style and taste as you have to live with it at the end of the day!
Use these three steps to help you decide what you want:
Measure your space
Set a budget
Decide on what you like best which fits your budget
Choose a material that fits with your lifestyle
However you settle the decking vs patio debate, remember to experiment with a few different designs and try your best to optimise the space for maximum use.