How to design your dining room with 20 cool ideas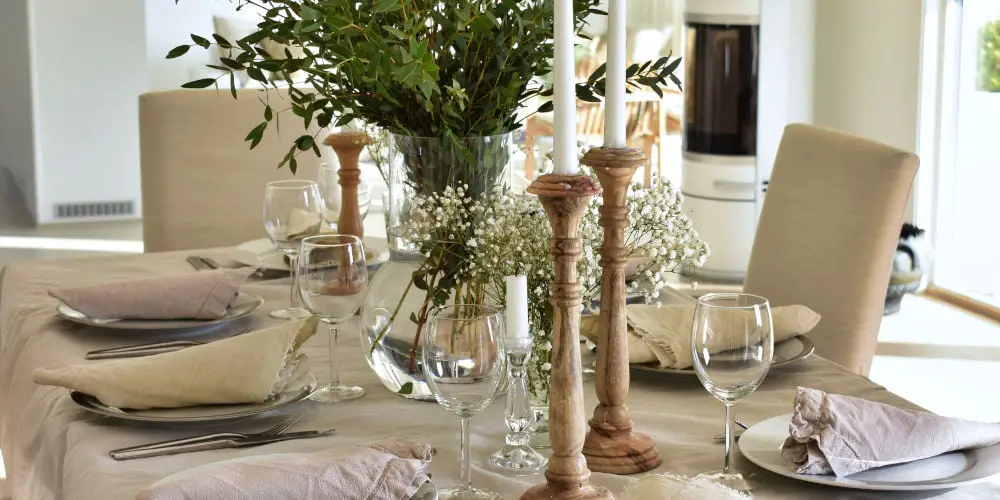 Your dining room is not a place simply to eat, its a place to gather as family or catch up with friends. By incorporating a few unique ideas when you design your dining room, you create a space that's ideal for daily use, special occasions and as a home office.
Regardless of whether you use it daily or only on special occasions, your dining room should inspire great conversation equal to the food served. Well, that's the aim!
Designing a functional yet a space to entertain involves utilising a few clever tricks to ensure everyone feel relaxed and enjoy the meal.
Here are a range of ideas on how to design your dining room which you can use to transform your current room into somewhere worthy of gather with love ones.
#1 Bold seating
Use bold coloured chairs to add a touch of drama. Don't be afraid to try bright yellow, blush pink, luminous green or a mix! Regardless of who's dining, they'll love the unique chairs.
#2 DIY gallery
We're massive fans of art and can't think of a better way to stamp your personality on your dining room than creating your own gallery. You can mix family photos, prints and inexpensive painting. Don't be afraid to mix frame styles and sizes.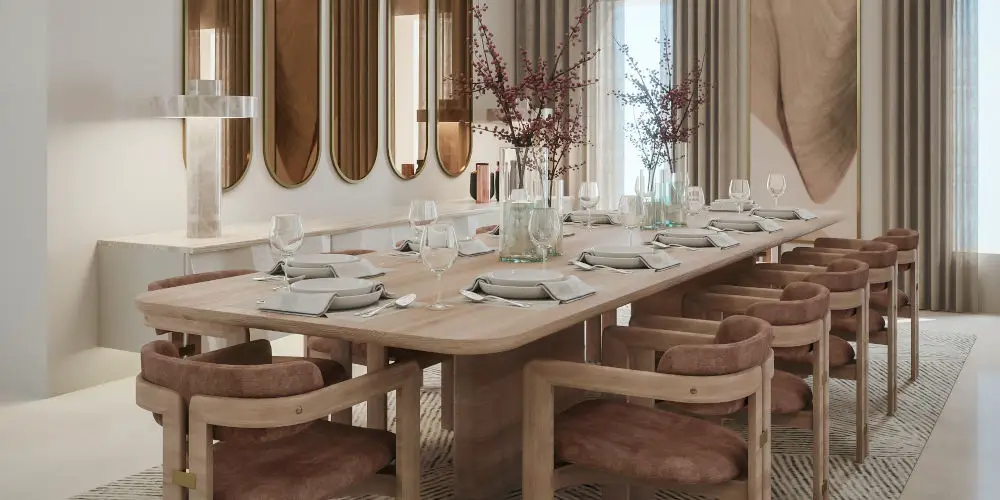 #3 Statement lighting
Nothing makes a room come alive than lighting. And even if you're designing a cosy dining room, you can experiment with bold lighting fixtures (such as the BAYCHEER Round Hemp Rope Chandelier). Consider adding a dimmer switch, so you can turn the light down when using candles.
As lighting is such a large and important topic, you might enjoy reading our guide to dining room lighting ideas, which is packed full of tips and tricks.
#4 Go monochrome
Simplifying to a single colour means your guests and the food stand out and your design takes a back seat.
#5 Floors
Using a complementary colour on the floor can create a seamless look, especially if painted by hand. Of course, you could use a bold pattern or an exciting colour to give a traditional room a modern slant. Tie different elements in the room together using accessories and soft furnishings.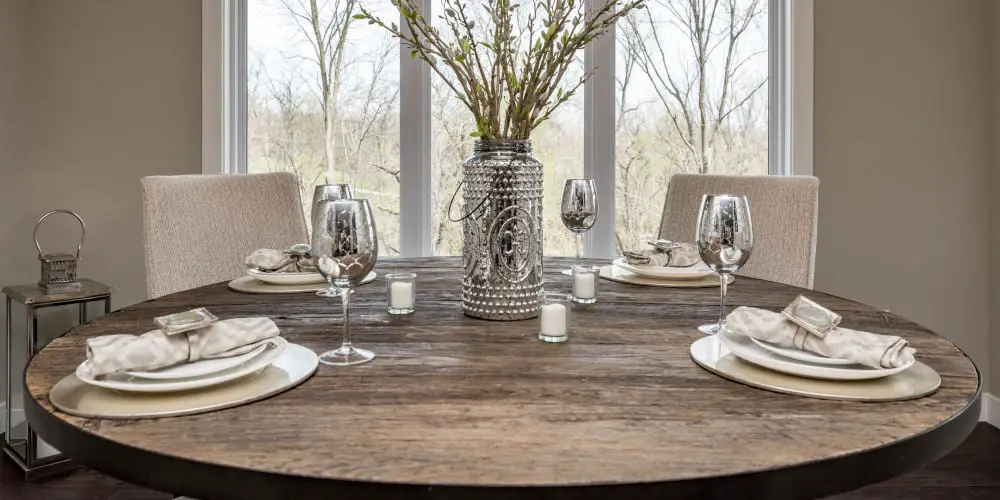 #6 Add a wine rack
Even in a traditional dining room, furniture should be kept to a minimum. And while you might have a sideboard for storage, having a wine rack is worth the space. Entertaining isn't the same without wine!
A cabinet with racks for wine is not only useful storage but also create space on top for lamps, photo frames and objets d'art. Plus many options have space to store wine glasses as well!
#7 From dining room to multi-purpose space
Some prefer to eat daily in the kitchen and reverse the dining room for special occasions. However, when you're trying to design your dining room, you should bare in mind that you can create a multi-purpose space.
For some, they create a library with bookshelves lining the walls, others invest in a dining table which converts into a ping-pong table. While others use their dining for crafts, puzzles or for working.
#8 Usher the garden in!
Mix vintage oak furniture with a hand-painted mural wallpaper depicting nature to draw the outside, in. Use green antique china, vintage cutlery and glassware atop white cotton placemats to create a look at one with the garden with a touch of luxury.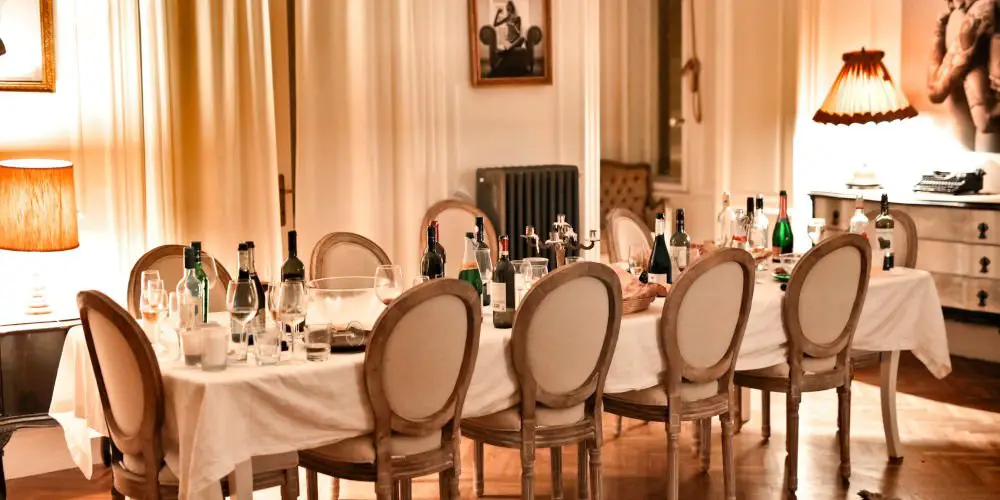 #9 Mirror, mirror on the wall!
If you have a small room, then one trick you can use when you design your dining room is to use mirrors. By placing mirrors around the room, you create more depth and allow natural light to flood the room. Mix different sizes and shape and intersperse with art. Candlelit dinners suddenly become more magical!
#10 Try an Oriental cabinet
Bespoke built-in storage may provide more space but will be more costly than free-standing furniture. Plus having to select a few pieces allows you to let your personality shine!
We're big fans of oriental painted cabinets. They provide plenty of storage for plates, cutlery and glassware yet tell a story and are stylish. They look almost like an antique, so blend well into most colour scheme and designs.
#11 Benches
For a more informal feeling swap dining chairs for benches. They're ideal for larger gathering and kids as you more people can comfortably fit on them.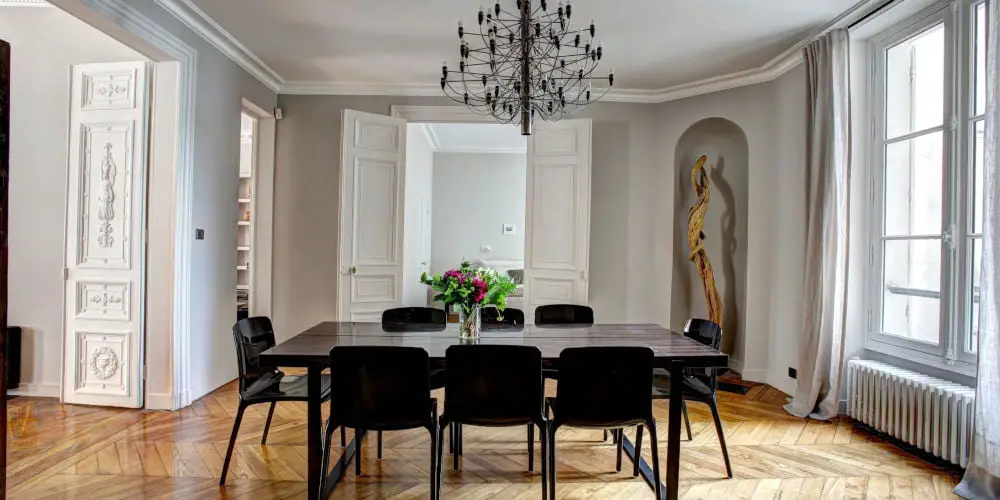 #12 Blue and White
While some might discount a blue and white colour combination as old fashioned, we've been using them as far back as ancient Persia. When used sensitivity, a blue and white colour combination is a timeless palette which can be applied to pottery, china, linens and so much more.
#13 Circular Table
Rectangle tables can feel overly formal and stuffy. Plus a room full of boxy, square pieces can quickly feel cramped. So consider swapping your table for a circular one. It will feel more intimate and they're easier to walk around in tight spaces.
#14 Prints
Add a dash of colour to your dining room with prints. You can use prints on rugs, chairs, window treatments, table runners and more. You can easily create your own prints using a large piece of canvas, some paint and a foam stencil brush or even cut shapes out of potatoes.
Don't overthink it, leave the flaws as they'll add character to the finished piece. You'll also end up with something unique, that's a fantastic talking point!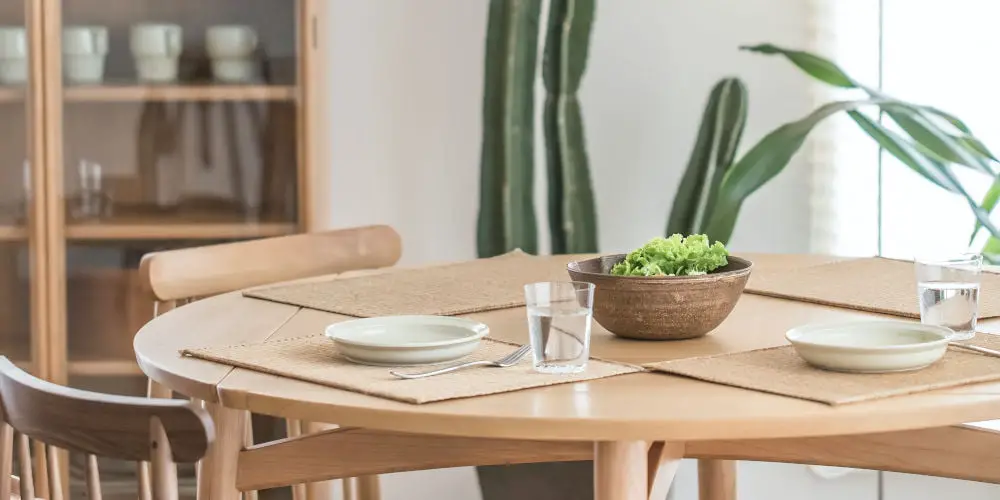 #15 Floating shelves
If you dislike the idea of multiple pieces of free-standing furniture, then consider floating shelves. Even in a small space, this idea work wonders when trying to design your dining room yet has a dramatic effect on larger spaces.
Floating shelves allow you to mix functional items (such as plates and glassware) with some of your favourite possessions (like family photos, lamps, and ornaments). They also take up minimal space and always have a sleek look.
#16 Mix the old with new
Mixing antique pieces, whether family heirlooms or new additions with current trends is a fantastic way to make your dining room personal. Just imagine mixing a modern chandelier and Scandinavian dining set with French gilt antique mirror and vintage cotton tablecloth.
#17 Complement your art
Showcasing your art collection in your dining room is a superb idea. You'll want to either use neutral colours in the room to heightening the art's impact or draw inspiration from the largest piece to find an accent colour which can be used in the majority of pieces.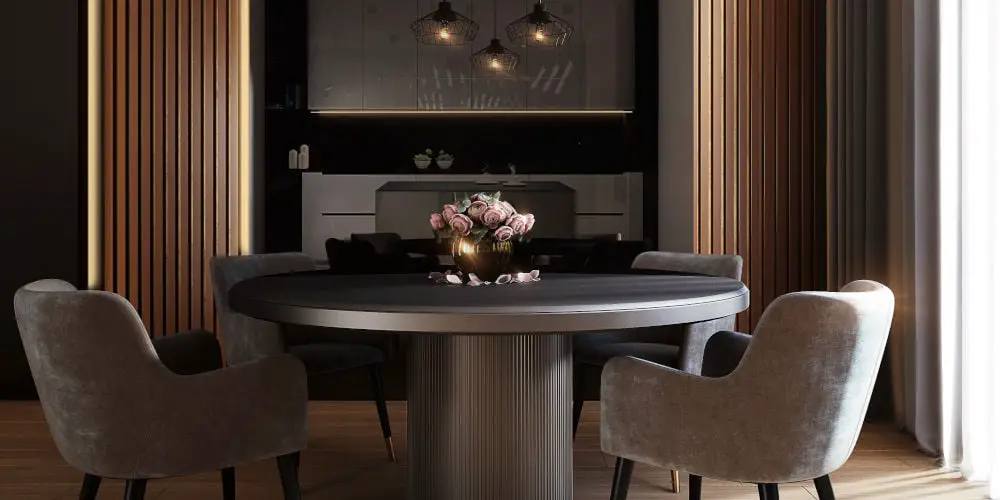 #18 Smart colours choices
Not all colours work in every season, especially when you're choosing wall paint. If you're unsure about which colour to paint walls, choose a lighter hue and then use brighter coloured accessories. This allows you to curate the colour pallet for the season without having to repaint.
#19 It's fine to mix seating
Use a variety of different chairs with your dining table. You could use mix colours or paint each in a different one. There's no need to stick with matching chairs.
#20 Vintage modern
If you have more eclectic tastes, follow your intuition and mix antique sideboards and free-standing furniture within your modern dining room. A distressed vintage-looking piece will complement contemporary furniture.
It's fairly straightforward to distress a piece of furniture. Simply strip the unit back to the bare wood. Next, apply a new coat of paint with a sponge or rag for an uneven finish. For an authentic shabby chic look use off-whites or pastel shades.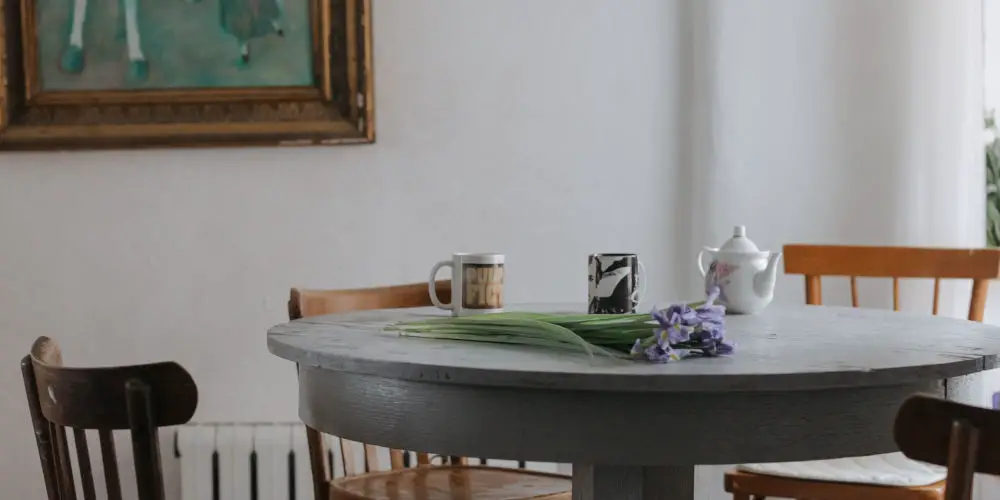 Try these 20 tips to design your dining room
Whether you're redoing your current dining room or have just moved in, you now have a fantastic range of ideas to try when you consider how to design your dining room. There's no reason to use the same, bland dining room design ideas in your home!