DeWalt DCD710D2 12V XR compact drill driver review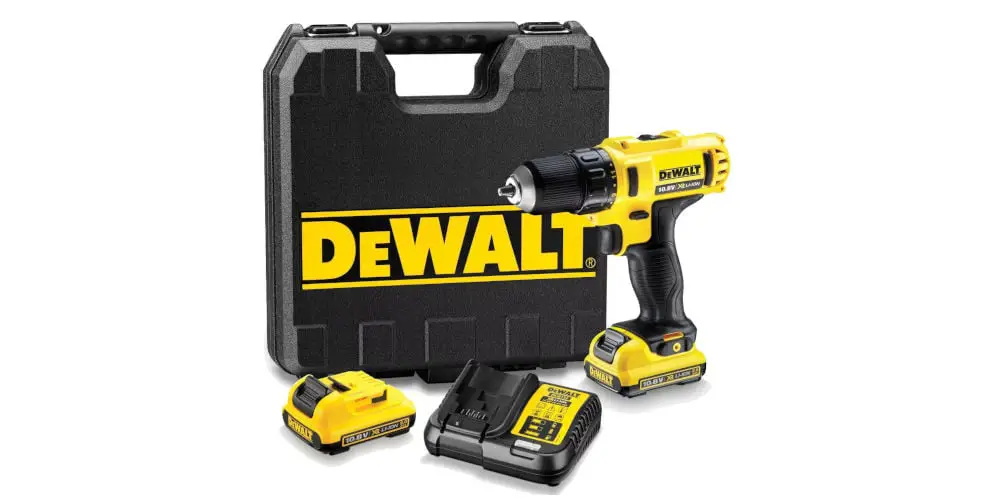 DeWalt tools are well-loved all over the globe and for good reason. The DeWalt DCD710D2 12V XR Compact Drill Driver is no different. It's ergonomically designed, powerful and flexible. The package includes the drill, 2 x 2.0 Ah batteries, charger and heavy-duty plastic case.
Using the latest technology, each of the 2.0Ah Li-Ion batteries charges in 30 minutes and as the pack includes two, there no reason to ever run out of charge. If you do, you won't be waiting for hours for a battery to charge.
Featuring a lightweight design, the cushioned handle guarantees a comfortable and firm grip. An LED light allows for comfortable working even in the dark.
Changing bits is very simple as the 10 mm keyless chuck is complete with an automatic spindle lock. However, you'll need to supply your own drill bits. The 15-position adjustable torque control enables full control regardless of the materials or screw size.
Ideal for a range of DIY tasks, the DCD710D2 can drill holes and drive nuts and bolts, and can even unscrew items. Safely store your DeWalt drill in the included heavy-duty plastic case.
As one of the best cordless drills available, you can buy in confidence as this package comes with a Three-Year Limited Warranty. 8/10
Pros
2 x fast charging Lithium-Ion battery
10 mm keyless chuck
3 year warranty
Design
At first glance, you'll likely notice two things. Firstly the battery is quite small and the handle is designed for comfort. As a compact drill, the DeWalt DCD710D2 measures slightly over 19 cm tall and 1.1 kg.
Looking at the unit in more depth, the first element worth mentioning is the 10mm keyless chuck. With its automatic lock, changing bits is really easy and doesn't require any tools.
Moving along the top, a rotary torque control sits behind the chuck and as 15 positions. Next is a 2-way switch which controls the gearbox speed.
On the left-hand side body, there's a switch for the LED work light (which is positioned under the chuck) as well as forward/reverse direction switch. Right next to this is a Variable speed trigger switch, which is engineered to allow greater control over speed.
The ergonomic handle is designed for minimal fatigue and or an easy grip. There is space to attach a belt clip just above the battery.
The slim-design battery adds to the compact look yet doesn't lack power. Batteries slid both onto the drill body and the charger, which has a built-in battery level tester, allowing you to quickly see how much power is left.
Features
A high-performance fan-cooled motor powers the DeWalt DCD710D2 ensuring its durability and efficiency. While an electronic motor brake increases control and improves the drill's reactiveness.
Regardless of the task, the adjustable 15-position torque control enables reliable screwdriving into a variety of materials with different screw sizes.
Changing bits is painless thanks to the 10mm single sleeve keyless chuck with automatic spindle lock. You don't need any tools and bits can be swapped in seconds, allowing you to finish the job with ease.
It's highly reactive variable speed control is designed to improve operation and ease of use. This coupled with the 2-speed gearbox and the adjustable torque control means the DeWalt DCD710D2 is powerful yet nimble.
The 2.0 Ah Li-ion batteries charge in around 30 minutes and provide a sufficient run time (although the length is not stated). Such a short charge time is beneficial as the last thing you want mid-task is to be waiting for a battery to charge.
As the package comes with 2 batteries, you're less likely to run out of battery power as one can always be charging. The batteries, while slim do not show the amount of power remaining. Instead, you have to hook the battery to the charger.
Working in tight or dark spaces can be difficult, especially if there's a lack of light. Luckily, the DEWALT DCD710D2 has an integrated LED work light which illuminates whatever your working on.
Set-up
Out of the box, you'll want to put a battery on charge. Thankfully, it only takes 30 minutes a battery to fully charge, you can prepare the job or grab a drink. The charger shows the amount of battery power remaining, so it's easy to spot when one is charged.
As no drill bits come with the DEWALT DCD710D2, you'll need to invest in some before you're able to use the drill. We recommend buying DeWalt 100 piece combination drill bit set as it covers pretty much all you'll need and only costs £23.
It's a good idea to set the gearbox on 1 (the softer setting) and keep the torque setting low, to begin with. Over time, as you get used to the reactiveness of the control, you can experiment with both elements.
When you've completed your tasks, it's worth checking the battery's level. Sadly, there are no status LEDs on the battery or drill, so you'll need to slide it back on to the charger to gauge what's left.
The handy plastic kit box makes storing the DEWALT DCD710D2 and it's parts simple.
Performance
At first glance, you might be disappointed that the DeWalt DCD710D2 is only 10.8V. However, it's more powerful than older 12V DeWalt drills in terms of performance.
It's compact, lightweight yet still packs a punch. The body and handle design makes it easier to grip and less likely to cause fatigue.
The slim designed batteries don't protrude yet charge fast and have a good amount of power. It would be better if they have charge LEDs to indicate how much is remaining rather than having to test them on the charger.
Changing bits is very simple, thanks to the keyless chuck and the LED work light makes it easy to illuminate darker spaces.
In terms of handling, there are a plethora of settings and while this might take a bit of time to get used to them, it's worth exploring different combinations to find what preforms the best for each task.
Designed for screwdriving and light drilling, the DeWalt DCD710D2 is fantastic on a range of materials and screw sizes. Of course, it not designed for heavy drilling but is still capable of drilling into wood and thin plastic.
Is the DeWalt DCD710D2 worth buying?
DeWalt with the DCD710D2 Compact Drill Driver has built on their legacy for creating excellent products. It's compact, light yet powerful and fairly priced.
As a well-designed unit, the DeWalt DCD710D2 is intuitive to use yet can be configured depending on the task. The keyless chuck is very useful, especially mid-task as it takes seconds to change bits.
The 2-speed gearbox coupled with the 15 position torque settings is a winning combination that allows you to optimise the DCD710D2 performance with a few simple tweaks.
The batteries slightly let the DeWalt DCD710D2 down. You have to plug them into the charger to see the battery level. There's no power reserve indicator on them. However, as they charge fairly quickly and two come with the pack, it's a minor point.
Another point of irritation is the lack of drill bits. While you can buy DeWalt bits cheaply, it would be nice to have a basic selection included.
The plastic carry case is robust and protects the drill, batteries and charger while keeping them all in one place.
Finally, the 3-year warranty provides fantastic cover out of the box and allows you to buy with confidence.
Overall, the DEWALT DCD710D2 12V XR Compact Drill Driver is impressive. 8/10