20 Inventive and cheap DIY bathroom storage ideas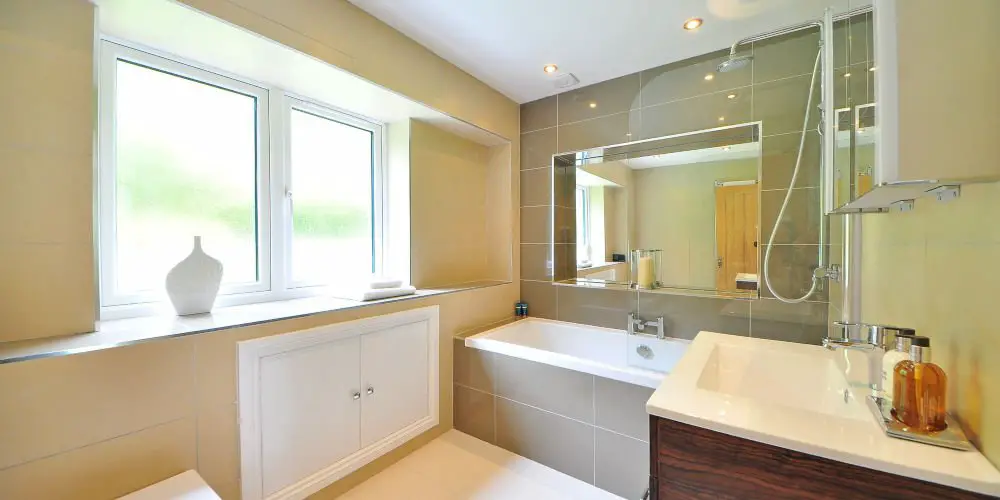 As the most functional room in a home, the humble bathroom is always used, often loved, but sometimes overlooked when it comes to design. Face it, you'll always need more DIY bathroom storage ideas!
While a lot of bathroom storage ideas come down to organising the space better and, of course, tidying, there's a load of ways you can use the space better. Adding a few of these simple bathroom design ideas can revolution the space.
Here are 20 DIY bathroom storage ideas that are easy to try, affordable and will make your space feel much bigger!
#1 Wall mounted tall cabinet
A way to reclaim usual-sized spaces or simply hide the clutter is to install a thin and tall cabinet.
While you can easily build your own, Victoria Plum offers Mode Ellis, which measures a slim 28 cm by 35 cm. The high gloss white finished unit has 4 shelves and is ideal for storing bottles, loo paper and more. It also comes fully assembled – a nice bonus.
#2 Repurpose a veg trolley
Any small tall trolley with 2 or more shelves is perfect for converting into a movable bathroom storage solution. Featured above is the Halter three-tier cart, which costs an affordable £18.99 from Amazon and is fairly slim.
You can fill yours with spare towels, loo rolls, extra candles or toiletries. The possibilities are endless making this an excellent DIY bathroom storage ideas. Plus you can easily wheel it out when you've got guests. Not a bad solution for £20!
#3 Look up
There's probably quite a bit of dead space in your bathroom that you could use. Start with the space above your door. Just think what you could store if you put in a shelf above!
#4 Add some spice
Cheap spice racks can easily be repurposed as clever DIY bathroom storage ideas. Our first idea is to attach spice to the inside of existing doors. This works superbly if you have deep cabinets or don't mind trimming existing shelves.
Not only does this provide a great cheap solution, but it's a fantastic way to organise small items. You'll always be able to find your nail varnish, razor or clippers. We found a cool 4 tier spice rack by Timberlion. It only needs 4 screws and has lots of space. It's available from Amazon for £26.
#5 Another spicy hack
If you don't have a medicine cabinet, then adding a few single tier spice racks up a wall is a stylish solution. You can easily create your own or buy something like the Belle Vous 4 pack of single tiers (£25 on Amazon).
#6 Don't ignore the loo
Like the dead space above the door, you can better use the space above the toilet. There are a few options available including building a cupboard. Instead consider adding two or three floating shelves. Create a seamless look by painting them to match the tiles or background.
#7 Frame it
The next of our DIY bathroom storage ideas is to let your creative side run wild! Using some MDF, a large photo frame and some paint, you can turn your clutter into art.
Using the photo frame as a guide, cut the MDF to form a shallow box. You don't need to cut a piece for the front. Glue and screw the pieces together and attach the photo frame to the front. Within the box, you can build different height shelves to fit a variety of items.
#8 Plastic bins
Pound shops are fantastic for finding cheap items we can use for our bathroom storage ideas.
For example, you can buy a few small plastic crates and use these to create defined spaces within a draw. This literally takes no time and doesn't require any DIY skills other than measuring!
#9 Magnetic knife strip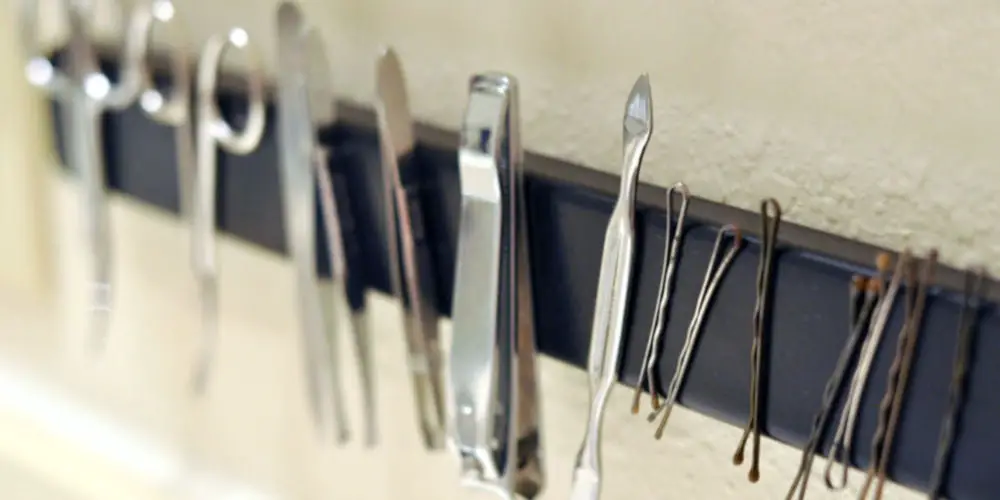 This is one of our favourites! Magnetic knife strips are excellent for holding everyday items such as hair clips, nail clippers and scissors. We found a range of finishes on Amazon, from faux wood to basic metal.
The cheapest we could find comes from Kitchen Craft and costs less than a £5. As it measures 33 cm, you'll be able to store a load of essential items and only need two screws to fix it in place.
#10 Smart panels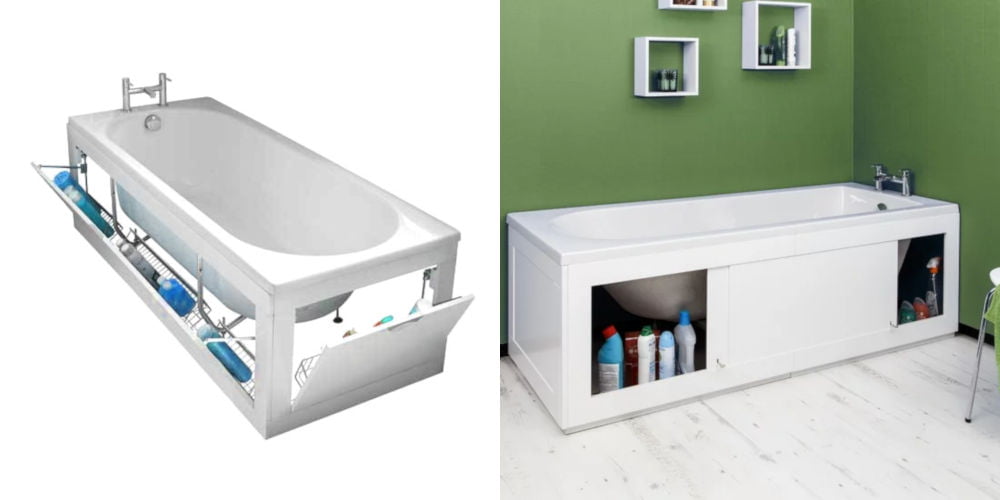 If you've ever removed your bath panel you'll know that there's lots of dead space behind it. And so, this presents an exciting opportunity for us. Be warned, this might involve quite a bit of DIY.
You might be lucky and already have a wooden panel or be able to buy one precut to size. If not then you look for a local DIY store that offers a cutting service (B&Q and Homebase both offer this) and ask them to cut one or you.
On the side which will be hidden, you can attach some wire baskets or spice racks. Using hinges, mount the panel to the existing structure. Add a handle, so you can easily pull the panel down. And you're good to go! Start filling up the wire racks with bottles and items which don't spoil easily.
#11 Over the tank loo roll holder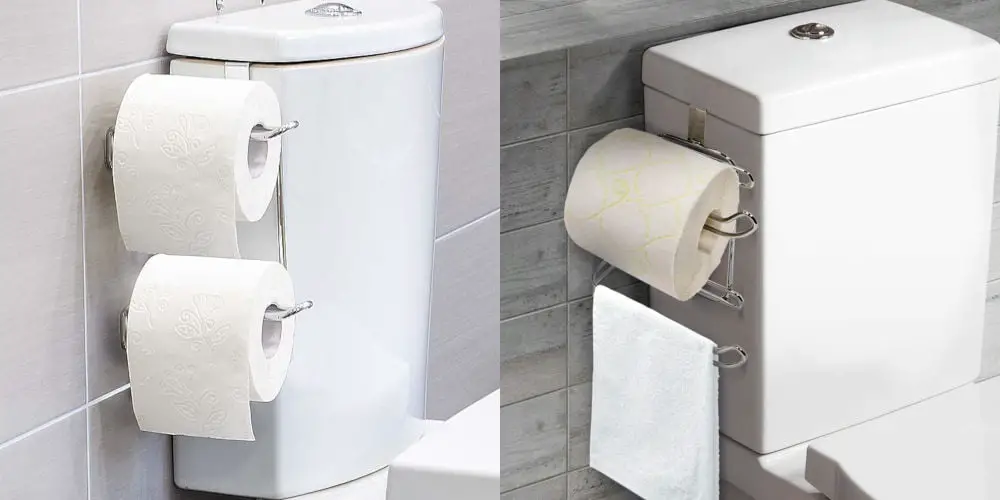 There's a load of cool DIY bathroom storage ideas for loo rolls, if you're short on space. Our favourite involves no DIY and is cheap too!
Holding two rolls and costing only £9, this clever solution by Wonder Worker can be attached over a cabinet door or toilet tank. Simply unscrew the toilet tank lid and remove. Hook the Wonder Worker in and replace the lid.
That said, it's worth investing in the best toilet roll holder to ensure you don't end up with a pile of loo rolls all over the floor!
#12 Ladders
Even if you don't have much height, using a wooden ladder is a great way to incorporate more storage into a small bathroom. We found the Riley Ave Aralia (pictured above) at Wayfair.
You can even use plastic bins or metal paper files to create sections and divide the space into easy to manage slots.
#13 Double shower rods
This is a great bathroom storage hack which is cheap and takes under 10 minutes. If you don't have space for shelf or cabinet, then add more hanging space with a second shower rod.
You can place the second rod lower down, so it's hidden when the main curtain is closed. Use spare S-hook to hold bottles, scrunchies and wash brushes. Small caddies work just as well and are a superb way to store kids toys.
#14 Mirrors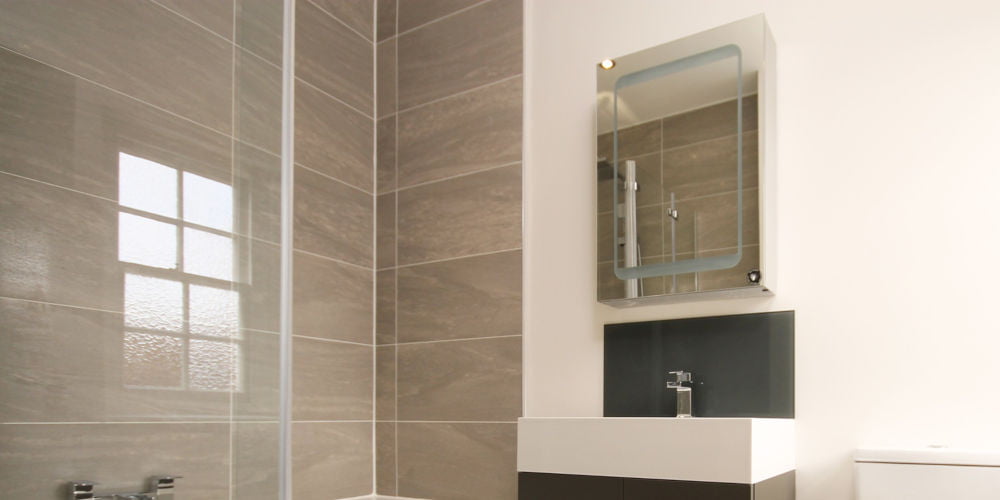 While mirrors alone can be used as a clever trick to make a room seem bigger, it's easy to mount a small cupboard behind an existing one.
#15 Build more shelves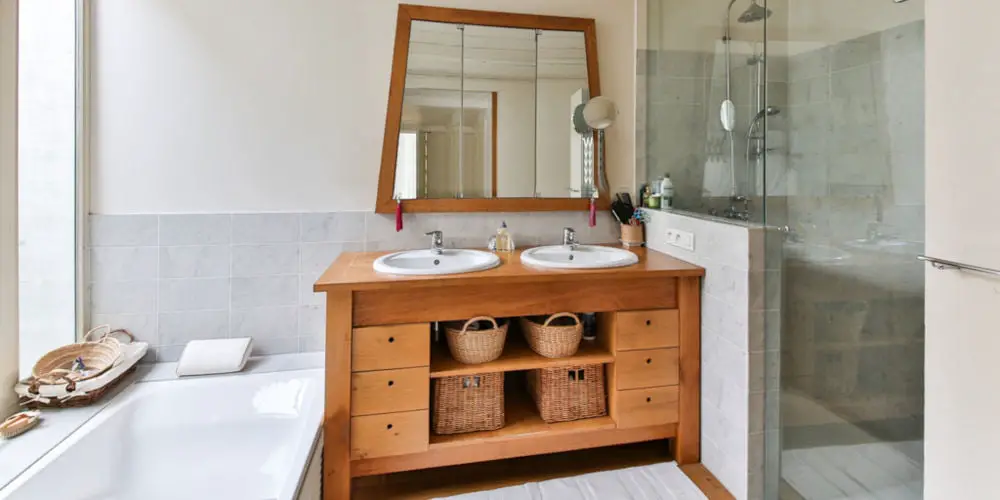 If you have space, it's worth building more shelves into your current units. For example, Sink vanities are the worst for storage as they take up lots of space without providing much storage.
As they have a good height to start with, it makes no sense why they only come with one shelf. Measure your current shelf and find a local DIY store which offers a wood cutting service. This way you'll keep DIY to a minimum and add loads more storage space.
#16 Charging station
If you have lots of gadgets rather than tossing them in a pile, store them in a PVC plastic pipe. You can finish it with spray paint!
If you need more slots then join two or more pipes using nuts and bolts. Also, you can mount a few plastic pipes at an angle on a wall for truly unique DIY bathroom storage ideas.
#17 Coat hooks
Since you can only get a few towels on a heated towel rack, using a row of coat hooks enables you to at least double your storage space. If you don't have the hanging space, then buy something like the ACMETOP Over the Door Hook Hanger. It's definitely work the £13!
#18 Pull-out drawers
If you have large floor to ceiling cabinet, then consider dumping the shelves and replacing them with ones on runners. This way you can easily pull them out and see what each contains, making it easier to tidy.
Building your own is simple and you can easily buy metal versions including the one in the image from Lynk (available on Amazon for £64).
#19 Towel hack
You might already have a single towel rack on the back of the door. By adding another one or two you can store more towels and make your bathroom look tidier!
#20 Start rollin'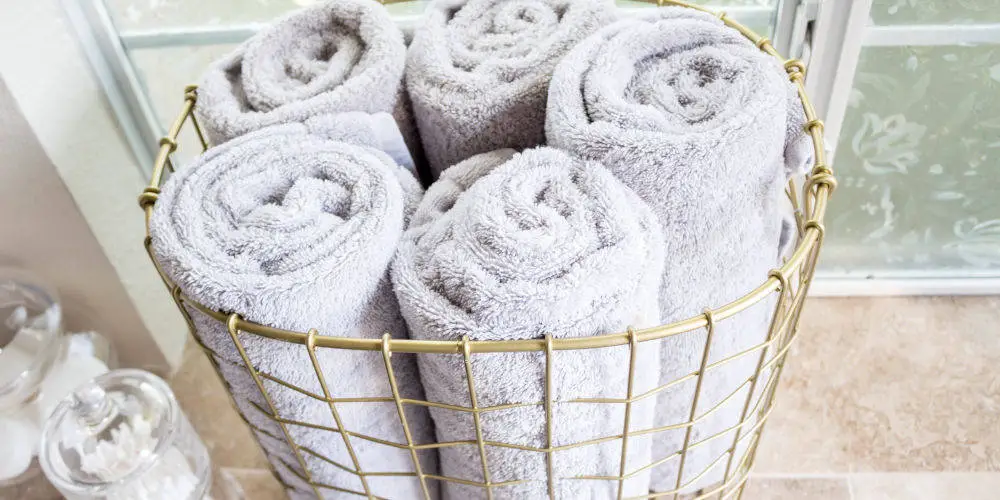 The final of our bathroom storage ideas is roll towels! You can fit more rolled up towels in the same space as folded. Plus they look cooler. So get the hotel spa look by rolling your towels.
Best DIY bathroom storage ideas
There are literally 100s of bathroom storage ideas out there. With our 20 DIY bathroom storage ideas, we hope you've got some great ideas and are ready to try a few.
None of our ideas cost a lot of money or takes a long time, so you can easily try them.