How to create dog friendly garden designs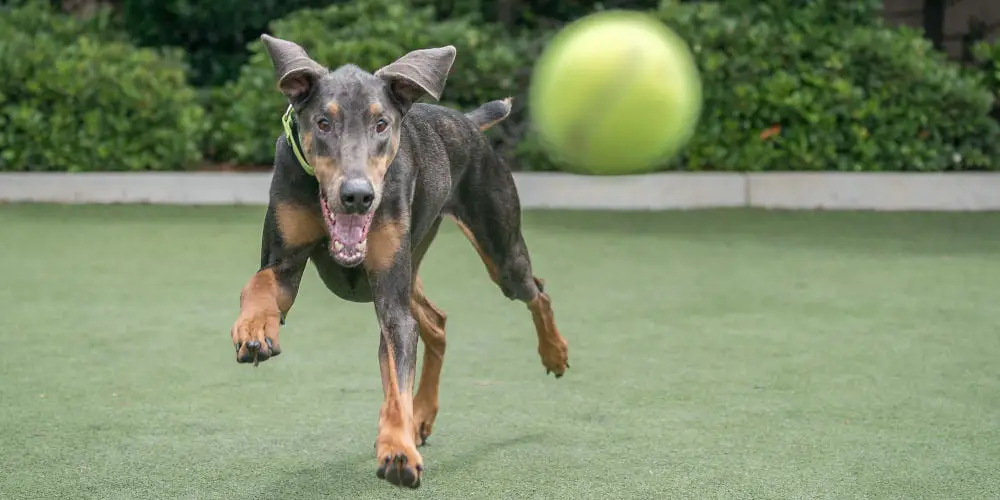 Dogs are the nation's favourite pet and so deserve dog friendly garden designs to explore. It's actually possible to create a space which is a peaceful retreat for humans and can be enjoyed by our pooch as well.
A couple of years ago The Dog's Trust won a gold award at the Hampton Court Garden Show with their dog friendly show garden. So it can be done!
A trend we've seen over the last few years is to make the garden therapeutic for dogs and therefore enable them to reduce stress. This has worked wonders at Bath Cats and Dog Home and Mayhew Animal Home as well as others.
So how can we create dog friendly garden designs?
Create sections within the garden
If you're starting with a large area of grass then it's worth thinking about dividing the space into different sections. By doing this you can keep a few sections for yourself yet create enough dog friendly area to keep your pooch entertained.
Your patio
It makes sense if you have a suntrap patio directly off the house to keep it as is. You'll use this space a lot in the summer for entertaining or for enjoying a few hours of sun after work.
Lawn
Next, having a section of just lawn for ball games or for the kids makes sense. Adding a bench with storage is always a good idea as you can hide games and use it to watch the kids glass of wine in hand!
Doggy
Ideally, you can located your dog friendly garden designs at the end of the outdoor space and can include a number of fun elements. Dogs love to chase through long, rough grass. This is great as it means you don't have to cut it that often!
Also, adding a sandpit will provide your pooch with hours of fun! If you want to teach your dog some tricks, then add a few hoops made from bamboo. These are really easy to create and look way better than plastic.
If you're feeling adventurous and have space, then you build a few tunnels and create a mini adventure park!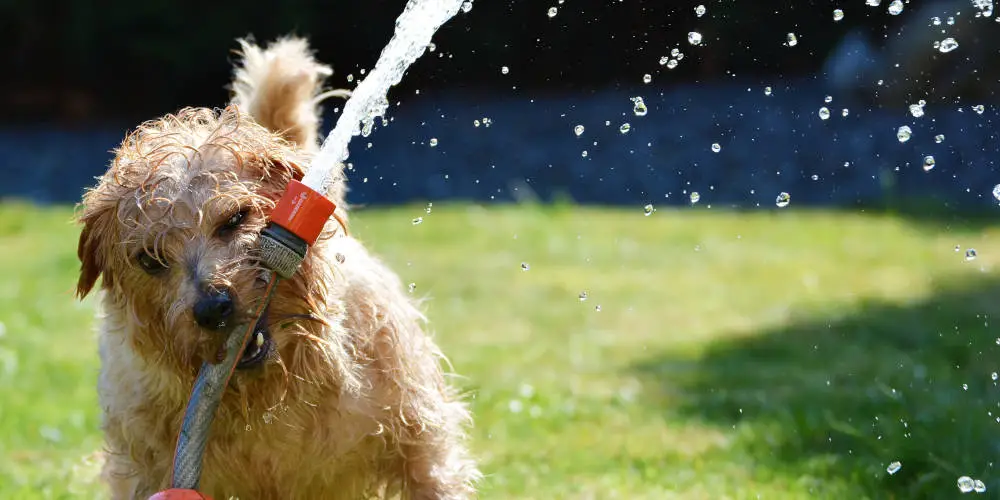 Throw some shade!
In any dog friendly garden designs, you want to include plenty of shade as your pooch can easily overheat. So, ensuring they have plenty of shady spots will enable them to cool down and relax. While there's a number of ways to create shade, here's our favourite.
Planter Umbrella Stand
You've probably got an umbrella covering part of your patio. If you do, you'll know your dogs love hiding under its canopy. As a cheap item, you can use them throughout your garden using existing flower beds or planters as a solid base.
Sun Sails
With its flexible triangle of screen-like fabric, pets will love relaxing below. These typically don't hamper the breeze but do block harmful UV rays. Sun sails allow water to pass through. So, rain won't pool and weigh down the fabric.
Pallet Pergola
If you're a DIY fan, then this will be a simple project for you! Using a few pallets, you can create a pet-sized pergola. Again this doesn't block the breeze. Simply use one pallet as the roof and another three for the walls. This leaves a nice big entrance as well as plenty of space for stretching.
Free water
Along with shade, including somewhere for your dog to water is essential. You can use a simple bubble fountain or even build a water feature. Both are a fantastic source of water for thirsty dogs. Also, bubble fountains are a fun play feature to entertain bored hounds.
Calming sounds
It's rather easy and cheap to add wooden wind chimes to a tree. And by doing so, you'll generate soothing natural sounds which create a calming environment for dogs.
Use paw-friendly materials
Another way to keep your pet cooler is to use grass and pale coloured gravel. Both are less likely to lead to your canine overheating on hot days and have paw-friendly textures.
Since your dog probably likes to relieve themselves on the garden. During the summer it's worth adding an anti-scorch product such as Dog Rocks. Simply add them to a large jug of water and fill your dog's water bowl. And, it's goodbye to yellow urine patches.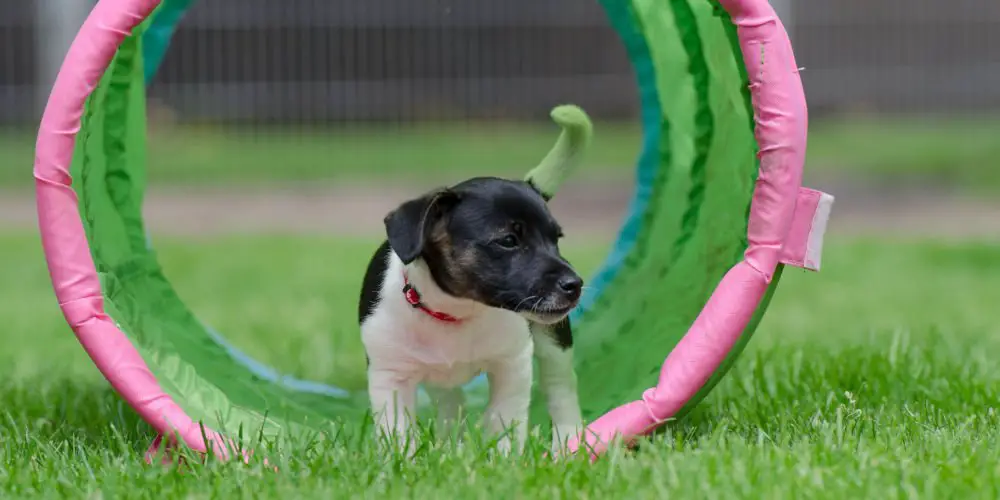 Digging space
If your dog loves to dig and excavate, then why not create a section for this?!
While you can section off grass for your pet if you don't have much room then consider using a Sandpit. These offer a soft texture for dogs to explore. Plus, they're perfect places to hide occasional treats for your dog to find, too!
Tunnels
Dogs love to explore and if you can, create a mini adventure for them! You can use bamboo hoops or willow stems to build a series of tunnels or a maze.
This feature will provide hours of fun as well as shade! Plus by using natural material, your tunnels will blends well with the garden.
Plant tough shrubs and perennials
As dogs occasionally like to rip up flowers and plants, it's worth including some robust flowering shrubs and tough ground-cover plants.
There are many plants that dogs can safely sniff and nibble. For example, tough perennials include Agastache Blackadder, Salvia Nemorosa 'Caradonna' and eryngium.
Also grasses such as miscanthus and Pennisetum are worth considering. In addition, it's worth adding some scented but tough shrubs such as Lavender, Rosemary and Thyme.
If you're stuck for ideas, we've put together a list of 18 Dog friendly plants you can easily add to your garden.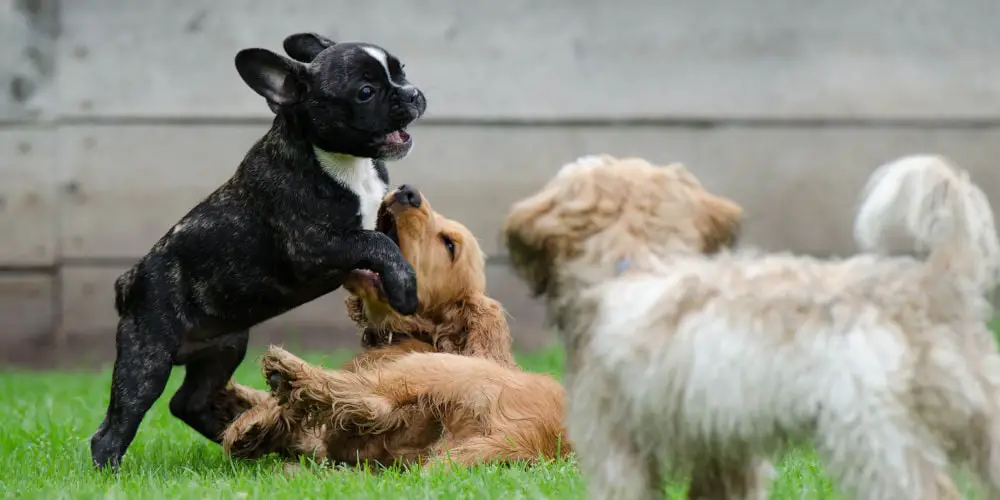 Keep toys to hand
An outdoor storage bench gives dogs a place to perch whilst at the same time providing space to keep a range of toys. So, you can easily play with your canine and avoid boredom. Just ensure treats can be hidden safely, so your pooch doesn't over indulge!
Let them bask on a double deck kennel
A sun deck on top of the kennel with an access ramp will give your dog exercise as well as a higher spot to survey their space. Again you can easily and affordably create this using pallets.
Dog friendly garden designs
So, there you have a range of ideas about how you can create dog friendly garden designs. Remember you can create sections and add a few of these features in even a tiny garden.