10 Easy gardening tips: Create your dream garden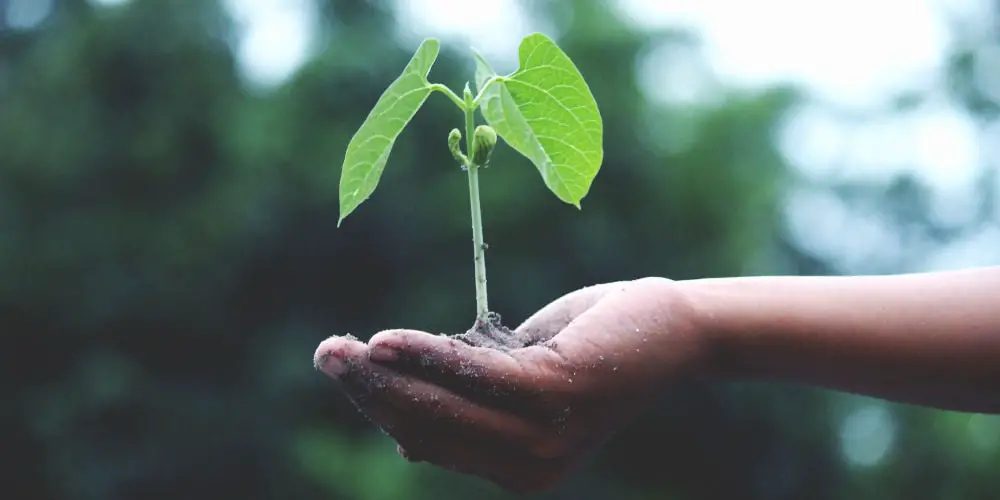 Getting your garden in shape and looking beautiful, does require some work. Staying inspired and motived is tricky, especially if you have lots to do. You probably need some easy gardening tips to give you a boost!
If you have plenty to do, then you might feel overwhelmed and even confused about where to start. However, the good news is with some planning and some inspiration you can achieve quite a lot over a weekend.
Gardening doesn't have to be boring, especially if you have some easy gardening tips to keep you motivated. It has many therapeutic benefits, including improving flexibility, eases stress and can boost your mood. Also, it's a great workout!
Refuse to feel overwhelmed! Draw inspiration from Pinterest or Instagram and use our easy gardening tips to kick start the process! All are easy to implement and highly affordable!
The best starting point is in the shed. So dust off your basic gardening tools, check your lawn mower and locate those gardening gloves!
#1 Brighten up
Adding colour to your garden is the first of easy gardening tips. Ideally, you want to add lots of it! Think creatively and don't just add loads of flowers.
You can easily add colour by upcycling your current furniture! While you're at it, consider giving your shed and fence a lick of paint. A freshly painted shed and fencing will help keep you inspired and moving along.
Whether your painting furniture, a shed or fencing, you'll need paint, some newspaper, paintbrushes and a mask – especially if you're planning to spray your furniture. So let's get creative and add some colour!
#2 Raised beds
Raised flower beds are superb for easily add interest to any garden yet are easy to build. Start with the frame, either craft one from scrap materials, buy a pre-built one or mounding soil up.
You could build a raised bed from stones, untreated lumber, or cement blocks, for example. Whatever material you use, it's a good idea to keep your bed under a metre wide. Over this width, and you'll struggle to reach across.
After building your bed, you next need to fill it with soil. With it topped with soil, add seeds and then, water. Raised beds allow for intensive gardening, allowing you to space plants close together so that the leaves of fully grown plants touch.
Another benefit of raised beds is you neatly define paths around your garden. The soil in the plant beds doesn't get compacted by foot traffic. Plus they're easier to maintain as you don't have to bend down and only require minimal work.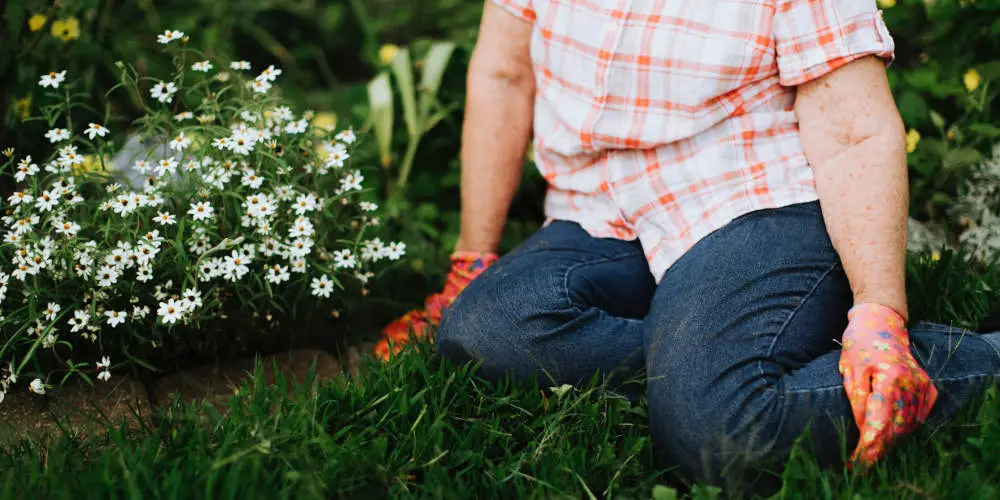 #3 Soften house corners
Bricks can look aesthetically harsh and so consider using tall shrub for the corner of the house to soften and blur these edges. For example, a fast growing tree such as dwarf Alberta spruce will grow to around 3 metres in height over about 25 years, making it ideal for softening any harsh edges.
Within a year or two, your house will start to fade into the garden. As far as easy gardening tips go, this one simple and affordable!
#4 Indoor Tulips
Growing tulips is another of our easy gardening tip, which may at first sound difficult, but is actually quite simple. Here are three easy steps!
Step 1
Fill a glass container about 1/3 of the way with glass marbles or decorative rocks. Clear glass will enable you to watch the roots develop.
Step 2
Set the tulip bulb on top of the marbles or stones; pointed end UP. Add a few more marbles or rocks so that the tulip bulb is surrounded but not covered (think support).
Step 3
Pour fresh water into the container. The water shouldn't touch the bulb, but it should be very close so that the roots will grow in.
#5 Compost
Consider starting a compost pile as it's one of the best things you can do for your garden. Compost not only improves the fertility of your soil, but it also enables the soil to retain moisture and suppresses plant diseases. You can start a pile in a shady, well-drained spot in your garden.
Simply, alternate layers of food waste such as coffee grounds and peelings with garden wast like leaves, wood chips, etc. Use roughly a 2-to-1 ratio for the best results. And add a thin layer of soil to get the process started. Don't forget to keep the pile moist!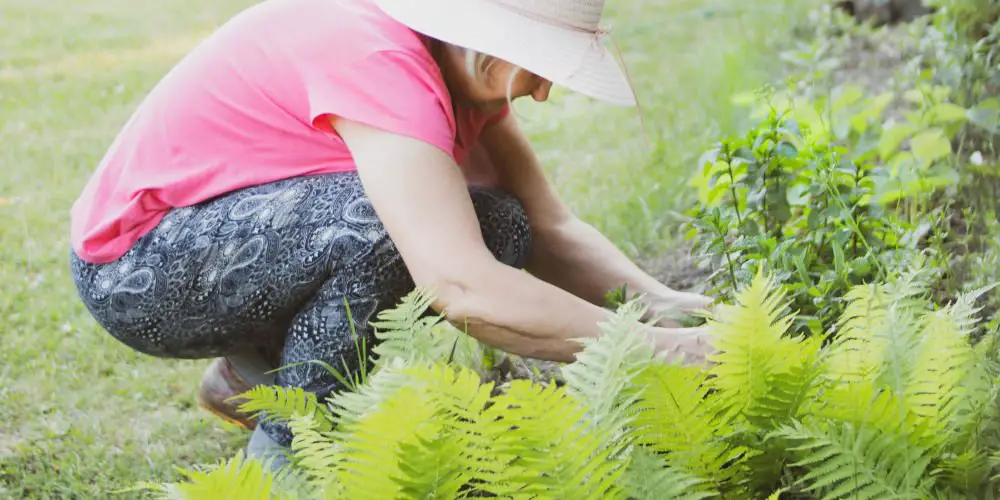 #6 Find A Spot For Seating
Nothing beats relaxing on a seat or bench in your garden with a book and a glass of wine, especially after a long day. You'll want to find a quiet place for your chair that will allow you to read, sleep or watch the world pass by. Bliss!
#7 What's The Smell?
Adding lavender plants to your pathways is one of our easy gardening tips to try. Why? It's a pretty flower to look at and highly fragrant as you brush past. It is truly relaxing.
#8 Vegetable Patch
Growing veg just happens to be our top easy gardening tips that doesn't cost the earth (sorry for the bad pun!) and tastes better than the supermarket! Start with the space you have, then consider which vegetables will grow best for your situation, climate and soil.
Start with herbs and expand from there as you'll get better at growing vegetables through trial and error.
Also starting a small vegetable patch is a great way to teach kids about how to grow food, where it comes from and how to make healthier choices.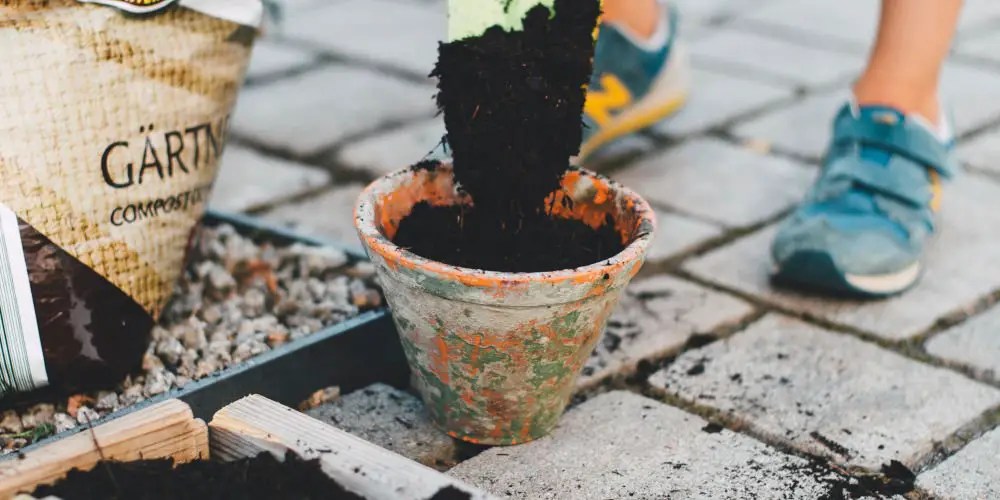 #9 Herb Window Boxes
Window boxes are the perfect 'mini garden' and, because of their sheltered position, survive most winter frosts. So, why not fill one up with some perennial herbs that will last for years?
Choose pretty herb varieties, such as variegated sage, yellow oregano and red-veined sorrel – they'll look as bright as flowers and taste delicious, too.
If you're really interest then you'll want to read our guide to starting your own DIY herb garden.
#10 Garden Swing
The last of our easy gardening tips is, if you're a romantic at heart why not make space for a garden swing? It can add a sense of drama to a small garden or decking area. Wrap flowers and leaves around the sides for a flower-child vibe.
Try these easy gardening tips today
So there you have a range of easy gardening tips, which are all cost effective. The best place to start is to think about setting aside a weekend to get in the garden in order to kick start the process.
Once you've done the heavy lifting, then you'll only need an hour or two each week to keep on top of your garden. Enjoy trying these easy gardening tips and boost in motivation you'll experience.