40 Stress-reducing home packing tips for moving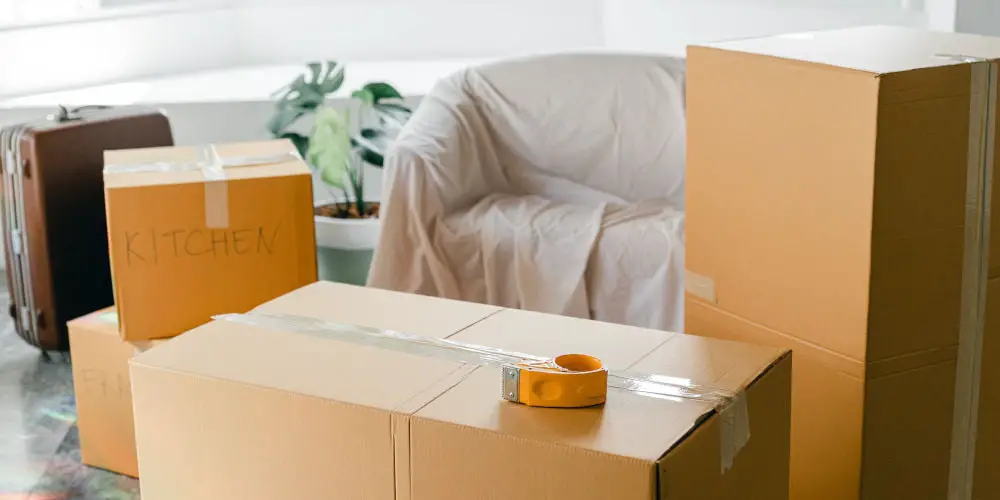 Moving can often seem like an afterthought, even if you know the best home packing tips known to man!
You've spent months looking at properties, making offers and holding on for dear life as the lawyers take their time to complete the paperwork, only to remember you have to pack up your old home to move to the new one.
As we don't move every year, we could all do with some stress-reducing home packing tips for moving. Having talked with professional packers, moving companies and estate agents, we've gathered a range of tips which will help you make the moving process far easier.
So here are 40 stress-reducing home packing tips for moving that will help you whether you have a carload and are moving down the street or a large truck to move you to a new country.
#1 Pack in advance
Even if moving seems like months away, by packing in advance, you'll save time later in the process which will reduce your stress levels. Start with items you won't miss and pack them in labelled boxes.
When it comes to the final few days, you'll be less stressed and worried about not getting everything packed in time.
#2 Where to start packing for a move
Start with the room you consider to the harder to pack, then the second harder and so on. This way as you move around your home, packing gets easier!
As moving day approaches, you'll be relieved as you'll continue to make good progress even though you feel tired. If you're struggling to know where to start, then garages, basements, and attics are typically the most challenging spaces to pack.
#3 Call in favours early
If you can, let friends and family know you'll need their help at least a month in advance. Email them with the necessary details (where to meet, time, clothing to wear, and what they should bring). This way you can minimise disruption on the day and ensure everyone's time is used effectively.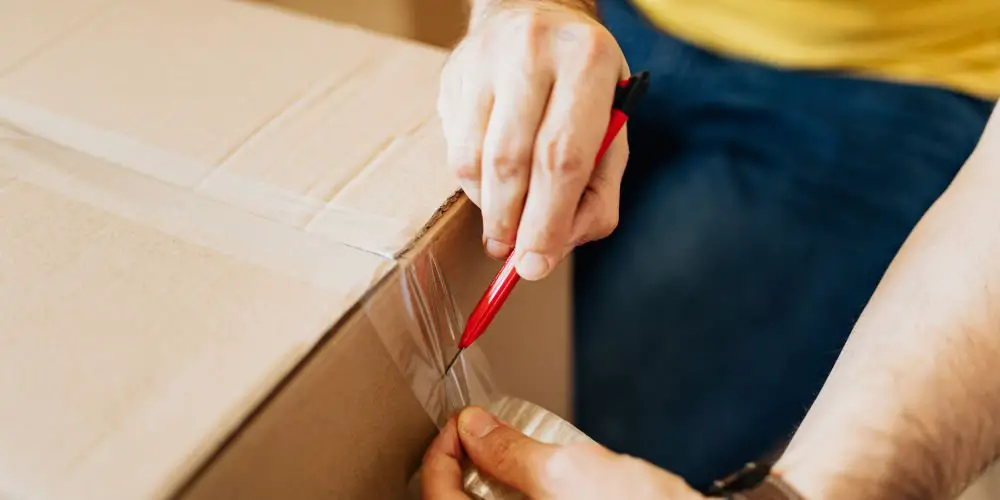 #4 Pace yourself!
One of the biggest moving nightmares by far is leaving everything to the last day or few days. If you pace yourself by doing a little packing daily, then you'll find the process is quicker and you'll reduce stress. This way when you feel like doing more, you have the to option.
#5 Resist the urge to reminisce
Easy to say, harder to do but don't reminisce when packing. It's very easy to be packing and discover an old photo album and spend the next hour flicking through it reliving every moment.
Just imagine how much time you'll spend (waste) by taking a trip down memory lane with every item. That alone will add additional stress as you'll be even more pushed for time.
Instead, wait until your in your new home and starting to unpack. You can then spend as long as you want with each sentimental item as you're no longer on a deadline.
#6 Take pictures of the back of your TV
Having to remember where cables go can be a nightmare, especially if you're tired from moving. So while your TV is still plugged in, take a picture of the back to remind you how to correctly set it up later. This works just as well with computers or any appliance with lots of cables!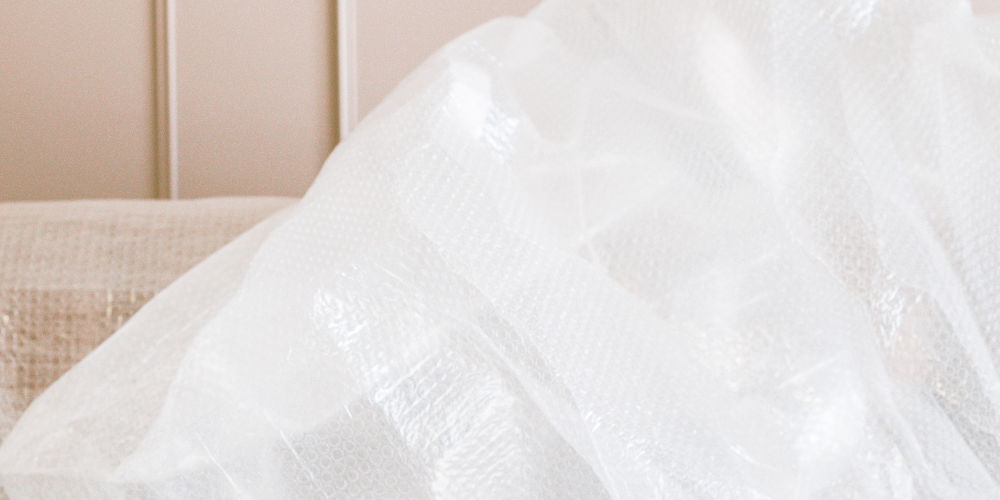 #7 Inform companies of your change in address
If this seems like remedial advice or one of the worse home packing tips known to man but remember moving is stressful and so many important tasks get overlooked.
At least two weeks before moving, you'll want to notify your bank, employer, utility companies of your move and set up Royal Mail redirect.
#8 Measure EVERYTHING
It's worth measuring every piece of furniture you own and if it can't fit in your new home, get rid of it! Don't even attempt to get it in the van!
#9 Pack an overnight bag
Moving day is typically filled up with every task but unpacking! So it's worth packing an overnight bag for the first night. You'll want to include a change of clothes, toiletries, water bottle, some cash and your laptop. You'll instantly feel more at home without needing to open multiple boxes.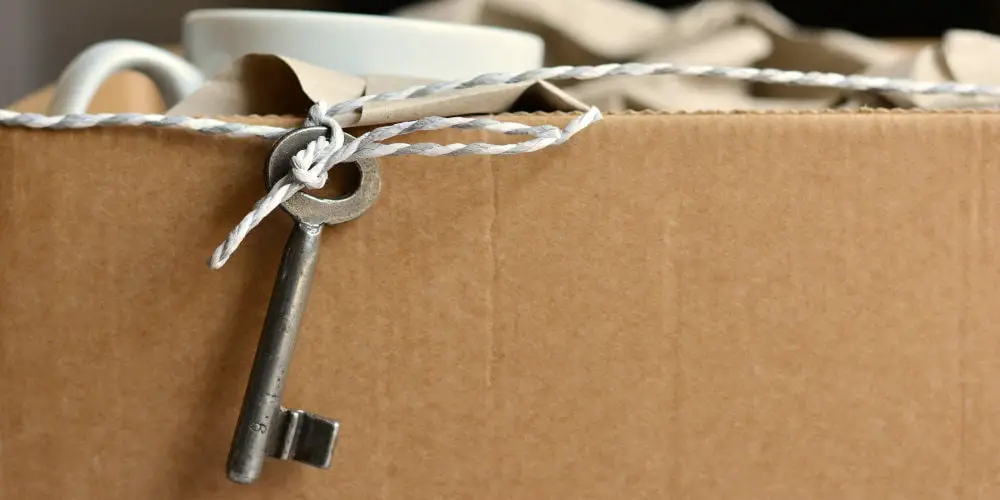 #10 Eat up
You don't want to have to move the contents of your fridge, freezer and pantry to your new home as it can be a nightmare. Nor do you want to have to bin it all. So it's worth trying to eat as much as you possibly can before moving. Get creative with your cooking!
If you can, donate any unopened/unexpired food to a local food bank. Not only will you be helping people in need, but you'll also be saving perfectly good food from landfill.
#11 Put heavier items at the bottom
Don't overload boxes as they're likely to break, damaging the content inside. Instead, start with heavier items on the bottom of the box and fill the space with lighter, smaller items.
#12 Remove light bulbs
Most light bulbs smash because they are left in sockets. So remove them and package them safely to prevent any from breaking during the move.
#13 Snack bag
Having some treats handy is a great way to stay motivated during moving and unpacking. So fill a bag with water bottles, protein bars, crisps, or whatever you need to stay fueled up during your move. And don't forget to reward yourself throughout the day!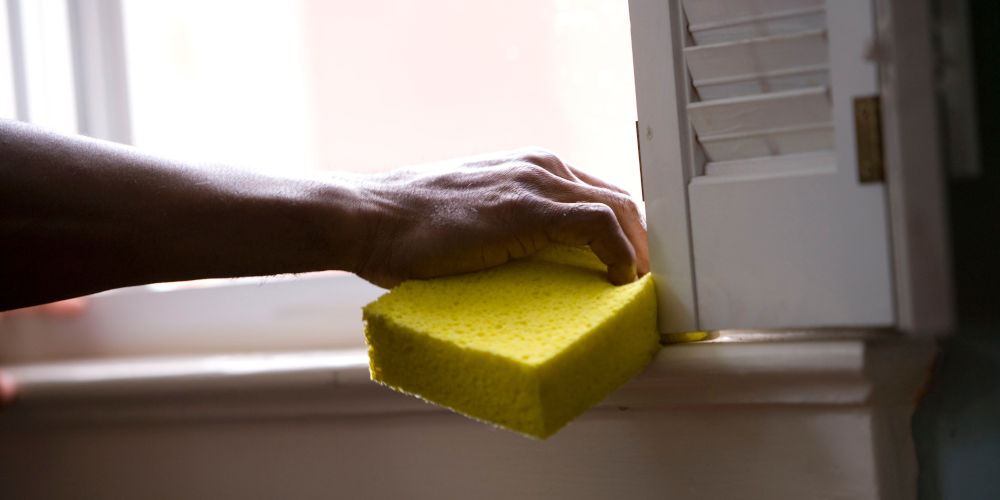 #14 Leave some cleaning supplies for moving day
You'll want to remember to leave a few cleaning supplies handy for a final touch up on moving day. You don't need much, just a few clothes, a dustpan and brush, and cleaning products. This way you can fully clean hidden surfaces you couldn't reach when your stuff was in the way.
#15 Seal any bottles that may spill
There are countless spill risks when moving home including liquid soaps, shampoos, and oils. It might be near impossible to save any item that has come into contact with any of the liquids.
So you'll want to seal any bottles with tape, placed in them in individual plastic bags. Keep them separate and pack all into a single, clearly labelled box. Remember to indicate which side is up.
#16 Make the beds first
The first thing you should do is make your beds. This way, instead of worry about tucking in your dust ruffle, or finding the right set of sheets at the end of a long night, you can just crash out whenever you feel like it!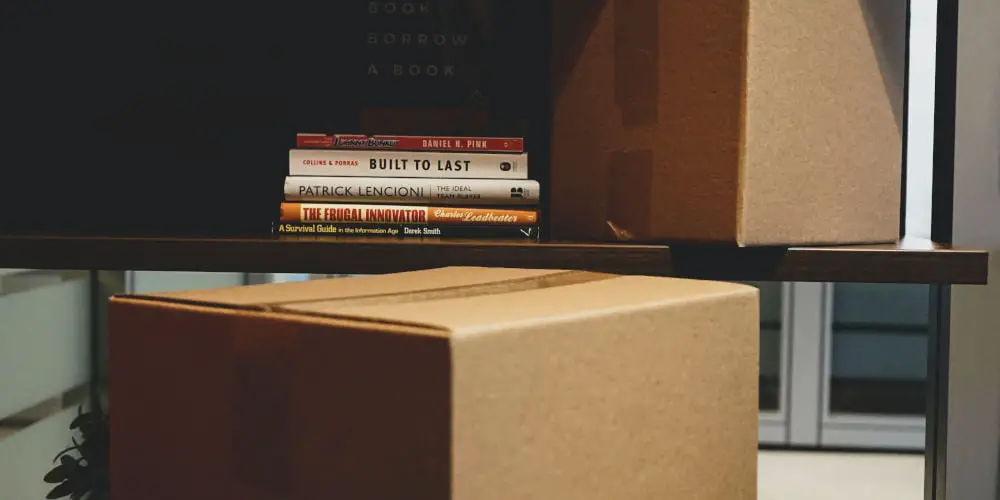 #17 Beer boxes
As one of our best home packing tips, try to reuse any old beer boxes you have in your home. They're excellent for storing and moving books, toys or vinyl records because they have handles on the sides.
#18 Arrange your utilities early
It's important to set up your utilities such as council tax, electric, gas, broadband (read our guide to choosing a broadband provider) and home insurance before moving house.
Not only will this save you a lot of stress once you've moved, but will also allow you to have more time to settle in and relax in your new home.
#19 Clearly label every box
By labelling every box, you'll speed up the time it takes you to move in as there's no guesswork involved. It's also worth numbering each box and keeping an inventory list in a notebook as this will ensure you still have everything when you unpack.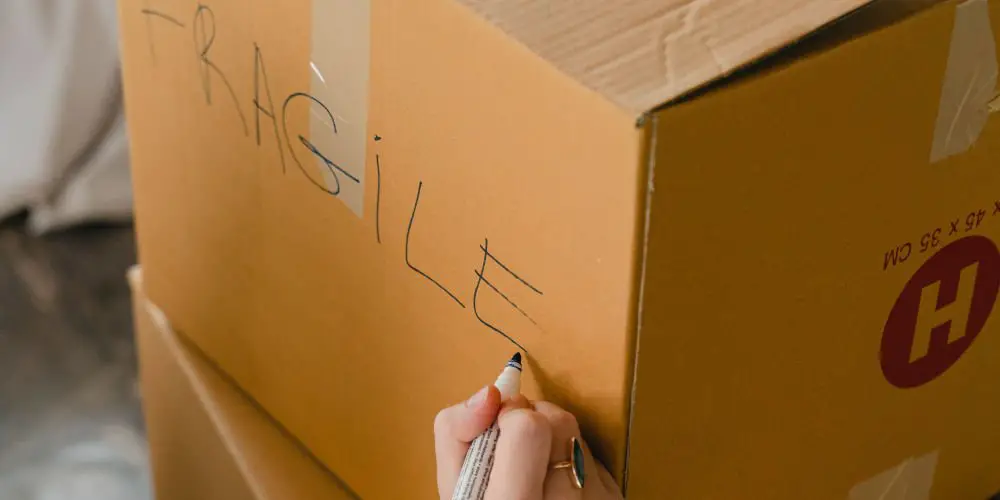 #20 Don't mix rooms in a box
It's a good idea to avoid mixing items from different rooms in the same box as it will slow down your packing and unpacking. You'll also find it easier to deal with a room full of boxes as that's all you need to unpack and sort.
#21 NEVER mark a box "valuables"
While it's in our nature to trust most people, you shouldn't rely on everyone being trustworthy. If you have a box of valuables being transported by a removals company, it's best not to broadcast it by writing it on the box. Instead, use a codename e.g. Nanna's Linens.
#22 Babysitter
If possible, organise to get somebody to look after the kids and pets. This way you can focus on moving and not on caring for others.
#23 Have a plan
Sketch where large furniture will go. Your removal company can then help you position items in the right place saving you time and your back!
#24 Protect fragile items properly
Purchase sufficient amounts of packing paper and rolls of bubble wrap. Both make protecting fragile items easier. Ensure each fragile time is separately wrapped, so they're fully cushioned. On larger items use blankets.
#25 Load heavy furniture into the moving truck first
Luckily, you don't need a maths degree to know how to best arrange a moving truck. That said, some best practices are worth following.
Load your heavy furniture like sofas, beds and dining tables first. Then finish with lighter items, like nightstands, chairs and coffee tables. Be gentle when moving items but don't be afraid to flip them. For example, sofas transport well on their sides and take up a lot less space this way.
#26 Nail hole hack
These ingenious home packing tips for moving will save you lots of time and money. Take a bar of soap and wipe over any nail holes. Doing so will fill the holes and leave the new owners with a blank canvas. Filler need not apply!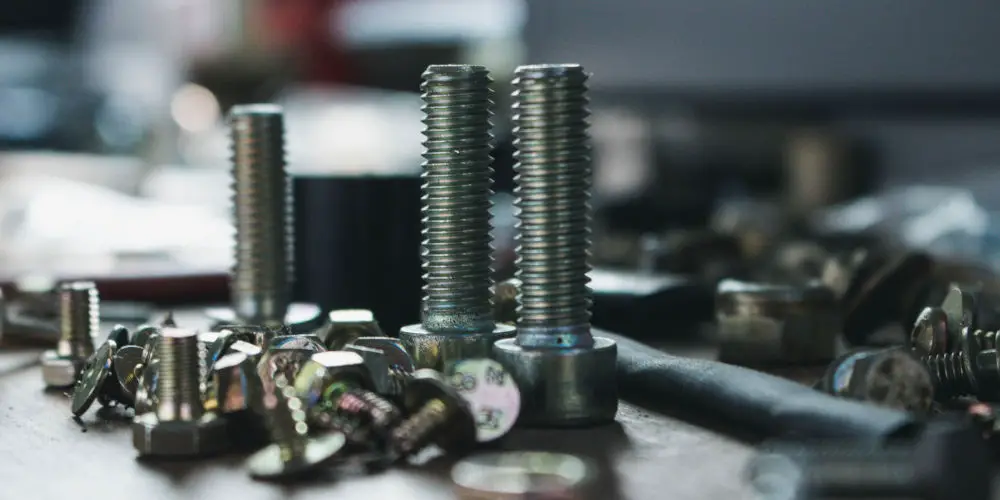 #27 Don't lose screws
If you've ever dismantled a piece of furniture, you'll know how easy it is to misplace screws. This problem only compounds when moving. Instead, ensure you locate and place all screws in a zip lock bag. Tape the bag to the piece of furniture it corresponds to, so you don't lose it.
#28 Recycle boxes as you empty them
Don't become a box storage facility! As soon as a box is emptied, collapse and recycle it. Not only does this act as a physical marker of progress, but helps to keep your new home clean and tidy.
#29 Only take clothes you'll use
It's quite common for people to decide they'll sort and bin personal items when they're in their new home. Sadly, there's so much to do when you finally move in then this well-intentioned idea goes out the window.
So, be strict with yourself and only pack the clothes you intend to wear in the future. With the rest either sell or give them away.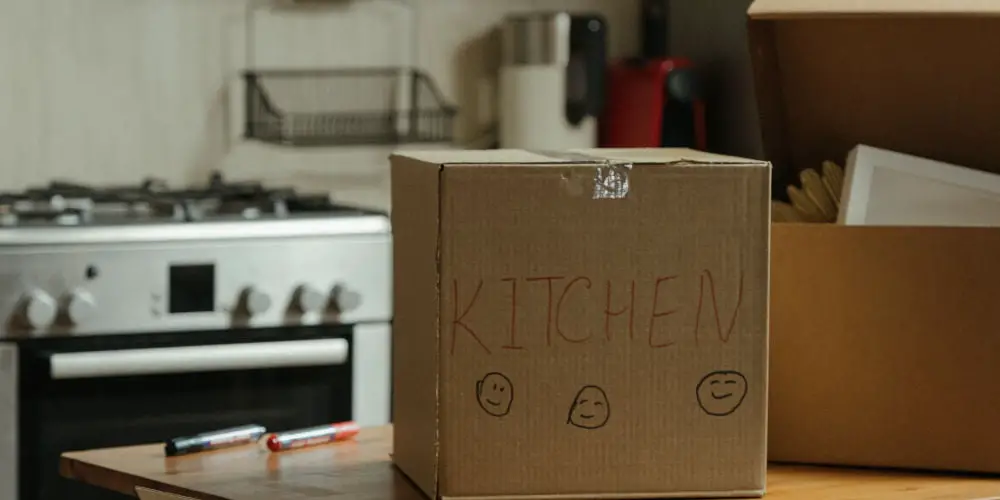 #30 Wardrobe boxes
With your slimmed-down wardrobe, you can transport them hung in wardrobe boxes as they'll be well-protected. You could instead use any suitcases and travel bags you already have. With more casual clothing items, you could even use them to protect fragile items.
#31 Sandwich bags
Keep sandwich bags handy for holding any small parts such as curtain hooks, screws, phone charges and TV cables. They really are every mover's secret weapon!
#32 Keep boxes light
This isn't a strong man competition, so don't make boxes too heavy! While it's easy to fill them up, consider how much they will weigh when full. It would be a disaster if any box's bottoms were to break.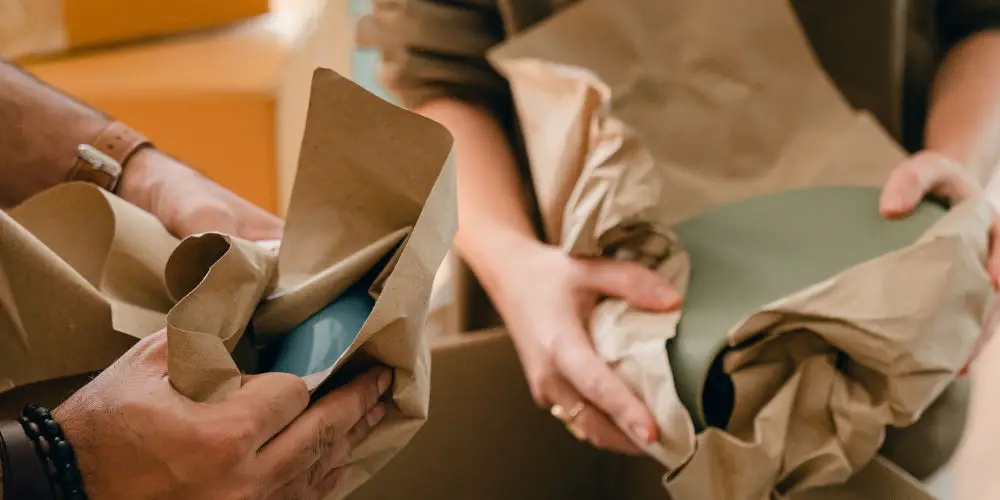 #33 Defrost your fridge
A few days before your moving date, remember to defrost your refrigerator and clean up any liquid. Don't attempt to move a full fridge or one that's only been switched off that morning. Foget these home packing tips for moving at your peril!
#34 Prevent being locked out with Rubber bands
Easily one of our top home packing tips for moving! String a rubber band around one doorknob, then cross it over and wrap it around the doorknob on the other side to keep the door from locking.
#35 Expect the unexpected!
Something will go wrong, sad but true. If you expect bumps, you'll handle them better. So be ready to think on your feet and take issues in your stride. And if in doubt, hire some self storage as a backup.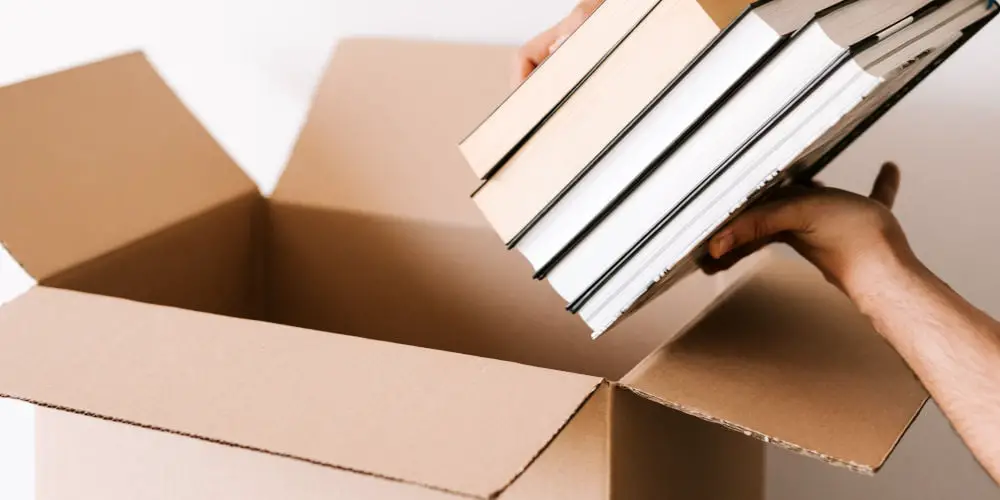 #36 Grocery home delivery
Aim to get a grocery order delivered a few hours after you arrive at the new house. Our favourite supermarket for delivery is Ocado as they are highly dependable.
This will take your mind of having to pick up essentials and means if you've emptied your pantry, that you at least have some basics to keep your going with.
#37 Use what you have!
Instead of filling your home with boxes, first, try to fill what you have. For example, use your baskets, laundry bins, hampers, suitcases or anything that can carry items to cut down on boxes. You'll thank us later!
#38 Don't Leave Empty spaces
Use packing paper, small items or towels to fill empty gaps in boxes. You could even use tea towels or old rags. Ensure that your items are securely in place during transit and reduce the risk of damaging them.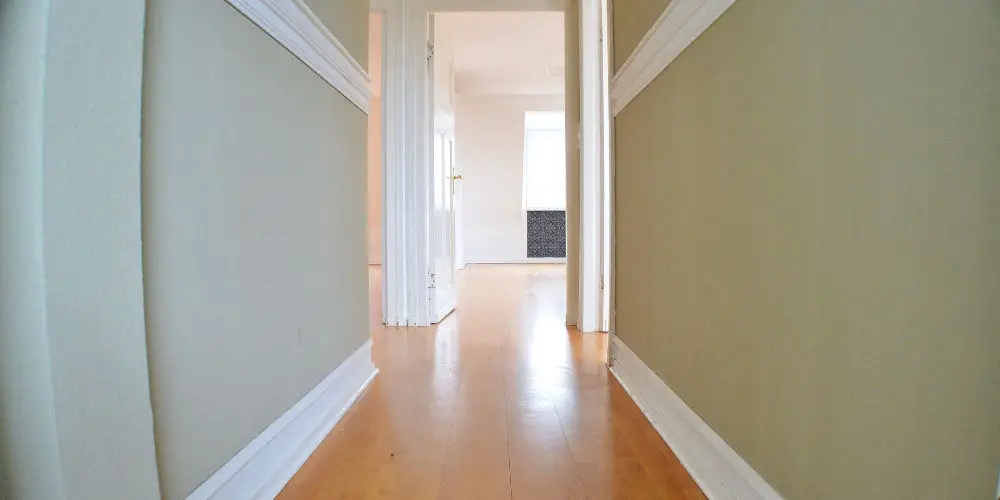 #39 Take more work holiday than you need
You might be able to move properties in a day or two, but you'll need a few days to get settled in your new home. It's therefore worth booking an extra few days off work to ensure you at least sorted the basics. Don't try and rush back to the office!
#40 Take a breather!
Moving day is stressful, so allow yourself some "me time" when it's over. Watch a movie, order some pizza, or do whatever you need to relax after a long day of hard work. Rewarding yourself is one of the best home packing tips for moving.
Try these home packing tips for moving
The most important of our home packing tips for moving is pace. Don't try to get everything done in a day or two. Instead, spread it out and take your time. You'll enjoy it more and won't feel as stressed.
Don't forget these home packing tips when preparing to move house or you might increase your stress-levels without realising it.