How often should you stain decking?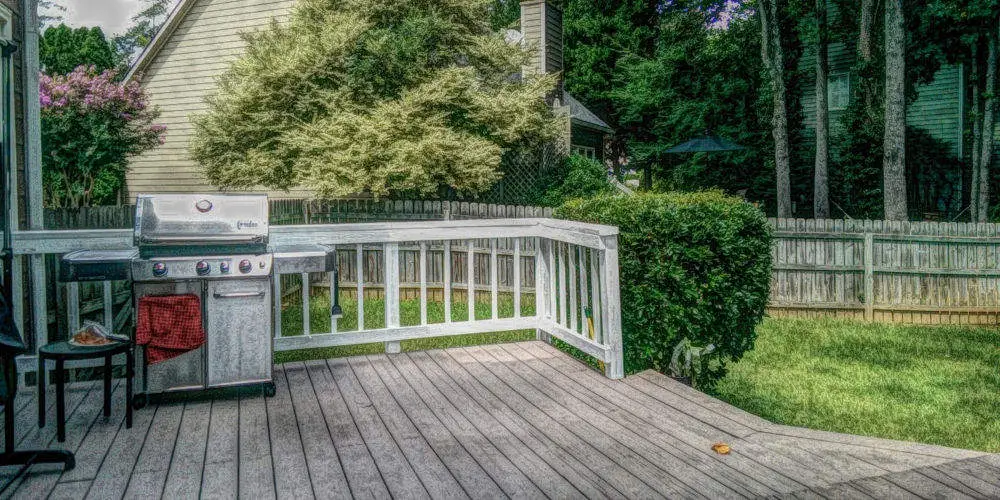 Who doesn't love relaxing on their deck with a book and glass of wine?! But, you might wonder how often should you stain decking to ensure it's kept in top condition?
There's nothing quite like having a wooden deck in your garden as it creates additional outdoor living space that's useable all year round. A deck is an ideal place to entertain friends, enjoy a BBQ or simply unwind at the end of the day.
Keeping your deck in top condition and safe to use requires regular maintenance including sweeping and staining. Learn how often should you stain decking and other tasks to ensure your deck lasts.
Basic deck maintenance tips
Before we talk about how often should you stain decking, let's look at some basic maintenance tips. You'll want to inspect your deck once a year. The best time to do this is in the spring before the weather starts to heat up.
Start by moving everything off the deck. Next, sweep it clean of all debris. You then want to look for the following:
Nails sticking up
Loose boards
Large splinters
Rotting wood
With a hammer and some nails, you should be secure any loose nails or boards. You might even be able to remove any splinters but use care to ensure you don't harm yourself!
Replacing rotting wood isn't easy and so you might benefit from hiring a professional handyman as they'll have the expertise and tools to complete the project to a high quality.
After taking care of any remedial repairs or if your boards appear to be in good shape, then you'll want to clean your deck using a commercial cleaning product and the recommended tools. Remember to clear your deck of everything before cleaning as you don't want to harm plants or furniture.
Depending on your preferred cleaner, you might be able to brush the product and leave to work. Other products require you to use a power washer.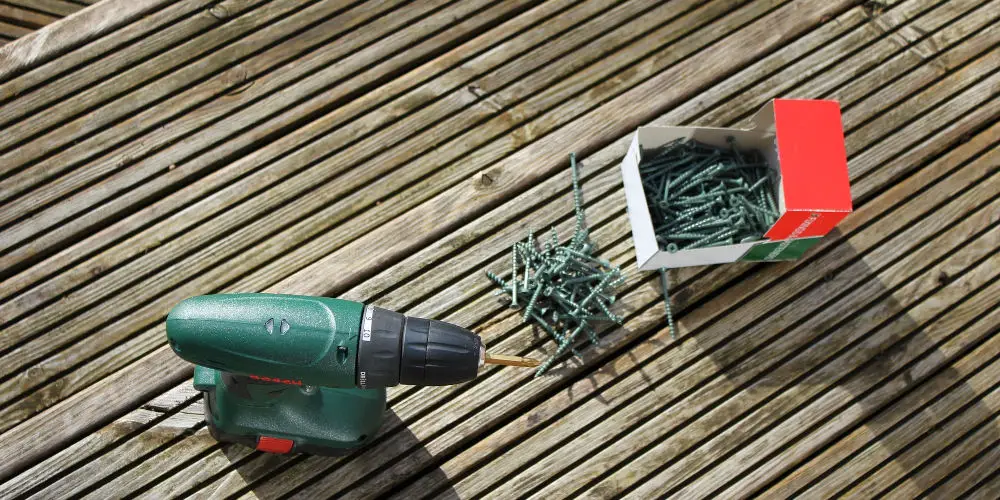 When should I stain my deck?
After cleaning, you should inspect the wear of your deck stain. Look for signs of:
Mould or mildew
Water soaks into the deck boards and no longer beads up
The stain colour is wearing off
All of these are sign that your deck needs staining. Thankfully, there's no hard and fast rule exists for how often you should stain your deck. Instead, it depends on the type of wood, the type of stain, and the environment in which you live all factor into how long a stain lasts.
Clear or semi-transparent stain
If you've protected your deck by using a clear or semi-transparent stain, you should aim to reapply a new coat of stain every two years. Doing so will offer the maximum level of protection of your natural wood deck.
Semi-solid or solid colour
For decks stained with semi-solid or solid colour stains such as Redwood, Cedar, White Birch, Riverwood, Moss Olive, Mountain Ash, and Charwood, you usually only need to reapply the stain every five years.
These types of stains act like paint on the wood's surface, offering the protection of a stain as they soaks into the wood.
Use a high-quality stain for the best results
You can ensure your deck has a long life by applying a high-quality stain either every year or every two years. Two major stain types are available. You can use either water-based or an oil-based stain.
Water-based stains
Offering the best colours retention, water-based stains are also easier to work with than oil-based stains. They dry more quickly than oil-based stains.
Water-based stains give off fewer odours and only requires soap and water to clean the excess off. Finally, as they are not flammable, you do not need to worry about storing water-based stains.
It's best to avoid buying cheap stains and instead use Cuprinol or Ronseal as both offer a range of high-quality stains in multiple colours. Our favourite include Cuprinol 5122409 Anti-Slip Decking Stain and RONSEAL Ultimate Protection Decking Stain.
Oil-based stains
Lasting longer, oil-based stains also offer better penetration than water-based stains. They are more durable, which is an advantage if you live in a harsh climate.
Oil-based stains do take longer to dry. However, a longer drying time results in a more even finish.
Unless you have already worked with oil-based stains, it's worth hiring a professional handyman or starting on a small area that will be covered by a plant or furniture later. Applying an oil-based stain requires more care to guarantee an even finish.
Again Ronseal offers a range of oil-based stains including the affordable RONSEAL Ultimate Protection Decking Oil.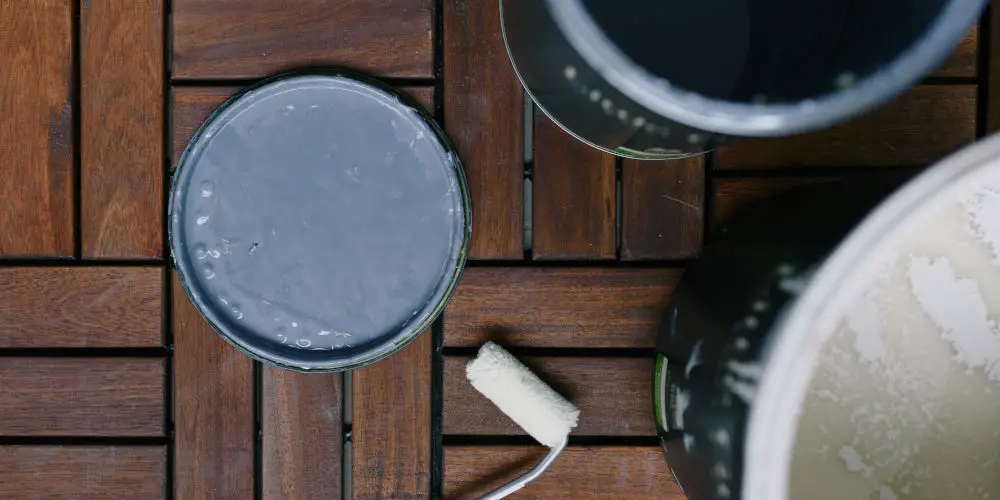 DIY Staining your deck
As long as your deck is in a good shape, you can stain it yourself every year or two. Like other DIY projects, it's worth buying some supplies and tools to make the task easier. If you haven't stained your deck before here are the tools you'll need to clean, prep and stain it:
Plastic tarps
80-grit sandpaper
Large push broom
Deck cleaner
Power washer or hose
Protective eyewear
Sander
Stain
Paintbrushes and paint rollers
Safety mask (if using an oil-based stain)
Depending on the size of your deck, you'll also need to set aside a weekend or two to complete the task. It might be worth finding a friend to help as you'll cut the work in half and have someone to motivate you!
For the best results, take your time and use the best quality products you can afford. Remember, a high-quality stain applied correctly will result in a long-lasting finish that also protects your wooden deck.
Of course, if you hired a professional they would have the tools, equipment and knowledge to clean, prep and stain your deck in a fraction of the time while producing a better finish. That said, you should still be able to answer how often should you stain decking!
Should I also seal my deck?
It's worth sealing your stained deck twice a year with a UV-rated weatherproofing water seal such as the Liquid Rubber Smooth Polyurethane Deck Sealant. Doing this should double the time between re-staining while protecting your deck from rainwater and harmful sun rays.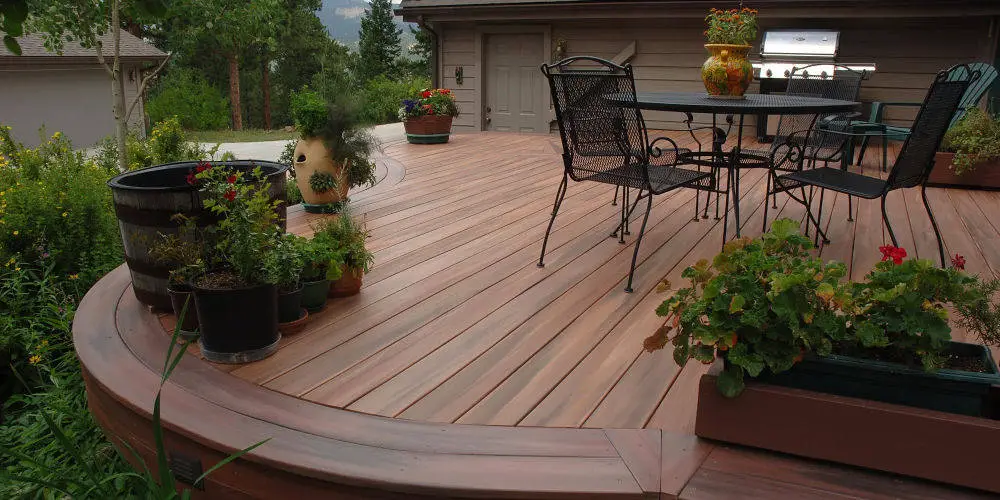 Discover how often should you stain decking to ensure top condition
Whether you stain your deck or hire a professional, it's worth remembering that a wooden deck requires regular upkeep to remain safe. And now you have an answer to how often should you stain decking, you can ensure your deck is always in top condition.
The less you use your deck, the longer the stain will last. A heavily used deck will wear away the stain and sealer faster, meaning you'll need to restain it faster.