40 Ikea hacks to transform your home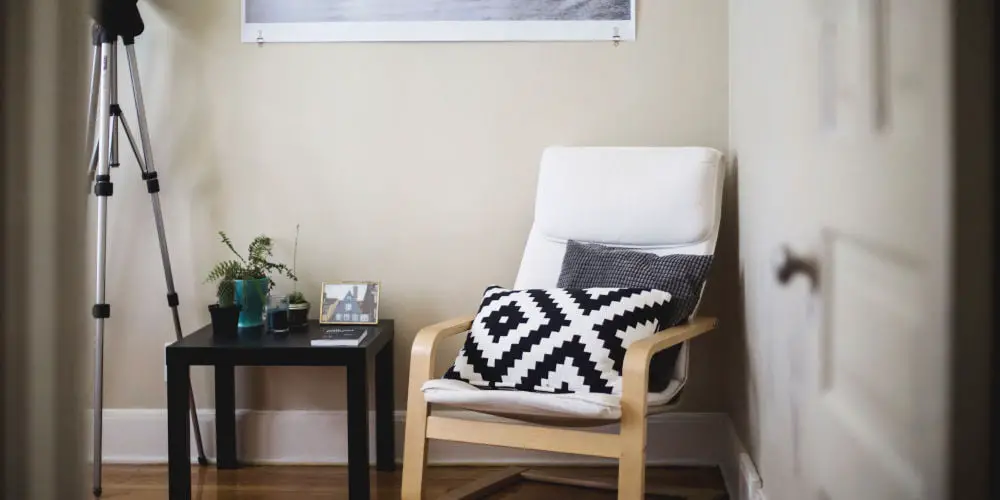 It's a fact that we all love Swedish mega-retailer IKEA, even if it's a secret! They manufacture stylish, affordable products that transcend current trends.
However, as widely available items, it can be obvious where you've shopped. You want a home that reflects you, not a chain store!
IKEA hacks aim to personalise and elevate standard products into something unique. With some creativity and some cash, you can transform the functional into elegant, one-of-kind pieces.
Who said creating a luxury interior design is impossible on a shoestring budget?!
Here are 40 IKEA hacks to try for yourself. Each will spark your imagination and encourage you to create something different.
Pendant chandelier or plant pot?
These unique light fittings stated life as SKURAR Plant pots! Measuring 10.5 cm, they come in an off-white tone, which makes them ideal for respraying.
After applying a new coat of paint, simply drill a hole in the bottom and you now have a superb lampshade! What's even better is they cost £2 each!
Chic faux Mongolian perch
While in trend, these faux Mongolian perch have an iconic, timeless look. It takes about 15 minutes to transform a £4, black MARIUS Stool into a chic seat!
You only need 5 items for this project. The chair, some gold spray paint, foam, glue and faux Mongolian fur.
Start by spraying the stool with the paint and leave to dry. Next, as a plastic stool, it's not the most comfortable. So we'll use some foam to pad the top. With the foam cut to size, glue it in place.
With the faux Mongolian fur draped over the stool, turn it upside down. You don't want to pull the fur to tight, nor let it be too loose. Cut the fur so that extends under the seat but doesn't cover any screws.
All that's left to do is to glue the fur in place and leave to fully dry.
Slatted bed base wall organiser
There are so many ways to use the £20 IKEA LURÖY slatted bed base as a wall organiser. You could use one in the living room to hold magazines, wire baskets (for keys, remotes, chargers), a clock and even photo frames.
These slatted bed bases are also fantastic hanging on the bathroom wall. You can store towels, mats, and use wire baskets for toiletries and toothbrushes.
Regardless of where or how you use it, the best part is you can easily rearrange items and keep it fresh. Not bad for a £20 item!
Hanging gallery or living walls
Having lots of art or flower on show can create a massive headache, but not any more. Instead of spending hours hanging paintings or shelves, use a curtain pole.
Attach a RÄCKA curtain rod (£7.75) to your wall. Then using twine or sting, hang a mixture of pictures and plants, at different heights. As nothing is attached to the wall, you can tweak and try out different layout, until your happy.
As nothing is permanent, you can curate your collection to the season and keep trying new ideas.
Spice racks, not just for the kitchen
The worse kept secrets and probably one of the best IKEA hacks is to re-purpose their spice racks!
Costing £3.50, the BEKVÄM Spice rack is highly affordable. We've mentioned using them to organise a bathroom previously, but they work equally well for displaying and storing books.
The natural birch finish is OK, so consider painting your spice racks to match your colour scheme.
Finish with furniture wax
Transform any seemly boring wooden item with furniture wax (£8 from Amazon) for an interesting aged look.
Start by wiping down the unit with a damp cloth and leave to dry. Using a paintbrush apply the wax to each surface and wipe off the excess immediately using a cleaning rag.
The amount of wax you clean off will depend on how dark a finish you want. For a lighter finish, only leave a thin layer of wax. Leave to dry and then buff to complete the finish.
Ikea hacks for bag holders
As probably the most uninspiring product sold at IKEA, the VARIERA Plastic bag dispenser (price £1.50) is perfect for hacking!
You could use it to hold a range of everyday items. Our favourites are wrapping paper, sporting equipment (tennis or badminton rackets, for example), or even umbrellas and walking sticks. They'd even make a superb shoe holder for your kids.
Picture ledge to bathroom storage
Skinny shelves are good for more than just displaying pictures! They're great storing bathroom product under a mirror, fashion accessories or as a unique clock stand.
As one of the easiest of our IKEA hacks, the £5 MOSSLANDA Picture ledge can be secured in place with screws, glue or nails.
Rollin' chic
Ikea sells a BEKVÄM Kitchen trolley for £40. With two shelves, a chop block top and wheels at one end, it's perfect for reusing. However, it's quite bland.
With some imagination, we can turn it from bland to super chic trollery, then it's down to you how to use it. We'd suggest using it for drinks or a flexible way to make a kitchen stand out.
First, we're going to lightly sand it to remove any bumps and finishes. With that complete, we'll apply a coat of dark grey paint to the frame and leave to dry.
While the birch top is practical, it's not that luxurious. So it will be swapped for marble. Don't worry too much about the price as we only need a small piece.
A brass towel rail completes the look and can be attached at any end. With this added, you've turned a bland trolley into a super chic piece.
Elegant library
Millions of us have a BILLY bookcase, they're a classic! IKEA estimates they sell one every 5 seconds! However, there's so much you can do with them to improve their look!
Combining the tallest IKEA BILLY bookcase (only £25) and some architectural mouldings, we can create a refined-looking library without the custom price tag!
If you have space, you can fully recreate the country house library look and add a rolling ladder!
Ikea hacks for classic side tables
Another staple in the IKEA range is the £7 LACK side table. There are many IKEA hacks that involve starting with one of these.
Some choose to paint board games on the top, others add brass details to the corners. Kristina of Ich Designer took a completely different direction and covered her in plexiglass. The finish? It's out of this world!
Pining for modern
Interior designer Sarah Sherman Samuel gave bland this £99 Tarva Chest of 5 Drawers a complete transformation. Doesn't it look chic?
This contemporary look is easy to replicate and one of the best IKEA hacks. Simply paint the unit white, spray the base with metallic gold paint and change the knobs for faux antique brass ones.
Fabric art
Ikea offers a range of fabrics, which is ideal for many projects. One way you probably won't consider using their fabrics is as art.
Whether you end up displaying it in a picture frame or stretching it over a home made wooden frame, is up to you. Both look fantastic and are a superb alternative to paintings or prints.
Glamorous Gold Chair
IKEA sells a ton of basic white chairs, with the £70 VOLFGANG Chair being a prime example. It just screams please hack me!
As an already well-padded chair, you don't need to do much to improve the basic design. So we'll stay fairly basic and spray the frame gold.
If you want to elevate it even more, then drape a faux fur throw over it. It'll look chic and luxurious!
Faux Marble table
Marble never goes out of fashion but it's not the cheapest of materials luckily we have a cheap solution!
Our starting point is this £25 IKEA LINNMON / LERBERG table. We're going to use some Marble contact paper to cover the top and give it a more exciting look.
Along with the paper rolls, you'll need glue and scissors. In around 10 minutes, you'll have a fancy looking desk!
An instant classic
Some soft green paint and new brass bar handles transform this £150 wooden TARVA Chest of 6 drawers into an instant classic! The result of these IKEA hacks speaks for themselves! Wouldn't this adorable dresser look amazing in your home?
Rustic desk
Often, a single desk doesn't work. You need something longer but there's nothing on the market that fits the bill. Enter the Alex Drawer unit (cost £55).
Nadine from Beauty Ressort (in German) combined two of these units with a wooden worktop from the hardware store and an ADILS leg. The result is an epic workspace for two people with lots of built-in storage.
This would also be ideal as a homework/crafts area for kids.
Toddler Learning Tower Stool
As probably the most exciting of our IKEA hacks, this one does involve some DIY but look completely epic (and is safe!).
Starting with a £20 BEKVÄM Step stool, Sina from Happy Grey Lucky used some pine 2 x 4, a dowel rod and some spray paint to create a way for kids to get involved in the kitchen.
The project will take a few hours and Sina explains each step in the process including what tools you'll need. Nice! If you're not a fan or white or don't fancy always wiping it down, then customize it to your kitchen's colour.
Faux luxe marble-topped side table
Add a touch to bling to your living room by hacking the VITTSJÖ Nest of tables into a faux luxury side table complete with marble top. The first step is to remove the glass and spray paint the frame gold. You'll want to do this either outside or in a well-ventilated area.
While that's drying, measure the glass top and add 5 mm overhang to each side. Next, cut some marble effect sticky back plastic to size. Peel and stick the plastic to the glass, allowing the 5mm to overhang.
Use a cloth to create a smooth finish and remove any bubbles. When dry, trim away the excess with a craft knife and screw onto the frame.
Banquette Seat
If you want more informal dining in the kitchen, then adding a Banquette Seat is the way to go. However, getting one custom made will be expensive.
You can recreate the look with some plywood, foam, fabric and a 4 cube KALLAX unit. This is a fantastic IKEA hack that involves quite a bit of DIY.
Firstly measure your wall. You'll want to ensure you can fix the KALLAX unit sideways (measurements: 42 by 147 cm) and be able to build a cushion around 1.5 metre high (the KALLAX is 42 cm tall, meaning you'll have over a metre backrest).
With your space measured, it's time to cut your plywood to size and screw it to the wall. Next, measure the foam so that it fills the gap between where the KALLAX finishes and the top of the plywood. It's best to glue it in place.
The last step is to drape the fabric and cut to size. It doesn't matter if it's a little long as the KALLAX will hide any excess fabric. Again you can glue or staple this place. Build the KALLAX, if you haven't already and you have a fancy banquette seat!
A luxe tray table
Costing only £15, GLADOM Tray table looks chic already. However, it's perfect for our IKEA hacks and can be easily transformed into a luxe item!
In addition to the table, you'll need some black and gold spray paints, faux marble PVC paper, and a cutting knife. Start by removing the tray, then spray the frame gold.
While that's drying, take the tray and spray it black. When that dry, it's time to measure and cut the faux marble paper. There are two ways to use this. You could line the tray's whole inside or just the bottom. Both look superb.
With the tray complete, it's time to reattach the bottom and you're done.
Upgrade The Hardware
Sometimes it's the simplest IKEA hacks that have the biggest impact. Changing knobs and handles is a fantastic yet cheap way to personalise any item.
For example, take the Ikea FJÄLKINGE shelving unit. It's bold lines, imposing structure and monochrome colour scheme is ripe for an upgrade.
The guys at Studio Mcgee drilled holes in the draws for new brass hardware. With the unit built, they styled it using wire baskets. Very cool!
Ironing board trolley
If you dislike having to set up the ironing board and end up searching for the iron, etc. then this is the IKEA hack you've been dreaming about!
Taking roughly an hour and some DIY, With my hands – Dream invented this cool project comes. All you need is an RÅSKOG Trolley, a JÄLL Ironing board, some small wood planks and screws.
Cut the wood into strips and mount flush with the top of the trolley. Next, screw the ironing board to these wooden strips and your done! You'll love being able to move the trolley around and iron your clothes quickly!
DIY dog steps
Your pawsome friend deserves an easy way to get onto the sofa, especially if they're a puppy. This IKEA hack centres around the £5 KNAGGLIG Box – you'll need three, glue and fabric similar to your sofa.
Firstly, glue two of the KNAGGLIG boxes on top of each other. When dry, glue the third one to the front and leave to let the glue harden. Using your fabric, cover the top of each step or cover the whole thing.
This pawfect project should set you back around £20!
It's all rubbish!
One of the most irritating elements in any kitchen is where to put the bin. A trend we've seen recently is built-in bins, usually hidden behind a pull out draw. Home in the USA have had this feature for decades!
You can buy ready to mount pull out bin, such as the 1home Recycle Bin (available on Amazon for £49), but it's quite small. So our bin hack uses a standard pull out kitchen draw, namely the MAXIMERA.
The MAXIMERA Drawer mounts to the bottom of the cabinet and while you can mount the sliding shelf to the cupboard door you don't need to. Instead, we'll use a plank of wood to finish the frame and keep the bins in place.
As this draw is 40 cm deep, cupboard allowing, you can place two large bins or a two small and a large bin depending on your requirements. This has to be one of the best IKEA hacks out there!
Backlit World Map Coffee Table
A Coffee table can an exciting alternative focal point to the traditional fireplaces, mirror or art. We'd be the first to admit that this project does involve quite a bit of DIY, so it's not for the faint-hearted!
Starting life as an £17 IKEA LACK coffee table, the map element is cut from MDF with battery-powered LEDs underneath. A glass top is suspended over the map and gives a contemporary look.
While the map is impressive, you could equally re-create a city skyline, a sport's team crests or a family photo.
Light bowl!
Our IKEA hacks are just limited to furniture! This simple idea is a smart way to create a unique light fitting.
All you need is a £5 HULTET bamboo Dish, a bulb, a ceiling pendant with lamp holder and a drill. This stylish light fixing costs less than £10 and takes a few minutes to build.
Turn the bowl upside down and place the lamp holder in the centre. With a pencil, draw around the lamp holder. Drill a hole equal to your circle and screw-in the lamp holder. Finally, wire in the pedant and attach the bulb.
Cubic Bookcase
If you're not overly fond of the BILLY bookcase, then this is a superb IKEA hack. We'll need to start with some maths as this project revolves around the 35 by 35 by 35 cm cube EKET Cabinets.
So you'll want to measure your wall in metres and divide by 0.4 (the extra 5 cm is overhang). With the maths over, it's time to get assembling and cutting the inserts!
Building multiple EKET cubes will take a bit of time. When you've finished assembling, then you want to line them up in a rough formation. Hopefully, your maths skills were good and everything looks fine.
Next, you'll want to cut planks to size to create the dividers. This can be complex as you'd like, although we'd recommend trying to keep it simple. With dividers cut down to size, it's time to stack a row of EKET cubes, then a divider, another of cubes, etc..
You can leave it as a free-standing piece of furniture. However, it might be best to screw or glue the elements together. Again you don't need to attach it to the wall, but doing so might improve it structurally.
Your kid's imagination
Unlike most kid's beds, The KURA Reversible bed is two in one. If your child is young, the frame can be placed with the bed on the bottom. As they grow, flip the frame and they can climb the ladder to bed!
It's pretty spectacular by itself! However, interior designer Laura Melling re-imagined the Kura bed by adding a roof-line, bunting and whitewashing the frame. These simple IKEA hacks will spark your child's endless imagination!
Upgrade your legs!
Changing legs, like knobs, can seem like one of the dullest IKEA hacks out there! However, these tiny changes can have a massive impact on the overall look and turn bland to unique.
Enter prettypegs, who offer a range of legs, hardware and even door panels! They post all over the world from their base in Sweden and prices are affordable (although they display prices in Euros).
Tiered fruit bowl
This is a cheap yet interesting way to store fruit and veg in your kitchen. Plus it takes up little space!
All you need is 3 RUNDLIG bowls and 1 HILVER table leg, some glue and drill. Start by removing the end of the table leg and glueing it in the centre of one of the bowls.
Next with a drill, make holes of approximately 38 mm and 45 mm in the remaining two bowls. With the first bowl dry, you can slide the other two bowls over the leg and into place, starting with the one with a 45 mm hole.
When each of these bowls feels snug to the pole then glue in place. With everything dry, you have a stylish looking fruit bowl for around £45!
Kitchen cabinet bed
If you lack bedroom space, consider raising your bed and build in storage underneath. An ideal solution is to use IKEA kitchen cabinets as they provide plenty of space!
Noraelli used nine IKEA kitchen base cabinets to build an epic solution while making her single-room apartment feel much bigger. You'll need about a day to build something similar but Noraelli has lots of useful tips from her project.
Shelving Unit To TV Stand
Both the 2 and 4 cube KALLAX shelving units are ideal as TV stands. Simply add a plywood base to raise the height to make the TV viewing angle perfect.
With the base built and the bulk of the hard work over, it's worth painting the entire thing as this will tie both elements together. You could whitewash, rub-on furniture wax or paint it black!
The fantastic thing about the KALLAX is they're easy to style. Simply add a few ornaments, photos and a plant or two.
Rolling Under Bed Storage Box
This is an amazing project for storing magazine, jewellery or even shoes if your bed is raised.
Start with two RIBBA 60 x 80 cm photo frames. On one remove the backing and frame some patterned wallpaper. You'll want to replace the back so the hooks aren't visible or better yet, remove them altogether.
With the other frame, remove the backing and glass. As this is the bottom, feel free to bin the glass and then replace the backing. Again it's nest to place it so that the hooks aren't visible or remove them.
Next, lay the two frames on top of each other and mark where the hinges will go. Drill these holes and add the hinges. All that's left is to add the 4 casters. We'll glue them in the corners rather than using screws as the wood is too thin.
Finally, add some rope at each end to stop the box being opened over 90 degrees (as this could damage the hinges).
Work/homework station divide
There are many ways to use the LACK Wall shelf unit. One can be mounted above the bed as a modern alternative to a nightstand. With some thought, the LACK can be mounted backwards and be a fantastic towel holder! There are literally numerous ways to use them.
Our favourite of the many IKEA hacks involving the LACK shelf is to use it as a table divide. This is ideal for kids, as they have their own little storage space and area to complete homework or crafts.
It's also ideal pushed up against the wall in an office. You could place your monitor and a lamp on top. Underneath, each compartment can form a filing system, with the odd plant and ornament for good measure.
If in doubt add file drawer!
After seeing this project, you'll never look at the IKEA KALLAX in the same way! You'll need to flex your DIY skills with these IKEA hacks and so not for the faint-hearted.
By adding 6 individual file drawers with faux drawer fronts, the humble KALLAX is transformed into a genius and beautiful storage for important documents or all of your arts and craft supplies.
We'll leave it to Betty from Oh Everything Handmade to explain how to undertake the transformation!
Wine Rack
We all enjoy a bottle of wine with our evening meal, especially after a stressful day. However, there are very few interesting yet affordable ways to display wine bottles in a kitchen.
Not any more! The £9 BROGRUND towel rail is ideal for holding two wine bottles. You can, of course, mount a few around the kitchen or stack a number to a wall. Regardless of how you chose to use them for your wine, they'll add an air of sophistication to your kitchen.
Personalise your headboard
Beds by design are function yet often aren't the most attractive item. One simple way you can hack any IKEA bed is to re-imagine the headboard.
While you can repaint the frame, that's pretty boring! Instead, we're going to use self-adhesive wood planks in a brick pattern. Ashley from Sugar & Cloth inspired this simple hack and now has an incredibly stylish headboard.
Clever Ikea hacks for pictures frames
IKEA is fantastic for buying affordable art and picture frames. This is great news if your home is lacking in good art. The range of frames available are solid yet aren't anything special.
Painting your frames for a unique look is cheap, quick and easy. You usually don't need more than a tester pot or two. However, consider mixing colours and leaving some sides au naturel!
Rug cushion
Add a sense of comfort to any room with personalised cushions. Start in IKEA's rug section and buy one of their smallest rugs. Next, find the small pillows and cushion pads and lay the rug over it. Look for a pillow that's easily covered by the rug.
All you need now is to sew the rug over the pillow and you have a unique cushion that'll last years! Not bad for a few pounds and a couple of minutes of needle work!