Kitchen design basics: Create an inspiring space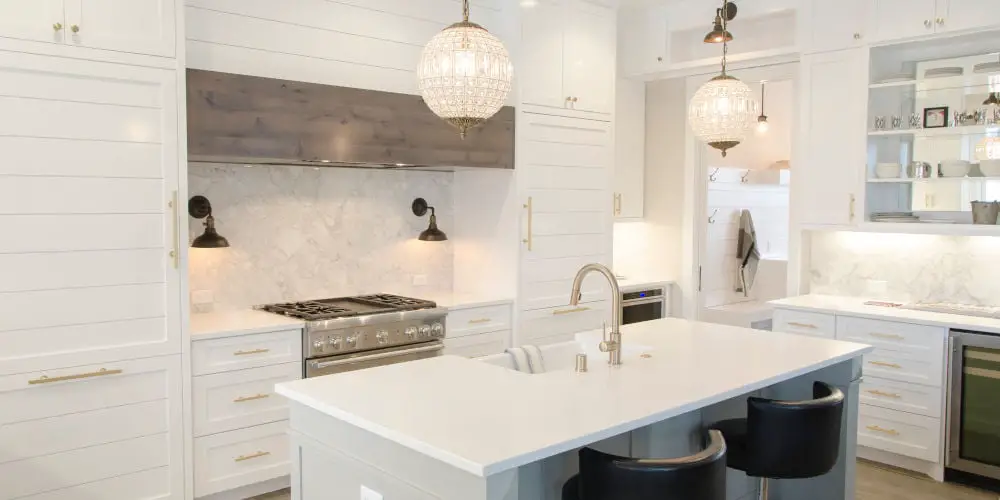 Understanding kitchen design basics can happen by chance, while scrolling on Pinterest or by peaking into a friend's!
You could walk past a home and peak in the window. A celeb might post theirs on Instagram. Not to mention the countless adverts we see for kitchen each week!
Ask anyone what room they consider the heart of the home. Most usually, without hesitation say the kitchen! This once functional room has been transformed into a buzzing social hub with multiple purposes.
Whether we use the space for cooking, entertaining, eat, or simply grabbing a cuppa while the rest of the house is in chaos. So it makes sense to trying and make it somewhere that the whole family will love using.
Our kitchen design basics will inspire you to design your dream kitchen within your budget.
The kitchen design basics you should know
There are quite literally 101 hacks for the kitchen sink! Not to mention cupboards! So if you feel like you lack space, here are some of the top kitchen design basics you can try today for little or no cost.
Inside the doors
Firstly, consider hanging measuring spoons on the inside of cabinet doors. By using this vertical space you can free up worktops and draws and create a more minimalist look.
Under the sink
As we all struggle trying to organize the space under the kitchen sink, here are a few tips. Try using stackable boxes to store bags and cleaning supplies.
You could also try adding a tension rod under the sink. This bar can be useful for hanging spray bottle and oversize mug (place the rod through the handle, let it swing and fill it with sponges!).
Go up!
Reclaim the tops of cabinets either by using large plastic boxes or by extending up to the ceiling. Quite often we forget that we've got a load of dead space in the kitchen – if you can reclaim it!
You can even create an open shelf look by removing the door and using the top of the cabinet as another shelf.
Wine storage
Consider moving your wine bottle and glasses to a free-standing drinks cabinet as it will free up vital cupboard space in a stylish way. It's also worth having a wine rack to store extra bottles.
Fruity displays
The final of our basic  kitchen design basics is to use three-tiered wire hanging baskets and fill them with fruit and veg. While this a great way to encourage you to eat your five a day, it's also great for seeing what's just about to go bad – so you eat it!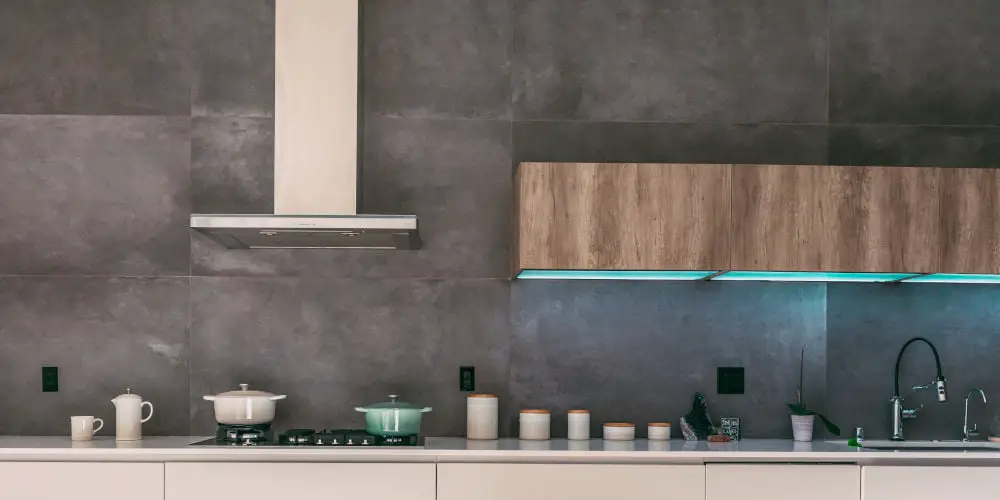 Improving work flow
If you haven't rearranged your kitchen since you moved in then it's likely you can easily improve the flow. Start by thinking about what you're always searching for?
If it's something simple like herbs, then consider getting some magnetic screw-top pots. They'll look great on your fridge and you'll be able to easily find and use them!
If you're rush around your kitchen a lot then you probably need to move some ingredients or applications around. Start by imagining that your space is split into three zones.
One area is for storing food, another is for food prep and finally, the third is for cooking. By doing this, you'll be able to cut down the steps you take to locate items and speed up cooking time!
Rubbish and recycling bins are a necessary evil, but they don't need to be seen. You can hide both in the cabinet under the sink. Or even replace them with pullout bins (Amazon has a great range), built into the cabinet.
By implementing these kitchen design basics, you'll free up floor space and create a better work flow.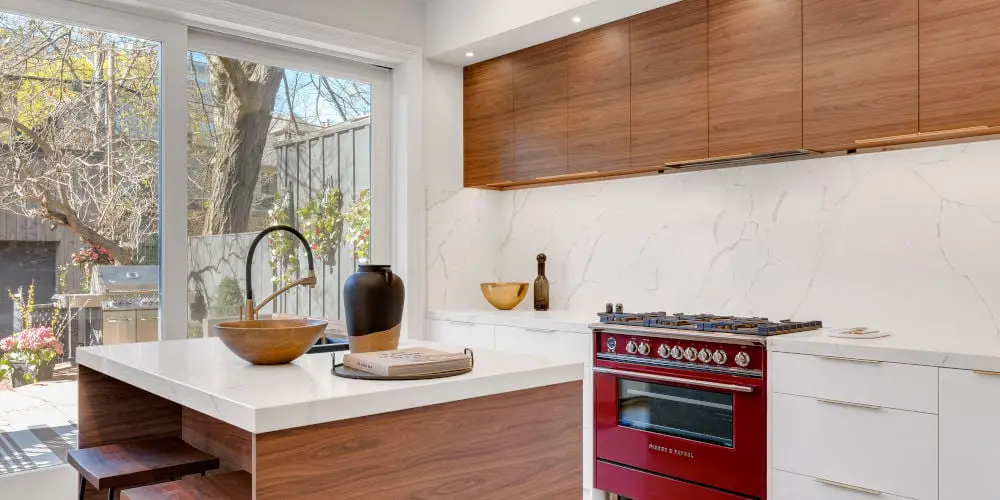 Getting a luxury finish on a budget
Short of buying a second-hand designer kitchen, there are actually a lot of things you can do to get a luxury finish.
Consider changing all your appliances to a single brand and colour. While this will probably be quite expensive, your kitchen will look instantly better.
Worktops are another great investment to make and will transform your kitchen. Plus if your budget doesn't stretch to marble, there are many materials on the market which look and feel similar. Just the cost a fraction of the cost. You could also use off-cuts as a splash-back.
Changing handles and painting cabinets are just two of our favourite low costs kitchen design basics.
Lighting is also an element when applied in the right way can transform the look of your kitchen. For example, you can use cheap LED strip lights under cabinets to add warmth and depth to the space.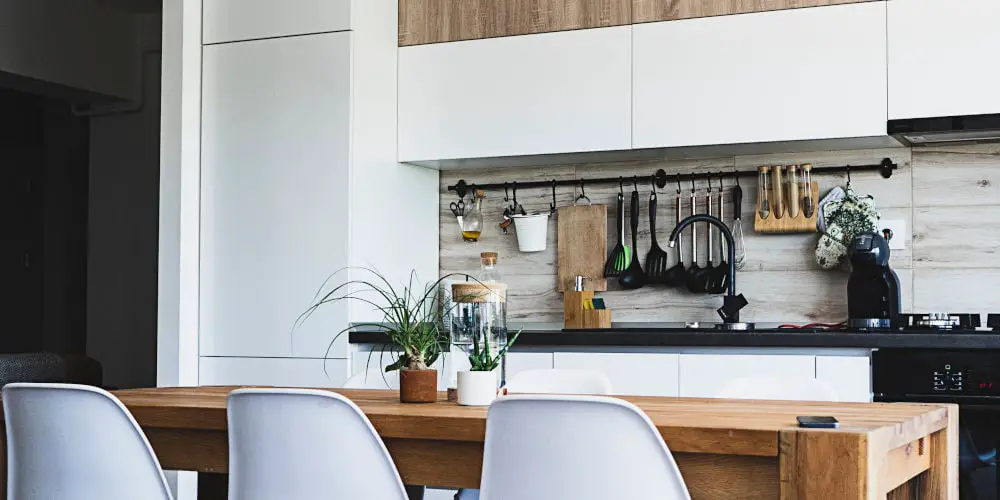 Move Appliances if you can
You can hide them in cupboards or even create a garage for them. We get it, you'll want to use things like toaster and coffee machine daily but hiding them means you've got more space to work with and the kitchen will seem bigger.
Some of our favourite appliance garages include pull out shelves, boiling taps, and extras power sockets.
In terms of DIY, firstly measure the distance between your worktop and upper cabinets. Next, try to extend the current look, both in terms of materials and style.
Then you'll want to cut and paint the three side you need. Finally, you can do something fancy with the doors. Or you could keep it simple and use a hinge along the top of the door – enabling you to flip the door up to reveal the appliances.
And if you can, move your washing machine and tumble dryer out of the kitchen into a boot room as you'll create plenty of storage and stop mud from entering your home.
These kitchen design ideas are worth incorporating in your kitchen as you'll reduce clutter and make it easier to find appliances.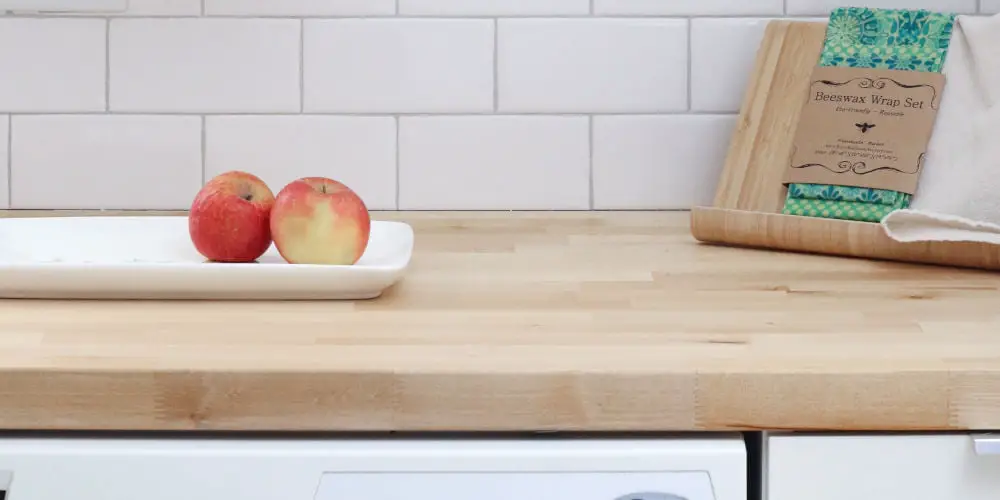 Get the knifes out
The final of our kitchen design basics is to exchange your bulky knife block for a sleek magnetic strip. You'll save a ton of space and be able to access your knifes whenever you need to. Plus, this idea costs a couple of quid. Not bad!
Which kitchen design basics should I try?
There's only a few kitchen design basics you need to know. However, it's worth trying a few different arrangements and make the space yours. Just like with other rules, it's ok to break the kitchen design basics if you must!
It doesn't matter what anyone else says, as long as you're happy with with the flow and your basic kitchen layout. Happy cooking!