4 Easy kitchen update ideas to try this weekend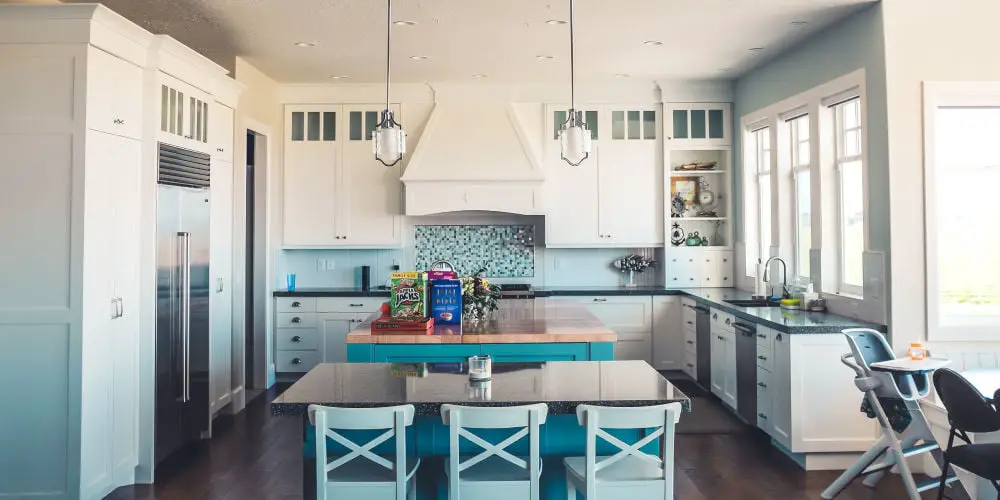 If you're anything like us, then your kitchen is the most used room of the house yet it probably is the last room to get any attention. While it might seem impossible to complete some kitchen update ideas in a weekend, with some planning it's possible.
The secret to getting the maximum amount done is ensuring you've thought of all the tasks, planned how long each will take and done all the necessary prep before.
So if you want a fresher, newer looking kitchen all in just a few days, then try one of our kitchen update ideas.
#1 Open shelves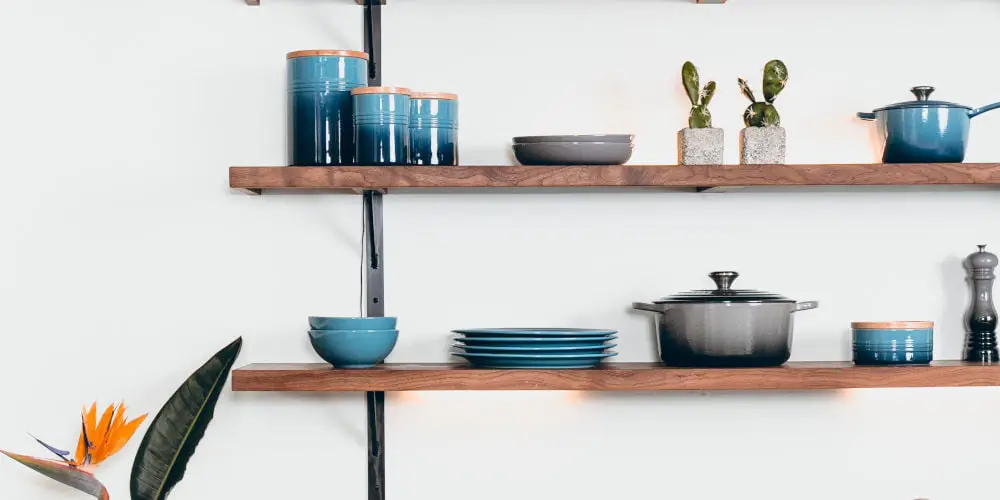 Converting a boring cupboard to open shelves is an exciting way to break up the sameness of a row doors and add a focal point in the kitchen. Open shelves are also great as a functional display area for everyday crockery or attractive bowls, China as well as books.
Thankfully as far as kitchen update ideas goes, this should only take a few hours few cupboard. To convert a dull cupboard into a fancy display is actually quite simple.
Time: 4 hours per cupboard
Materials: Paint, wood filler and new shelves (if required)
Tools: Screwdrivers, paint brushes and sandpaper.
Step 1: Remove doors
Remove the cabinet doors and hinges. While all you need is a few screwdrivers, a willing friend can be useful for holding the door while you unscrew it.
Step 2: Fill hinge holes
Fill hinge holes with a hardening-type wood filler. Allow this to harden, and then after a few hours, sand it so that it's smooth.
Step 3: Prime and paint
Paint the cabinet interior. Use masking tape to protect unpainted areas. It may need a second or even a third coat.
Step 4: Install shelf supports
While you can leave the old shelves and simply repaint, glass shelves are ultra-modern looking and usually only require metal shelf pins to hold them in place.
So if you decide on adding new shelves then you'll need to measure the internal width (remember this is different from the cupboard size). Then either have a local hardware store custom cut shelves for you or research your options online.
#2 Flooring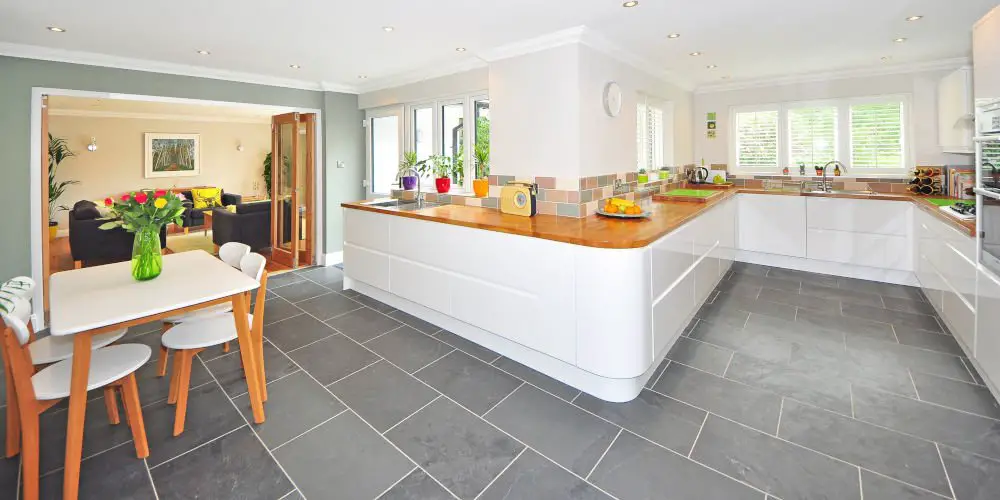 When it comes to kitchens, flooring is important because not only does it have to work well, it also has to anchor the space, flooring ties all the elements together. The flooring should have a neutral palette and should be either ceramic tiles or hardwood.
Make sure you do not scrimp on the cost, as for example, cheap laminate will probably cause you more problems then if you spent more. For a more expensive home, laminate flooring is never an option.
Time: Depends on type of flooring
Materials: Flooring
Tools: Measuring tape
Step 1: Measure
Before you can get an idea of pricing or options, you need to measure the floor space you have. Remember than flooring doesn't need to cover the entire floor as it's fine to leave under cupboard bare but does need to extend under the table and other free standing furniture.
Step 2: Options
Now you have an idea of your kitchen in square metres, you can start to research what options you have. From hardwood flooring to more affordable lino. Also at this stage, you can start to get quotes for removing and fitting the new floor as well as just supply.
Remember most companies charge to remove the old flooring and so you can always save money by removing the old yourself.
Step 3: Remove Old and fit new
Whether you decide to get the pros in it or do it yourself, you first need to get the old flooring removed and the bare floor treated in order for the new material to be fitted quickly.
Once you're ready to fit the new flooring, pace yourself in order to maintain a high standard of finish.
#3 Worktops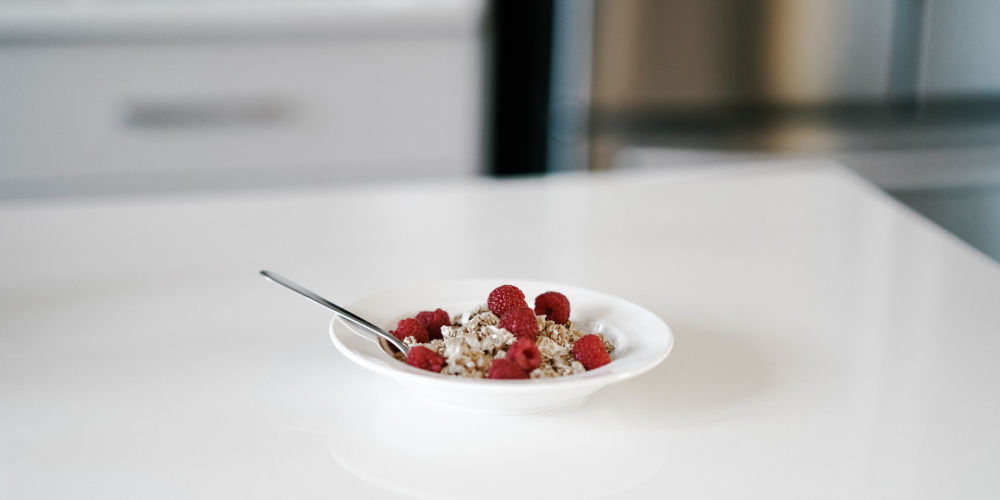 Like flooring, replacing your worktops can seem like a major task. However, most DIY stores will pre-cut worktops to your specifications. As with other kitchen update ideas can help breathe new life into your space.
Time: Depends on type of worktop
Materials: Worktop
Tools: Measuring tape, screwdriver, sandpaper
Step 1: Measure
Before you can get an idea of pricing or options, you need to measure how much worktop you need to replace. Remember to move everything off the worktop and measure it a few times in order to ensure you've got the measurements right and won't make a costly mistake.
Step 2: Options
Now you have an idea of how much worktop you need, you can start to research what options you have. While you might prefer a farmhouse kitchen look with a wooden worktop, it may it worth sticking to laminate.
Remember while Granite or Marble looks fantastic, it is expensive and doesn't necessarily adds to the property's value.
Step 3: Remove Old
Whether you decide to get the pros in it or do it yourself, you first need to get the old worktops removed. If it's screwed in, then it's simple to remove. However, if it's glued then you need to be careful when trying to prise the worktop off that you don't damage the cupboard below.
Once removed, it's a good idea to sand the top of the cupboards down in order that you start with a nearly flat surface.
Step 4: New worktops!
When you have removed the old worktops and prepared for the new. Then it's time to lay the new worktop out in place and see if it fits. If it's too short then you will need to find a way to fill the space. However, if it's too big then you might want some sandpaper at the ready.
#4 Brighten your space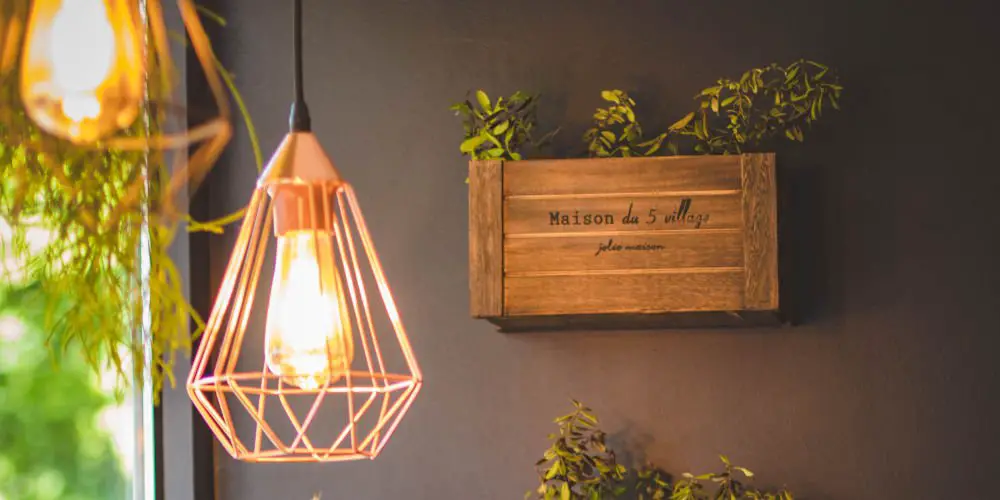 If you're looking at making a big change to your kitchen without spending loads of money, then think lighting. Even changing your lamp shade can make the whole space feel bigger.
Time: A few hours
Materials: Lampshade, mirrors, LED strips
Tools: Screwdriver, step ladder
Step 1: Ceiling lights
New ceiling lights and chandeliers can go a long way and add that "wow" factor to an otherwise dull room. Installing a pendant light, which doesn't require the help of an electrician, can prove to be a cost-effective way to update your kitchen.
For an even more dramatic look, a chandelier sometimes does the trick.
Step 2: Hidden lights
Placing lighting under or above cupboards can add subtle brightness to your space. Plus as you can easily buy LED strip lighting which plugs into a mains socket, adding warmth to your kitchen is simple.
Step 3: Mirrors
While not technically a light, adding a mirror can brighten your kitchen with natural light making it a more inviting space. And as mirrors are affordable and come in a range of sizes, you can let your creative juices flow!
Bonus 5: Splashback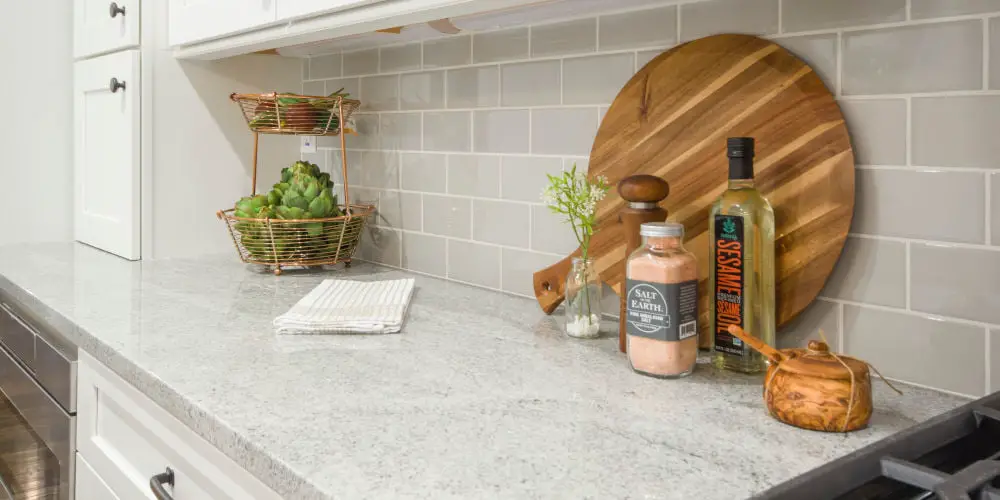 While changing your splashback could be a lengthy process. It's a really simple way to change the mood of the kitchen. Plus if you're changing your worktop, then you might have all measurements already!
Time: Depends on type of splashback
Materials: Splashback
Tools: Measuring tape, screwdriver, sandpaper
Step 1: Measure
Measure the length of each worktop and the height between the worktop and the upper cupboards.
Step 2: Options
Consider using aluminium sheets over the traditional tiles. Not only is this more modern, it's easier to maintain.
Step 3: Remove old and replace
If you have currently have tiles, then you will want to remove then using a hammer and screwdriver. Remember to be careful so that you don't damage any of the plaster. Once removed, it's time to add the replacement while ensuring a good quality finish.
Start with these weekend kitchen update ideas
So there you have five kitchen update ideas, while some might take you longer than a weekend, all are great ways to improve your home and add value. All will improve your basic kitchen layout, making cooking more enjoyable.
Start with the hardest of our kitchen update ideas first and then move on the easier ones as this will build momentum.