Mattress buying guide: A perfect night's sleep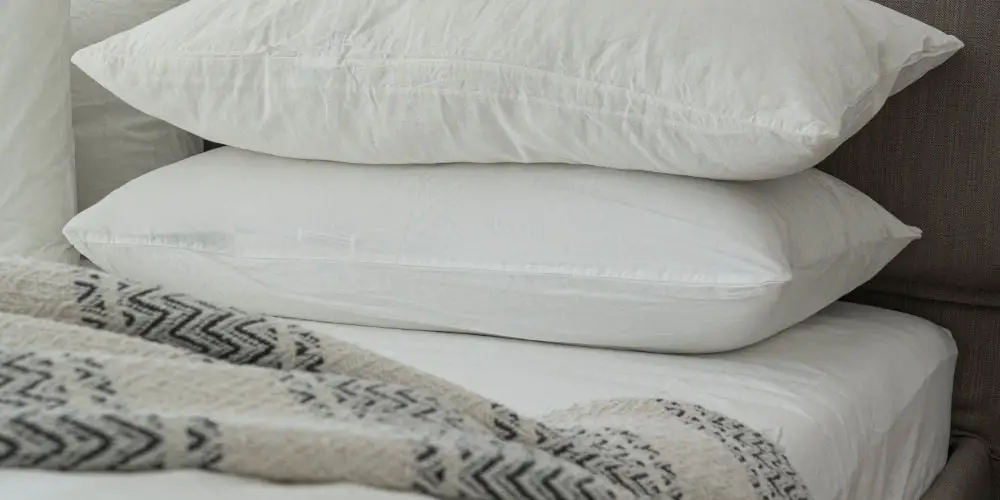 One of the secrets to getting a good night's sleep lies in the mattress! We'll spend close to a third of our lives asleep, so it's important to get your bed and mattress right. If you haven't purchased one before then you'll want to start with a mattress buying guide.
As there are literally hundreds of different options available, you're not short on choice. This does, however, complicate the buying process.
In this mattress buying guide, we'll explore how to find the ideal mattress for your sleeping position, budget and bedroom. After creating your dream bedroom design, improve your sleep with the right mattress.
Mattress History
We've been sleeping on top of a soft layer of material since 3000 BC. The first mattresses were made from piles of leaves and grass, covered with animal skins. Fast forward to the Roman empire, beds evolved into raised platforms decorated with precious metals such as gold. Reeds, hay or wool were used to form the mattress.
By the time of King of France Louis XIV, mattresses were made of pea shucks or straw stuffed into fabric bags and covered in velvet, brocades and silk. The King owned several ornate bed frames finished in gold and rare silks.
The late 18th century saw the introduction of raised, cast iron beds and cotton mattresses. And by 1895 the water bed had been invented and Harrods sold them by mail order!
By the 1950s, mattresses had come on leaps and bounds with the invention of the box-spring and foam mattresses. In the early 90s, NASA even got in on the act! Tempur-Pedic built a mattress made from the memory foam developed by NASA.
That's a brief history of mattresses, Dreams has a more fuller account of how the humble mattress has developed over the cenutries.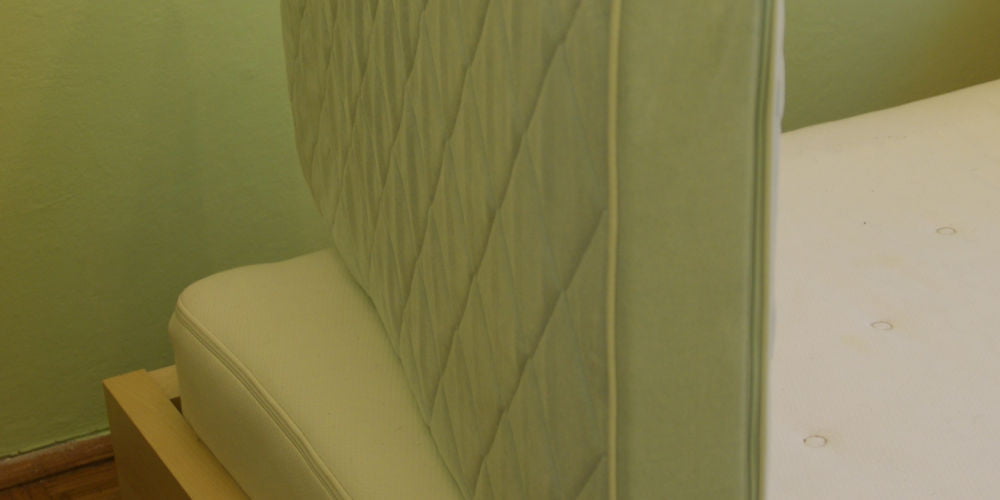 What size mattress do I need?
Let's start our mattress buying guide with sizing. Unfortunately, not all bed frames are created equally, especially older ones. So it's worth measuring your frame to see what sized mattress will fit. Here are the standard measurements for a range of mattress sizes.
Mattress

Dimensions
(Metric)

Dimensions
(Imperial)

Cot

60 cm x 120 cm

23″ x 47″

Toddler

70 cm x 140 cm

2'3″ x 4'6″

Small single

75 cm x 190 cm

2'6″ x 6'3″

Single

90 cm x 190 cm

3'0″ x 6'3″

Small double

120 cm x 190 cm

4'0″ x 6'3″

Double

135 cm x 190 cm

4'6″ x 6'3″

King

150 cm x 200 cm

5'0″ x 6'6″

Super king

180 cm x 200 cm

6'0″ x 6'6″
Your sleeping position
A significant percentage of the popular don't consider their sleeping position when choosing a new mattress. Sadly, this can lead to poor sleep and even back problems. So you'll want to read the next section of our mattress buying guide as it could save you from years of pain and poor sleep.
Are you a side sleeper?
The majority of adults are side sleepers. It's estimated that over half of British adults sleep in the foetal position. This posture is fantastic if pregnant or suffering from heartburn/acid reflux. That said sleeping on your side can leave you with a numb arm.
If you're a side sleeper, then opted for a softer mattress. They'll protect your vulnerable pressure point while allowing you to sink slightly into the mattress.
Prefer back sleeping?
Beneficial for your spinal alignment as it remains neutral, sleeping on your back can also reduce the prospect of wrinkles!
Some back sleepers prefer a mattress that's softer as it will cushion their back, while others favour a firm one. Unlike those who sleep on their side, you'll need more support, so a firmer mattress is ideal.
Or are you a front sleeper?
You're less likely to snore if you sleep on your stomach! However, it can cause overarching of your spine's natural curve and can increase strain on your neck. This sleeping posture requires extra care when purchasing a mattress.
As a front sleeper, your spine needs extra support. So it's best to avoid overly soft mattress as this will cause your spine to arch and lead to aches and pains. Also, avoid mattresses that are too firm as it prevents your spine from relaxing into its natural curve causing discomfort.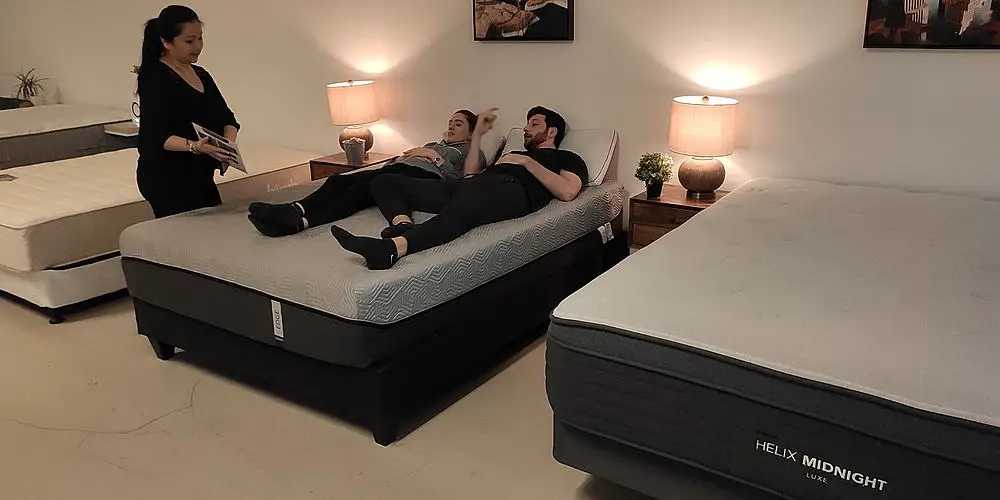 What type of mattress is best for me?
With an unlimited choice of comfort options across a range of spring, foam and gel mattress designs, finding your ideal one can prove to be a challenge.
For the purpose of this mattress buying guide, let's simplify your choice to the four main mattress types.
Open coil mattress
This is a classic sprung mattress, which is also known as continuous sprung mattresses. A coiled wire holds the springs in place, allowing you to distribute your weight across the surface.
Pros
Provide good support when sleeping
Can be easily turned
Cons
Might not provide the ideal support for your sleeping posture
You might roll toward the middle
If sharing, you may feel your partner moving
Pocket sprung mattress
Springs are woven into individual pockets, hence the name. This allows them to move with you, providing improved support.
Pros
You won't roll into the middle!
Provides more support than coiled mattresses
Can support partners of different sizes and weights
Cons
Fairly heavy and so can be hard to turn
Usually filled with natural materials which can aggravate allergies
Memory foam mattress
Using a supportive memory foam base layer, a memory foam mattress is then typically topped with an additional comfort layer.
Pros
Maintain their shape
Evenly distributing body weight
Good for allergy sufferers as they're made using hypoallergenic material
Cons
Thick and heavy, so not easy to turn or move
Have very little or no bounce
They retain heat well and usually warmer than other options
Hybrid mattress
Offering the best of both worlds, hybrid mattresses provide the same comfort and support of a traditional or pocket spring mattresses. They also have an additional layer, which provides additional comfort.
Pros
Ideal for those with back problems or larger build as more supportive
Springs allow air to flow through them creating more breathability
Cons
Very heavy, so hard to move
Unlike memory foam, you're likely to feel your partner moving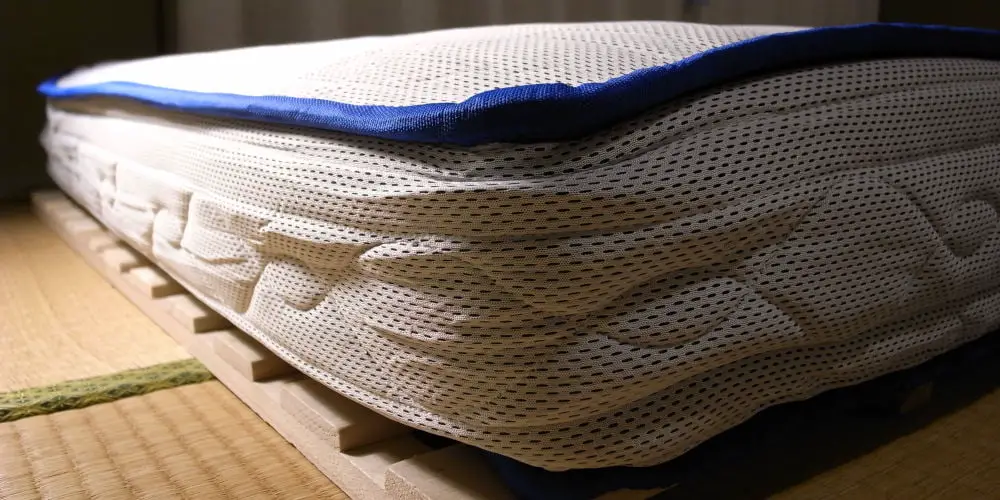 Mattress top materials
The top layer is a mattress can have the biggest impact. Just look at the sheer scale of mattress toppers that are available.
Memory foam topped mattress
Providing superb support, memory foam topped mattresses have a layer of temperature-sensitive foam that moulds to the shape of your body while you sleep. Also, they can help relieve pressure on joints.
Latex topped mattress
Offering a comparable feel to memory foam, latex topped mattresses also mould around your body. However, they are a more responsive and breathable alternative.
Soft vs firm mattress
Firmness is another element we should consider as part of our mattress buying guide. It ranges from cushiony soft to supportive firm. Your choice will depend on your sleeping posture and how much support you need.
Soft mattress
Ideal for side sleepers, soft mattresses are more cushioned, so offer extra support. They're best suited if you're of a modest build and don't tend to suffer from back problems.
Medium-soft mattress
Offer a little more support yet still maintaining the comfort of a soft mattress, medium-soft mattresses suit those of a modest build who tend to move about in their sleep and don't suffer from back problems.
Medium mattress
Are the most popular, medium mattresses combine the comfort of a soft mattress with better support. Suitable for most body types including those who suffer from back problems. As weight is evenly distributed, back sleepers generally find them to be ideal.
Medium-firm mattress
Offering more support than a medium mattress, medium-firm mattresses still have a bit of flex and are ideal if you suffer from back problems or are a front sleeper and are of an average build.
Firm mattress
Offering the most support, firm mattresses have very little flex which makes them well-suited to those who suffer from a bad back and are of an above-average build. If you're a stomach sleeper, then a firm mattress is likely to be perfect for you.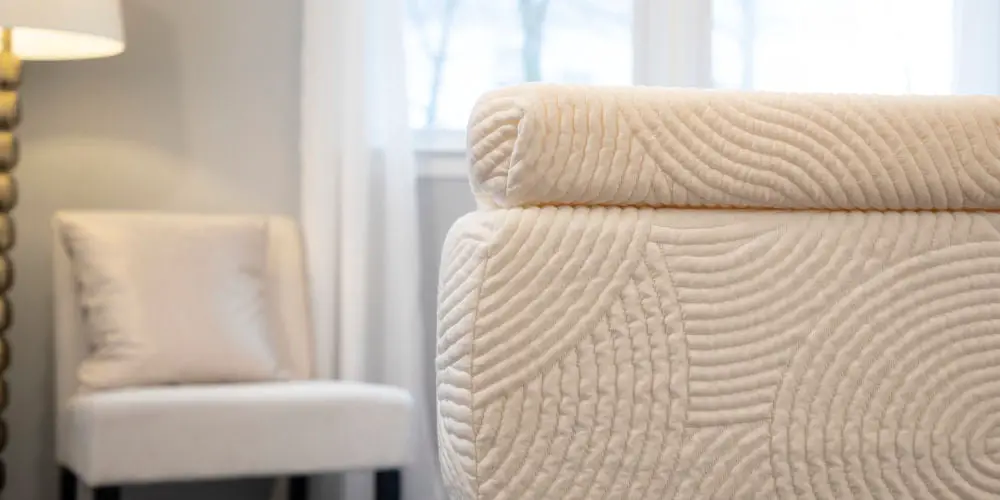 How often should I replace my mattress?
A significant amount of research has been carried out on the effect of the mattress on sleep. The experts recommend that you replace your mattress every 8 years.
That said there are some signs to look for to know when it's right to replace your mattress, including: Are you waking up sore? Does your mattress feel lumpy? Do you sleep better on other mattresses?
What should I spend on a new mattress?
No mattress buying guide would be complete without taking about pricing. Sadly, prices range as much as the options. You can buy a mattress for a few hundreds of pounds and many cost thousands. A higher price isn't a guarantee of a better product.
It's important to shop with a budget especially if you're visiting a shop. Salespeople are on commission and so will try to squeeze you for every penny they can. So it's a good idea to start with a budget in mind.
That said as a mattress should last around 8 years, it's worth paying a little bit more than you might be tempted as this will ensure you're making a good investment.
As poor sleep can impact every area of our lives, it's worth spending as much time as possible trying out mattresses. The more time you can spend considering your options, the better decision you'll make.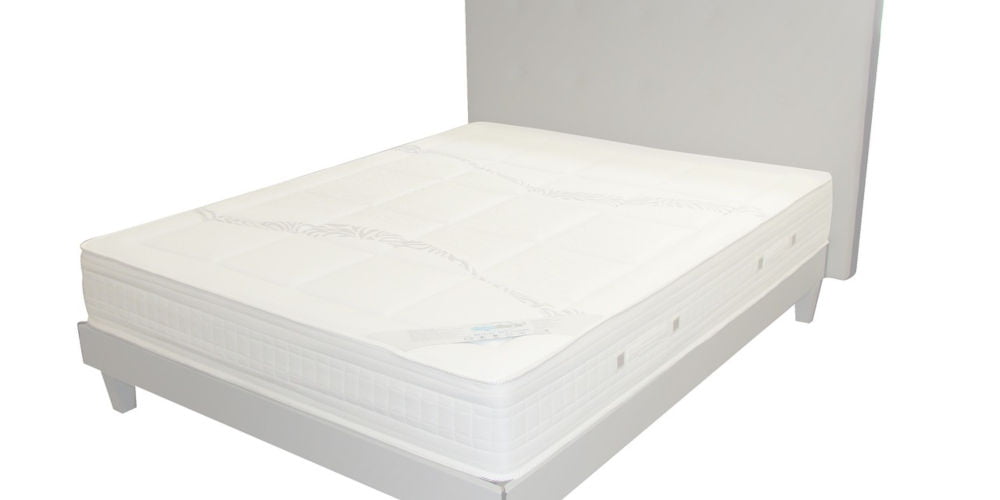 Do I need to buy my mattress from a shop?
Online mattress shops took a few years to catch up with online shopping. Having caught up, they now offer a fantastic range, affordable pricing and 30-night trials. Some will still prefer to visit a shop and try mattresses out in person. However, you might be able to get a better deal online.
If you're unsure, visit a shop to gather information and test a range of mattresses, then compare prices online. Don't be afraid to negotiate hard in person.
A local store may offer to take your old mattress away, while online shops might leave you to remove the old one. Whichever route you choose, ensure you're clear of the returns policy and what the warranty covers before buying.
How to care for your mattress
Air your mattress weekly by turning down the bed linen for a few hours after you get up
Use a mattress protector or an under blanket below the sheet
Clean spills with a dry cloth, then sponge with a slightly damp cloth and a mild detergent solution
Every few months, clean your mattress with a soft brush, do not vacuum as this can damage the filling
Rotate your double-sided mattress head to foot and turn it over completely once a fortnight for the first 12 weeks, then once a month (single-sided mattresses don't need to be turned)
Rotate latex and memory foam mattresses through 180 degrees monthly
Using this mattress buying guide
By now, you should have a better idea of how buying a mattress works and feel empowered. Hopefully, your next mattress will be perfect and you'll enjoy plenty of long, refreshing sleep!