Do you need planning permission for a container home?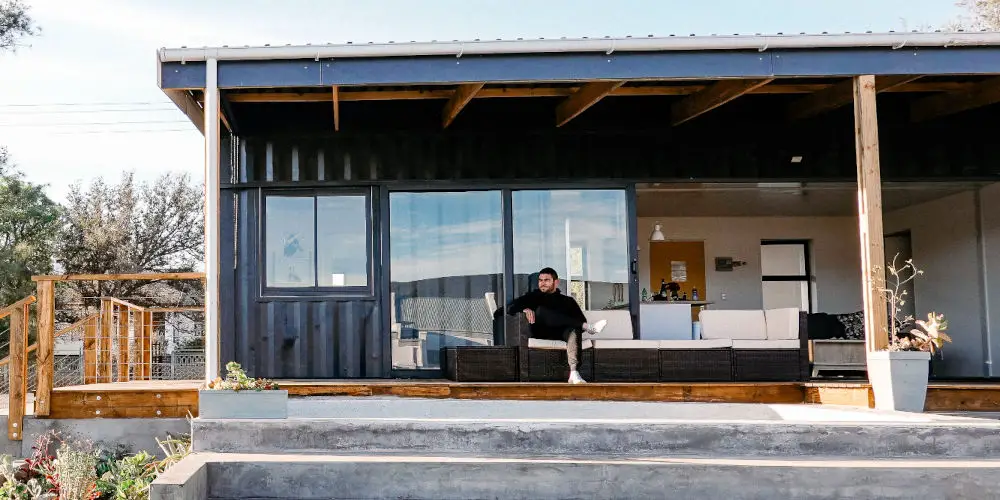 As a low-cost alternative to a traditional brick or timber frame property, a shipping container home is a solution that more people are exploring. But you might wonder do you need planning permission for a container home?
We'll cover what the current planning law says about container homes, how to find out if your local planning authority allows this method of construction and who can advise you on planning matter to ensure you stay within the law.
What is a Container Home?
A container home is built from large metal shipping containers you see transporting goods on ships, trucks, and trains. They are also used to store goods and many companies offer self-storage using them.
Designed to travel long distances around the world, shipping containers are manufactured from highly durable materials such as steel. They are extremely durable and designed to withstand wear and tear. The lifespan of the average shipping container is 25 to 30 years.
Due to their design and durability, shipping containers are an excellent building material. It's far cheaper to build and maintain a container home than a traditional home, making them extremely appealing to potential homeowners.
As many shipping containers are made from recycled material, they offer many environmental benefits as well. They are ideal for those looking to lower their carbon footprint and lead a greener lifestyle.
Many container conversion companies offer a range of bespoke designs that allow you to create your ideal green family home without having to compromise on your values. You might also have some container home floor plan ideas you can add to the mix.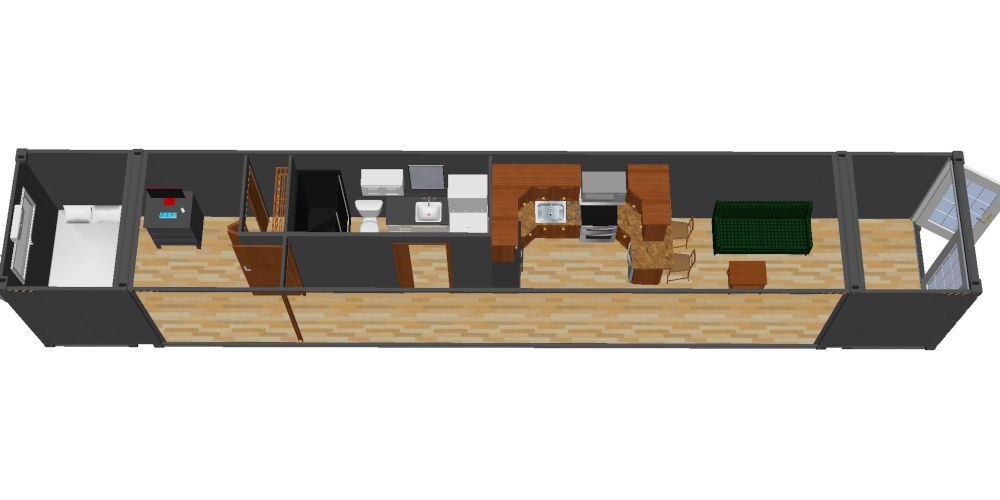 How does the planning framework view container homes?
Generally speaking, under the current UK planning law, container homes don't require planning permission are they aren't considered to be permanent structures.
Of course, this creates confusion and a grey area if you choose to live in a container home for an extended period as it can no longer be considered a temporary structure.
As the planning system is complex, it shouldn't surprise you that the rules vary by planning authority. For example, if you live in a conservation area or National Park, then you probably will require planning permission regardless of the type of building, the structure, or the intended use.
So, it's worth contacting your local planning authority (LPA) at the planning stage to check if your intended location requires planning permission for a container home. Otherwise, you might find that you're forced to start again after a lengthy battle with your LPA.
That said, as an affordable and eco-friendly way to build homes and deal with the current housing shortage, more local authorities are becoming more welcoming and helpful to those wanting to build a shipping container home. Not to mention the unique designs that are possible!
When wouldn't you need planning permission for a container home?
There are several situations when you wouldn't need planning permission for a container home.
Extension
It's possible to add an extension to your property using a shipping container without needing planning permission unless your property is in an Area of Outstanding Natural Beauty or meets another exception.
However, under Permitted Development (PD) rights, certain rules must be followed. Your container extension must not cover more than half the area of land around the original property.
Farmland
Typically, you don't need planning permission if you're building a container home on empty land or farmland. However, be aware that you may require planning permission if the use of the land changes (i.e. from agricultural to residential). So you'll need to contact your local LPA.
Business
Planning permission is not usually required if you're converting a shipping container into a pop‐up shop or similar, as this would be considered a temporary structure. If you want to set up a permanent container‐based business, then you would typically need planning permission.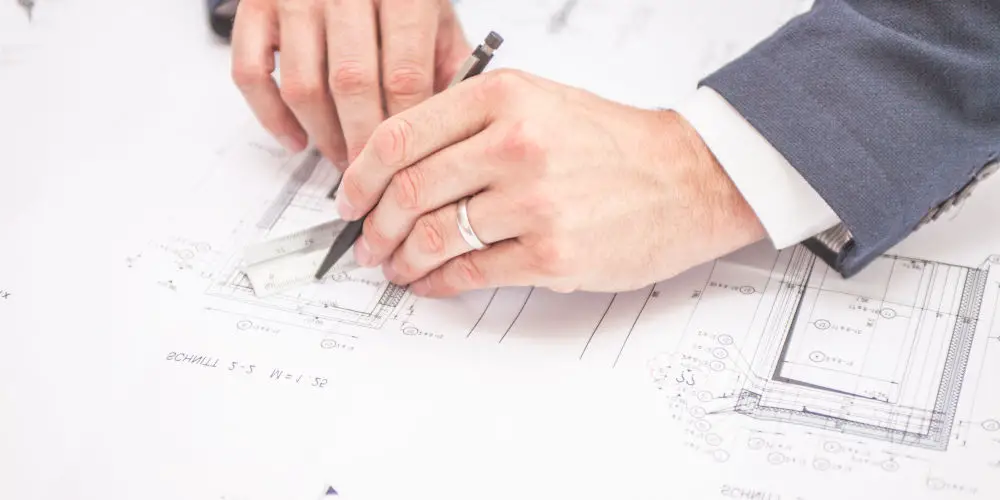 How do Permitted Development rights work with container homes?
You might find that container housing is classified by your LPA under the category of outbuildings, allowing you to construct your design under PD rights. That said, outbuildings do not generally require planning permission unless they are separate, self-contained living accommodation.
Hence why it's worth engaging with your LPA at the design stage to gain clarity on the issues and agree on a solution that allows you to build your dream container home.
Why you might need planning permission
In some areas, obtaining planning permission can be tricky, regardless of what kind of building you're looking for erect. These include:
Areas of Outstanding Natural Beauty (AONB)
National Parks
UNESCO World Heritage Sites
Norfolk Broads
In the curtilage of a Listed Building
In addition to these, you'll need to talk to the planners if you are:
Placing your container home next to a highway or junction
Using a container home to extend your existing home beyond what you're allowed under PD rights
As container homes only require strong support at each corner, rather than full foundations, they usually are exempted from planning permission.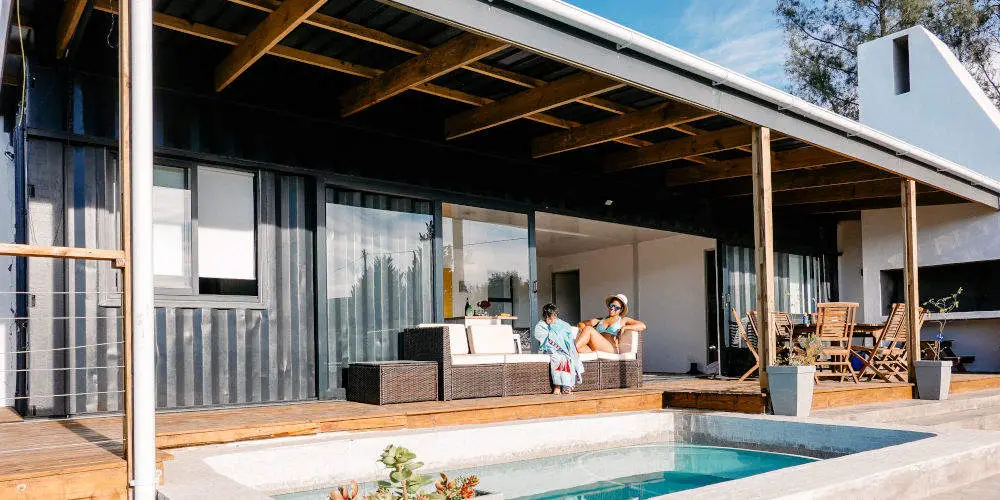 How much does it cost to apply for planning permission?
The cost of applying for planning permissions depend on your location. In England, it costs £462 to apply for full planning permission for a new house or a home conversion. For extensions and garden buildings, the cost is £206. Fees must be paid on application submission.
Do I need Building Regulations approval?
Even if you don't need planning permission for a container home, you will have to comply with building regulations. You will need to ensure you meet all fire regulations and other building control requirements that are required by your LPA.
You could convert the shipping containers to home yourself, then ask your local building control to certify the work. However, the best solution is to work with a professional container conversion company as this will ensure peace of mind that your new home complies with all current legislation.
Understanding planning permission for a container home
In summary, if you are thinking of constructing a container home or business, then you will most likely need planning permission, especially if it is a permanent structure or in a highly residential area.
If you're building a container home on plot of land you own, you might have slightly more freedom. That said, you should consider what your neighbours might think of this new addition and the overall impact on the street.
Before starting any work, you should contact your local planning authority for advice as they can look at your specific situation and provide you with a final answer. Don't risk it and get a shock after you've invested your time, effort and money.