Ryobi R18PD31-213S ONE+ cordless drill starter kit review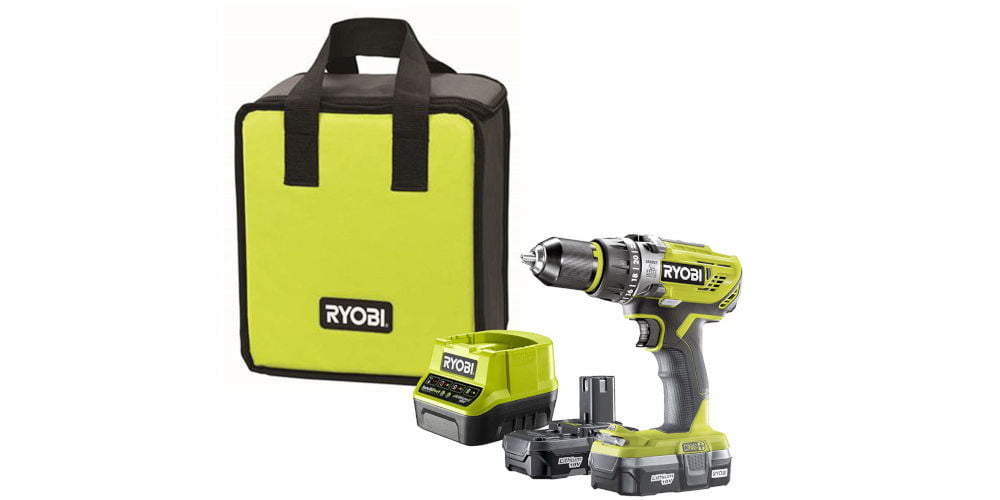 Featuring an impressive list of specifications, compact design, the Ryobi R18PD31-213S ONE+ Cordless Drill Starter Kit comes with 2 batteries and a carry bag.
Designed to accomplish a range of drilling and screwdriving tasks, the R18PD32-213S can be used on a range of materials including wood, metal, plastic and even masonry.
As part of the ONE+ System, the 1.3Ah batteries are compatible with the full 18V Ryobi ONE+ range. With over 100 tools in the range, you'll only ever need to purchase 'body only' tools.
Plus as two batteries come with the Ryobi R18PD31-213S kit, you'll never run out of charge as one can be recharging while the others in use.
The compact design with new profiled comfort handle lessens hand strain when using the drill over an extended period. A 2-speed gearbox combined with 24 torque settings provides the ultimate versatility.
A 13mm keyless chuck makes changing bits easy while improved gripping strength and durability. An LED light enables better visibility on hard to see tasks.
Ideal for many DIY tasks and one of the best cordless drills available, the Ryobi R18PD31-213S drill comes with a 2-year warranty which can be upgraded to 3 years for free online. 8/10
Pros
3 modes (drilling, screwdriving, hammering)
13 mm all-metal ratcheting chuck
2-year warranty
Cons
No drill bits
Small 1.3 Ah batteries
Design
Sporting a classic design with some modern updates, the first thing you'll notice about the Ryobi R18PD31-213S is its compact design. Standing at 28 cm tall and weighing 1.7 Kg with battery, the drill feels substantial yet not overbearing.
The 13mm all-metal ratcheting chuck is keyless by design enabling bits to be quickly changed. Surrounding the chuck is a 24 position torque control. Next to this, the 3 position mode switch (drilling, screwdriving and hammer). A two-way gearbox switch completes the top.
Moving down the body, there's a switch for the LED work light and a forward/reverse direction switch. A variable speed trigger control enables full control over the drill's operation.
The body features a new profiled comfort handle, which is designed to reduce hand strain when using the drill over a long period and provide a solid grip when holding it.
At the bottom of the body sits the LED light, which illuminates the area you're working on. There's also a slot for the included double-ended screwdriver bit.
Finally, batteries slide into the bottom and click into place. The Ryobi 18 V 1.3 Ah batteries don't indict charge levels, however, the charger does.
The compact charger has several LEDs which indicate how much charge the battery has remaining. Completing the Ryobi R18PD31-213S kit is a soft carry bag, which enables you to keep everything in one place.
Features
One of Ryobi R18PD31-213S drill's best features is the batteries. The kit comes with two and they can be used with any 18 V tool in the Ryobi ONE+ range.
While the batteries have a fairly small capacity (only 1.3Ah), this does mean they charge quickly. Taking about 45 minutes to fully charge, as the kit includes two batteries, you can always have one recharging.
The 13 mm keyless chuck makes changing bits super easy. Thanks to its metal construction, it's designed for maximum durability and improved gripping strength.
With high and low gears, 3 modes (drilling, screw driving, and hammer) and 24 torque settings, you can easily fine-tune the drill's performance based on the task.
For example, if you're assembling flat-pack furniture, then ideally you'd set the drill on the low gear setting, select screwdriving mode and keep the torque control low.
On the other hand, if you're drilling holes to hang a painting then it's best to crank up the torque control, select the drilling mode and switch to the high gear.
Like many Ryobi tools, the R18PD31-213S comes with a 2-year warranty as standard. This can be upgraded to 3-years if you register your purchase online within 30 days of buying.
Set-up
Out of the box, the first thing is to get a battery charging. This will take around 45 minutes, which gives you plenty of time to explore Ryobi R18PD31-213S drill. When the LEDs indicate the battery is ready, it's best to start charging the other one.
As no drills bits are included you'll want to ensure you either have some or order the 30 piece Ryobi RAK30MIX set as it has a good selection of drilling and screwdriving bits.
As the R18PD31-213S is highly configurable, it's a good idea to test it out before you attempt any DIY tasks. We'd recommend starting on the drilling setting with a low torque setting and low gear setting.
Compressing the trigger will increase the drill's speed and you'll notice that it's highly reactive. It might take some time to get used to it, especially when coupled with the multitude of other settings.
Another feature worth exploring on the Ryobi R18PD31-213S is the LED work light. It's highly useful especially in areas of low visibility. It designed not to drain to the battery when in use and can be easily switched on/off.
Over time as you experiment with the plethora of settings, you'll figure out what works best for you.
Performance
Designed to bed used for a range of DIY tasks, the Ryobi R18PD31-213S handles many of these with ease. It's superb for building flat-pack furniture as long as it's kept on a low torque setting. Equally, it handles most light drilling well.
What it struggles is heavier drilling especially into masonry and metal. While it does have a hammer setting, the motor lacks enough power to commit. So it won't replace your corded drill but will handle most light DIY tasks.
The batteries are fast charging and last a fair amount of time, particularly given their small capacity. However, they suffer one, large flaw. There's no easy way to tell how much charge is left without plugging it into the charger.
Placing a battery into the charge covers the LEDs which indicate how much charge is remaining, making it unnecessarily difficult. Hopefully, Ryobi can address these two issues in future releases.
Is the Ryobi R18PD31-213S worth buying?
The Ryobi R18PD31-213S ONE+ Cordless Drill Starter Kit is a feature-packed drill set which comes with 2 18V 1.3 Ah batteries, a charger and a carry bag.
For the price, there are other drills on the market that perform just as well for less money. That said, they only include a single battery. And while the second battery is a nice extra, it only slightly bridges the price gap.
A few elements of the Ryobi R18PD31-213S are slightly irritating. Firstly, the carry bag. In our opinion, it's useless and a box with slots for every part would be much better, especially for storing neatly in the shed.
Another issue is the lack of drill bits. It seems a little weird to call this a starter kit and not have any bits included. Thankfully, Amazon stocks a wide range of accessory kits including one from Ryobi.
Finally, we've talked at length about the batteries and so will just conclude by saying if you find them running out quickly, then it's a good idea to upgrade to 5Ah batteries. They will take longer to charge but will provide a much longer runtime – a worthwhile trade-off in our book.
In terms of positives, there's many. It's easy to operate and highly configurable. We particularly like the large 13mm keyless chuck, 24 torque settings and LED light.
It's ideal for light DIY tasks around the house and can handle most jobs with ease. Plus the handle is very comfortable, which helps to reduce strain when using the drill for extended periods.
Overall, the Ryobi R18PD31-213S ONE+ Cordless Drill a fantastic starter kit with superb features and affordable price. 8/10