How to set the dining table for meals and parties!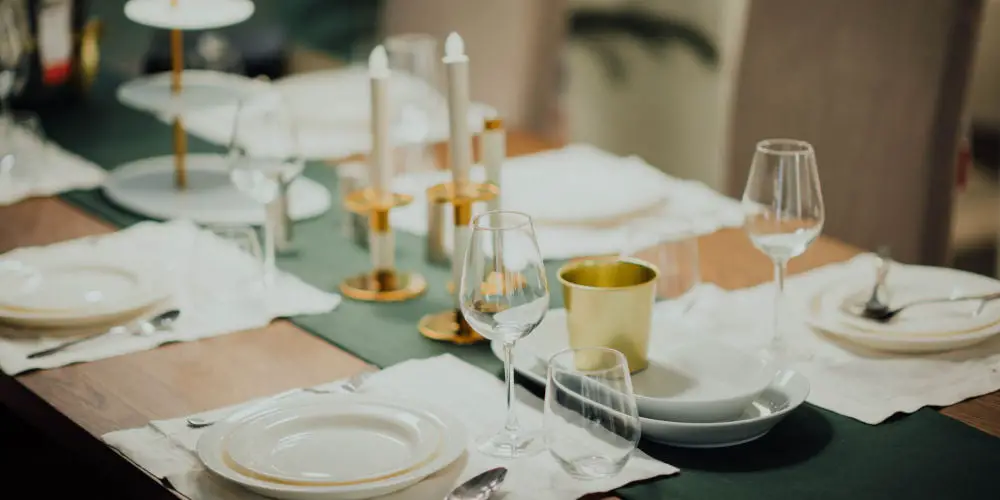 How to set the dining table if an art form we no longer pass down. It has, in fact, become a little bit of a novelty that few people practice well. As a subtle way to elevating the dining experience, the right table layout is a simple way to personalise your event.
If you weren't taught how to set the dining table yet have been assigned the task, we'll help you navigate the subject whether you're setting a table for an informal gathering, formal dinner or kid's party.
To make the job even easier, we'll show you where to correctly place each item, allowing you to quickly see where each plate, fork and napkin belongs. We'll also cover arranging the table for an odd number and how to create an interesting centrepiece, no matter the occasion.
Whether you're setting the dining table or getting your kids to help, this guide will help you quickly layout your table with the best results.
Table cloth vs placemats vs au naturel
One of the biggest dilemma when setting a table is selecting the most appropriate first layer. Should you use a table cloth, placemats, a runner or go au naturel?!
Thankfully there's no right or wrong way to start. However, each creates a different feeling which depending on the occasion might lead you to choose one option over another.
For example, a crisp white linen table cloth will always feel more formal and luxurious than using a runner. Placemats, on the other hand, can be a happy medium. They subtly outline each place setting yet feel slightly more formal than a bare table.
Another benefit of placemats is they are available a range of finishes, shapes, and are highly affordable. You can easily have a few different sets and pick the one which establishes the right feeling. Plus placemats are a fantastic way to stamp your personality without going overboard.
Spacing dinners
This might be an unusual topic to consider but how people are seated can create an enjoying experience or a dinner they'd rather forget. You want to allow each person enough space to tuck into the meal without bumping elbows.
If you're dining with a few friends, then you might want to gather at one end of the table as this will feel more intimate and allow people to reach dishes and condiments.
For a formal dining experience, you want to space people evenly around the table, so they have plenty of space. This might mean that guests end up passing dishes and condiments around but most expect too.
You'll also want to consider who is sitting next to each other. As a good host, you want your guest to have plenty to talk about with the people either side so they don't get bored!
Regardless of the feeling, you're trying to create, as the host, think about how you'll move around the table and serve guests. If you're celebrating someone's birthday you want them to be sat the best position and not somewhere uncomfortable.
With kids, you can always sit them at their own table to minimise disruption and use benches to create a more informal setting. It's worth continuing the theme and feeling onto their table, making the kids feel special!
Centrepiece ideas
Unless you're trying to really impress your guests, the simpler the centrepiece the better. Nothing beats an arrangement of fresh flower or a large hurricane vase with a church candle.
For Christmas or Easter, use something simple yet elegant like a candlelit lantern in the centre of a wreath of faux-foliage. Again keep it simple for the maximum impact.
In addition to a striking yet simple centrepiece, you can add small faux pot plants, tea lights or small candlelit lantern. By mixing small elements in you create interest within the layout and can introduce some more playful ideas.
A mistake we often see is only using circular objects for the centrepiece. Unless you favour a more traditional approach, you can have fun with the shape, size and material.
For example, using a tall mirrored pillar candle holder is not only a superb way to highlight your personality, but is also a modern take on a classic element.
If you have a longer table, consider breaking up the centrepiece into two. Doing so will help to encourage conversion by breaking down the table into zones and allow you to continue the theme across the entire table.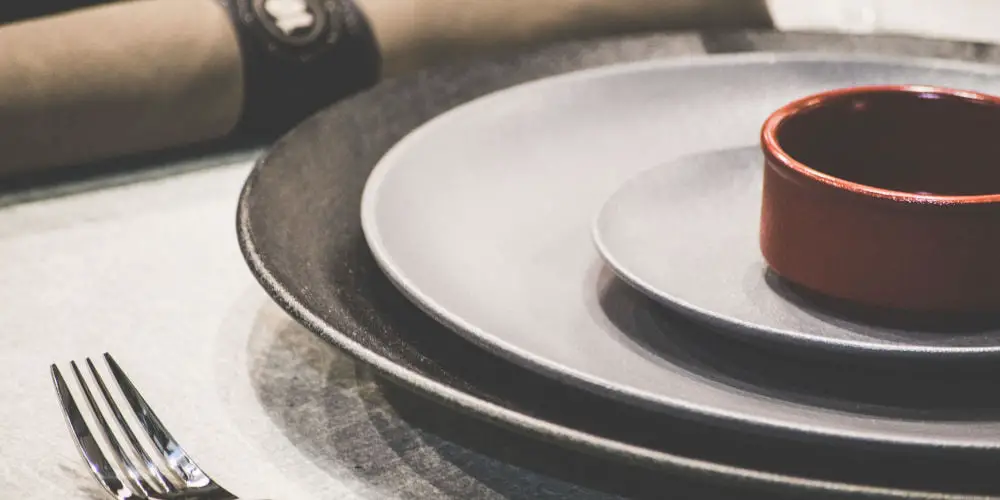 Have odd-numbered dinners?
Seating odd numbers isn't as easy as an even amount of guests. We'd recommend leaving one end empty and then creating something visually interesting. You could use flowers, candles or a mix, for example. Just don't leave it empty as it'll look like a void!
Napkins, cutlery, glassware and plates
It's worth having a few different sets of cutlery, glassware and plates as you can tailor the place settings to the occasion. Your everyday set should be easily replaced and inexpensive. This set is also ideal for an informal gathering.
It's worth having a more formal set for special occasions and seeing this as an investment. You might break into a cold sweat when researching fine china and cutlery but such a set will have a far longer life than what you'll use daily. Plus most quality sets make for excellent heirlooms.
There's no need to become fanatical about buying fine dinnerwear and end up with cupboards stocked full of random sets and designs. Instead, stick to two or three sets that allow you to cater for a range of events.
Finally, napkins. Paper ones are fine for everyday and informal gatherings such as parties and BBQs. That said, it's worth having a set of high-quality linen napkins for special occasions. They are easy enough to hand wash or add to a load of washing, and they are quick to dry.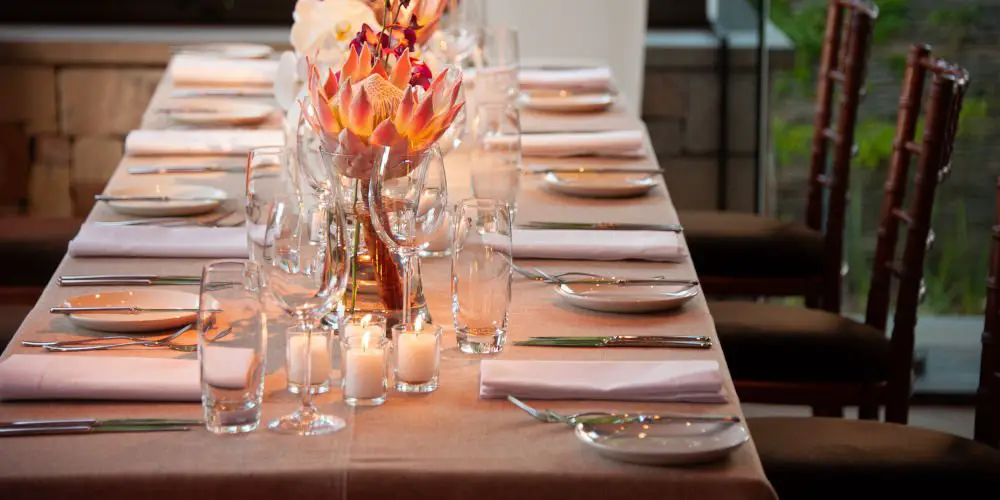 Please pass the condiments!
Even in a formal dining setting, passing condiments is fine. We don't recommend going overboard and using individual salt and pepper shakers for each place setting. But do consider how easy it is for guests to share condiments without having to form a queue!
Basic place setting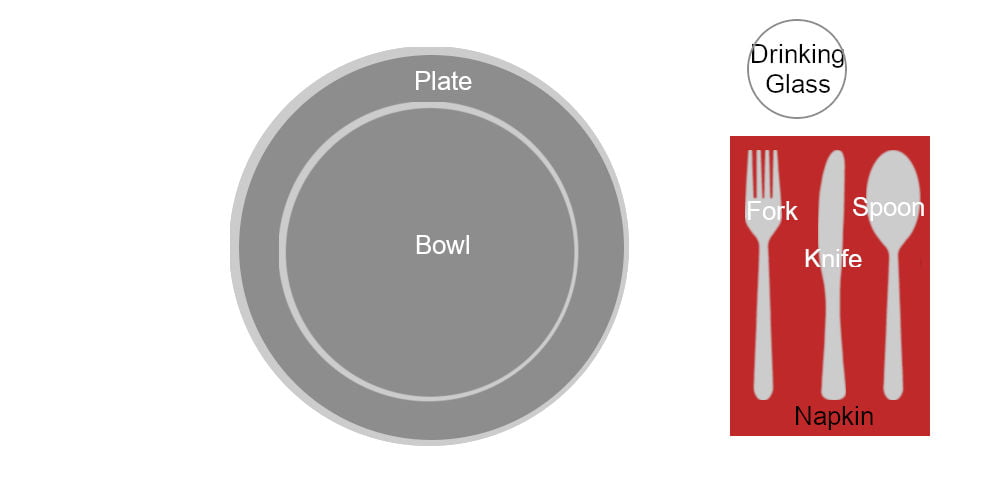 With all of that covered, let's get on with how to set the dining table for a few different occasions starting with the basic everyday setting.
The most basic place setting includes a plate, a bowl, knife, fork, spoon, a napkin and drinking glass. It's perfectly acceptable to place the cutlery on the napkin and place them to the right of the plate, below the glass.
Casual place setting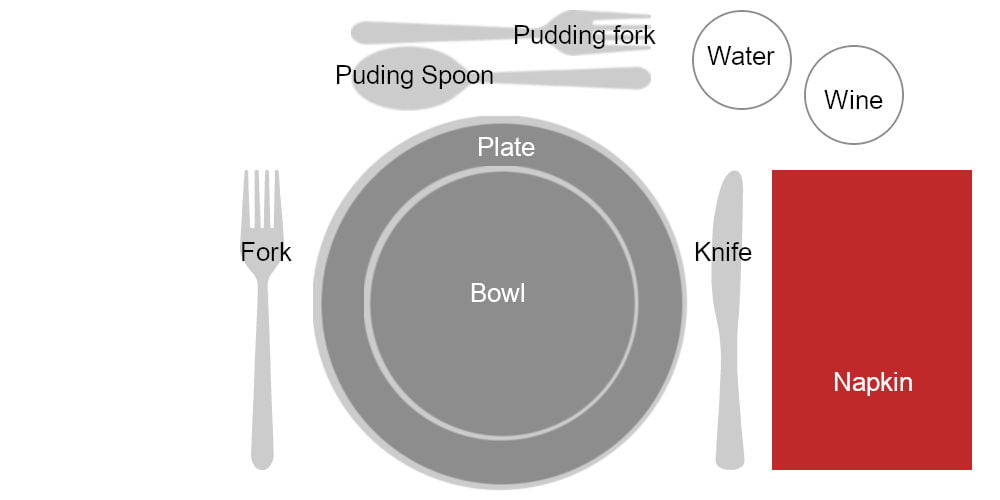 For casual dining, you'll need a few extra pieces when you come to set the dining table. For each place setting, you'll want a plate, a bowl, knife, fork, spoon, pudding fork, a napkin, a wine glass and water glass.
Start by placing the plate and bowl in the centre, and lay the cutlery around it. Arrange the glasses so that the wine glass sits above the knife and water glass sits inline with the top of the knife and below the wine glass. Finally, tuck the napkin below the water glass and in line with the knife's shaft.
Formal place setting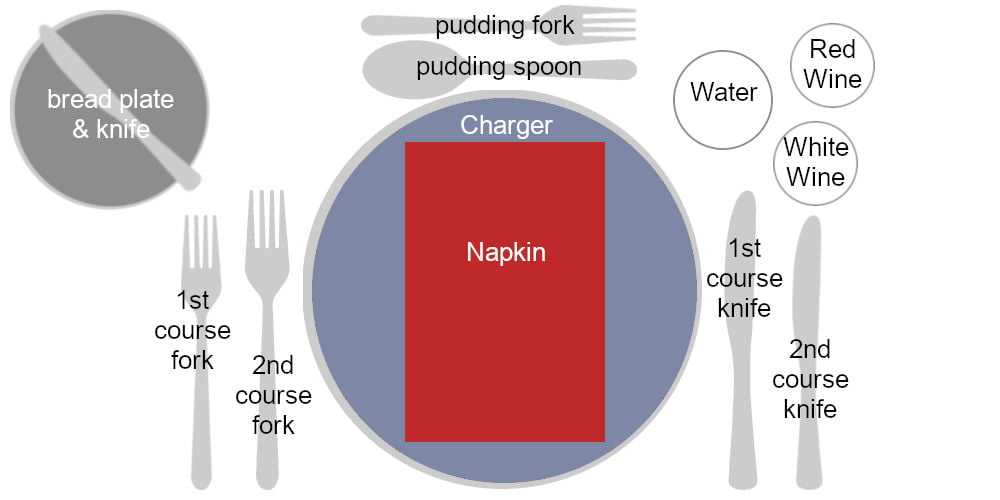 If you're hoping to impress you'll want to pull out of the stops and use a more formal place setting. You'll need a different set of cutlery for each course and it's also worth having multiple wine glasses, especially if you're pairing each course with a different wine.
Many start their formal table setting with a charger. This slightly larger plate is the base for all the other plates to sit on and is typically a different colour than the rest of the china. You can add even more formality by using large linen placemats underneath.
Cutlery is placed to the left and right of the charger. Typically you work inwards. So the first fork and knife are used for the first course, then the second set and so on. Directly above the charger sits the dessert spoon and fork.
Above the Charger and to the left is the bread plate with a knife. The glasses sit above the charge and to the right. The water glass sits directly above the main course knife with the red wine glass slight raise and to the right. The white wine glass sits over the second-course knife and so is to the right and slightly lower than the water glass.
In between the bread plate and glasses you can place individual salt and pepper shakers, and name cards.
Typically a linen napkin is placed on the charge either flat or a clever design (the possibilities are endless). You can place the napkin under the forks but ideally on the charger is best as it allows the guest to place it on their lap without having to move anything.
How to set the dining table by breaking the rules
Regardless of how you decide to set the dining table, you'll want to experiment and try to incorporate your personal style. Don't worry if you don't know how to set the dining table for a particular occasion, instead, ask yourself if it's informal or formal.
After answering that question, design a table layout based on you think the occasion calls for. If you're unsure, mock up a few place setting and see how they feel within the context of the event.
And, oh, if you run out of space, consider using a butler tray table to hold drinks, desert or condiments!