Start a balcony garden that blooms all year round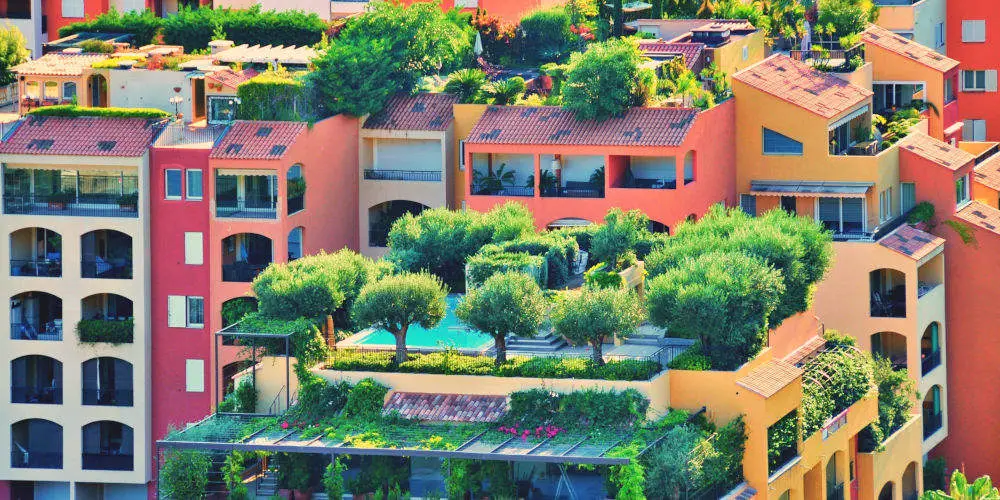 Even if you live in a tiny apartment, you can start a balcony garden. The smaller the space, the more creative you'll have to be!
While you may be limited in size, typically you're not constrained by height, meaning you can build in layers and create a density, lush balcony garden that floats towards the heavens.
As with a normal garden, you have a pretty much-unlimited choice as to what you can grow. For example, you could grow herbs, vegetables, perennials, and flowers.
If you're not sure where to start a balcony garden, we will guide you through the entire process from measuring your space, what containers to use, how to maximise your space and suggest a few options to plant. We'll also touch on how to furnish a balcony!
Basics needed to start a balcony garden
Before you can start a balcony garden, there are a few issues to take care of. Firstly, if you live in a block of flats does your building allow you to use the balcony as a garden. It's worth double-checking the rules before it too late.
As you'll be adding heavy pots full of soil to the balcony or roof, can the structure support the added weight? You might need to swap heavy Terra Cotta and ceramic pots for rice pots, plastic or fibreglass containers, or fabric grow bags combined with lightweight soil mixes.
Finally, watering your plants. As they will need water, where is the nearest tap? You probably don't want to be lugging heavy jugs of water through your apartment on the balcony or up some stairs to the rooftop. You may want to consider drip irrigation or self-watering pots.
Another element to consider is where will any excess water from your plants end up? It's unlikely your neighbours below will enjoy being hit with a shower! So, you'll want to place saucers or trays under your plants to collect the overflow.
For the pooch owners, it's worth reading our guide to building a dog friendly balcony.
What's best to grow on a balcony or terrace?
With limited space, you'll want to choose plants that will thrive rather than any old seeds. Thankfully, there's only two critical factors involved: sunlight and water. Let's explore how the sun affect you growing abilities.
South-facing balcony
If your balcony faces south and receiver direct sun all day long then you grow Cacti, a range of flowers and most vegetables. Of course, you'll need to keep whatever you plant well-watered.
North-facing balcony
If your balcony faces north or is shaded by other buildings for most of the day, look to low-light plants such as coleus, ferns, impatiens, hostas, and begonias.
You can also consider vegetables such as chard, spinach, or lettuce as all grow with less than half a day of sun. Herbs are another fantastic idea and can be used in cooking.
Vegetables
A common problem is that a lot of people overestimate the amount of sun they get. Bear in mind that most vegetables require at least 6 to 8 hours of sun a day!
Start with evergreens
Regardless of which way or how much sun your balcony gets, start with evergreens. They'll provide you with a colourful backdrop all year round, even in the deepest winter months.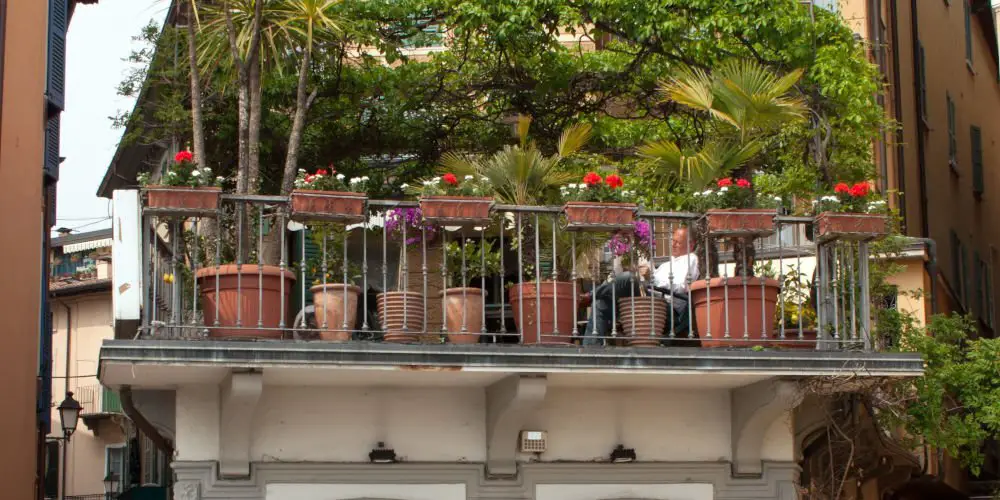 Is your balcony or terrace windy?
Too much wind can cause problems. So you'll want to consider how much wind your balcony or terrace receives. You're like to get more wind if you're higher up than on the lower floors, and hot drying winds can quickly parch your plants.
You can block prevailing winds using a lattice or wire trellis, which can provide support for climbing vines. Plus they provide more privacy for your balcony garden. Since wind dries out wet soil, you need to stay on top of watering. Ideally, you'd use self-watering pots.
If you already had some easy to grow houseplants dotted around, you might want to move them outside for a summer vacation! Be careful when moving them outdoors to avoid sun and windburn on the leaves.
Take your balcony or rooftop temperature!
Even without the sun reflecting from windows, heat tends to be an issue. For example, try to grow lettuce and you'll see it wilt. If heat is an issue, your only solution maybe to grow tropical plants! A pot of alocasia, banana, or canna can create a jungle feel!
Consider your balcony as a tiny outdoor room. If you have space, add a table and chairs and enjoy sitting among the greenery. If your location is too noisy, a burbling fountain or some wind chimes may help add a bit of soothing sound to the background noise.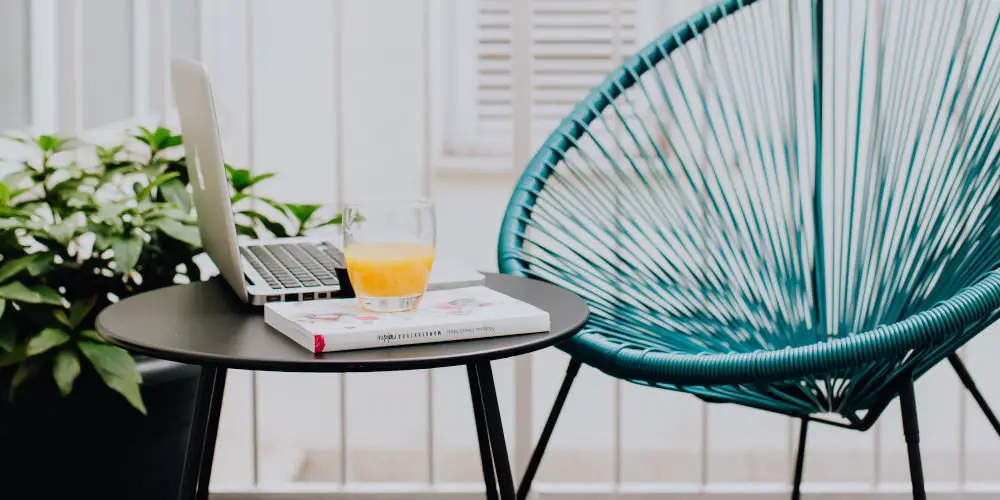 Maximising your space
Unless you live in the penthouse with a wrap-around terrace, you'll be limited by space. So you'll want to start small. Over time you can start to add more vertical elements and experiment with layers, but if you're just begging, start a balcony garden with a few pots.
By starting small, you'll be able to keep the time need to maintain and grow plants down to a minimum and be able to spend more time enjoying the space. One of the secrets to a beautiful garden is tending to it often, for a few minutes each time.
In terms of arranging elements. Start with larger containers around the outside edges. This defines the space and evenly spreads out the weight. As you don't want to be constantly moving furniture, place items in the centre where there's a nice flow between them.
If you have wall space then consider hanging some half-baskets and some LED fairy lights. All of these elements tie together to create a space that useable in the day and at night.
Can you grow vegetables?
You probably can grow a few vegetables, but not enough to be self-sufficient.
Consider growing herbs, a pot of lettuce, cherry tomatoes, and a pepper plant or two, as these will give you a fresh taste of summer. Just ensure they're located in your brightest spots. Discover more about container gardening with vegetables.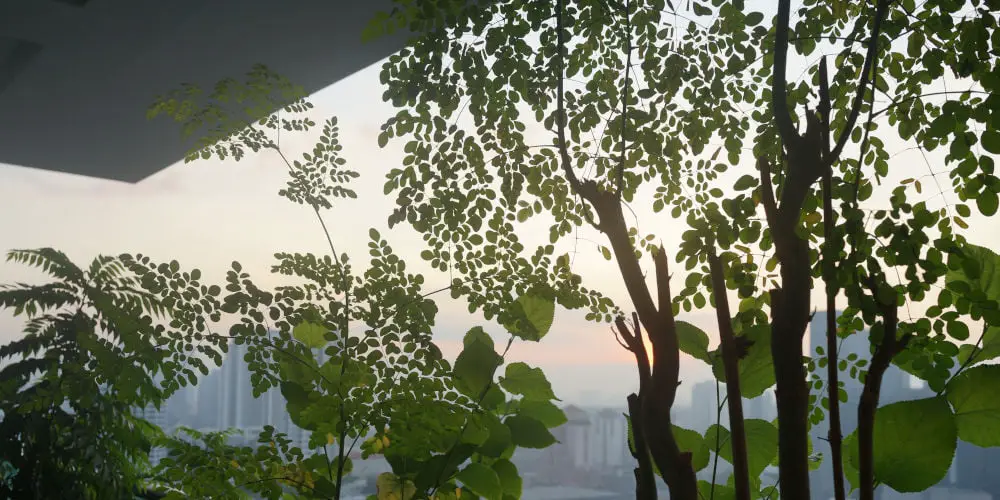 Look out for pests and birds
Part of gardening is pest management! Pigeons, birds and other wildlife will be attracted to your plants and crops. They'll happily feast on whatever you're growing without a second thought or just be a general nuisance!
There's plenty of organic pest control methods including spraying plants with insecticidal soap spray or covering exposed soil with fine chicken wire.
As you start a balcony garden, be aware that you need to be proactive to deter unwanted pests and wildlife as well as keep an eye out for signs that pests have been lurking!
Maintain a balcony garden
As a living thing, plants need constant care and attention. As your balcony garden uses containers, plants will need to be watered more often. They'll also need to be fertilized a few times a year.
Plants will need to be deadheaded and pruned, and vegetables will need to be harvested when ripe, to keep them growing and healthy.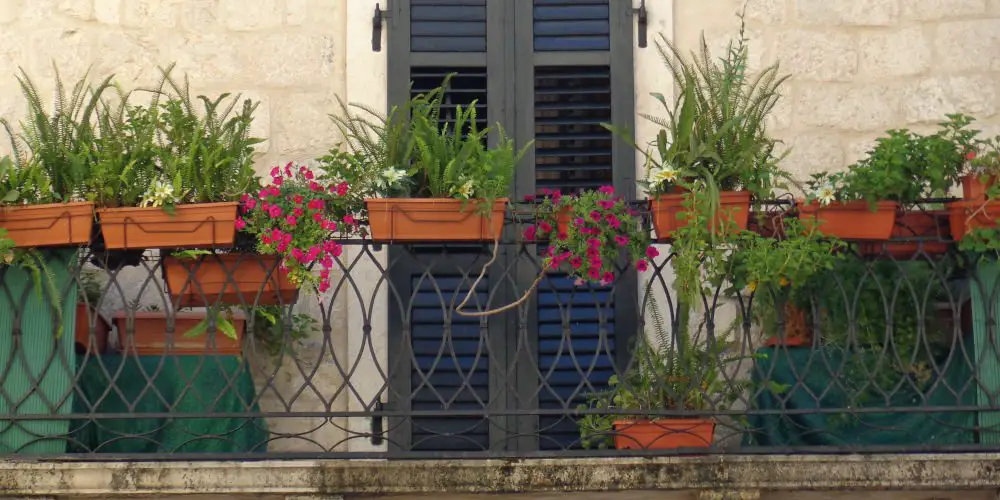 Sticking to your budget!
As you don't have endless money to spend, when you start a balcony garden you'll need to be careful to ensure you don't blow your budget. You might be able to buy pots, a water feature and some furniture from eBay or Facebook marketplace.
In terms of plants, it's best to start with seeds are buying mature plants is usually expensive. Plus starting with seeds is an adventure all within itself!
You do want to spend money on quality potting soil. Regular "dirt" is not sterile and brings disease and problems and so it's worth investing in the best soil you can.
As a new challenge, you'll want to start your balcony garden small and invest time in it. Don't pack your space full of plants only for them all to die!
Starting small allows you to learn how to care for different plants and discover what grows well and what's best to avoid. You can also spend time considering each addition and experiment with different layouts, plants and features, then add things as your budget allows.
Don't forget the space or to water plants in winter as you can still make the space cosy and inviting. You might even want to plant some winter flowering pot plants!
The more love and care you put into your balcony garden, the more likely you'll be successful at creating a beautiful space that lasts for many summers to come.