8 Winter flowering pot plants to add interest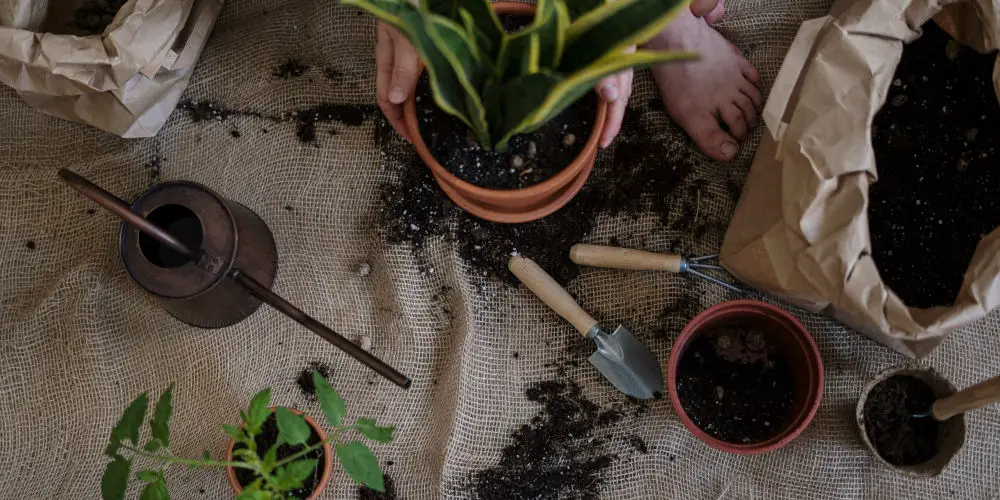 Creating an ever-changing display of colour is possible during the colder months. Thankfully, there's plenty of winter flowering pot plants that are easy to care for and are hardy enough to continue to create interest up to spring.
It's easy to feel a tad gloomy as summer winds down and we retreat inside. Instead of giving in to the winter slump, create a few beautiful containers to add interest and allow you to keep gardening throughout the winter.
However, avoid planting the obvious, the typical winter plants and instead challenge yourself to create something especially interesting. It best to drag some large pots to where you can easily admire and tend to them. Consider putting them outside your front or back door or under the lounge window.
By placing them, where you'll naturally peak, you'll find your winter flowering pot plants spark joy even with the smallest glance! Don't let winter spoil your enjoyment of your garden or gardening!
#1 Daffodils
There are a few varieties of daffodils which bloom early and toward the end of winter, making them ideal for ushering in the changing season. Consider planting varieties such as Narcissus 'Rijnveld's Early Sensation' which bloom from January onwards and 'February Gold' that flowers slightly later.
Online gardening centre Crocus sells Narcissus 'Rijnveld's Early Sensation' in packs of 10 bulb.
#2 Pansy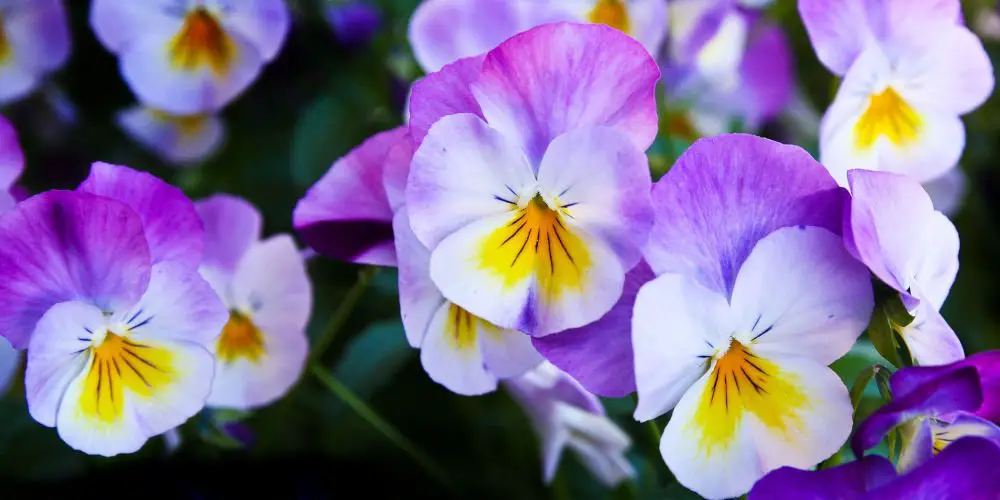 Out-blooming most other winter flowering pot plants, pansies are superb for creating a colour winter display. While they prefer full sun, pansies can thrive in semi-shade, making them ideal for hanging baskets and containers.
As a wide range of bright colours are available and they grow well, you can use pansies to add a splash of colour to any arrangement. Their compact, sturdy stems make them ideal for withstanding winter wind and rain without causing too much trouble or needing too much care.
You can buy a mix of colours pansies seeds from Premier Seeds Direct for a few pounds.
#3 Ajuga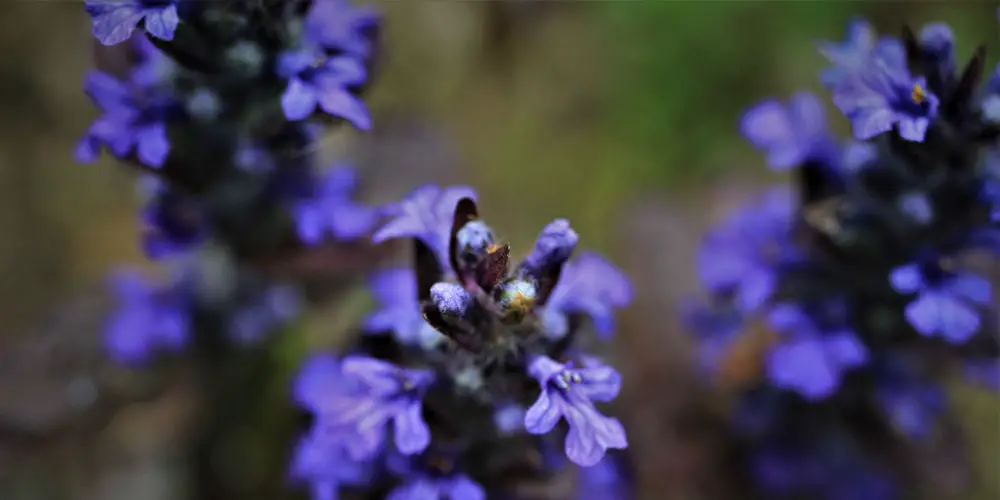 As a rugged evergreen, Ajuga creates a superb, solid background to any container which can then be filled in with smaller, more interesting plants. You could also allow it to grow as its rounded purple leaves will happily trail over the pot.
Ajuga is a wonderful alternative to ivy, without destructive tendencies. Amazon stocks a range of Ajuga seeds.
#4 Heather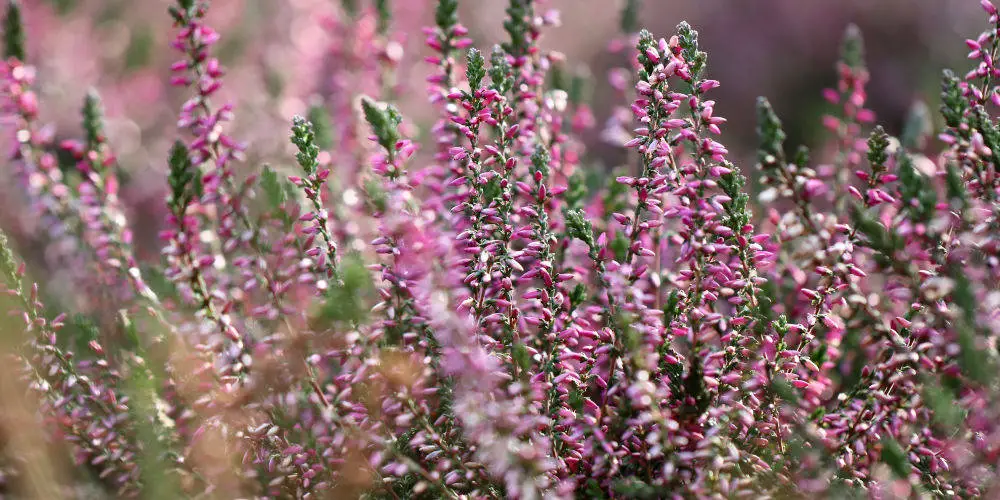 Winter heather is another superb winter flowering pot plant as it creates a captivating display with it's small yet beautiful flowers, which appear from December to February. Originating from the Scottish Highlands, they are used to harsh weather conditions, making them ideal for winter pots!
It's worth planting several varieties together as you'll enjoy looking at the range of lively colours when they bloom, not to mention the petite green foliage. A superb selection of seeds are available from J Parker's.
#5 Phormium
Fantastic for contemporary arrangements, Phormium is a colourful architectural evergreen with arched strap-shaped leaves in pink, purplish and bronzy shades, including stripes. If you're looking for inspiration, Crocus sell an excellent range of Phormium varities.
#6 Cyclamen coum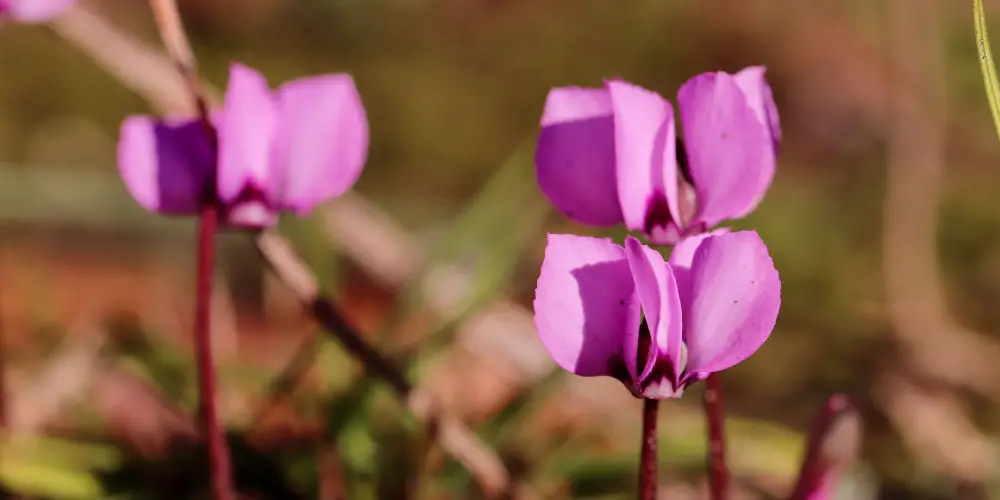 As a true winter-flowering plant, cyclamen coum fills your garden with colour even on the dullest of January and February days. Low maintenance, cyclamen provides excellent ground cover, even in pots.
For a subtle winter-flowering bedding plant, try cyclamen hederifolium (available from Woodland bulbs®) which with its dainty nodding flowers and attractive marbled leaves. It pairs well with snowdrops and evergreen grasses.
#7 Ophiopogon planiscapus 'Nigrescens'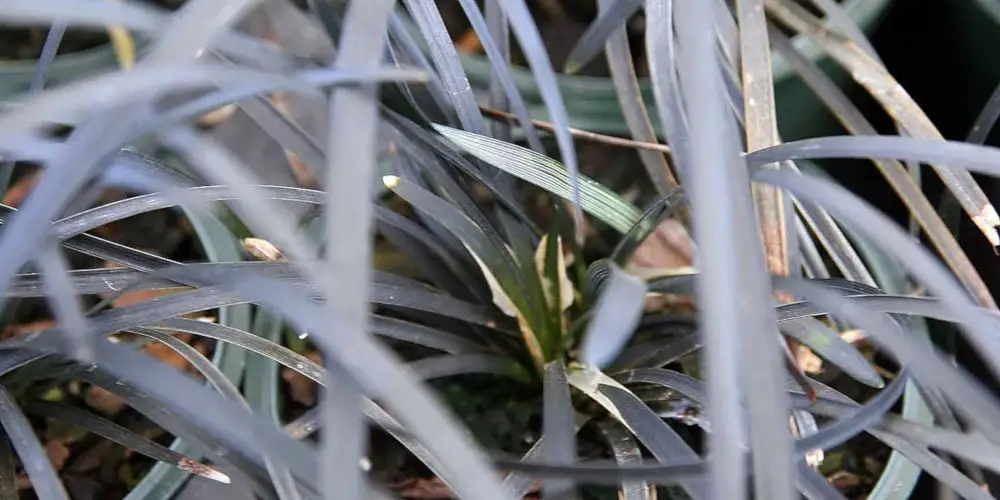 Another contemporary option is Ophiopogon planiscapus 'Nigrescens', which boasts jet black long, slender leaves. It juxtaposes well with plants such as the Cyclamen persicum which is a free flowering and hardy plant.
Typically an indoor plant, Cyclamen persicum mixes well with Ophiopogon planiscapus 'Nigrescens'. Both are highly interesting winter flowering pot plants.
Ophiopogon planiscapus 'Nigrescens' is available as seedlings from Crocus.
#8 Skimmia japonica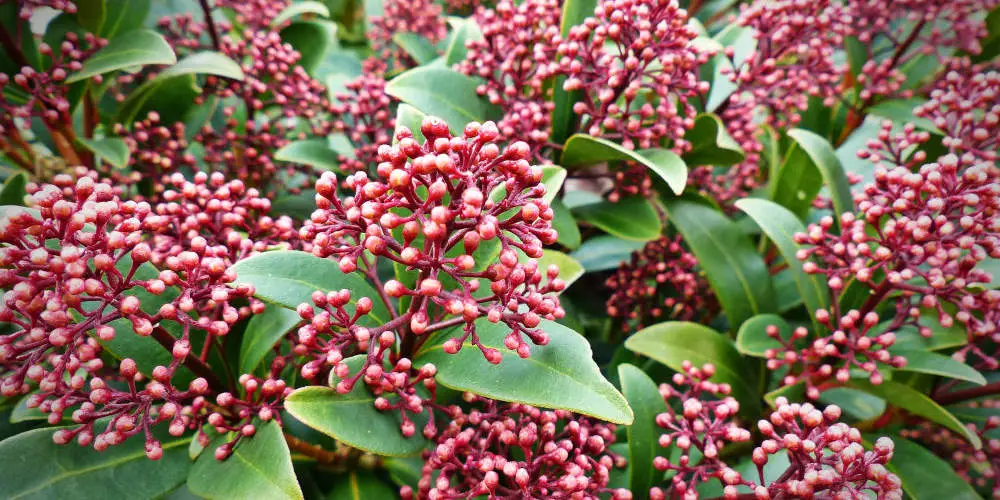 As a superb winter shrub, Skimmia japonica is often available as small container plants. Noted for their glossy leaves, when winter is over, you could plant them out in the garden to continue to grow.
Skimmia japonica 'Rubella' is covered in clusters of long-lasting dark pink buds during autumn and winter. They eventually open to white-pink flowers in spring. Alternatively, look for S. japonica subsp. reevesiana which has bright scarlet berries in autumn and winter.
How to keep your pots looking their best
The main danger in winter is frozen compost which kills roots, and slowly your plants. You'll want to ensure there's plenty of drainage holes and each pot is elevated. You can use pot feet, tiles or even bricks to raise them and aid drainage, preventing freezing.
If snow or a prolonged cold snap is predicted, then bubble wrap pots to prevent root from freezing. In the case of heavy downpours, move pots undercover. Not only will this protect the plant but will also allow sodden compost to slightly dry out.
You should remove any rain saucers from beneath pots and check moisture level regularly, and water if necessary. Your pots probably won't need feeding during the winter months.
Tips for superb winter flowering pot plants
Use a pot large enough to accommodate around 9 to 10 plants, ideally, 45 cm diameter is a good starting point.
As plants grow very little in winter, you'll need to start with good-sized plants, spaced closer together.
Frost damage is the last thing you want. So you'll want to use frost-proof terracotta, plastic, fibreglass, concrete or stone planters.
Select a spot for your planter where blooms will be illuminated, silhouettes created and shadows cast.