What's the best garden shed paint?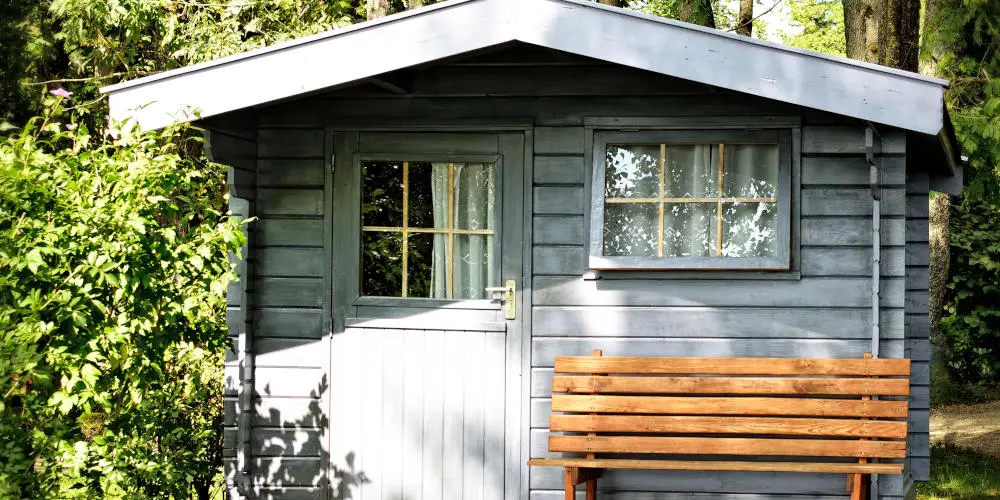 Tidying the garden involves more than cutting the grass and trimming hedges, as usually the shed and fence could with a new lick of paint. But how do we select the right garden shed paint?
Exterior paint is available in two formulations, either oil or water-based. Oil-based paint is messier to DIY yet lasts longer. However, water-based paint is easier to clean.
In addition to the formulation, exterior paints come in several different finishes, including satin, gloss and matt. Just like painting your interior, there's no right or wrong finish, only your personal preference
Also like interior paint, cheaper exterior paint usually require a few coats. So can cost more overall as well as taking more time to complete. Cheaper garden paint can also look artificial and mask the wood's natural charm.
By spending a little more on shed paint, the superior products offer much better protection and is less likely to crack, flake or peel. Not only with your timber fences, sheds, and summerhouse look fresh, but they'll last for longer.
You'll also want to match your paint to the surface. For example, rough-sawn wood such as fences and sheds need a different formula from smoother surfaces such as garden furniture.
Finally, how much garden shed paint do you need? Typically you can cover between 8m2 and 10 m2 per litre of paint. This means for a standard 6 by 8-foot (191 cm (w) by 240 cm (d) by 221 cm (h)) shed you'll need about 2 litres per coat.
Kingorigin Professional Painters 3 Piece Brush Set
The right paintbrush makes the job easier and while you probably have several, it's worth investing in some good quality ones.
We recommend the Kingorigin Professional Painters 3 Piece Brush Set. Unlike cheap brushes which fall apart after a few uses, Kingorigin builds superb products that are long-lasting.
This 3 piece set contains a 4 inch, 5 inch, 6 inch brushes. Each is 1.2 inches thick and is made from 100% polyester. All have screw holes for extension poles, so are very versatile.
They're ideal for painting a garden shed or fencing thanks to their lightweight design and thick blended filaments.
Dulux Trade Quick Dry Wood Primer Undercoat
Before we get to different hues, it's worth talking about primer. Unless your sanding and varnishing, it's good to start with a coat of primer. This layer helps to fill in the wood grain and creates a smooth surface to paint on.
Unfinished wood tends to soak up paint, so a primer coat will seal the surface and prevent this from happening. While many might question this added expense, it's worth the money as you'll save by using less paint.
Our top pick is Dulux Trade Quick Dry Wood Primer & Undercoat Paint which is available in several sizes including 5 litres, which should be plenty for any shed.
It is ideal for use as a primer for softwoods and hardwoods. Also, it can be used as an undercoat for woodwork that has been previously primed or painted with either solvent- or water-based paint.
Ronseal Fence Life Plus Charcoal Grey
As a neutral colour, Charcoal grey can be the perfect counterbalance to a bright, busy garden. It's also ideal for masking a shed or adding a sense of calm by neutralising your fence.
Our first colour hue is the Ronseal Fence Life Plus Charcoal Grey as it's a superb, subtle colour. Available in range of size including a 5-litre tub, which should be enough to cover your shed in a few coats.
It's quite a thin paint, so you'll need to apply at least 3 or 4 coats before the colour looks full. However, it easy to apply with no drips and works equally as well on both rough sawn and smooth planed timber.
It's designed to provide all-weather protection for 5 years. As a water-based paint, it wipes off with hot water, so don't be afraid to slap it on your shed (and yourself!)
Cuprinol Ducksback Forest Green
Our next best garden shed paint is the Cuprinol Ducksback Forest Green, and again we've chosen a 5 litre tub. Forest green has a little more personality than charcoal grey, but it still quite a subtle colour.
It's easy to use thanks to it's non-drip formulation and quite forgiving, although you'll need to apply a few coats. You can easily touch it up without having to worry about it ruining the overall look. It's also safe to use around plants and pets.
The Cuprinol Ducksback paints are ideal as they dry within 2-4 hours and are low odour. Plus as wax enriched water repellent, it will protect sheds and fences for up to 5 years.
Sadolin Shed & Fence Woodstain Ebony Wood
While technically a stain, with such a dark hue, there's no reasons why you can't use a few coats and achieve a pleasant matt finish. The Sadolin Shed & Fence Woodstain Ebony Wood is available in a 5-litre tub and is affordably priced.
Applying each coat is easy thanks to its non-drip formulation and dark hue. Within 30 minutes of applying your shed will be showerproof and fully dry within a few hours.
Sadolin Shed & Fence is designed to provide 5-years protection from all weathers and easily repels water as it's wax enriched.
Ronseal Fence Life Plus Red Cedar
Red Cedar is a classic garden shed paint hue and this 9-litre tub from Ronseal ensure you have plenty of paint whatever your plans.
As with other products in the Ronseal Fence Life Plus range, it's easy to work with and can be applied by brush or sprayed. Quick-drying, in an hour it's shower poof and fully dries within 4 hours.
To enjoy the full richness of the red cedar hue you'll have to paint at least 2 or 3 coats whether you're applying to rough sawn or smooth planed wood. However, once done, it will protect your shed from the elements for 5 years.
Dulux Weather Shield Quick Dry Satin Gallant Grey
As a light grey colour, the Dulux Weather Shield Quick Dry Satin Paint has an attractive finish and distinctive hue. It guarantees 10-year weather protection for exterior wood.
It's easy to apply as it's quite thick and doesn't drip much. Thanks to its consistency, spotting drips is simple and they're easy to fix. As a water-based paint, it's also simple to remove from clothing and hands.
Dulux have formulated their Weather Shield range to dry quickly, meaning you can usually apply two coats in a day. As the British weather is unpredictable this is welcome news.
Cuprinol Garden Shades Seagrass
Available in a range of colours, we've selected the Cuprinol Garden Shades paint in Seagrass.  As a water-based paint, It's quite forgiving and therefore easy to work with. Also, it's easy to clean and is harmless to plants and pets.
Specially formulated for an opaque matt finish, texture of the wood grain show through, revealing more of a thick stained look. So it's ideal for decorating fences, sheds, garden furniture, and decking.
Cuprinol Garden Shades can be applied by brush or spray and takes around an hour to dry. It provides 6-year weather protection on wood.
Johnstone's Woodcare One Coat Shed and Fence Golden Chestnut
Golden Chestnut is another classic garden shed paint hue.  It's formulated to be quick-drying and has a low odour. As a water-based paint, it's very forgiving when applying, so you're able to coat your shed without worrying too much.
When dry, it's harmless to plants and animals. It provides three-years of protection as well as ideal resistance to all weather conditions.
Rainbow Chalk Markers The One Paint Light Grey
If you haven't already noticed, we're a little obsessed with muted grey tones! However, this isn't just any old grey shed paint.
Rainbow Chalk Markers The One Paint is one of the most expensive garden shed paint available. We've chosen the light grey hue as it's a slight different colour that's should age well!
What makes The One Paint products different is quite simple. You don't need an undercoat or primer and usually, only need to apply a single coat. Plus it easy to work with and dries within a couple of hours.
You'll easily save time, effort and money – even if you end up applying two coats. Also as water-based paint, it's easy to clean up and is environmentally friendly.
Picking the best garden shed paint
As our aim was to give a range of shed paints, any of our selection will work well in any garden. We'd recommend buying enough for at least 2 coats and starting with a small corner which is hidden!