How to set up an outdoor projector in 5 steps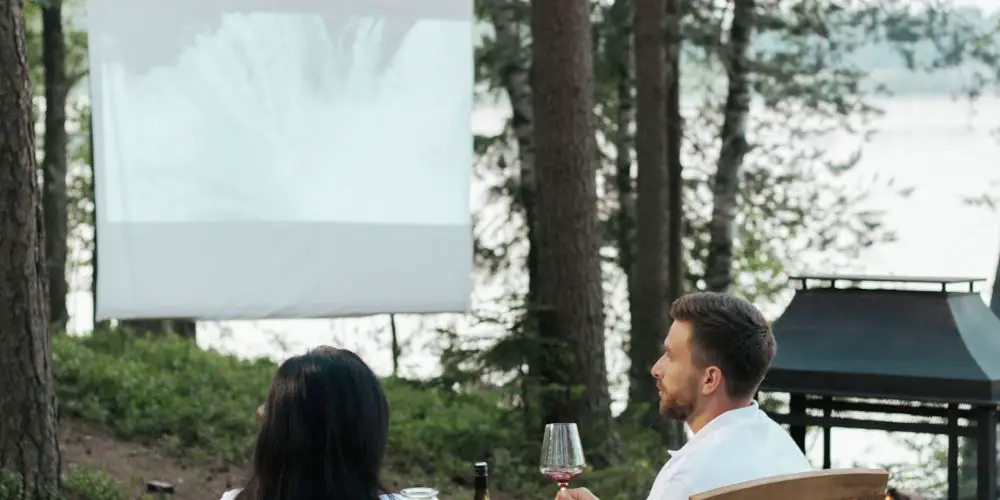 PUBLISHED: 8th August 2023 | LAST UPDATE: 10th August 2023
Long summer nights are ideal for relaxing in a garden cinema. Thanks to a range of portable projectors, it's easier and cheaper than ever. Many even work off batteries, making them perfect for camping. But you might wonder how to set up an outdoor projector without it taking hours.
Your projector is only part of the equation. You'll also need a suitable projection surface, or the picture won't look good. Another aspect to consider is; does your portable projector have inbuilt speakers? And are they good enough? If not, you'll have to connect dedicated speakers.
The more complex your system becomes, the longer it'll take to set up. And you'll probably benefit from having an external power source to ensure you have an uninterrupted experience. Otherwise, you might only have 2 or 3 hours of movie watching time before the battery goes flat.
If all of this sounds complicated, don't worry. Here is how to set up an outdoor projector in 5 easy steps.
Step 1: Choosing the ideal projector
When considering what outdoor projector to buy, your device choice will determine the ideal set up location. You'll need to be mindful of the state of the ground, what time of day you plan to use it, and what features you need vs want.
If you're out in your garden or camping, using a projector on rough and uneven ground will mean you need to use a stand to stabilise the device. You can use a simple tripod stand or something more elaborate.
The time of the day when you intend to use the projector is another important factor to consider. If you want to watch movies in your garden with external lighting and noise interference, you need a projector with a bright display (600–900 ANSI lumens) and powerful sound.
If you're buying a projector to take camping and only plan to use it at night, you need less brightness (200–300 ANSI lumens) and good sound quality.
Also, consider the content you are likely to want to watch. If you're happy with a good picture that isn't 4k, there are more options to pick from. However, if you only want to watch films in 4k quality, you'll need an HQ projector that can live up to your high standards.
If you care more about sound, invest in a projector with superior inbuilt speakers and a dedicated output that allows you to connect external speakers, so you'll have the best of both worlds.
Having reviewed the best home cinema projector for gardens, we recommend the XGIMI Elfin Portable Projector and the ASUS ZenBeam Latte L1 Portable LED Projector. Both are superb projectors with several must-have features and are easy to set up.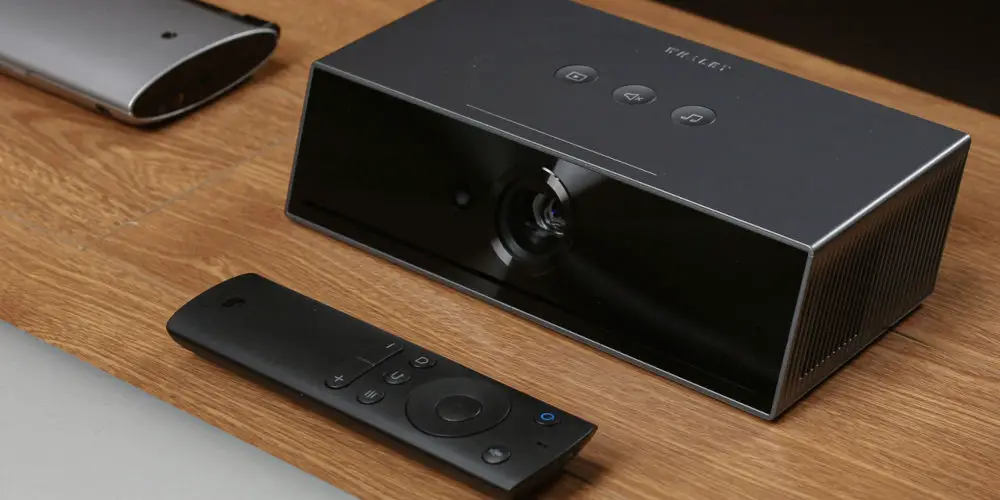 Step 2: Powering your projector
Within your home, you're always near a power socket. It's unlikely you have this luxury in your garden. And if you're camping, you might be miles away from mains power! Ideally, you'd connect  your projector to an external power source to prevent interruptions and ensure you enjoy your content for as long as you want.
Whether your camping or just outside, it's worth ensuring that your projector's battery, if it has one, is fully charged. So if you experience a power interruption, you can deal with it. Otherwise, it might go dark!
While you should be fine with any extension cable, we recommend using a heavy duty extension cable with thermal cut-out protection to safeguard against any problems.
Step 3: Choosing the right projection screen
Contrary to popular belief, you need a projector screen, you can't just broadcast onto any wall. You need a while flat surface. You could use a white bedsheet that you fix so it's fairly tort and flat. Another option is to use a foldable projector screen.
What's equally important as having a dedicated screen is understanding the correct distance between the screen and projector. It's worth playing with this distance at the start and measuring it using your feet. Next time you set up your projector, you'll have a rough idea of this distance.
The screen's colour and the amount of natural and external lights will interfere with the projection's quality. So you'll need to adjust your projector's position based on these factors.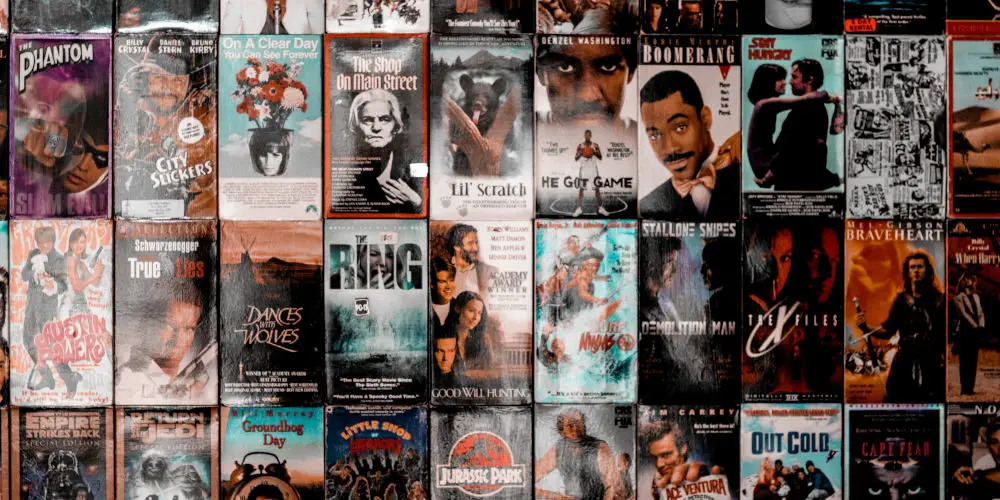 Step 4: The movie
You might not have Wi-Fi or another power socket for a Blu-ray player. Many portable projectors have a built-in media player, allowing you to watch content from a USB memory stick. You'll need to download content before, but that's far better than lugging a Blu-ray player around!
If you're at home and have a strong Wi-Fi connection in your garden, you can use a Chromecast or Fire TV Stick to stream content directly to the projector. At home, you can use a Wi-Fi booster, such as the TP-Link AC1900 to ensure you have sufficient coverage in the garden.
Step 5: Sound quality
Leaving the best to last! The picture is only half of the fun! So we need sound! How you hear the content you're watching depends on several factors, including the speakers and natural acoustics.
Many portable projectors have built-in speakers that range from terrible to surprisingly good. Like most TV, many manufacturers have crammed speakers in without realising they sound bad. That said, if you're out and about, poor built-in speakers are better than none!
There are a few ways you can improve the sound as long as your projector has some form of audio output. Firstly, use Bluetooth headphones. Everyone can use their own pair and enjoy perfect sound regardless of the setting. Plus, the neighbours will love you more!
If you don't care about making noise, consider using a soundbar such as the Groov-e 160, which has a built-in subwoofer port and sounds fantastic. Another option is to use powered bookshelf speakers.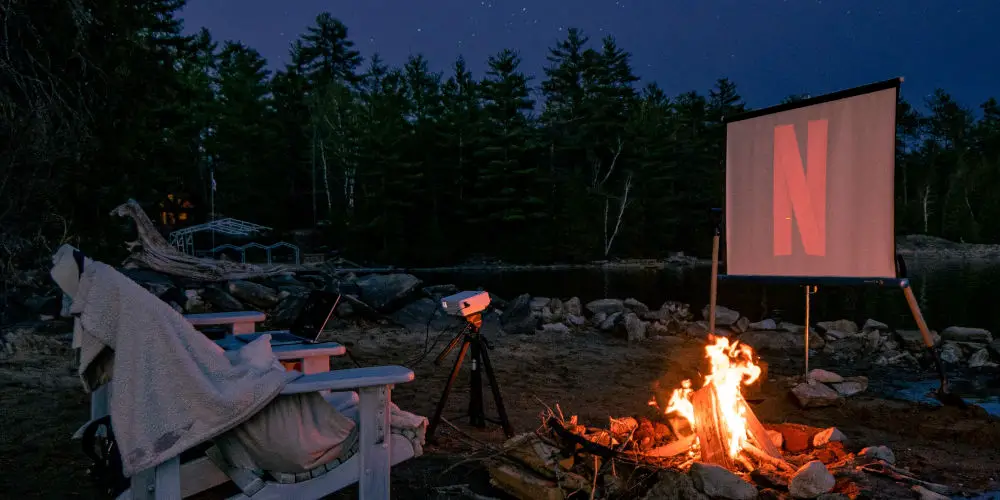 Final checks to set up an outdoor projector
Set up your projector on a mount or table
If possible connect it to an external power source
Power it on the device
Connect to Wi-Fi or plug in your USB drive
Set up the display screen at an ideal position and focus the image on the screen
Ensure that the screen size aligns with the projected display
Your projector might have autofocus, otherwise you'll need to manually adjust it for the best picture
Connect the external speakers or adjust the built-in ones for the best experience
Hit play and enjoy your movie!
Enjoy watching movies outdoors
As you know how to set up an outdoor projector, you'll find the process less stressful. Remember, you need to choose a portable projector that matches your requirements. Check you have all the inputs and outputs you need.
Next, find a proper surface to project on, either a projector screen or a white bedsheet fixed tort, against a wall. Connect the device to an external power source and external speakers. Choose the content you want to project and relax!