How to connect outdoor speakers for summer parties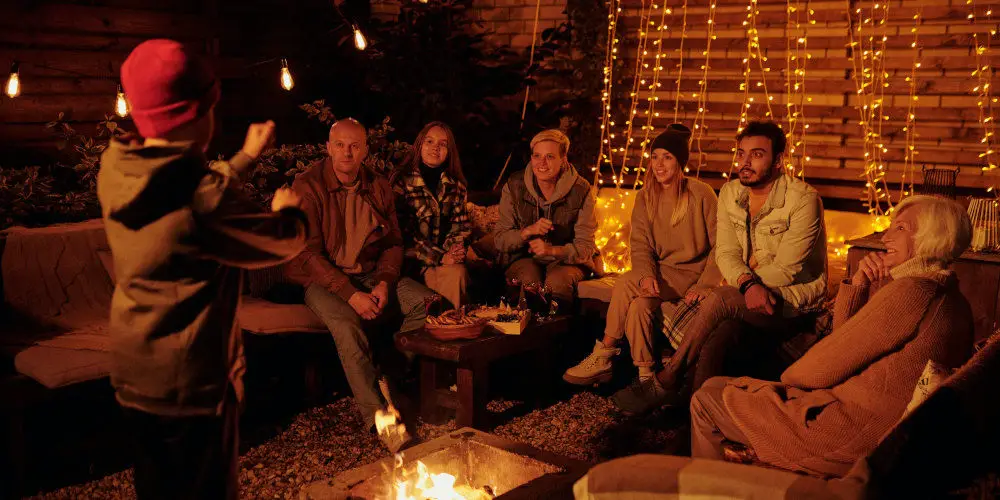 PUBLISHED: 3rd August 2023 | LAST UPDATE: 29th August 2023
Summer living largely happens outdoors. Our gardens become somewhere to live and entertain. So you might want to add speakers to create the ultimate garden party. Don't worry if you haven't done this before, as learning how to connect outdoor speakers is straightforward.
Some will enjoy having mates around and using their outdoor kitchen. Others prefer relaxing with a garden cinema system, especially when the footie or F1 is on or for a late-night movie snuggled under a blanket.
Part of making your garden the ideal space for entertaining, you might want to add some outdoor speakers. You can use them to listen to your favourite tunes or pair them with a projector for a cinema system.
While this sounds good in principle, knowing what speakers to use or how to connect outdoor speakers correctly can be difficult. We'll help you discover how to correctly add speakers to your outdoor spaces.
Where do you want to listen to music?
Let's start with the most basic question: where in your garden do you want to be able to hear music? Unless you have a postage-stamp-sized garden, which will be easy to fill with audio, you'll need to consider creating different zones.
Before buying any random speakers, think about what you want and how to achieve this. If you have a patio and lawn area, you might only want speakers to cover the patio area as that is where you'll relax the most.
However, if you have multiple sitting areas, a pool, an outdoor kitchen and a large lawn, you'll need to take a different approach. You might place speakers around the main patio area and the outdoor kitchen, as these are the two most used spots.
Speakers are highly directional, meaning they only project sound forward. If you stand directly behind a speaker, it will sound slightly muffled. Take a few steps back, and you'll struggle to hear the music clearly. Yet stand in front of the speaker, and you'll hear every note.
It's best to avoid placing speakers further apart and turn up the volume, as you'll like only hear 'half' the song while creating more noise that isn't pleasing to listen to, both for you and the neighbours!
So, consider speaker placement and coverage before doing anything else.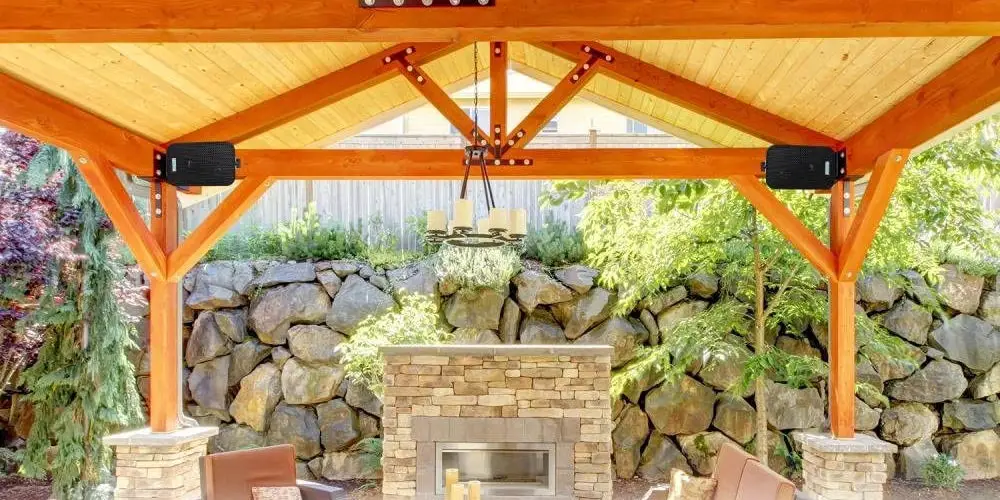 What outdoor speaker options are available?
As you now better understand your requirements, you can move on to the fun part: exploring speaker options. You'll want to use passive wired speakers. It's best not to use wireless speakers as your garden probably doesn't have Wi-Fi coverage across every square inch.
That said, if you have a small garden or only plan to use speakers on your external wall, Sonos outdoor speakers or another wireless audio system will probably be sufficient.
You'll want to invest in waterproof and dustproof speakers. So, look at the speaker's IP rating. IP stands for 'international protection rating' and indicates how well a device can resist dust or water.
As speaker giant JBL points out, when buying outdoor speakers, it is best to have a waterproof rating of at least 6 and dust protection of at least 5. If you're placing speakers near a swimming pool, a higher waterproof rating may also be useful.
There are plenty of weatherproof speaker options, including the Bose ® 251 Environmental Speakers and the Herdio 5.25 " Outdoor Bluetooth Patio Speakers. These options are superb for patio or BBQ areas where it's fine to have obvious speakers.
For a more subtle option, consider the Lithe Audio Garden Rock Speaker. Designed to look like a rock, this Bluetooth speaker is housed in an IP68 Weatherproof enclosure, making it ideal for year round outdoor use.
Another option you could use is in-ceiling speakers. They are ideal for covered BBQ areas and pergolas. Smart Home Sounds sells a sizeable range of Waterproof Ceiling Speakers.
If you're looking for an option that works with a home automation system, Control4 offers a range of outdoor speakers, as does Crestron.
Powering outdoor speakers correctly (and safely)
Before we cover how to connect outdoor speakers, it's worth discussing amplifiers. As without one, you'll hear nothing!
There's a massive difference between using speakers indoors and outside. Inside, you have walls for sound waves to bounce off, which makes music sound louder. Outdoors requires a different approach to create the same amount of loudness.
To create the same perceived volume outside as you have indoors, we need to double the amplifier's power. If your AV receiver puts out 125 watts per channel, you'll want to use an amp that offers 250 watts per channel.
You could use your existing AV receiver or buy another one to use outdoors. The most affordable solution is to use a Hi-Fi amplifier, such as the Fosi Audio BL20C, which offers 2 x 160Watt channels and passive subwoofer output.
Another option is the Auna AMP-4000 DAB Hi-Fi Stereo Amplifier. It has 4 speaker zones, each puts out 100 watts. The Auna is ideal for outdoor use as you can set up multiple zones with full control over each.
What sources can you play music from?
Most amplifiers just make the signal louder. They don't have a built-in media player. So, we need some sort of input source. You could connect your smartphone, but you'd need to run inside whenever you wanted to turn it up or skip a track.
You could use a Sony CMT-X3CD Bluetooth Hi-Fi System, which combines a CD player, built-in radio tuner, USB port and Bluetooth. Using it, you can enjoy a range of options without much effort.
Another option is Spotify Connect. It searches for compatible devices connected to the same Wi-Fi network and links them together to allow you to stream music. You'd still need an amp that works with Spotify. However, you'll be limited to that streaming service.
The Mighty Vibe Spotify and Amazon Music Player is another option. While you can't control it remotely, it does store up to 5 hours of songs and works offline. Ideal for day times with the kids when you want a general playlist.
You could buy a tablet to run Spotify, YouTube Music or Amazon Prime Music and use your smartphone to control it remotely, as all these services allow you to do so.
If you're running an AV receiver in a home cinema room, you could wire that into the amp you're using for outdoor speakers and use the built-in options, such as the radio tuner, music streaming services and your Blu-ray player.
How to connect outdoor speakers without creating a mess of wires!
With speakers and an amplifier selected, it's time to wire them together. Here are the steps you need to know how to connect outdoor speakers.
First, you'll want to estimate how much speaker wire is required to connect the amp and speakers. If you don't, you might end up with a cable that's too short. So it's worth adding 20 cm to every cable to ensure you have plenty when wiring the system.
Part of the wiring process is determining the ideal wire gauge to use. 16 gauge wire is fine for most distances up to about 6 meters (20 feet). Beyond that, consider thicker 14, 12, or 10 gauge wire, especially if you have lower-impedance speakers.
While you can buy direct burial wire for in-ground installations, you might want to use standard cable housed in proper wire conduits or containers. You can use regular PVC piping, but it may not provide adequate protection from moisture or extreme temperatures.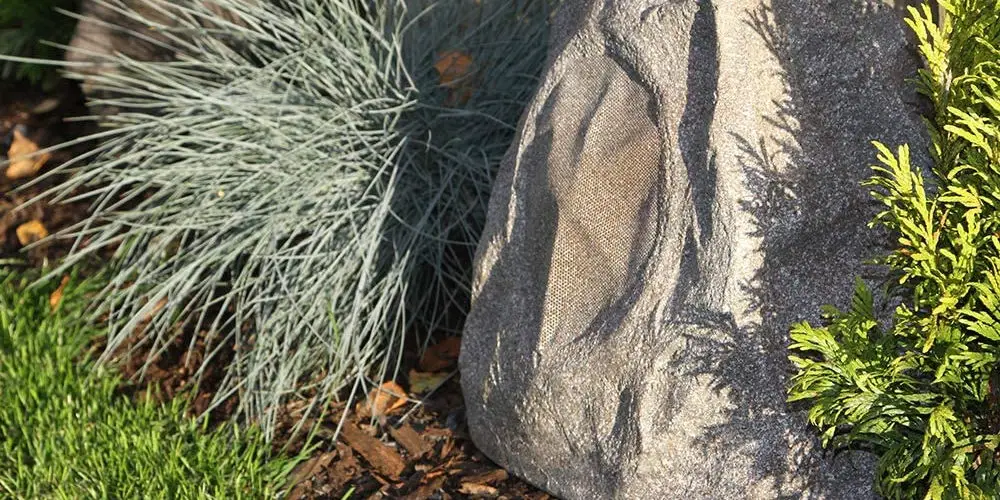 Before securing outdoor speakers, test them
The biggest mistake we see when homeowners think about how to connect outdoor speakers is they bury cables as they go without testing. It's then a major hassle to dig up cables to troubleshoot issues.
You should wire speakers in and test them before securing speakers and cables in place, or you'll create a massive headache!
If you need to drill holes to run wire through exterior walls, you'll want access on both sides of the wall. You'll also want to seal the holes with silicone to maintain your home's insulation and keep out pests.
Another thing to test before securing everything in place is how it sounds. If it doesn't sound great, you can still adjust speaker positions to ensure the best listening experience.
Don't forget a volume control!
Nothing is worst than not having control over the volume from a location other than your smartphone. You can control Sonos and other wireless audio systems with your smartphone. However, this isn't always the best option.
Sometimes, the last thing you want to do is have to find your phone to turn the music down. Plus, you'll have no control over the music if someone calls you or your Wi-Fi stops for a minute or two.
So it's worth installing at least one dedicated weatherproof volume control, as they allow instant control.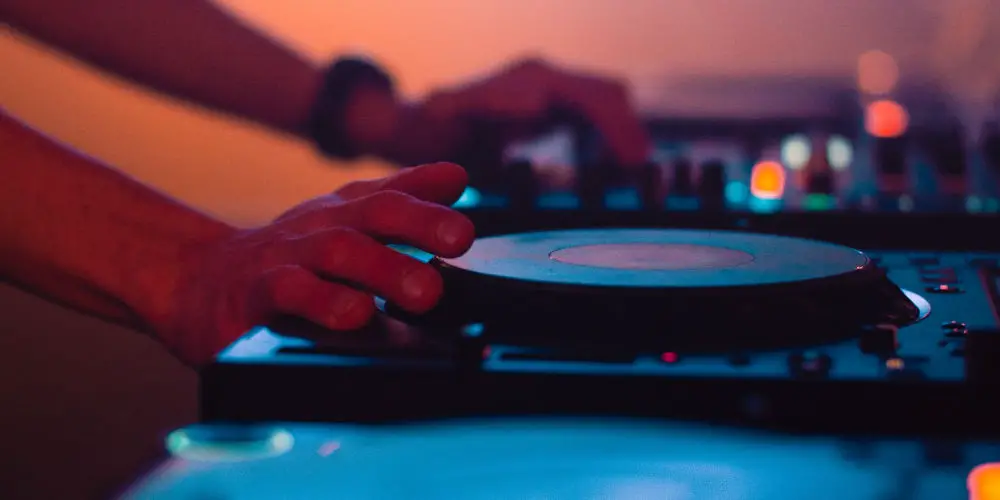 Spinning the right tunes for parties and special events
When summer's in full swing, there's nothing like having some mates over for a party. And while your new speaker system will be ideal for blasting tunes, you might want to host a band, DJ or enjoy some karaoke.
So, you might want to invest in a portable PA system. These systems include a powered mixer and speakers. A powered mixer has several inputs for microphones, instruments, turntables and Bluetooth or AUX inputs to connect your phone to play your favourite tunes.
The other benefit of using a powered mixer is they have an amplifier built-in, meaning you don't need additional gear or expensive powered speakers. We recommend the VONYX Portable PA System as it's powerful enough for a large garden yet easy to set up and use.
Enjoy listening to music outdoors
With your outdoor speakers installed and tested, you can plan some parties and enjoy relaxing outdoors. And that's how to connect outdoor speakers for summer parties and relaxing in your garden!