What's the best rattan garden furniture for 2021?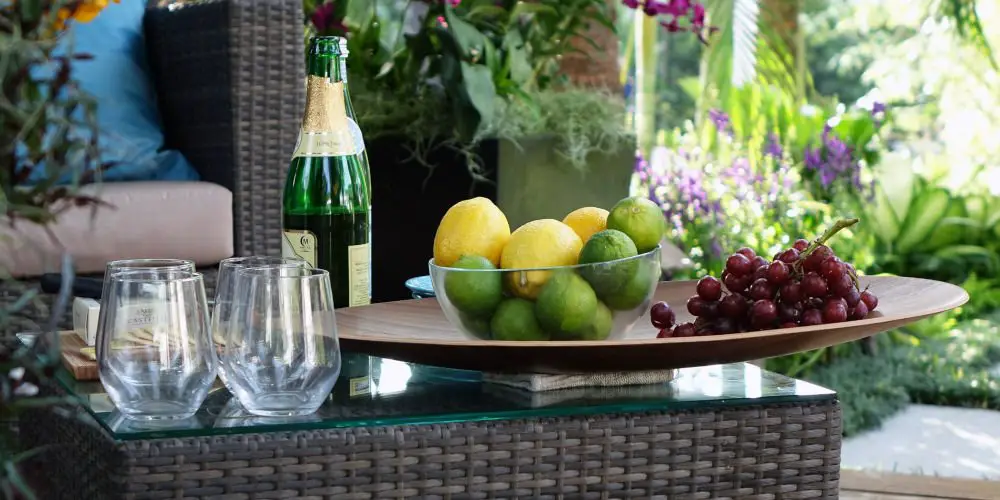 As our summer retreat, our garden is a sanctuary from the world. It's a place to relax with a good book, a glass of wine and friends. Some will want an fire pit and insist on adding some of the best rattan garden furniture.
And when it comes to relaxing, choosing the right furniture is paramount. Adding Rattan furniture to any garden gives it's a vacation feel without the need to travel! Ratten is an excellent lightweight material which is long-lasting and weather resistant.
Thanks to its natural look, Ratten always seems to look fresh regardless of the weather or garden's colours. Also, Ratten is easy to clean and can be left in place all year round. Just remember to store the covers in winter.
Although natural rattan is very fast growing, most modern rattan garden furniture is made out of artificial rattan, which is made from polyethyene plastic and usually is called Polyrattan.
Our aim is to show you a range of the best rattan garden furniture available. So there's something for everyone's budget and requirements. Our list includes seats, daybeds, dining sets and a few unique items as well.
Keter Allibert Rosario Outdoor 2 Seat Set
Description
First in our list of the best Rattan garden furniture is this Keter Allibert Rosario 2 Seat Balcony Set.
The set features two armchairs with cushions and a side table. Built from Polyrattan, they are designed to be hardwearing, easy to clean and stylish.
Whether you plan to use them outside, on a balcony, or in a conservatory, they look modern and are quite comfortable.
While the table does require some assembly, it's low profile allows for use as a footrest, when not fulfiling its role as a table. It's perfect for holding a tray with a few glasses and a bottle of Pimms with easy.
Pros
Made in Europe
3-year guarantee
Suitable for multiple uses
Cons
Table requires assembly with some buyers struggling
Some chairs have broken easily
Conclusion
Overall we're quite impressed with the Keter Allibert Rosario 2 Seat Balcony Set. Some buyers have complained about the quality and reported on the difficulties they had assembling it. However, the overall feeling is quite positive.
The one item we would change is the cushions – yes, they're nice but far to thin. That said we're likely to style it with cushions. So it's no great loss if we don't use the Keter cushions.
This set would be ideal if you already have a complete dining set and need something smaller for when it's just two of you. It's also perfect for balconies, where there's little space.
Abreo 9 Seater dining set
Description
If we said you could buy a complete dining set and walk away with change from £500, you might think we'd gone slightly mad. However, Abreo achieved this in a stylish manner.
Introducing the Abreo 9 Seater Rattan Dining Set, which has a price tag of £480. At the centre of the set is a large dining table with plenty of space whatever the meal.
The L shaped sofa comfortably fits 6 people, although you could squeeze more at a push. 3 small stools complete the set.
The stools enable the host to be able to sit down, yet enables them to easily tend to the cooking. Also, they double as footrests if you move the table.
The set uses Polyrattan as it's base material. The table has a tempered safety glass top. Finally, the seats use thick foam for extra comfort and are dirt resistant and showerproof. The fully removable seat covers make washing easy.
Pros
Lightweight and sturdy design
Equally at home in the conservatory or garden
Protective rain cover included
Cons
Some have had issues with assembly
You have to stack the seating sections for the cover to fit
Conclusion
We can't avoid the mixed online reviews of the Abreo 9 Seater dining set. So while we love the concept, it probably is worth looking at other sets on our list.
It seems that this quite a difficult set to assemble and many have easily broken. We even found a review where the safety glass table top had been smashed by a lightly tossed rugby ball.
Some of these issues could be down to a problem with a batch which has been resolved. That said at £480, it's worth looking at other options.
Outsunny Outdoor 11pc Rattan Dining Set
Description
The Outsunny Outdoor 11pc Rattan Dining Set is a unique take on entertaining. Unlike our last product, which featured an L shaped sofa, this set has 6 individual seats as well as 4 footrests.
Available in two colours, we've chosen the slightly more expensive brown set over the black. This set is very versatile and will work in most gardens.
Under the beautiful wicker weave sits a reinforced aluminium frame, meaning each piece will withstand some abuse and be long-lasting.
Quite a few elements make Outsunny set special. For example, the stools fit under the chairs. The table is designed so that the chairs and stools fold under it. Once packed up, the set uses little space while protecting the set better from the elements.
The table top is split into three areas and uses temped glass to ensure safety. The seats use removable cushion covers, which are machine washable.
Pros
Unique design where chairs and footrests can sit under the table
Built from Aluminum, Polyrattan and safety glass
Machine washable cushion covers
Cons
Comes flat pack and require quite a bit of assembly
3 glass panels on the tabletop aren't secured to the rattan frame
Conclusion
While it might require a degree and a day to assemble, we're quite fond of the Outsunny Outdoor 11pc Rattan Dining Set.
Its unique fold-in design means come winter it won't take up much space. Yet by summer, it's versatile enough to be configured in multiple ways.
As it uses aluminium frames, each piece is built to last. Therefore you'll be able to enjoy the set for many years to come.
If you get past the painful assembly process (which in part is down to bad/missing instructions) then it worth the £600 you'll pay.
Abreo Patio/Conservatory set
Description
The Abreo Patio/Conservatory set is fantastic. Shown here in dark brown with light covers. The set is also available in dark brown with dark covers and light brown with light covers.
With its two seater sofa, two armchairs and a coffee table, the set is very versatile. Whether you want to use some pieces indoors for the winter and then a superb relaxation spot in the garden by summer, the Abreo is more than capable.
With a choice of two types of seating, you can arrange the set in a number of ways. You could use the 5 pieces together or split the set into various combinations.
In terms of size, the seats are comfortable thanks to the thick foam cushions. These are waterproof and unzip for machine washing. The polyrattan is just as easy to clean.
The table is a good size and features one piece of tempered safety glass. While this piece might be too big for a balcony, for example, it fits nicely into the overall set.
There is some assembly involved but overall, it's easy to build.
Pros
Made from polyrattan with aluminium frame and safety glass
Available in multiple colours
Versatile set with many configurations
Cons
Some purchasers have had trouble assembling the set
Conclusion
At a penny under £260 on Amazon, we're quite impressed with the Abreo Patio/Conservatory set.
While some buyers have complained that assembly wasn't that easy, we think its due to them tighten the screw as they went rather than at the end. With that to one side, you should have the set assembled within a few hours.
We love the low profile of the set, which makes it perfect for relaxing during the long summer weekends. The thick cushions are superb and easy to clean.
As the polyratten sits on an aluminium frame, the Abreo set is built to last and should provide you with years of use.
Keter Corfu 2 Seater Rattan Sofa
Description
You probably know the Keter brand from their popular garden storage solutions. This Keter Corfu 2 Seater Rattan Sofa is well built, stylish and highly affordable.
Unlike some of the products we're covering, the Corfu range also features single chairs, footrests and more.
Keter products are easy to assemble and so you don't need any special tools or a PhD. Once assembled, the Corfu sofa looks superb in the garden, conservatory and even under the porch.
The sofa uses a Polyrattan material, which ensures durability and easy maintenance. While lightweight, the Corfu sofa is designed to live outdoors all year round. Of course, you'll want to store the cushions inside during the winter.
There are only cushions on the seat and not the backrest. And so you might want to add some cushions for extra comfort. And like all Keter products, this sofa comes with a 3-year guarantee.
Pros
Stylish sofa
Lightweight yet well built
3-year guarantee
Cons
Cushions only on the seat
Conclusion
Let's start what we consider to the biggest downside, the lack of upper cushions. While it does look stylish as is, having these addition cushions would improve comfort. Also, the current cushions are on the thin side, so you probably want to add cushions all round!
With that said at a penny under £120 on Amazon, we love the Keter Corfu 2 Seater Rattan Sofa. It's well built and comes with a long guarantee.
It's easy to assemble as Keter guides you with easy to follow pictures. Plus they've included a few spare screws in case you break one as well as a tool for tightening screws. You can, of course, assemble with tools you already have.
Miadomodo Day Bed with Adjustable Canopy Roof
Description
If you dream of curling up with a book and a glass of wine then the Miadomodo day bed is for you! You'll wish you got one sooner!
We've chosen the black for this review. However, brown and grey versions are available.
The Miadomodo consists of 4 semi-circle seats, along with a retractable sunroof which is powered by two gas cylinders. You could easily store the sunroof indoors and use the 4 seats for a unique sitting area. Of course, it looks best with the 4 seats forming a circle and the sunroof covering them.
At the heart of the Miadomodo is a sturdy metal frame, which sits under the polyrattan. The adjustable feet ensure a secure footing. The cushions and pillows covers are easy to remove and are machine washable.
The canopy will protect you from the sun on those long summer days. Plus as it's retractable, as night falls you can move it and enjoy star gazing.
Pros
Stylish design
Built using an aluminium frame and polyrattan
Unique canopy system
Cons
Difficult to assemble
Replacement canopies not available
Thin cushions
Conclusion
We have to admit, the Miadomodo Day Bed with Adjustable Canopy Roof is one of the coolest products we've reviewed. And at nearly 6 feet by 6 feet, it's probably the biggest too!
Let's start with what we don't like. It and requires a lot of time to assemble. Also, we're unsure why the manufacturer doesn't offer replacement canopies as this is something that ideally, you'd want to change every year or two.
Finally, at 6cm deep, the cushions aren't as thick as you would want for maximum comfort.
On to the good points. The design is superb. We can easily imagine spending many long summer days relaxing on the Miadomodo.
We would be quite happy to leave the Miadomodo outside as it will survive all weather conditions. Of course, we would recommend adding with additional cushions to make it comfier!
Keter Allibert California Duo Armchairs
Description
The Keter Allibert California Duo Armchairs is another great model from Keter. Again, the Allibert California range includes a 3-seater sofa, footstool, coffee table and more.
Each armchair is finished in a dark graphite tone and comes with two grey 7.5 cm thick cushions for maximum comfort.
You can use the pair in a number of ways. For example, they are superb for creating a comfy front porch. Of course, you could use them as part of a larger arrangement.
The polyrattan is durable, low maintenance and sturdy. As you'd expect with Keter, it's easy to assemble each seat. The instructions are fairly easy to follow. Plus you don't need any special tools.
Overall, the Keter Allibert California Duo Armchairs are well built and will slot into any garden. While they come with a 3-year guarantee, they're built to be long-lasting!
Pros
Well designed and manufactured
Easy to maintain
3-year guarantee
Cons
Cushions easily bleach in direct sunlight
Conclusion
If you're looking for pair of armchairs then seriously consider these Keter Allibert California. At just under £200, they're fairly priced and well designed.
As with the other Keter unit we've reviewed, we like that you can buy other furniture in the range and tailor your set to your garden.
They are comfortable for sitting and relaxing and will be a great addition to any garden.
Monaco Large Rattan Sofa Set
Description
The Monaco Large Rattan Sofa Set is the ultimate collection.
You get 5 large sofa seats which together form a semi-circle. The three smaller ottomans can create a half moon or complete circle. You also get a coffee table and 3-metre aluminium parasol with a wind-up mechanism.
But that's not it! The set also comes with a FREE weatherproof dust cover – worth £60. A nice little bonus.
Each component uses an aluminium frame under the polyrattan. So it's Designed to be long-lasting and easy to maintain.
The light cushions contrast nicely with the brown tones of the polyrattan weave. The cushions on the seats are 10 cm thick and so provide a nice level of comfort. While on the large sofa sections the back cushions are 20cm deep. The 4 ivory scatter cushions complete the luxury look.
While you need to anchor the parasol down, its inclusion makes the set feel luxurious and like you've suddenly wound up in the south of France.
Pros
Built using an aluminium frame and polyrattan
Thick cushions
Free waterproof dust cover
Cons
Parasol requires some DIY
Expensive
Conclusion
If your garden is larger than a postage stamp and you love to entertain, then Monaco Large Rattan Sofa Set is for you. Yes, it's expensive, however, it's worth the money.
Other than having to weigh down or secure the parasol, there's very little DIY involved.
With 8 seats, you can configure the Monaco rattan set in a number of ways. This versatility is superb for entertaining as you can tailor the seating to your gathering.
Overall we're big fans and can imagine owning the set for many years without too many problems.
Popamazing Black Rattan Hanging Swing Chair
Description
Embrace your inner child with the Popamazing Black Rattan Hanging Swing Chair!
While this big egg swing is designed for the outdoors, it works just as well inside. So if your room lacks a focal point or you're looking for a unique seat, you can't go wrong!
The polyrattan swing is held in place by an iron frame, so it's rock solid and can hold up to 150kg in weight. So both children and adults can experience the enjoyment of using it!
The light polyester cushions provide comfort yet are easy to remove for cleaning.
It arrives in two packages and requires some assembly, however, you only need to screw in the pole and hanging the chair.
Pros
Stylish design
Look superb indoors and outdoors
Washable covers
Cons
You'll never want to leave it!
Conclusion
If you're looking for a talking point in your home or garden then Popamazing Black Rattan Hanging Swing Chair is worth every penny!
TecTake Rattan Day Bed
Description
Available in three colour, the TecTake Rattan Day Bed is a nice addition to any garden. Whether you love to sunbath or have a pool, this day bed is chic and functional.
We've chosen the slightly cheaper black model. Brown and multi tones versions are also available.
A metal frame sits under the polyrattan and ensures the bed is sturdy and will be long-lasting. There are six adjustable backrest positions to choose from, and these range from completely flat to around 70 degrees (which is close to a fixed chair).
Two rubberised wheels are located at the backrest end and make it easy to move to the TecTake.
While on the thin side, the cushions are 5cm thick and cover the 198 × 54 cm lying surface. There is an addition headrest cushion which adds further support when lying or sitting.
Finally, the two armrests are well sized and are 57 cm high, meaning if you're sitting they're at a comfortable height. Whereas in the lying position they will stop you from falling!
Pros
6 adjustable positions
Constructed from a metal frame and polyrattan
Cons
Difficult to assemble
Thin cushions
Conclusion
With a few mixed reviews of the TecTake Rattan Day Bed out there, we didn't know what to make of it. At £92 it reasonably priced and looks chic.
What lets the TecTake down is the assembly. The diagrams in the instructions aren't the easiest to follow. Plus in order to get all the screws to line up, you need to leave them loose until they're all in. Once all lined-in them you can tighten.
Another bad point is the cushions. At 5 cm thick, they lack the comfort most require. So, you'll either need to replace them or add additional cushions.
With that said, we like the construction. The metal frame will last for at least a few years. The wheels are sturdy enough to move the bed around. Plus, the 6 sitting positions provide a good range of options.
In our opinion, we would only purchase the TecTake Rattan Day Bed if it was on sale.
Extras
As we've covered a range of furniture, and hopefully you've found a piece for you, it's time to have a look at some cool extras. Again they all are made from polyrattan and are a stylish alternative.
Deuba Poly Rattan Garden Storage Box
If you need somewhere to store cushions during the winter or tools all year round then this Deuba storage box will fit right in. Available from Amazon for £75, it can even double as a bench for those summer weekends where the entire family turn up.
We like the Deuba Poly Rattan Storage box a lot, especially the lift mechanism, large handles and that's it's super easy to clean. It does come flat pack, so you'll have to use your DIY skills.
While not water-proof by itself, you could store items under plastic sheeting to keep them from getting wet.
GloBrite Set of 4 Rattan Solar Lights
Good garden lighting is a necessity and nothing, in our humble opinion is as fresh as these GloBrite Rattan Solar lights and at £16, they're a no-brainer of a purchase.
Coming a pack of 4, the GloBrite lights power themselves via a small solar panel. They, therefore, require no power leads from the house. Installation is simple, place them in the ground and they'll start to charge.
When night falls, they'll automatically light up and as the night turns into day, they'll close down and return to charging.
Keter Allibert Rattan Ice Box
While it may appear that we've gone mad and started to replace everything with a rattan inspired creation, the Keter Allibert is just too cool to pass on! Urm, sorry!
This easy to move ice box is great at home, on the beach or in the park. The interesting rattan exterior is complemented by the tough yet easy to clean plastic of the interior.
It's suitable for storing a whole picnic, drinks or a mixture. Plus it's sturdy enough to double as a seat or a side table when the lid is on.
At £45 on Amazon, the Keter Alliber cool box is well worth the price.
The Best Rattan Garden Furniture is?
So we've tried to show you a range of the best rattan garden furniture currently available. As most involve some DIY, it's worth bearing that in mind if you're looking for an easy solution and not a major headache.
In terms of assembly, our best advice would be, wait until all the screws are in before tightening them fully. Most errors can be resolved this way as pieces can be jiggled into place.
So what at the top of our list?
We like both the Keter Allibert and Corfu ranges purely as they're modular and well built. While you might be able to successfully mixing and matching brands or ranges, the two Keter ranges provide enough options for you to furnish your whole garden.
If you love to entertain and have space then we'd recommend the Monaco Large Rattan Sofa Set – yes it's expensive but it's also highly versatile.
If space allowed, we would also add the Popamazing Black Rattan Hanging Swing Chair and or Miadomodo Day Bed with Adjustable Canopy Roof. We love the Miadomodo and ours would probably be joined by one in the house before long!