What's the best smart automatic pet feeder?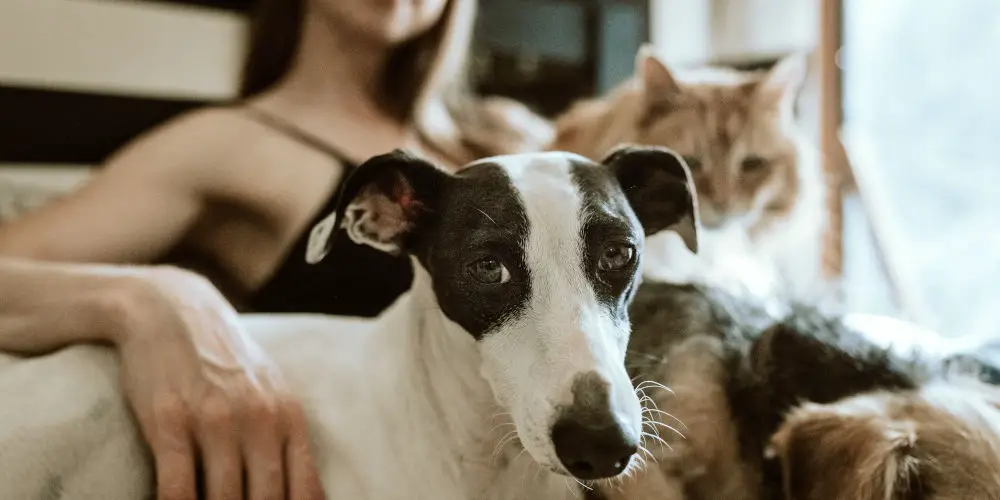 If you travel for work, you'll want to invest in a smart automatic pet feeder to ensure your companion is cared for and fed on time. You'll know if you have a dog or cat that they crave a consistent schedule, which includes regular meal times. It can be impossible to maintain if you're away.
Thankfully, having an automatic pet feeder is a solution. They are just as useful if you work long hours or spend the weekends socialising. Regardless of how busy your life is, you'll want to feed your pet on the same schedule as if you were at home.
If you haven't used one of the devices before, you might not fully appreciate how life-changing they can be for you and your pet.
FAQ
What is a Smart Pet Feeder?
A smart pet feeder allows you to schedule and manage feeding times, portion sizes, and food supply. Most smart pet feeders are controllable on your smartphones, allowing you easily feed your pet while you're away. Most pet feeders come with a camera, enabling you to view your pet too.
Why do you need one?
Owning a pet is demanding. They rely on you to care for their basic needs, regardless of what's happening in your life. It can be quite a balancing act. Smart automatic pet feeders make checking on your pet and feeding them incredibly easy, no matter where you are in the world.
Are they easy to install and use?
It couldn't be easy to set up a smart pet feeder. Simply, plug it in, sync it with your smartphone, and push a few buttons to select the ideal mode.
How much does one cost?
Expect to spend between £100 to £350. While this might sound expensive, one should last a few years. After looking for a smart automatic pet feeder for my dog, I compiled a list of the 8 top products. hopefully, there's one you like too!
Yakry X12 WiFi Smart Feeder
Sporting an impressive 6-litre storage, the Yakry X12 WiFi Smart Feeder is designed to keep your cat or dog fed. The dual-power unit offers up to 6 programmable meals and is app controlled. The Android/iOs app has a voice recorder function.
Avoid pets getting fat by using the app to customise the number of feedings per day to maintain a healthy diet. Easily schedule any number of meals per day and adjust the portion size for each automatic feeding.
Use the app to remotely set times to feed your pet automatically or choose manual feeding from your mobile device. The app also enables you to record your voice so that your pet can hear familiar sounds every meal time.
Convenient to take apart and easy to clean, the Yakry X12 is made of ABS material. It's environmentally friendly and durable. Plus, with dual power mode, you can easily plug it into the mains or use batteries. 10/10
Vremi Smart Pet Feeder
The Vremi Automatic Pet Feeder is compact, durable, and has a large food storage compartment that holds up to 6L of dry food. This smart feeding machine even has infrared detection that prevents food from being stuck.
Ideal for dogs and cats, this dispenser will keep your pet healthy and full while you're away. Meals are evenly portioned, and you can preset up to 4 meals per day. The programmable control panel allows you to set a specific time for each meal and how much food is to be dispensed for each meal.
Meal sizes range from 1 to 39 portions (10 grams per portion). Power it with the 5V DC adapter or use 3 D-size alkaline batteries (batteries not included).
A voice recording feature lets you record a personalized message for your pets for up to 10 seconds that will play during their feeding time, making your pets feel safe and cared for.
The desiccant pouch holder helps keep pet food fresh. It also has a removable food tray that's dishwasher safe for hassle-free cleaning. The main unit is easy to wipe clean with a soft cloth. 9/10
ABRCT Automatic Cat Feeder
The ABRCT Automatic Feeder is a superb combination of remote app control, a 4-litre large-capacity automatic feeder, and two modes of feeding (scheduled and manual feeding). You can easily programme it to deliver up to 10 meals per day and up to 12 servings (of 10g each).
Using a double anti-jamming design, food will always reach your pet. A 45-degree steep slope design ensures unimpeded food delivery. It's suitable for a variety of dry pet foods. Easily keep your pet satisfied and healthy, whether you're out for the day or on a short trip.
A high-quality dust-proof cover prevents food oxidation. The feeder's lid is equipped with a desiccant bag to prevent moisture, preserve freshness, and protect the health of pets. A unique outlet design seals the food airtight and keeps the food away from bitings.
The double bayonet stainless steel food tray of the pet feeder prevents displacement of the tray. Easy to clean as the unit wipes down and the trays can be removed. 8/10
Iseebiz Automatic Pet Feeder
Programme up to 4 meals per day for your pet with the Iseebiz Automatic Pet Feeder. Offering an impressive 6-litre hopper, your pet will always be well fed.
Easily control your pet's diet with flexible meal portions from 1 to 39 portions per meal (up to 12g per portion). Choose between programmed (up to 4 meals per day) and manual feeding. After setting the food volume and time for each meal, your pet will eat at regular hours.
An IR detector on the front of the unit prevents the pet food from clogging or overflowing. It's suitable for most DRY pet food currently available. A built-in voice record function allows you to record your voice for 10 seconds to call your pet for meals.
The feeder can be disassembled into 4 parts, which are very convenient to clean. Ideally, you should clean it every month to ensure it's hygienic for your fur kid's health. 8/10
PETLIBRO Automatic Cat Feeder
PETLIBRO Automatic Feeder keeps the food fresh and secure. Sporting a 3-litre hopper, it can deliver up to 6 meals per day of up to 50 portions. Ideal for small and medium cats and dogs. While mains powered, it can use batteries as a backup power source.
A patented rotor at the bottom of the tank and secure twist-lock lid keep pets from getting food. A built-in desiccant bag and a triple seal lock the freshness to keep food fresh and crunchy. Plus, all parts are easy to clean.
You can easily pre-programme between 1-6 meals daily and up to 50 portions per meal (20ml per portion). Use the easy-to-read tilt LED panel to adjust your pet's feeding schedule and monitor battery power.
The manual feeding button allows you to easily reward your pet (up to 5 portions). Easily monitor the food level through the clear window and replenish food in time.
As you can record a 10-second message, you can stay close to your pet, even if you're not at home. The recording can be played up to 5 times. A built-in infrared sensor in the food outlet can stop dispensing food when the food outlet is blocked. 8/10
WOPET 6L Automatic Pet Feeder with Timer
The WOPET 6L Automatic Pet Feeder with Timer allows you to control it over Wi-Fi. With programmable portion control of 1-15 meals per day, distribution alarms and a voice recorder function, it's ideal for keeping your furry friends fed and healthy. 
Thanks to the 6-litre capacity, you can go away and don't have to worry about ensuring your pet is fed on time! Easily program up to 15 meals per day. Each meal can range between 1-50 portions (5g per portion) and is perfect for weight management and healthy diet habit. 
Powered either by a 5V DC adapter or using batteries. If there's a power outage, the feeder will continue to function, ensuring your pet gets fed. The app (both Android and iOS), allows you full remote control.
Custom voice message allows you to record an audio message that will keep your fur friend fed regularly while feeling safe and well cared for. 
Made from ABS, this pet feeder is eco-friendly and healthy for your pet. The food tray is removable for easy cleaning and refilling. A twist-lock lid keeps dry food crunchy, flavorful, and secure from any poaches. 8/10
Prupet Automatic Cat Feeder
The Prupet Automatic Cat Feeder allows you to store up to 14 days worth of pet food (4-litre hopper) and ensure your pet gets fed on time. As a Wi-Fi enabled smart pet food dispenser, you can easily control it from anywhere and even play voice recordings.
Easy to Program, you can preset the unit to dispense Food at the ideal and up to 10 meals per day. Each meal can contain up to 12 portions per meal. Thanks to a large 4-litre hopper, this feeder automatically and consistently provides food for your cat and dog for 14 days without fail.
The app allows you to customise every aspect of the food delivery, including playing a personalized audio message. You can easily remind your pet that it's mealtime!
The Automatic Pet Feeder contains a desiccant bag and grille under the lid to ensure your pet's food is kept fresh. A Stainless Steel Bowl is Included.
Dual power supply options prevent power loss. Either use the DC 5V mains adapter or batteries (NOT included) as a backup. It is recommended that you use both battery and mains adapter. 8/10
HUKV Automatic Pet Feeder
As the most expensive smart automatic pet feeder on our list, the HUKV Automatic Pet Feeder consists of 6 independent food trays and a programmable digital timer. It's ideal for dogs, cats and small animals. The clever foot design protects the pet's safety.
Set up to six feeding times per day and ensure your pet the correct portion each time. By using trays, you can help keep your pet healthy and maintain their eating habits. Each tray is detachable and easy to clean.
A built-in LCD blue screen makes it simple and easy to operate. Powered by a battery, you can place it anywhere around your home. The built-in microphone and speaker allows you to record a personalized message that plays just before feeding time. 7/10
Best smart automatic pet feeder?
You should have your eyes on at least one of the smart automatic pet feeders we covered. And while all 8 are excellent, our top favourites are the Yakry X12 and the WiFi Smart Feeder Vremi Smart Pet Feeder as it offers the most features for the price.