6 Solar garden lighting ideas to try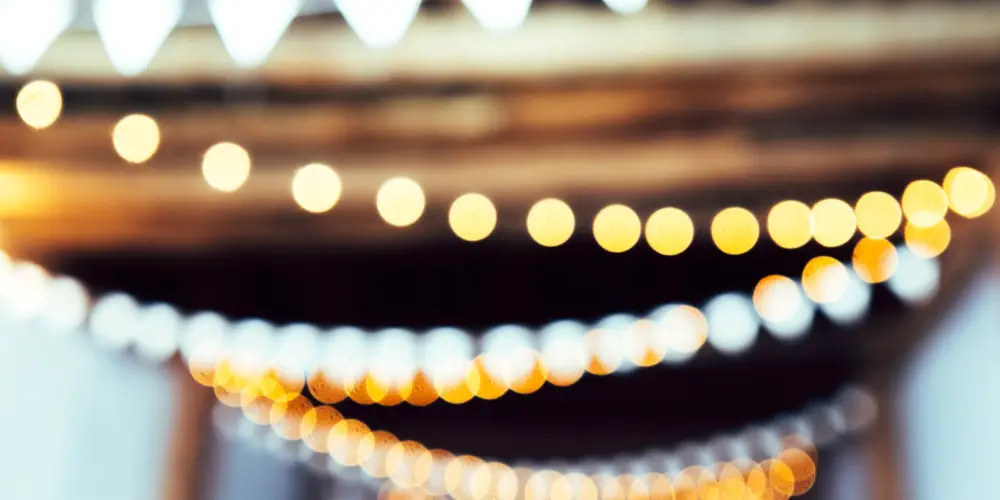 PUBLISHED: 9th August 2022 | LAST UPDATE: 30th June 2023
Summer is the season where our indoors and outside space blur into a single room. Most of us choose to spend more time enjoying the outdoors and so have styled our garden accordingly. But, you might be in need of some Solar garden lighting ideas to finish your design.
It makes sense to add rattan sofas, cushions, rugs, and maybe even an outdoor kitchen and solar water features. All make a garden come alive. And yet to extend the usefulness of the space into the night, we need some garden lighting ideas. Solar is be far the easiest solution.
By adding some of these solar garden lighting ideas, you don't need to install cabling or have to watch your bills slightly creep up. Solar powered lights are ideal for the garden. They are versatile, easy to install and pleasing to look at long after the sun has gone down!
Top solar garden lighting ideas
When choosing the right garden lighting ideas, solar options make a lot of sense. Not only are they green, but they are also an ultra-low maintenance solution to luxury outdoor lighting.
As gas and electricity prices continue to soar, solar is your best option. They have zero running costs and straightforward DIY installation with no messy cable runs or complex wiring.
After you've positioned your new lights, it's best to leave them switched off for a few days. Doing so allows them a few days of sunshine to fully charge.
It's worth wiping any solar panels often as clean ones are more efficient at converting light energy into electrical energy. You can wipe them with soapy water and a non-abrasive cloth.
Why should I avoid using electricity in the garden?
It's not that you shouldn't use electricity in the garden to power lights, water features and more, but that's it's complex. Having to run cables, secure them and ensure you have enough plugs is very time consuming.
Not to mention, having external power sockets installed can be a real challenge. And this is without someone unplugging a light to use the socket for the lawn mower!
You could also find that rodents get the better of the cables, rendering the whole set up dead. So our solar garden lighting ideas are ideal for avoiding the many possible pitfuls.
Can solar lights withstand the good old British weather?
All solar lights are designed to withstand the British weather all year round, rain included! All are rigorously tested for outdoor use as noted by their IP rating. So, you want to choose a product with a minimum rating of IP44 or higher.
Simply put, IP ratings signify how effectively it is protected from elements such as liquids or solid objects. By including this in your decision, you won't have to worry about moving your solar lights when it rains or snows.
Top tips for decorating a garden with solar lights
When it comes to adding lighting to a garden, aim to create three levels.
Start overhead with solar festoon lights adorning trees, the roof of your pergola or the side of your house as these will complement the stars in the night sky. 
Use small solar lanterns on table tops and side tables to add a soft twinkle at eye level. These nicely add depth to your garden. You can experiment with larger lanterns positioned at the foot of your decking, pergola or porch area.
Finally, position solar stake lights in flowerbeds or along a pathway to lead you home as dusk begins to fall, creating an even glow that gently lights yours outdoors.
Fairy lights with a warm white hue create the perfect ambience to relax and unwind after a long day. Solar spotlights are perfect for highlighting your favourite garden features, such as a tree, seating area or water feature. Just ensure you light up what makes you happy to look at!
Lights4fun Porto Solar Lantern Bundle
Transform your outdoor space into the perfect summer chill space with these Porto solar lantern duo by Lights4fun. Ideal for placing on patios and lawns alike, soaking up the sun's rays during the day, they radiate a warm white glow as night falls.
Made from charcoal powder-coated metal, they can be left outdoors throughout the season. During winter, you'll want to store inside and bring them back out as the weather improves in spring.
JACKYLED Double Head Solar Pendant Lights
Powered by solar energy, these solar lights have multiple uses. They're perfect for brightening up your porch, patio, balcony, garage, and more. A 5V/3.5W solar panel feeds a built-in 5500mAh battery, which provides 6-10 hours of night time brightness.
Crafted from heat-resistant ABS and PC, these solar-powered pendant lamps are built to last. With an IP65 rating, they can handle direct exposure to rain, snow, frost and hot weather.
The set consists of two outdoor pendant lights that work in a dusk-to-dawn way. They aren't motion-activated nor remote-controlled. Both lamps charge by day and turn on automatically at dusk, shining with 3000K warm white light at 620 lumens.
Highly versatile as these solar shed lights work indoors! Each light is connected to the solar panel by a 3m cable allowing you to leave the solar panel outside for charging while hanging the pendant light indoors. 
Garden by Sainsbury's Solar LED Wicker Heart Light
Highly affordable, this Garden by Sainsbury's Solar LED Wicker Heart Light will brighten up your garden wall in the summer. Using 20 solar-powered LED lights to create a stunning effect. It requires no wiring or battery changing!
Just pop it somewhere it can soak up the sun and enjoy. Your garden will look superb with several of these dotted around.
Bomcosy Solar String Outdoor Lights
The Bomcosy Solar-powered G40 string lights are made from strong plastic. Able to withstand extreme temperatures, rainy, windy, or damp climates, these lights compared with the traditional tungsten lights, are not easy to break or burn, and offer a long life.
Offering four modes (Solid, breathing mode, fast strobe, and slow strobe) these lights are ideal for creating a romantic atmosphere and can easily be placed anywhere within the garden.
These string lights consist of 40 LED lights and a detachable solar panel with an on/off switch. LED bulbs last 20,000 hours. The solar panel is rated at a 1,000 charge lifespan (approximately 2.5 years). Plus, Bomcosy offers a 2-year warranty.
OxyLED Solar Moroccan Lanterns 4 Pack
Who says solar lanterns have to be boring?! With these OxyLED Solar Moroccan Lanterns, you can add excitement to your garden. Coming as a 4 Pack, the red, blue, green and yellow lanterns featuring intricate floral patterns and classic hollow design with warm white light.
These solar-powered lanterns are just what you need to create a romantic, Instagram-worthy ambience. These colourful hanging solar lanterns will switch on automatically at dusk and will switch off automatically at dawn.
Thanks to the IP44 rating, the OxyLED 4-Color solar lights outdoor garden lantern will keep glowing both rain or shine. Simply, hang them where you want, turn on the light, kick back and enjoy!
T-SUN Solar Spotlights
These 2-in-1 T-SUN Solar Spotlights are ideal for marking pathways, patios and more. A 3W solar panel feed a battery and can provide 12 hours of light on an 8-hour charge. Made from an aluminium alloy, they are IP65 water resistant and weather proof.
You can stick the lights into the lawn with included spikes or hang them in a tree. The solar panel also can be inserted into the ground or mounted on a wall. You don't need any tools.
The 270-degree adjustable light ensures illuminating your garden is easy. While the adjustable solar panel allows for optimum sun exposure, meaning a fully charged battery for night time. They automatically turn on in the darkness and then off at sunrise.