6 Best bedroom lamps under £50 for 2020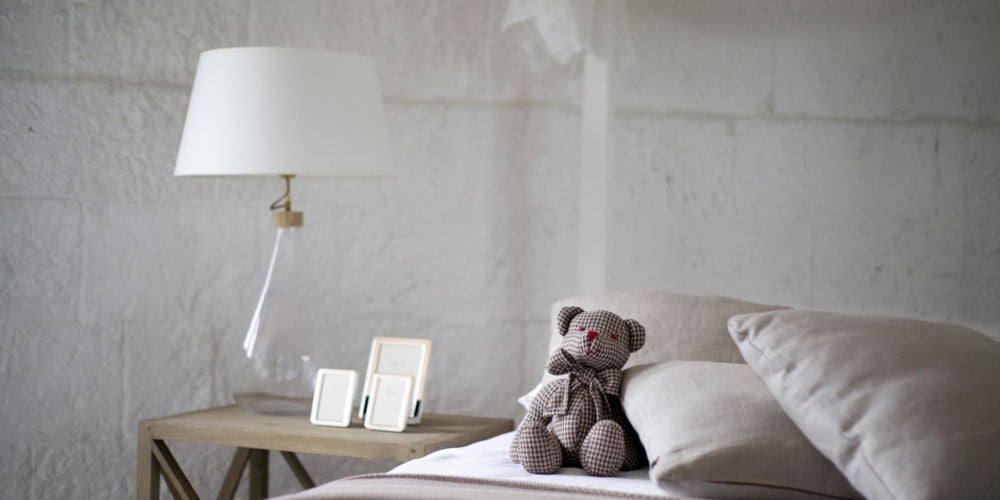 Our bedroom no longer just a purely functional space, it's an excellent retreat from the busyness of life. Having a few different lighting options is key. One essential is having a few of the best bedroom lamps are key!
Our bedroom is a superb place to catch up on TV after a long day in the office, snuggled with a hot cocoa under the duvet.
When done right, your bedroom is also an enjoyable place to savour long weekend mornings with coffee and a book. Even, if the paperback has long been replaced by a tablet!
Plus as more of us follow the laptop lifestyle, the bedroom often also doubles or even triples as an office. In short, the way we use this space has been transformed in the last few decades.
Lighting this space for its multiple uses has always been a challenge and one we can be tricky to solve.
However, adding some additional bedroom lamps can change how you use the space, especially as they can be adjusted to suit the mood.
Plus with hundreds of options for bedside lamps, it's often hard to know where to start. But don't worry as we've picked out our top 5 best bedroom lamps under £50.
* Prices correct at time of publishing
Tomons Wood Swing Arm Desk Lamp
Description
Looking like a lamp from a lab, the Tomons Wood Swing Arm Desk Lamp fuses wood with white coated iron. Even the nylon covered cable adds to its vintage vibe! You have to admit, it looks pretty darn cool! And at £25.99 on Amazon, it's a steal!
As the arm consists of two sections, there's a lot of room to move the lamp around, and while it might not manipulate as easily as goose-neck, you should be able to move the lamp into a few different positions depending on your need.
Even though this lamp can use LED bulbs and it comes with one, you can easily change the bulb to something else. The included LED bulb is 4 watts and so will be bright enough for even larger bedroom.  While cool, we dislike that you can't dim the brightness.
At nearly 2 and a half metes, the power cable is long and so you'll have no problem connecting it up to the mains.
Pros
Cool Scandinavian design
Easy to change bulbs
Adjustable design
Cons
Light switch is on cable, so may not be easily accessible
No dimming setting
Conclusion
You have to admit it that the Tomons Wood Swing Arm Desk Lamp looks pretty darn cool and would look great in virtually any room.
While it may lack a dimming function like many other lamps we've covered, it's vintage design makes up for it. And in our opinion, the Tomons is worth every penny of the £25.99 you'll pay.
We love the cool design, the cable and the fact you can easily change the bulb. So, we're happy to award this lamp 9/10.
MiniSun Modern Copper Metal and Glass Fisherman's Vintage Style Lantern
Description
The MiniSun Modern Copper Metal and Glass Fisherman's Vintage Style Lantern Bedside Touch Table Lamp is simply cool! And at £32.99 (available on Amazon), it's affordable too!
Featuring a vintage look, this lamp is perfect for a range of spaces, including the bedroom. It's an ideal solution if you're looking for a statement piece in a bold colour, which will add interest to the room.
The lamp features a 4 Stage Touch Dimmer: Low, Medium, Bright, Off. So it's a handy lamp for reading, waking up to and for general use.
Since a bulb isn't included you will need to purchase a dimmable 40w SES E14 Golfball Bulb. Sadly, this lamp is not suitable for standard LED or energy saving bulbs. So if you're looking for an eco-friendly option then the MiniSun isn't for you.
While we've selected the lamp in copper, it's also available in chrome, brass and pale blue.
Pros
Lamp can be dimmed when using a dimmable bulb
Metal construction
Vintage design
Cons
No bulb is included
Not Suitable for Standard LED or Energy Saving Bulbs
Lamp is not adjustable
Conclusion
With its vintage vibe and crisp colours, the MiniSun Fisherman's Vintage Style Lantern is an instant classic.
You might feel slightly unfavourably toward this lamp. And we get it, the MiniSun is a bit marmite. You can't adjust it, just you can with our other choices and it doesn't offer USB charging or work with LED bulbs.
However, it does have 4 brightness settings and a look which will never go out of fashion. As it's a such a feature piece, which would look superb around the house. 9/10
HROOME Cute Wooden Dog Design Adjustable Dimmable Bedside Table Lamp
Description
While a bonus lamp, the HROOME Cute Wooden Dog Design Adjustable Dimmable Bedside Table Lamp is just too cool not to cover! At £45.90 (available at Amazon), it's the most expensive lamp in our collection.
Shaped like a dog and crafted from Asche wood. The adjustable legs allow you to change the posture like the real dog! The wood is treated and so will last a long time.
The lamp uses LEDs and has three brightness settings. A cute touch is the on/off switch, located on the top, it looks like your petting the dog when operating the lamp!
The 6-watt bulb is powerful enough to brighten any room while using very little power thanks to the use of LEDs.
The 1.5-metre power cable in white is a nice length and completes the neutral colour pallet.
Pros
Cute design
Easily adjusted
Uses LEDs for energy efficiency
Dimmer switch is at the top of the head
Cons
LEDs can not be changed
So cute, you'll want more!
Conclusion
As the most expensive of our picks, the HROOME Cute Wooden Dog Design Adjustable Dimmable Bedside Table Lamp delivers something special. We simply love the design!
With so much focus on the design, it's easy to forget that the three settings are all useful. And that the LED provide a range of brightness. It's just unfortunate that once the bulb blows that's it and will need replacing.
However, If you're looking for unusual lamps for reading or general use, then this should be at the top of your list! 9/10
ENUOTEK Touch Dimmable Black LED Desk Lamp
Description
While our last lamp was a classic design, the ENUOTEK Touch Dimmable Black LED Desk Lamp features a slick, modern design. Priced at £19.99 from Amazon, it's highly affordable too.
At the heart of the ENUOTEK lamp is a black painted stainless metal lamp body. Not only does this look nice, but it's guaranteed to last longer than other plastic desk lamps.
Under the square lamp head, there are 8X SMD5630 LEDs, which produce 5 watts of light. This means it's maintenance free, energy saving and Eco-friendly. Plus LED have a longer lifespan than traditional light bulbs.
it's easy to select one of the three brightness levels as this is sensitively controlled by touch switch. There's also a master on/off switch which enables you to set and forget the dimmer setting.
The lamp comes with a 1.7 meters power cable, which will be sufficient for most bedrooms.
Pros
Uses LEDs for longer life and are Eco-friendly
Emits natural daylight lighting
3 Dimmable settings
Cons
The LED bulbs can't be replaced
Conclusion
At just under £20, the ENUOTEK Touch Dimmable Black LED Desk Lamp is as affordable as it is cool.
The metal construction ensures a long life, and the LEDs means we're doing our bit for the environment. However, as the LED can't be replaced, you might have to replace the whole lamp sooner than you'd like.
So all things considered, we'll give this lamp a 8/10.
Facetoworld LED Lamp
Description
Our next light is the futuristic looking Facetoworld LED Lamp. While it may not be everybody's cup of tea, it's available for £13.99 at Amazon. So, it's worth a look!
In the downward position, it looks more like a speaker than a reading light. However, as you pull the arm up, the light is revealed. And as the arm can be adjusted 180 degrees, so you can keep moving it until you find the perfect spot for you.
Using LEDs as a light source, this lamp actually uses very little power. You can select from 3 Lighting modes: including Read, Study, and Relax. So, you can, use it in a number of situations and tweak the light level to match the use.
While you can power using mains power (USB to mains plug not included), the lamp does include a powerful battery, which can last up to 4 hours when fully charged.
Rounding off the impressive features is a USB Charging point. This enables you to easily recharge your devices via the built-in 5V/1A USB output.
Pros
Cool sleek design
Uses a rechargeable battery
Uses LEDs for energy efficiency
Cons
No USB to mains plug adaptor
LEDs cannot be changed
The small footprint may make it easy to knock over
Conclusion
If you're looking for a sleek modern lamp for your bedroom or flat, this Facetoworld LED Lamp might be ideal! Also as an inexpensive bedroom lamp, it's not going to break the bank!
We're impressed by the design, brightness and battery life. However, you will want to watch out for its small footprint, to avoid unnecessary accidents.
While it does look cool, you will need to either charge it via USB or purchase a USB to 3 pin plug.
If you're looking for a lamp you can use on a timer, it's best to avoid this as once charged, you have to manually switch it on/off. 7/10
JUNING LED Desk Lamp
Description
Our first is from Juning (£14.99 at Amazon). This classic looking light has a few nice twists. Firstly it's powered by a USB. So it's perfect if you have your phone charger plugged near to your bed. Or an alarm clock with a USB output. However, it doesn't come with a USB to 3 pin plug, which is a bit disappointing.
As it's a clip-on light you can move it around and easily attach it to a number of surfaces. Don't worry, it also comes with a base which makes it's easy to mount if you don't have an appropriate surface. The base even has a slot for phones or tablets, which angles the device towards you. A pretty nice addition!
There are three levels of brightness to select from, which means you can use the Juning LED desk lamp for a range of purposes.
Finally, the fully adjustable goose-neck allows you to move the lamp into the perfect position for whatever you're doing. Whether you're reading, checking email or simply pondering life!
Pros
Looks like a classic
Dimmable with 3 levels of brightness
Uses LED for maximum life and energy efficiency
Cons
No USB to mains plug adaptor
The bulb can't be replaced
Does not have extra USB sockets
Conclusion
The JUNING LED Desk Lamp is the cheapest of our 5 best bedroom lamps. We like the classic look, it's ability to be powered by a number of sources and how easy it is to move.
However, as you can't replace the bulb and you might need an additional plug to get the lamp to work, our score is a healthy 7/10.
The best bedroom lamps under £50
With such a great range on offer, it's difficult to choose a new light for a bedroom. However, we hope with our 6 options, we've helped you to discover some of the best bedroom lamps availble.
While they are all good options, some stand out more than others. For example, if you're looking for a unique design then consider the Facetoworld LED Lamp or the HROOME Cute Wooden Dog Design.
However, if you're looking or a more classic design, then consider the MiniSun and Juning as both accomplish a vintage vibe with modern technology.
Overall, given the choice, we would probably pick Tomons Wood Swing Arm Desk Lamp. While it doesn't offer any dimmable settings, it does have fantastic design, which is easy to manipulate. We also like that you can change the bulbs and comes with an extra long power cable.