What are the most Instagrammable homes?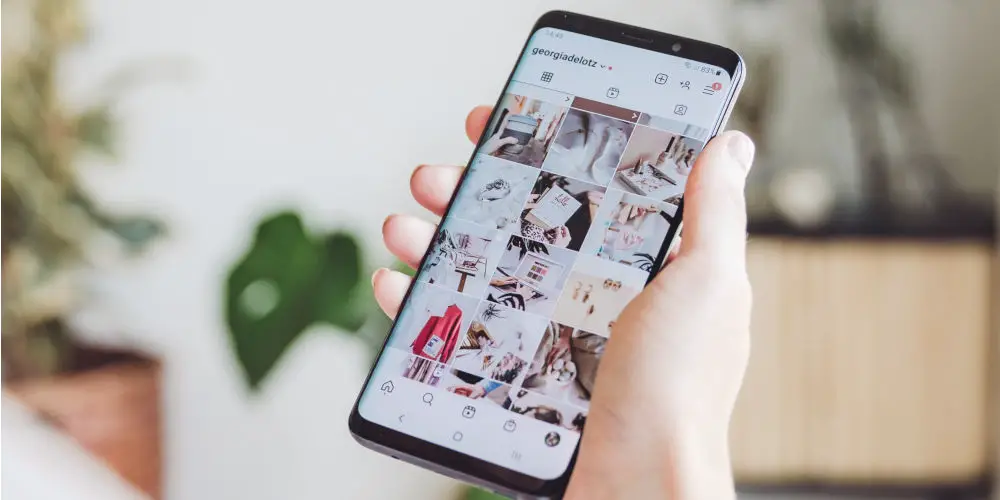 As interiors addicts, it's no surprise that our days mainly consist of endlessly scrolling Instagram! Sometimes, it's to find the latest kitchen trend, a unique garden water feature or to simply indulge our fantasy of having a TV snug! With all of this, we often wonder what are the most Instagrammable homes?
So when the team at Express Doors Direct recently got in touch with an amazing piece of research, we couldn't wait to share it with you!
And as we've already revealed our favourite Insta interior designers, little could stop us from wanting to dive further into the data. So what features make for the most Instagrammable homes? Are there elements or designs that stop us from scrolling to admire them for more than a split second?
Thankfully, Express Doors Direct has all the answers and more!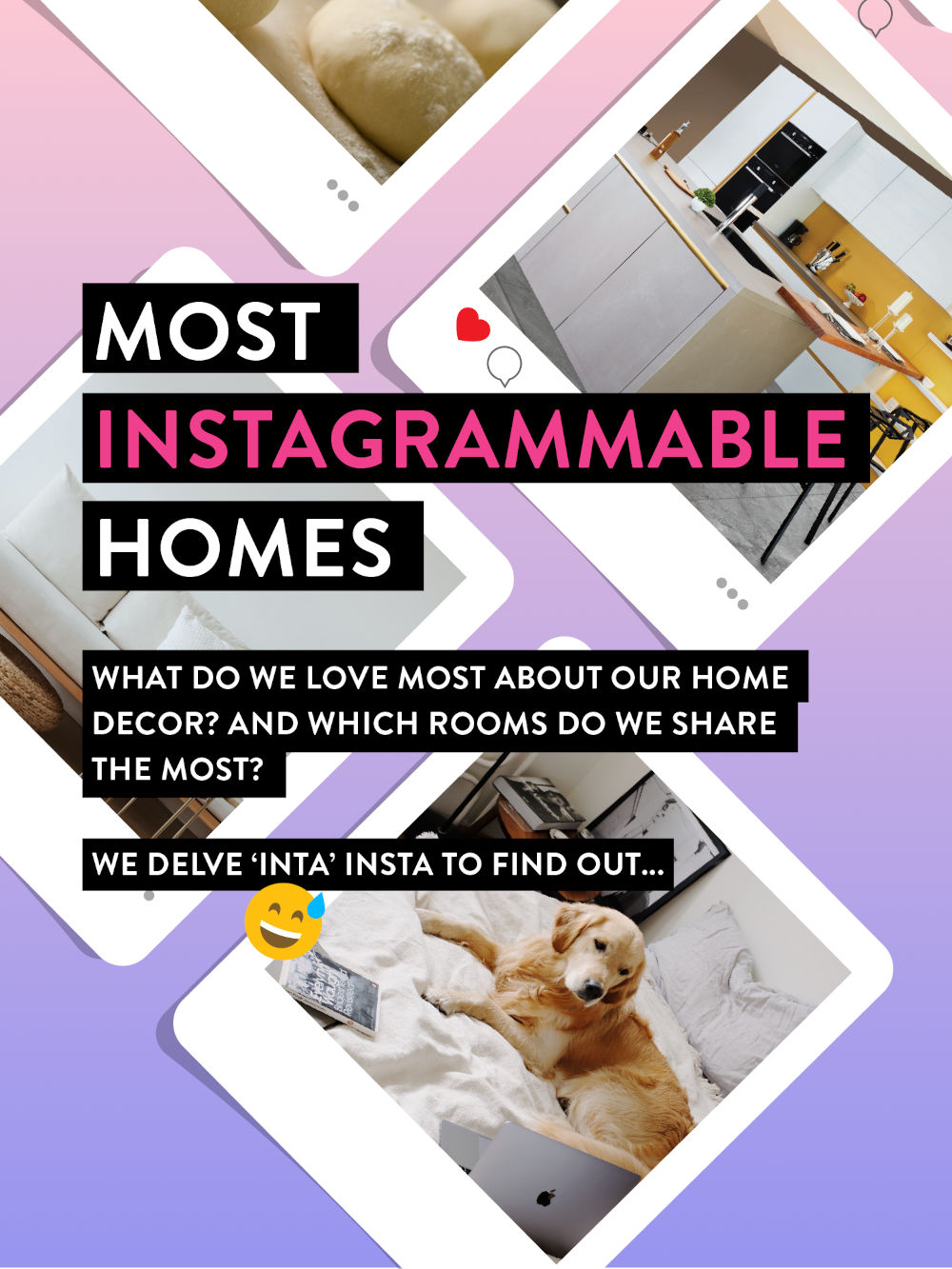 In May 2021 alone, Hashtag counts stood at a whopping 121 million for #interiordesign, closely followed by #chocolate (97m) and #animals (82m). Even for a nation of pet lovers, it does seem that our home is slightly more important! And anyway, chocolate is best consumed not snapped!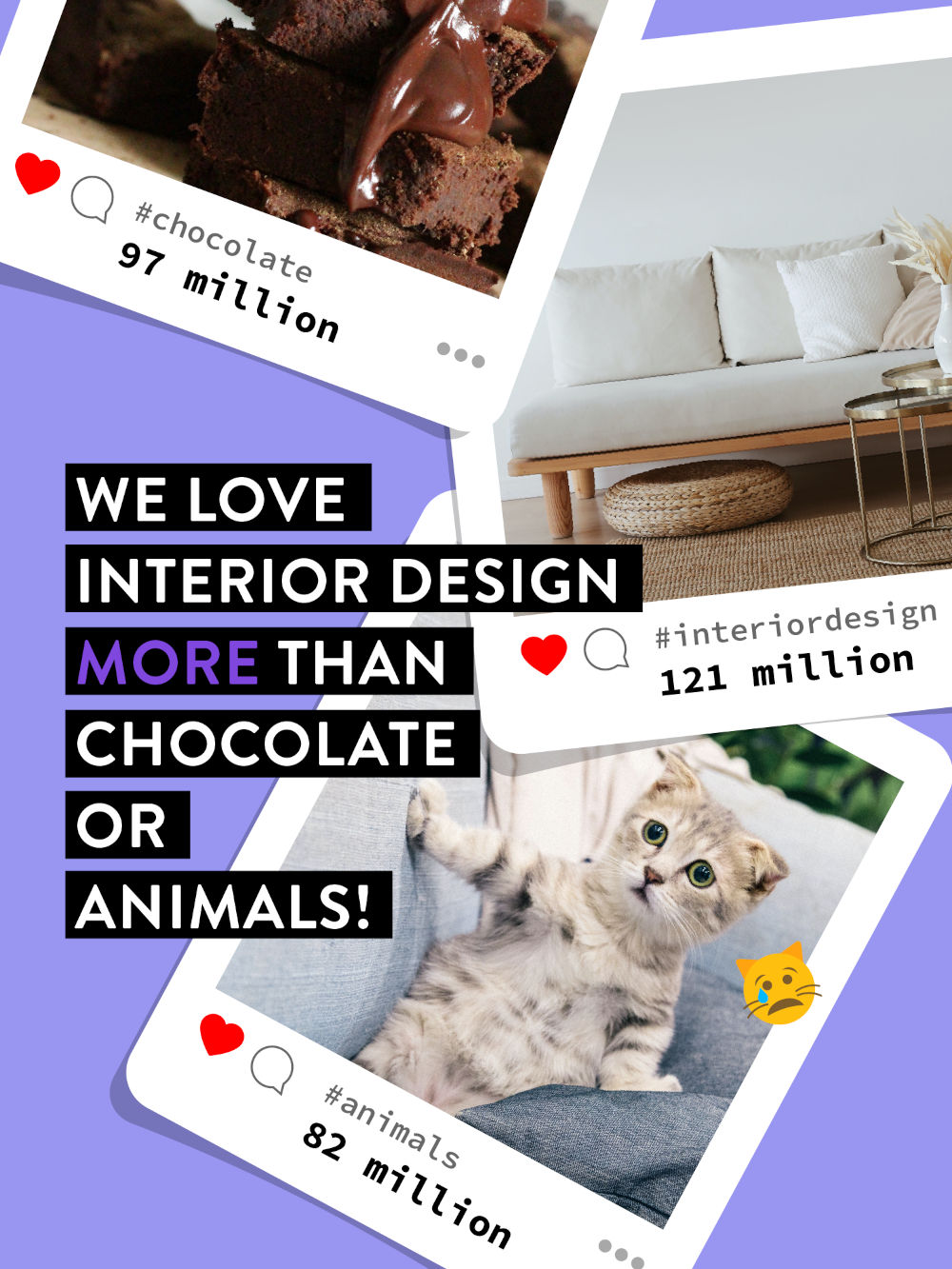 Not far behind these three was #homedecor, which racked up an impressive 94.1m uses. And not to forget the popular hashtags #homeimprovement and #homerenovation, both featured in millions of posts!
It makes sense to be so darn house proud, especially as you've spent countless hours, plenty of money, and of course, blood, sweat and tears doing up your home. So why not let the world lovingly admire your handy work?!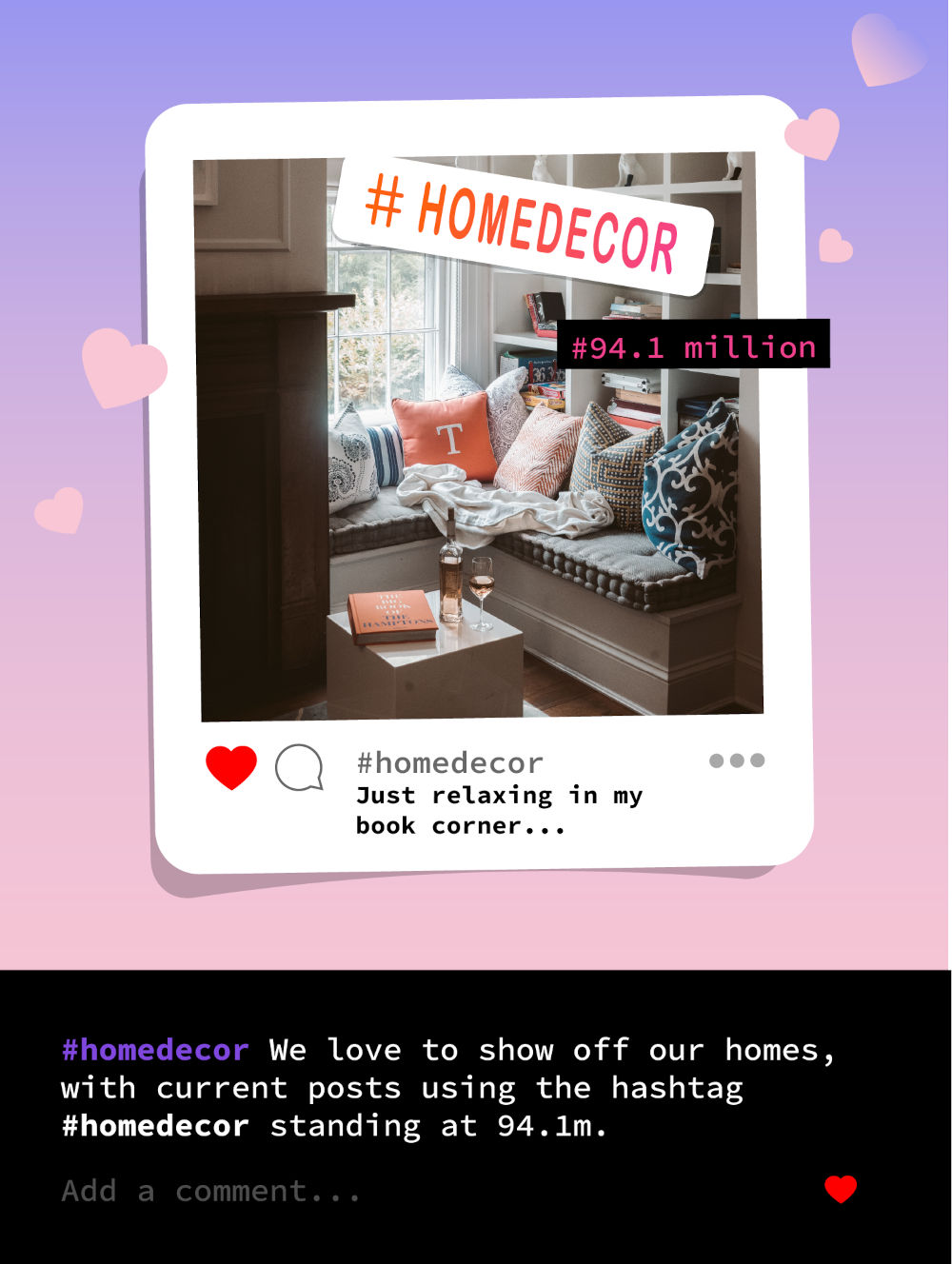 During lockdowns, we had no choice but to be stuck inside staring at the same four walls. As the annual trip abroad was cancelled, many people used their time and money to upgrade their home and make their life a little easier.
The latest research indicates that an impressive 70% of us spent money on home improvements during lockdown.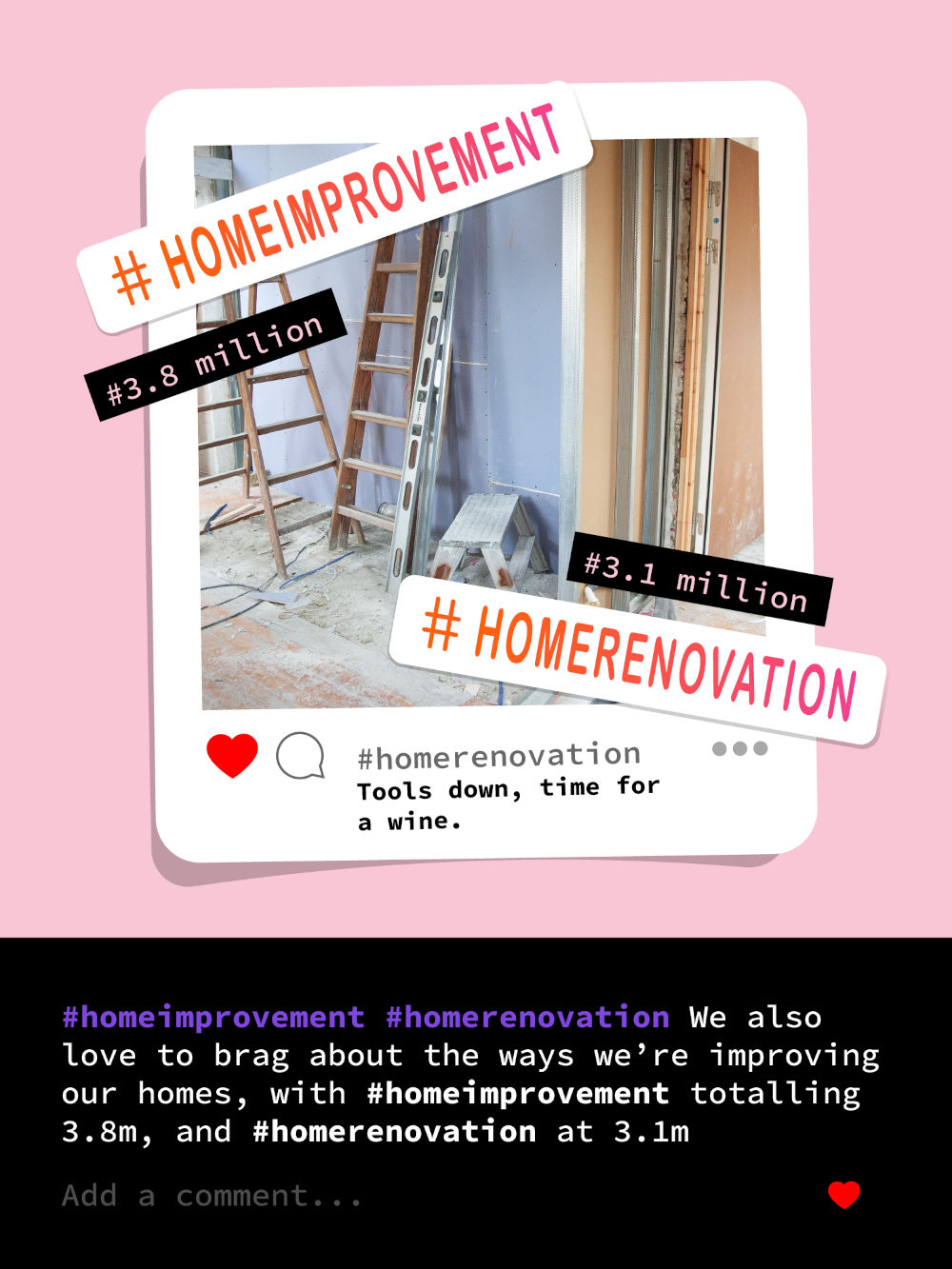 So what makes an home Instagrammable?
With the broad picture (pun intended) clearly in focus, you're probably wondering what makes an home Instagrammable? Let's start with the most popular rooms.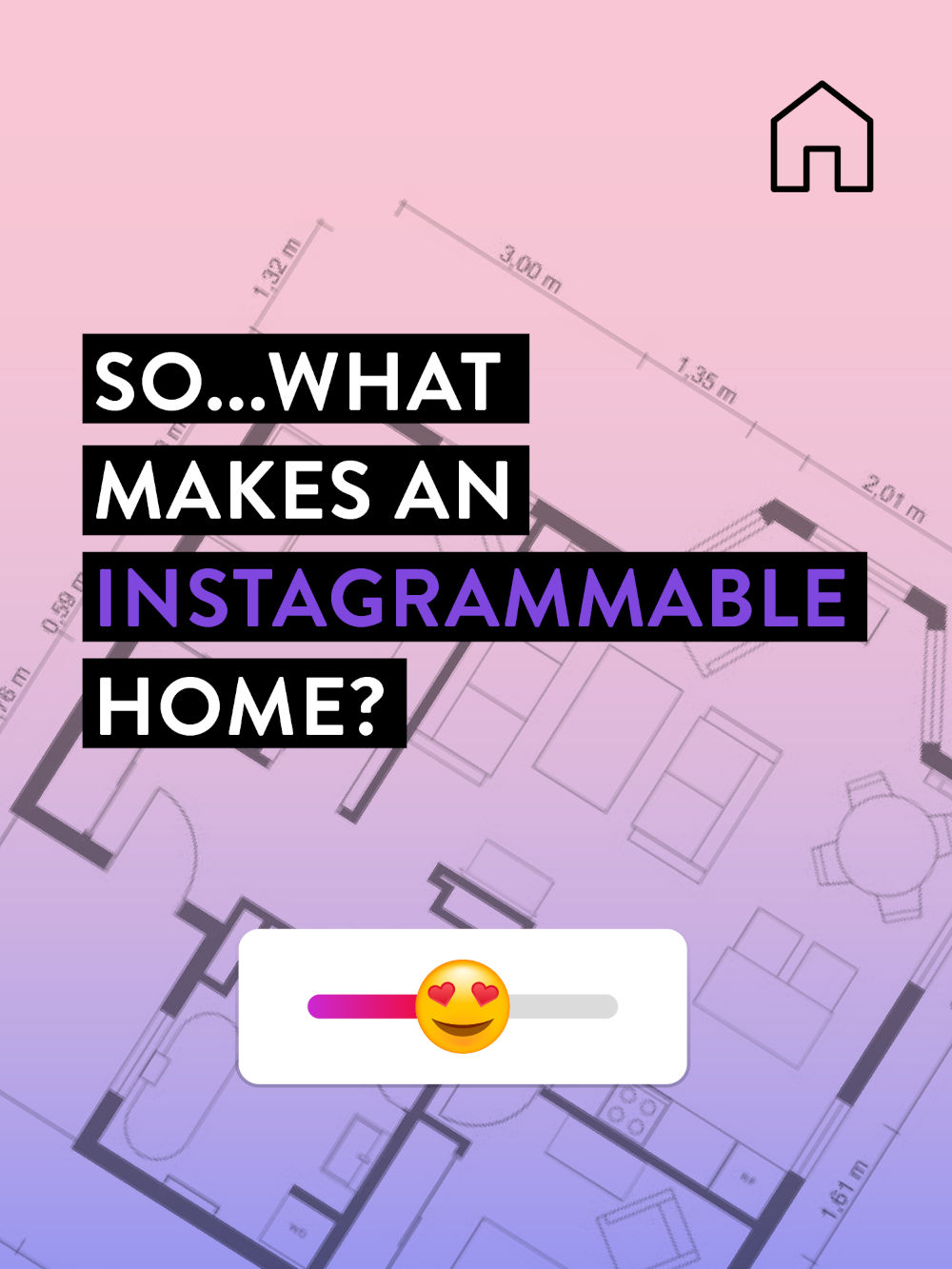 Ranking the most Instagrammable rooms
Let's look at what rooms we search Instagram for the most. The result might surprise you! Here are the 14 most popular #rooms by hashtag.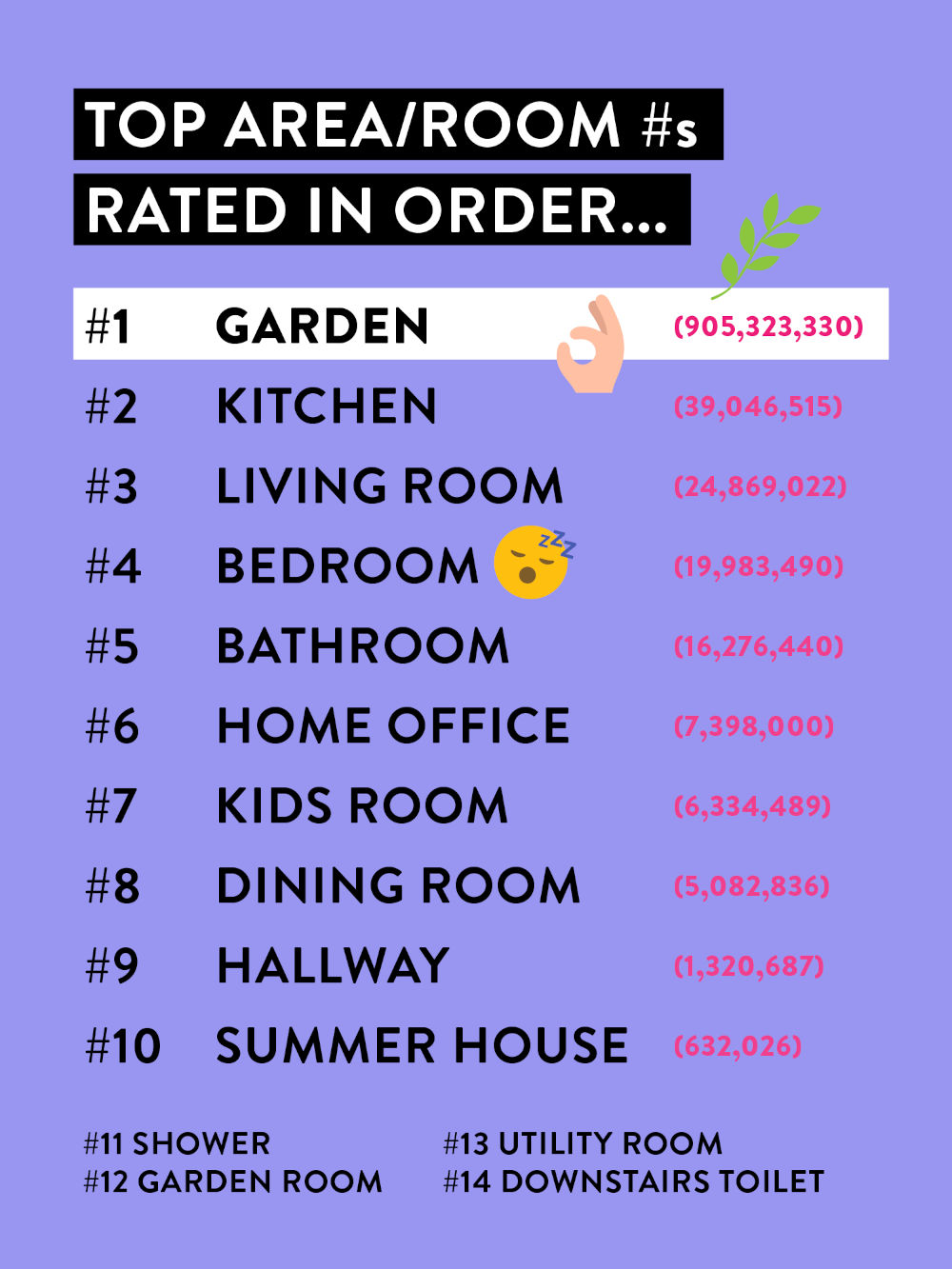 Somewhat ironically, topping the list is #garden with over 90m images, which while it isn't technically a room, many of us love to use our outdoor space all year round.
Following our garden, the next few on the list are fairly obvious with #kitchen (39m), #livingroom (24m), #bedroom (19m) and #bathroom (16m).
As a sign of the pandemic, #homeoffice is placed 6 on the list, which is a little surprising. That said, the hashtag is used over 7m times.
The next few are fairly standard with #kidsroom racking up 6m, #diningroom just over 5m and the humble #hallway been tagged over 1m times.
Under the million mark, there are still a few interesting hashtags including #summerhouse (632026), #shower (205724), #gardenroom (168218), and #utilityroom (82951). Closing the top 14 is the fascinating #downstairstoilet (24994). It seems we all wish for this basic necessity, regardless of how big our home is!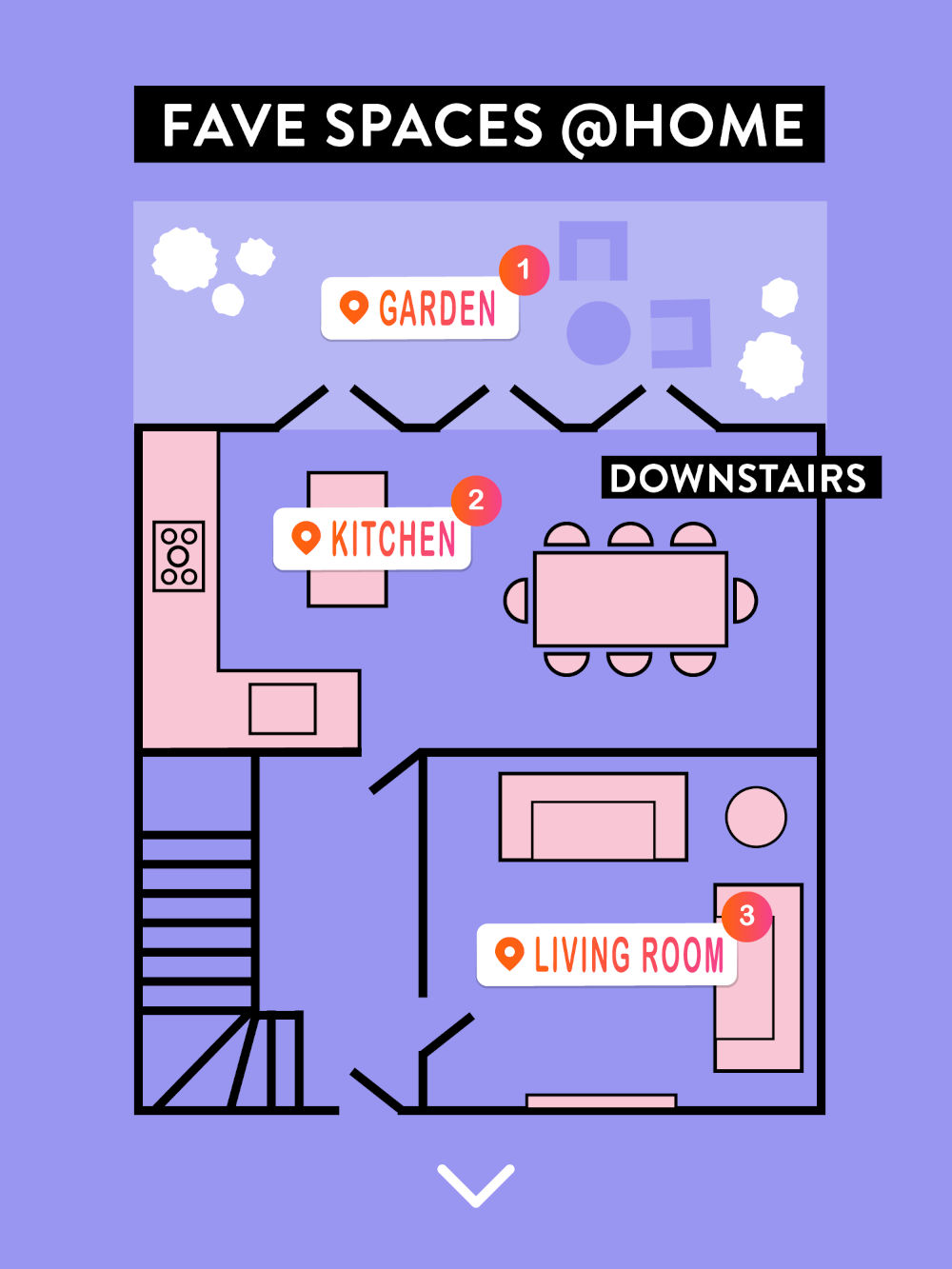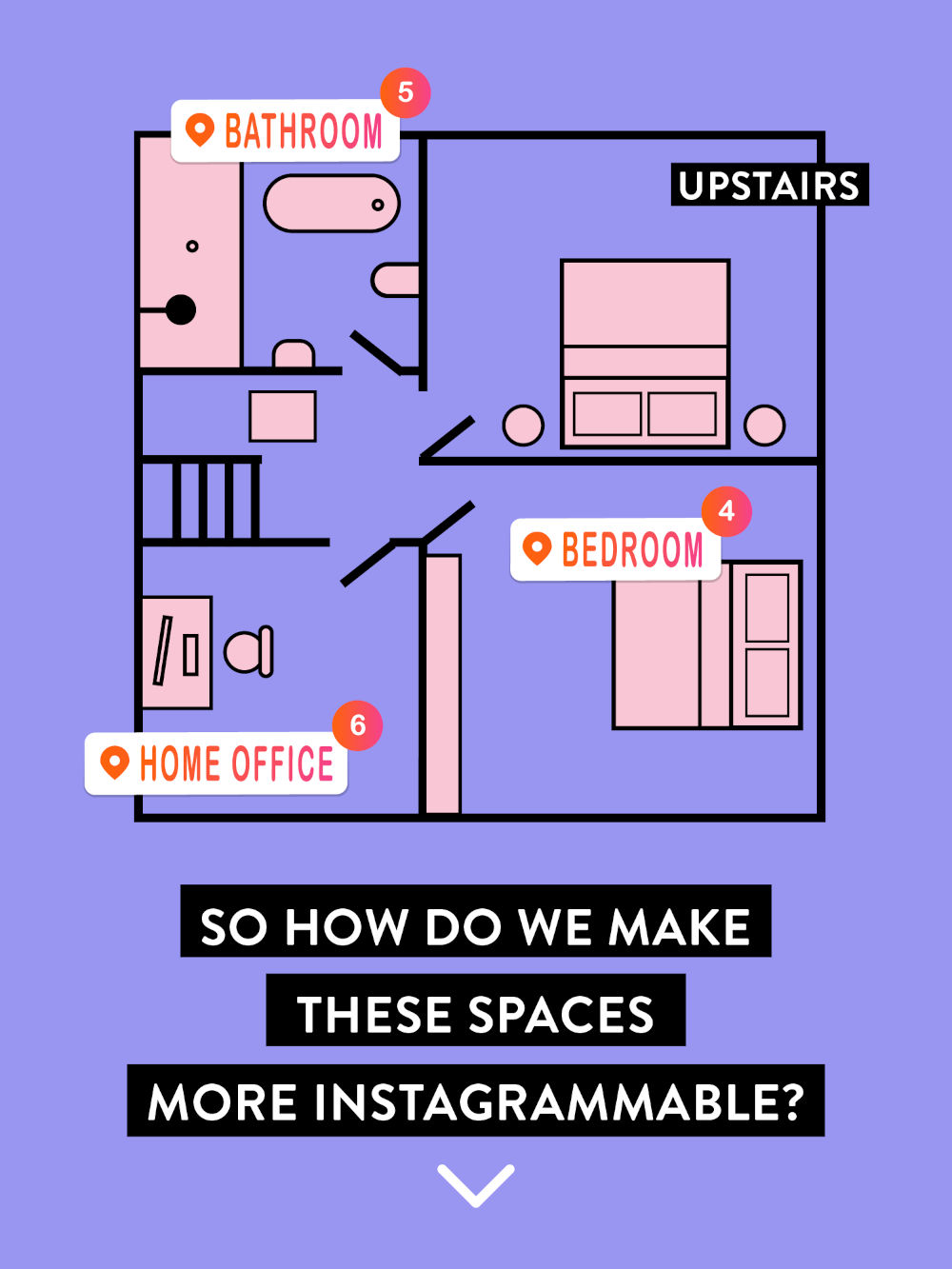 #1 Our gardens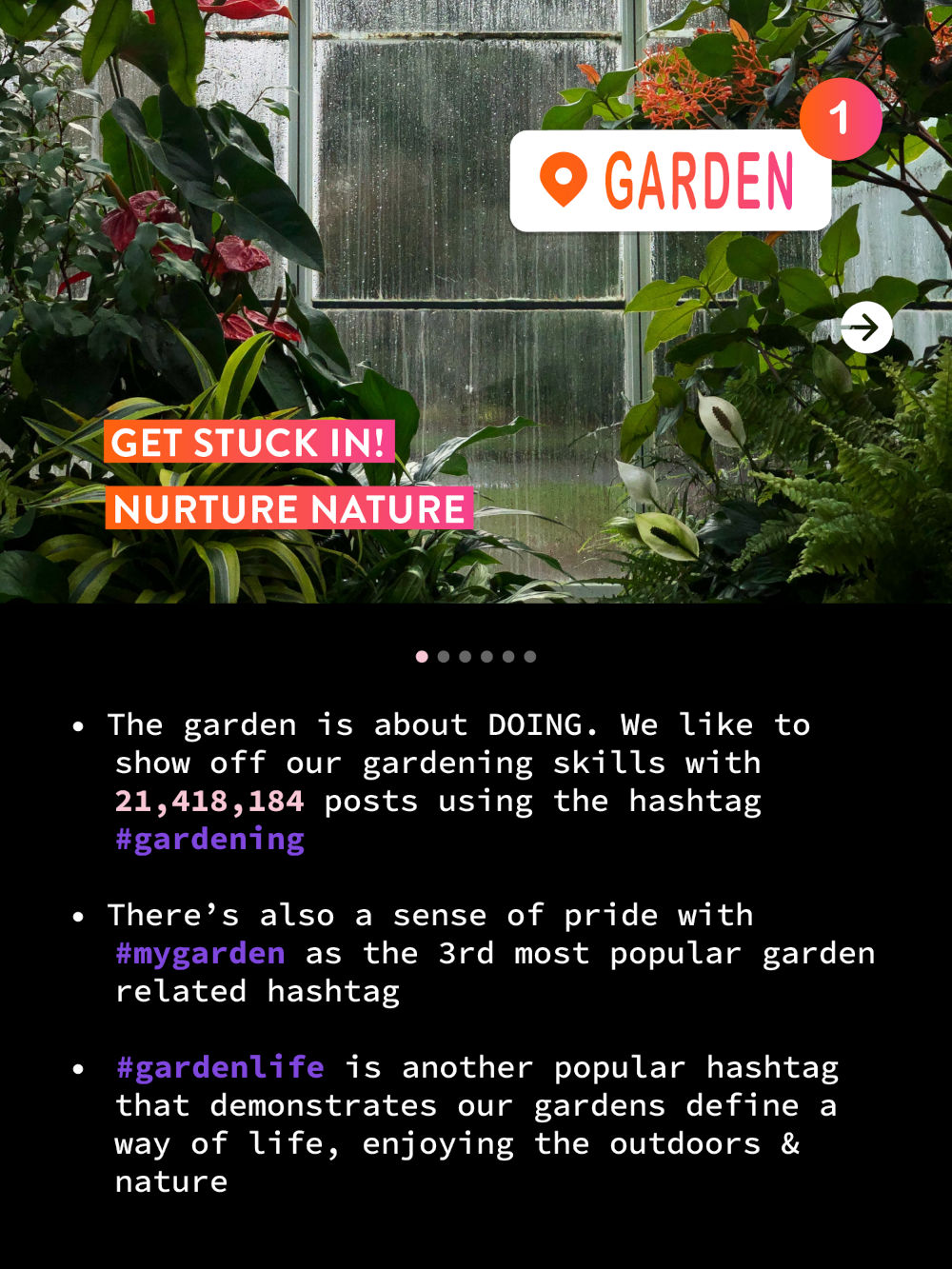 While not technically in our home, our garden is the most popular hashtag. Combining the top three garden hashtags, allows us to view a whopping 90.5 million images. No surprise #gardening top the list with a mind-blowing 21.4m posts.
Why not show the world your garden, particularly if you've spent all day mowing, weeding and planting. There's nothing quite like garden envy, so you'll want to brag using the third most popular gardening hashtag #mygarden.
#2 The kitchen is still the heart of our home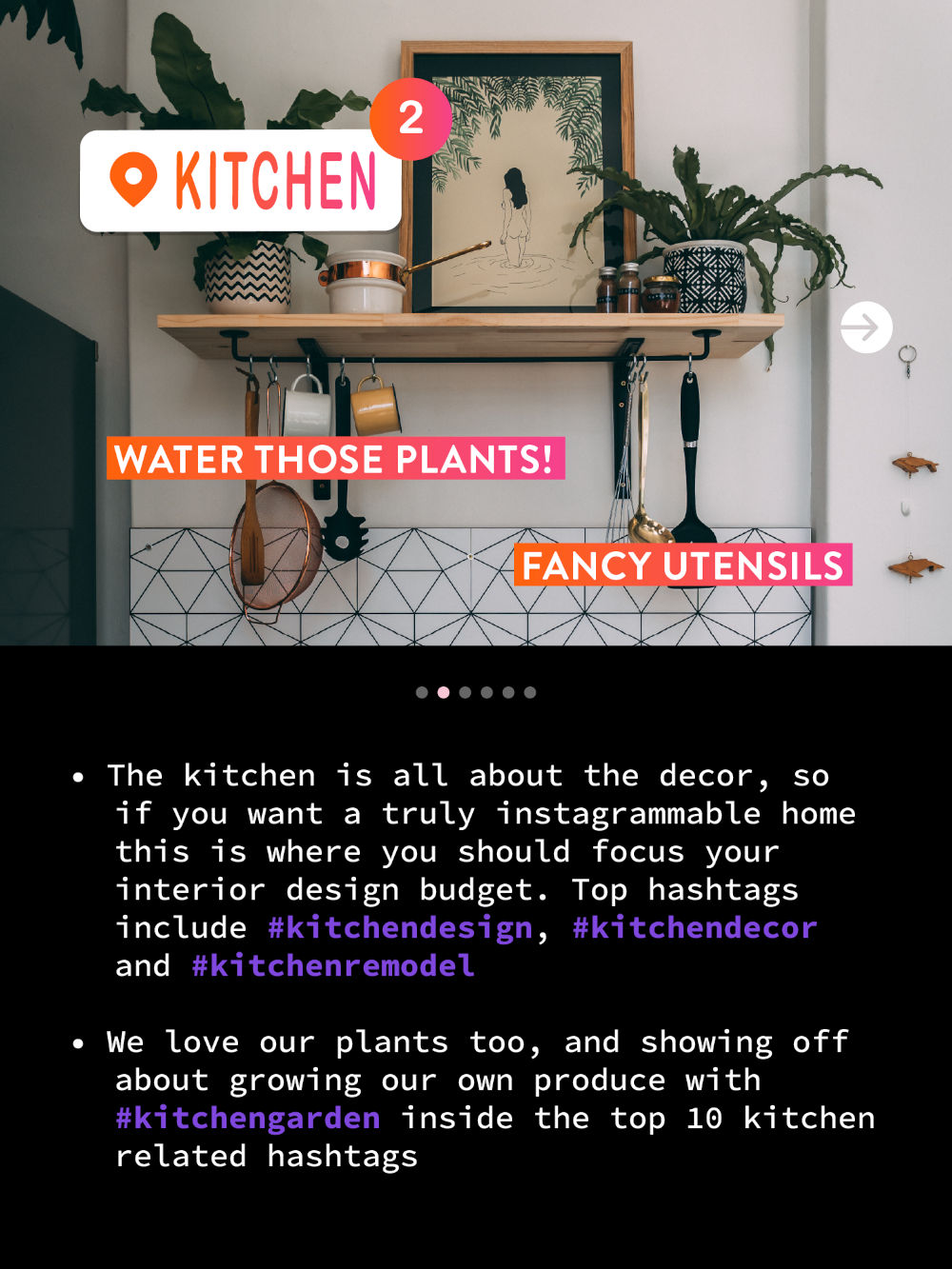 As our kitchens are all about the decor, for a truly instagrammable home, you'll want to focus your interior design budget here. Get inspired with the top hashtags that include #kitchendesign, #kitchendecor and #kitchenremodel.
If you love growing plants and vegetables, then brag using the #kitchengarden as it's one of the top 10 kitchen-related hashtags. Who said pictures couldn't also be tasty!
#3 Escape to the lounge/living room!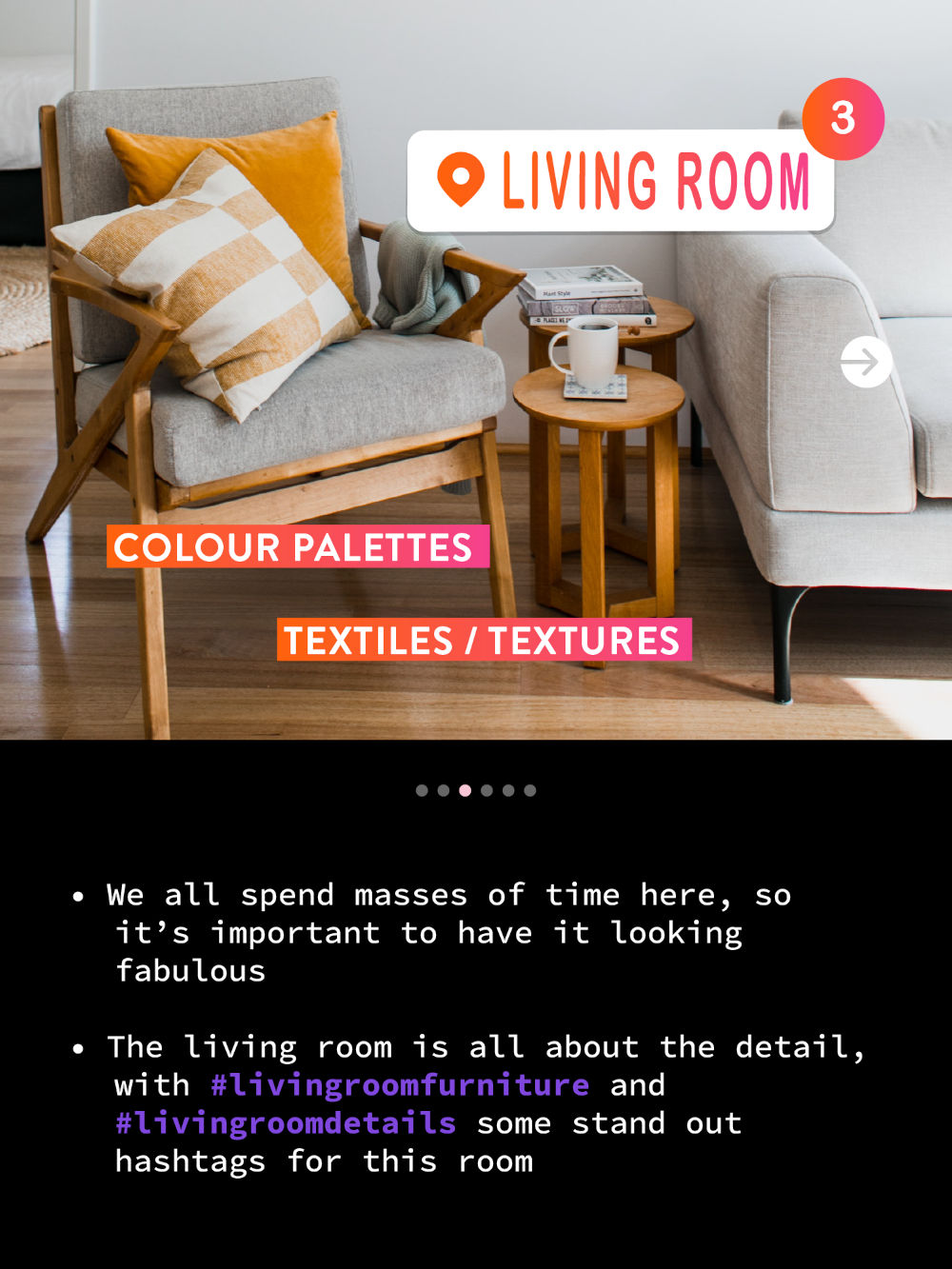 We've been spending a lot of our time in our living rooms, 45% of it to be exact. However, adding the three most popular living room and lounge hashtags together, still only ranks as the second most instagrammed rooms in our homes.
Most see their lounge as a retreat from the world, whereas the kitchen is a place to be creative, hence why we post more images using kitchen-related hashtags.
#4 Relax in the bedroom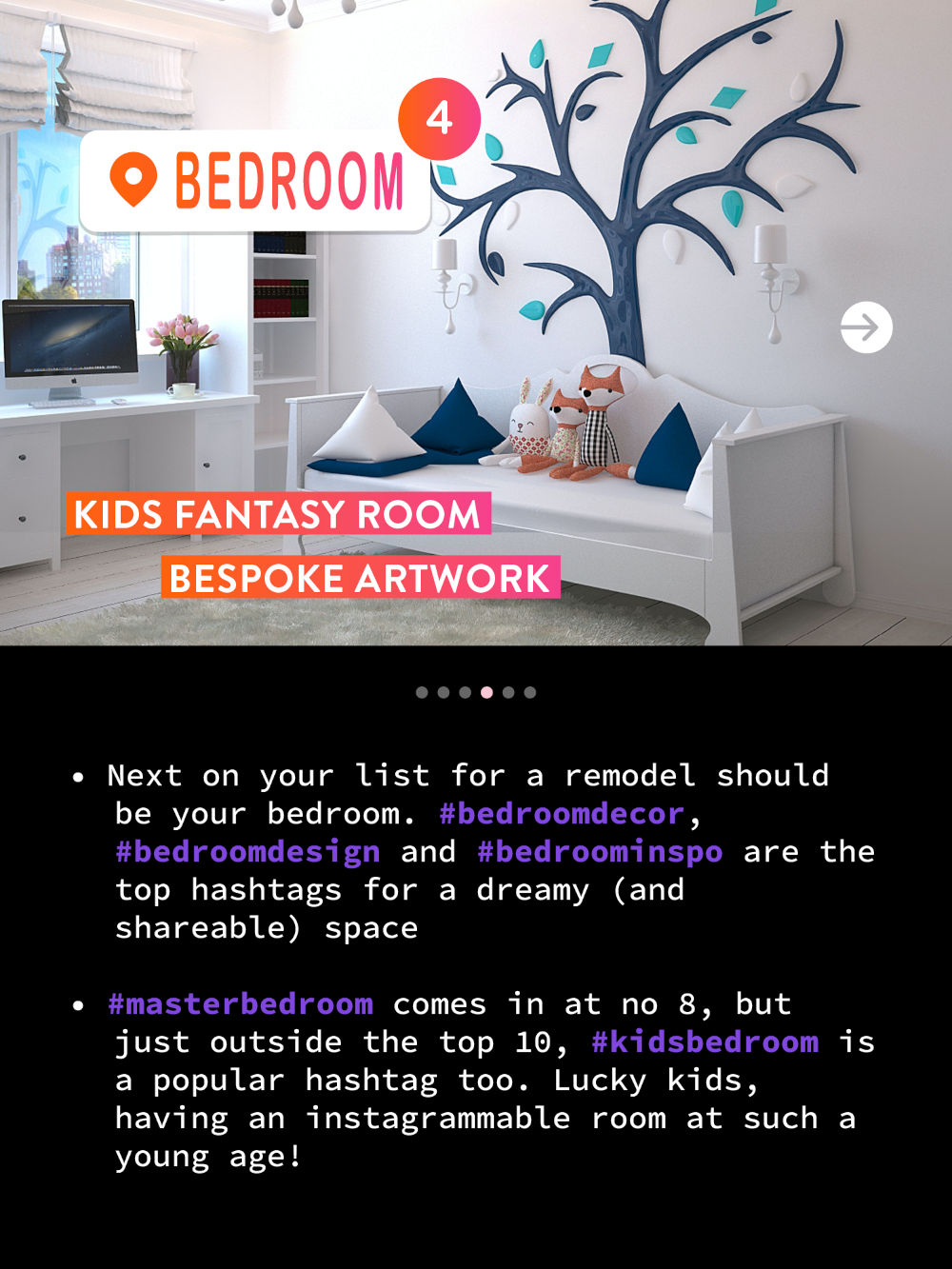 Our retreat from the world is next. It seems that our bedroom is one of most instagrammed rooms 19.9m posts using a related hashtag.
If you're wondering what the top hashtags to use when sharing your dream bedroom or looking for inspiration start with #bedroomdecor, #bedroomdesign and #bedroominspo.
Just outside the top 10 is #masterbedroom, with #kidsbedroom also being a popular hashtag. There are some lucky kids out there, thanks to their instagrammable room. Let's hope they realise just how epic their bedroom is! If only we could have such amazing space as a kid!
#5 Draw yourself a bath and snap your Bathroom!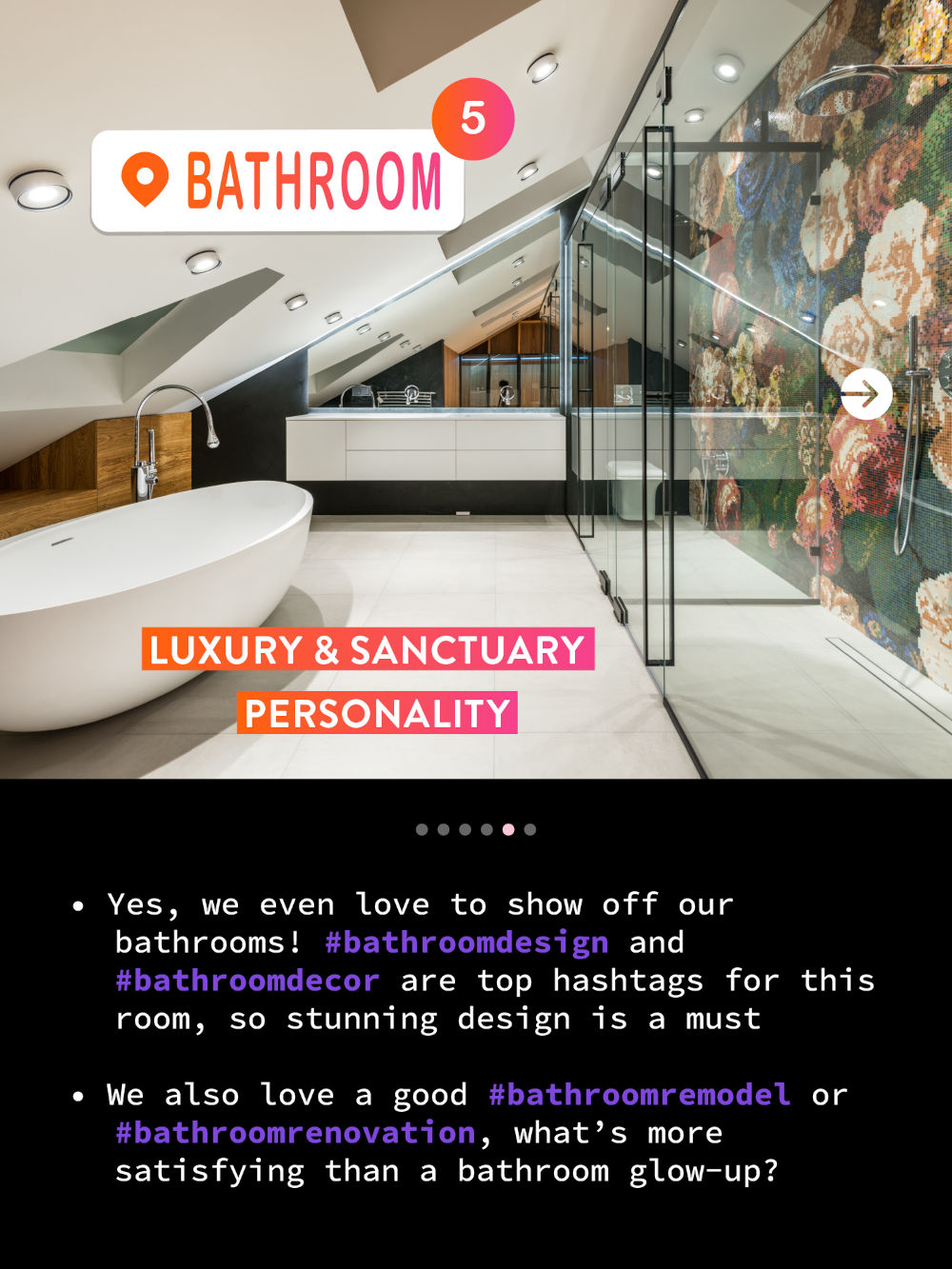 At #5 on the list of the rooms in the most instagrammable homes is the bathroom. Just like the bedroom, we're curious how other people have arranged and decorated their bathroom!
The top hashtags include #bathroomdesign and #bathroomdecor. So you'll want to invest in a stunning design to stand out!
Also, who doesn't love a good #bathroomremodel or #bathroomrenovation? Instagram is the perfect place to highlight your before and after photo of your new bathroom!
#6 Work, work, work in the home office!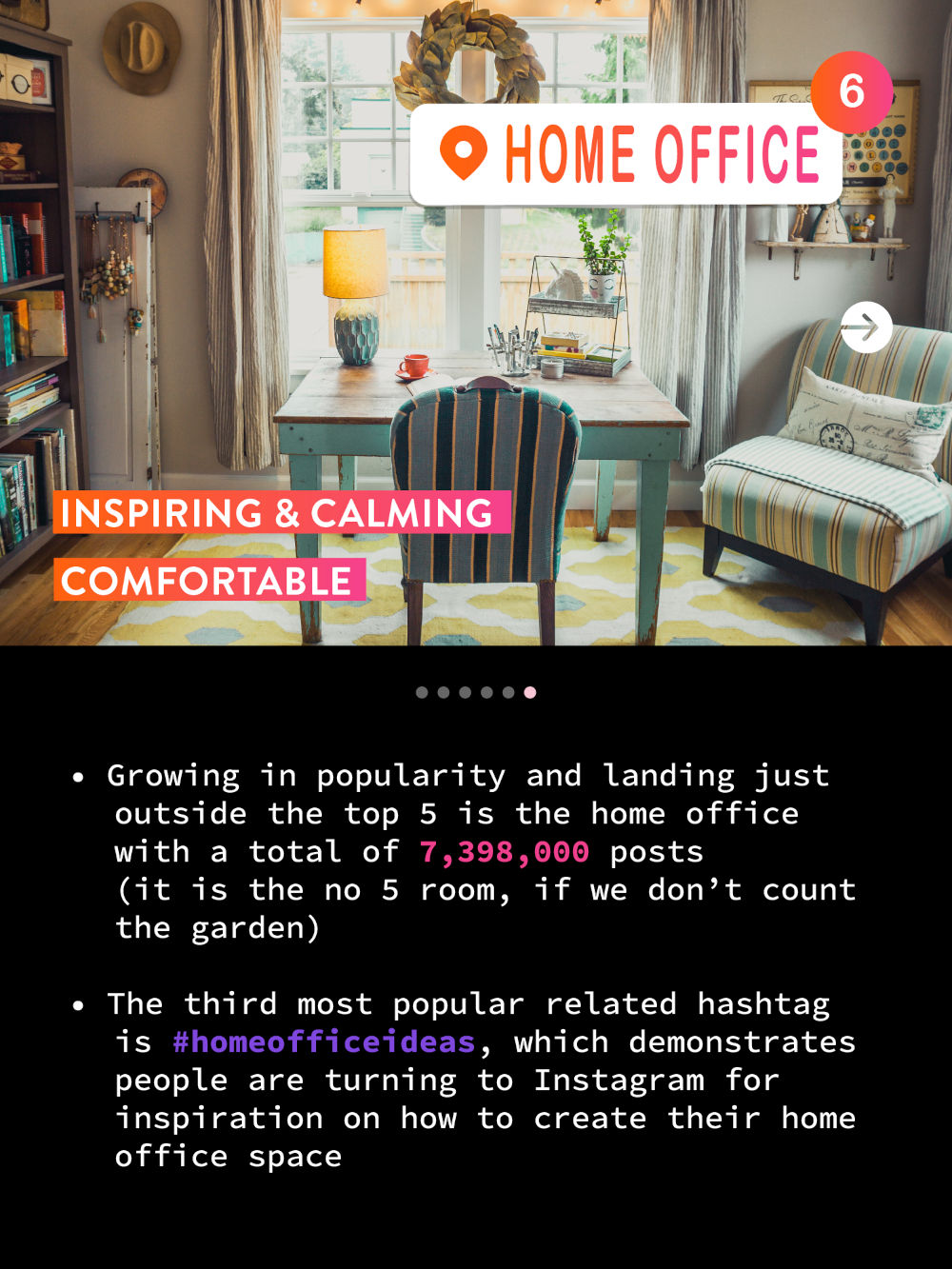 As a result of COVID, more of us are working from home. So it makes sense that people are searching Instagram for home office inspiration. It seems the majority of us are no longer satisfied with a laptop on the kitchen table and are looking to design a purpose-built space.
It's now more popular than ever for people to convert their spare bedroom or dining room or even going crazy and adding a purpose-built office pod in the garden. So it's no wonder that in the most Instagrammable homes, the home office is a proud 6th.
Explore #homeofficeideas for seemingly endless inspiration from others on Instagram. You deserve a home office that's calm, motivating and comfy.
Small room can be uber inspiring!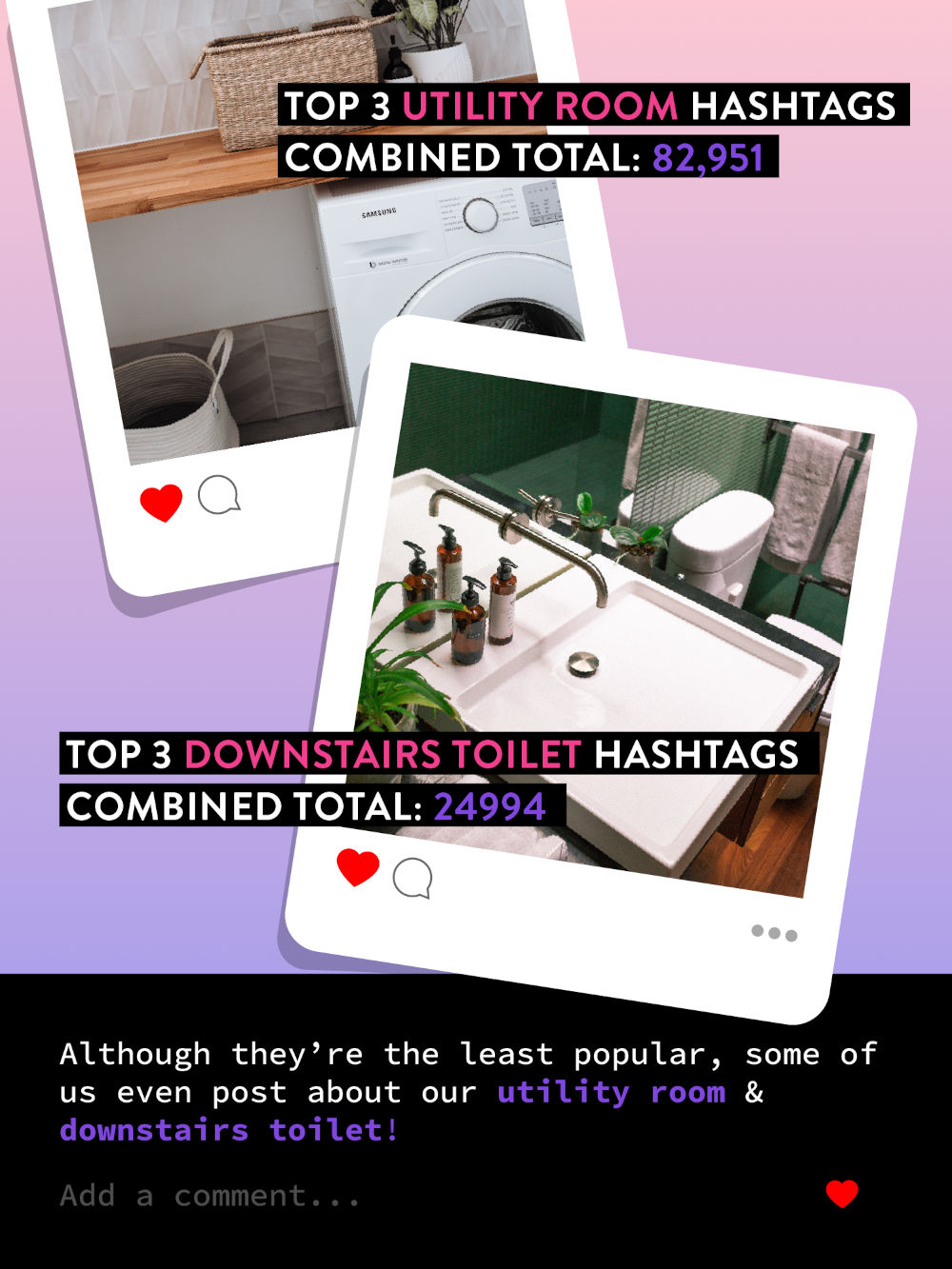 Small can be beautiful. So let's not forget these spaces when considering the most Instagrammable homes! And while they might not be the most popular, they do punch above their collective weight. There are still more than 100,000 hashtags about utility rooms and downstairs toilets!
It's not all about finished spaces!
We're also obsessed with watching people complete home improvement projects. Instagram is a superb place to gather ideas.
Use the top hashtags include #kitchenremodel, #kitchendecor, #livingroomfurniture and #bathroomremodel. Also popular, #Bedroominsp and #kidsbedroom. You're never too young to have an impressive room!
Global interior trends and styles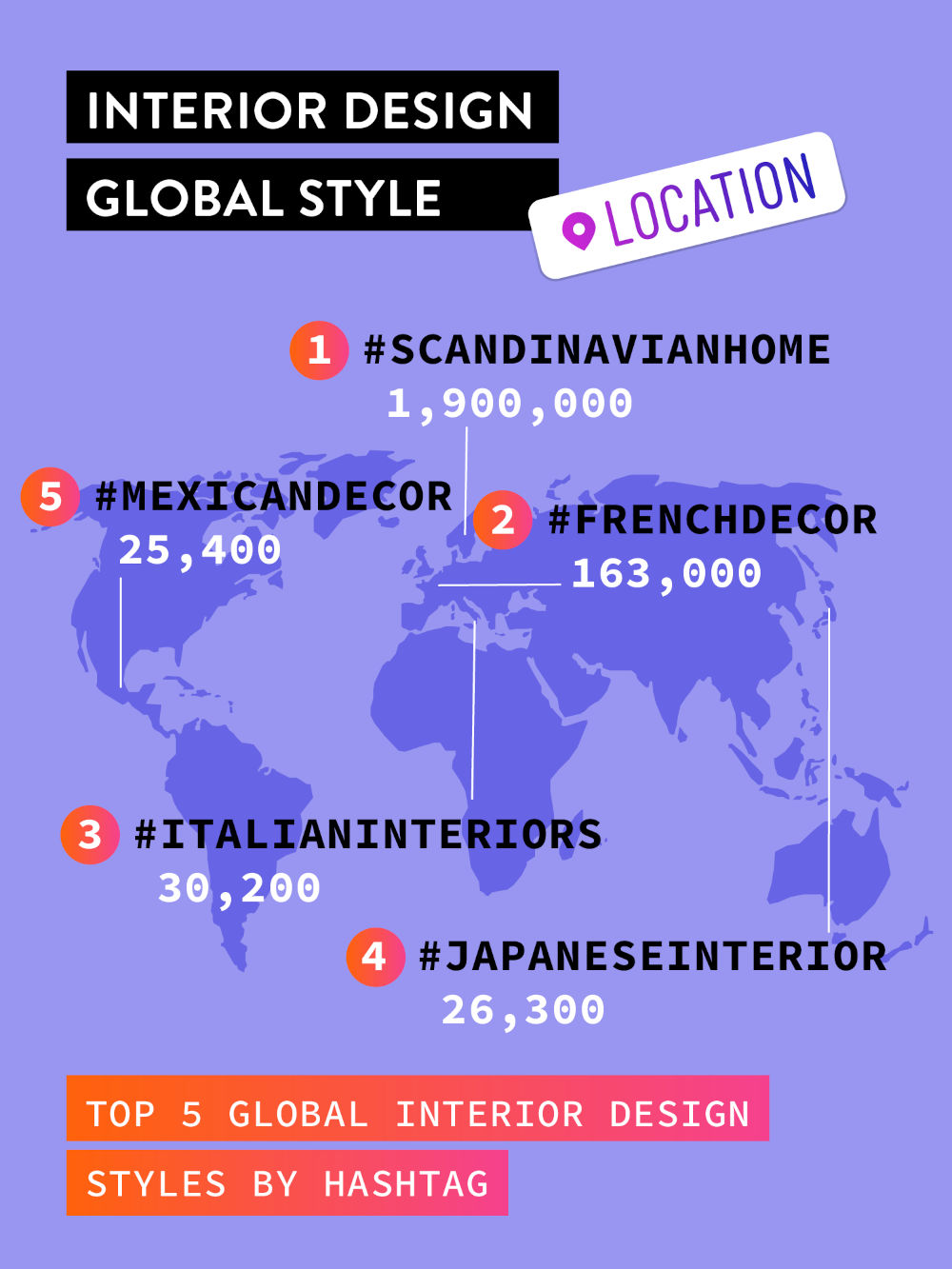 While you should aim to elevate your interior above trends and fads, it's worth seeing what's popular from time to time. The most popular global interior design style by miles is #scandinavianhome with 1.9m posts. It seems we all still love the Scandi style.
The French come second with #frenchdecor, beating the Italian (#italianinteriors), Japanese (#japaneseinterior) and Mexican (#mexicandecor) styles.
Thankfully, #britishinteriors beats #germaninteriors and #spanishinteriors. But who's counting?!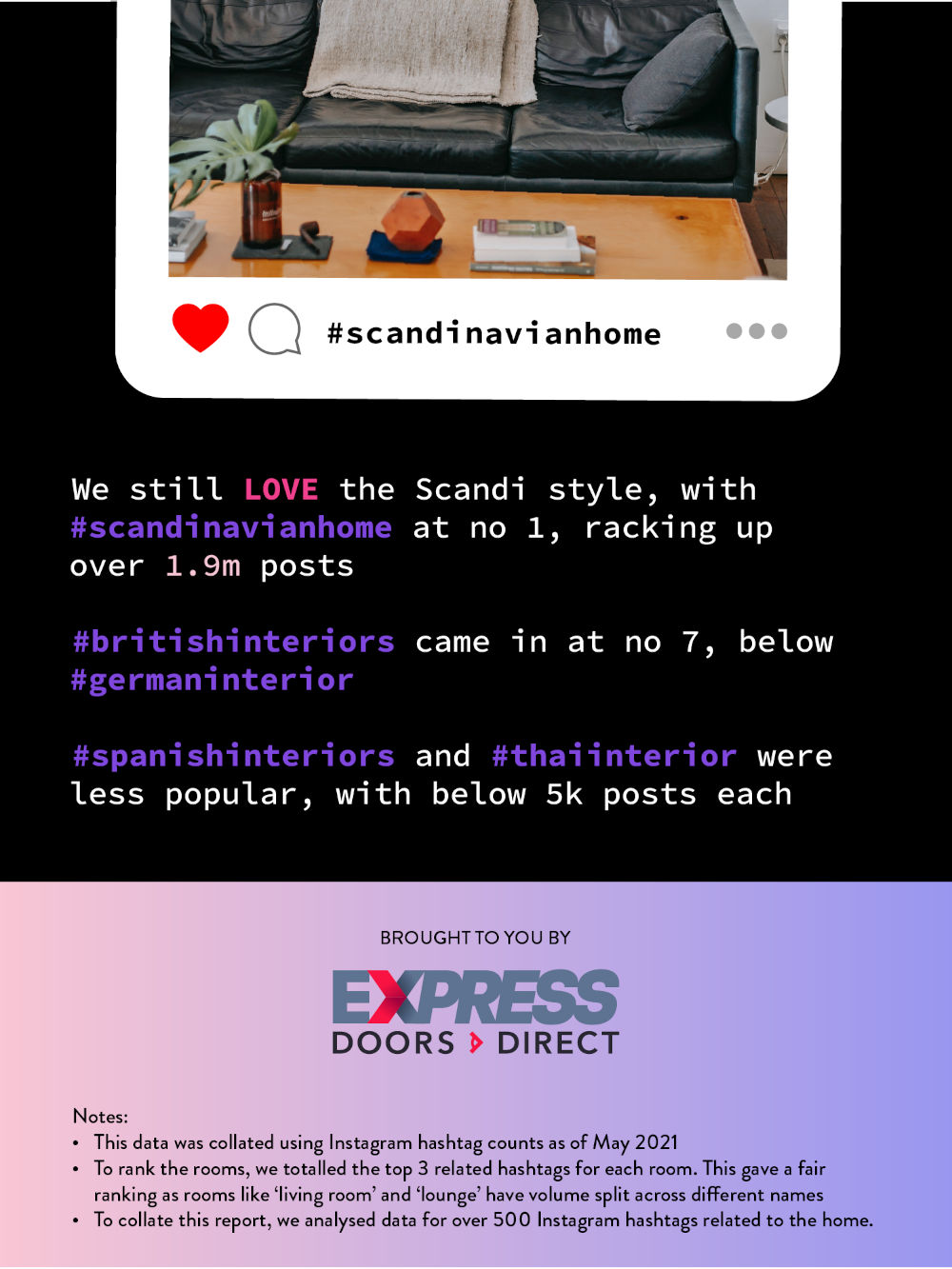 The most Instagrammable homes are the ones you keep viewing!
Regardless of the data, if you keep returning to a saved interior or garden, then surely that's one of the most Instagrammable homes?! Now you have plenty of hashtags to explore, grab a coffee and load up Instagram!