Best Hi-Fi valve amplifier for superior home audio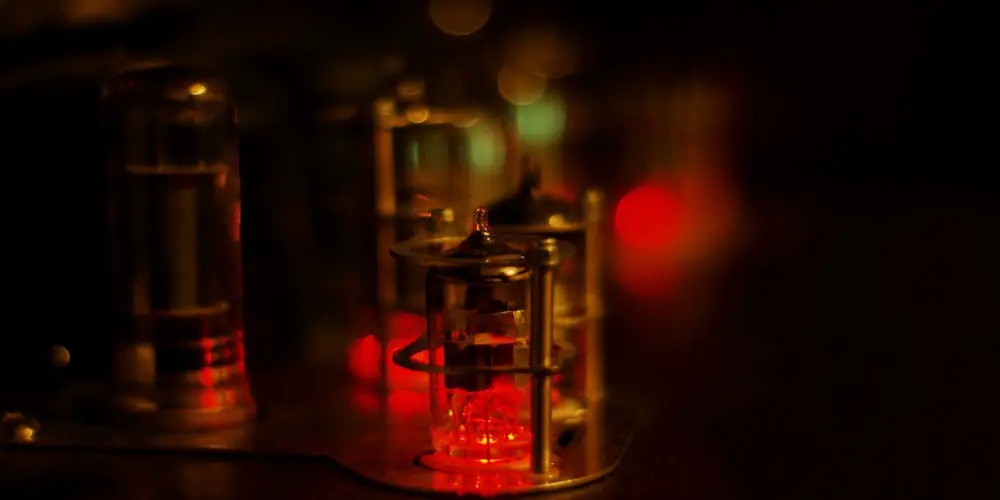 If listening to music is more than a hobby, then you'll know that nothing sounds as good as a valve (or tube as our American friends call it) Hi-Fi. But what is the best Hi-Fi valve amplifier for your home?
Whether you class yourself as an audiophile or not, there is nothing quite replicates the warmth of tubes. It instantly adds new depth and presence to any audio.
Two types of valve amps exist: fully tube and hybrids which combine pre-amp tubes with solid-state circuitry. But which is the best Hi-Fi valve amplifier for your living room and smart home system?
We'll explore 7 of the best Hi-Fi valve amplifier currently on the market. Covering a wide price range, you'll be able to select one that's ideal for your home.
* Prices correct at time of publishing
Blue Aura v40 Valve Amplifier
Description
The Blue Aura v40 is fully valve amplifier that's designed and built in St Neots, Cambridgeshire. While expensive, it delivers superior audio quality.
Sporting a modern sleek design which incorporates a vintage feel, it exudes luxury. Manufactured using European valves and high-efficiency toroidal type transformers, the v40 Blackline is designed to provide the best possible sonic performance.
4 inputs are available and include stereo RCA, mini-jack AUX, USB and Bluetooth. Changing the source using the selection knob, also adjusts which source LED is displayed.
The Bluetooth capabilities use the aptX Bluetooth codec which reduces the bit rate without affecting the audio quality, resulting in CD quality sound.
In terms of output, each of the amp's channels puts 30-watts of warm, rich valve sound with very low distortion levels. The rear panel also features a passive subwoofer output.
The v40 valve amplifier combines the latest connectivity with vintage valve technology to provide high quality and superior sounding unit.
Pros
Designed and built in the UK
2 x 30 watt channels
Passive subwoofer output
Cons
Lacks EQ controls
No headphones socket
Conclusion
When it comes to the Blue Aura v40, we're a little biased as they're a British brand. That said, the v40 is excellent and provides a superior audiophile experience.
The front LEDs enable you to see which source is selected, while the oversized knobs feel luxurious. While it's missing a headphone socket and basic EQ controls, every note sounds rich and warm.
Whether you use your existing speakers or a pair from Blue Aura, you'll notice a difference. Adding a subwoofer using the rear passive sub output will enhance your listening experience no end.
There is one slight negative. The remote isn't as well designed as the unit. You might not end up using the remote unless you need to pair a Bluetooth device with it as the unit's controls are sufficient.
If you're looking for a superior audio experience that's built in the UK and backed up with excellent customer care, then you should seriously consider purchasing the Blue Aura v40. 10/10
Dynavox VR-70E II Full Tube Amplifier
Description
Designed for audiophiles, the Dynavox VR-70E II Full Tube Amplifier faithfully reproduces a rich, warm distinctive sound.
Beneath the metal chassis, lies a stereo valve amplifier which uses EL34 and 6F2 to deliver 2 x 40W. With a single dual phono input, it's ideally paired with a turntable or CD player.
The front panel contains only the essentials of volume control and power switch with LED. The rear is equally sparse with single dual phono input as well as 4 and 8 Ohms speaker connections which accept banana plugs.
As you might expect, a unit of this quality built from the finest components does weigh the same as a small child or 15 kg to be more precise.
Pros
Simple design
2 x 40W channels
4 and 8 Ohms speaker connections
Conclusion
If you want to return to listening to music in it's purest form, then it's worth considering Dynavox VR-70E II Full Tube Amplifier as it adds a special kind of magic to any audio.
If you're looking for a valve or hybrid amp with a range of features and inputs, then the Dynavox isn't for you. However, if you relax by listening to a range of different musical styles, then it could be the unit for you.
It has plenty of power and can be used with either 4 or 8 Ohm speakers. In terms of the sound, it adds warmth and a nice top-end sheen without mushy mids or a flabby bottom end. This colouration is pleasing to the ear.
If you love music and simply want a better listening experience, then consider buying the Dynavox VR-70E II Full Tube Amplifier. 8/10
YAQIN MC-84L Tube Integrated Amplifier
Description
The YAQIN MC-84L Tube Integrated Amplifier blends high-quality materials with premium valves to create an attractive yet compact unit that at fairly affordable.
The metal chassis is complimented by the high-grade walnut wood side panels. Underneath the grill sits 4 x 6P14 power valves as well as a 12AX7 which is used for voltage control.
The circuit uses high-quality components to ensure low noise and distortion while providing a large, dynamic frequency response. Each of the 2 power amp channels produces 12 watts of volume.
The minimalist front panel has a 3 position selection knob, volume control and power switch. On the rear, there are 3 pairs of RCA phono inputs, headphone jack as well as 4 and 8-ohm speaker terminals.
Regardless of the source, audio is faithfully reproduced by the YAQIN MC-84L with warmth and richness that only valves provide.
Pros
Metal chassis with walnut wood side panels
3 pairs of RCA phono inputs
4 and 8-ohm speaker terminals
Cons
Headphone jack doesn't kill speakers
Heavy
Conclusion
The YAQIN MC-84L Tube Integrated Amplifier proves that the Chinese can manufacture high-quality items while still being competitive on price.
At 24 watts (2 x 12 w amp channels), it lacks the power that other on our list have. That said, it's fully valve amp and therefore should have the same presence as a louder solid-state amp.
Having both 4 and 8-ohm speaker terminals is useful. The headphone jack is weirdly located in the middle of the rear panel, so it tricky to reach. Also, plugging in headphones doesn't kill the speakers. So we're not quite sure how useful it is.
The three RCA phono inputs enable you to connect a range of devices. Sadly there's no USB or Bluetooth. Operating it is easy and the volume control is reactive.
If you're looking for a valve Hi-Fi with a superb range of features, then YAQIN MC-84L could be for you. 8/10
AUNA Tube 65 Stereo Hi-Fi Tube Amplifier
Description
The AUNA Tube 65 Stereo Hi-Fi Tube Amplifier covers a lot of ground and is highly affordable. As a hybrid, the valves in the preamp warm up the audio, while the solid-state amplifier provides consistent performance and 600 watts of output.
Beneath the brushed stainless steel chassis, the valves sit behind a viewing window. This high-fidelity receiver connects to a range of Hi-Fi equipment. A USB port enables you to listen to music from an array of devices.
The front-loaded AUX mini-jack allows you to connect a range of sources including laptops, smartphones and media players.
On the rear panel, the AUNA Tube 65 features two rear RCA line inputs. It also has a built-in radio receiver with RDS support and 50 preset stations.
In addition to the large screen, the front panel features a range of controls including volume, bass and treble EQ and speaker balance. Overall, it's easy to set-up and use.
Pros
600 watts of output
Multiple inputs
Built-in radio receiver
Cons
No Bluetooth
Remote highly directional
Conclusion
Designed to be more than a simple tube Hi-Fi, the AUNA Tube 65 offers a whole host of features. While the audiophiles might not appreciate some of the functions, it deserves to be covered.
As a hybrid amp, you have the best of both worlds. This is easily demonstrated by the powerful 600-watt output. It delivers a fantastic sound that's easily tweaked by the bass and treble controls.
The range of inputs and options means it easily replaces multiple units while improving the sound quality. That said, it lacking Bluetooth even though it has a radio tuner.
Overall the design is well throughout. However, the selector buttons on the front are on the small size. This might annoy if you often switch sources or like to use the screen.
The remote is another point of irritation as it's highly directional and can interfere with the TV. We'd advise swapping the valves for higher quality Russian ones especially as this will improve the audio.
Overall, the AUNA Tube 65 Stereo Hi-Fi Tube Amplifier featured-packed unit which sounds superb and is highly affordable. 8/10
Madison MAD-TA10BT Hybrid Vintage Tube Amplifier
Description
Sporting a classic look and impressive features list, the Madison MAD-TA10BT Vintage Tube Amplifier is affordable.
With 4 inputs, there's plenty of options including 2 pairs of phono, Bluetooth and USB. You can easily connect your CD, iPod, phone and more while seamlessly switching between them.
While the pre-amp is driven by the valves, the two x 25W RMS speaker outputs are driven by a solid-state amplifier. You can easily connect speakers using banana plugs or bare wires using the screw posts.
The front panel contains all of the basic controls such as master volume, input selection, power on/off and headphone output. It also features the USB input and a control knob which allows you to play/pause tracks as well as select the next or previous song.
Useful bass and treble controls are also located on the front panel and allow you to fine-tune the output. A VU Meter completes the front panel and is a nice retro touch.
Pros
4 inputs
Bluetooth enabled
2 x 25 W RMS outputs
Conclusion
For a relatively affordable hybrid tube Hi-Fi, the Madison MAD-TA10BT Vintage Tube Amplifier performs well and looks stylish. As a hybrid, it doesn't sound as rich as a full valve unit, however, this is reflected in the price.
The all-valve pre-amp deserves to be upgraded to Russian tubes as this small change will be a vast improvement. That said, it sounds superb out of the box and the bass and treble EQ controls are highly usable.
The range of inputs enables you to easily transfer from an existing Hi-Fi and connect all of your essentials. On top of inputs for CD and media players, the USB and Bluetooth inputs provide further options.
As far as hybrid goes, the Madison MAD-TA10BT a fantastic entry-level, despite the constantly flashing Bluetooth LED. 7/10
Steljes ML-30HD Hybrid Valve Amplifier
Description
With its futuristic design, 4 inputs and 60-watt output, the Steljes ML-30HD Valve Amplifier Tube Amp provides a smooth, punchy sound thanks to its dual-channel amplifier which puts out 30 watts per channel.
As a hybrid unit, the preamp tubes warm the sound, while the solid-state power amp ensures continuous performance.
With multiple inputs, you can easily connect several different sources including CD/DVD players, turntables, media players and Bluetooth. Within minutes, you can upgrade your home audio system.
The built-in USB DAC is Hi-Res Audio compatible and means you can enjoy your digital music files in 24 bit/96kHz resolution, with added tube warmth.
In terms of outputs, in addition to the speakers, there is a headphone jack and dual phono preamp out. The sleek front panel enables control over the volume and the source.
The iconic design is pleasant to view and is enhanced by the wonderful glow of the tube. It's ideal for adding warmth and definition to all of your music.
Pros
4 inputs
Preamp out
2 channels each producing 30-watts
Cons
Only uses a single valve in the preamp
No EQ controls
Conclusion
While technically a hybrid amp, the Steljes ML-30HD Valve Amplifier Tube Amp, it only uses a single preamp tube. This description could be seen as a stretch!
That said, the iconic design coupled with multiple inputs and 2 channels, each producing 30 watts means it's a good unit for the price. The sleek front is paired back and offers little control over how it sounds. Some will love its sounds, while others might wish for more options.
Connecting and selecting inputs is straightforward whether you want to use one of the two dual phono inputs, the Bluetooth or USB. Turning our attention to outputs, the front headphone jack is useful but we're unsure why Steljes has included a preamp out.
While it looks fantastic and has some useful features, the Steljes ML-30HD leaves us feeling a little cold. 6/10
What's the best Hi-Fi valve amplifier?
Having reviewed 6 of best Hi-Fi valve amplifier currently available, it's best to start with some advice.
Firstly, the Chinese valves in the majority of our units, aren't the best for audio. We recommend treating yourself to better tubes as this will improve your listening experience.
Secondly, speakers matter, for the optimum sound, you want to invest in good quality passive speakers which have an even frequency response. An average amp with well-designed speakers will always trump the best amp feeding poor speakers.
Overall If you're looking for something more than a Valve Hi-Fi, then consider the AUNA Tube 65. It's well built and packed full of features.
Instead, if you're looking to buy your first tube amplifier then consider the Madison MAD-TA10BT as it's affordable, easy to use and has plenty of power.
If you have money to invest and want to buy a future proof unit then the Blue Aura V40 Valve Amplifier is worth every penny. It's easily the the best Hi-Fi valve amplifier! So much so that our Editor, Ashley is saving for one!