Best powered subwoofers for a home cinema room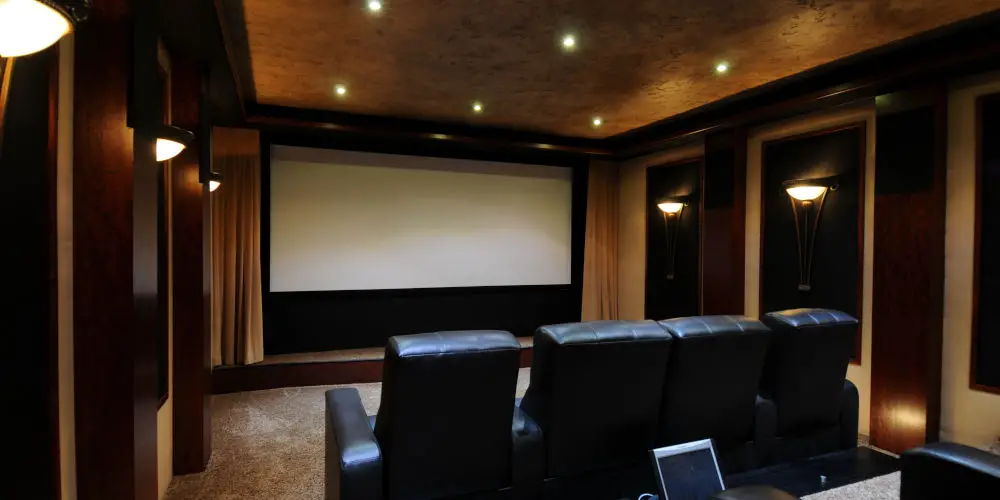 When building a home cinema, you want to invest in the ultimate gear that excites your every sense. One way to guarantee spine-tingling audio is by using one of the best powered subwoofers.
A subwoofer completes the sound by delivering a stunning yet tight low end. Without one, audio sounds lifeless and flat. If you don't yet have a 5.1-speaker set up, we'd still recommend adding a subwoofer to your soundbar or speakers.
Typically, in a home cinema, the speakers are passive and are feed by an amplifier or AV receiver. Subwoofers, on the other hand, already have an amplifier onboard. So you'll need to place it near a power socket and use a different cable to connect it to your AV receiver.
If you're buying your first subwoofer and need some advice, then start with our subwoofer buying guide as this will help you decide on what is your ideal unit.
After researching the market, we've picked out 10 of the best powered subwoofers currently available. Regardless of your requirements or budget, there should be at least one that's ideal.
* Prices correct at time of publishing
Elac Debut 2.0 SUB3030 Powered Subwoofer
Description
Delivering huge performance affordably, the Elac Debut 2.0 SUB3030 Subwoofer allows you to hear and feel music like never before. Its compact design allows for a wide range of placements in a room, while sophisticated app-controlled EQ assures seamless system integration.
Designed for longevity, the cabinet combines thick MDF outer walls and a luxuriously textured vinyl finish. Inside, it incorporates a specially designed internal bracing to add stiffness, greatly reducing cabinet vibration to ensure a natural, yet punchy low end.
The 12-inch driver is feed by BASH® amplification, which delivers 500 watts RMS (1000 watts peak). BASH (Bridged Amplifier Switching Hybrid) amplifiers combining the sound quality of Class AB with the efficiency of Class D amplifiers, ensuring maximum efficiency.
Rather than having an array of controls on the rear, the SUB3030 is operated by ELAC's advanced digital control system. Download, the ELAC SUB Control 2.0 app for your smartphone for complete control. No more fumbling around the back of the subwoofer again.
The apps also provide access to a range of EQ settings Using your smartphone's microphone, the subwoofer will optimize room EQ automatically, utilizing eight parametric curves. Full manual EQ is available as well.
Pros
500 watts RMS
Advanced digital controls via Bluetooth
Exclusive amplification system
Cons
App control rather than controls on the unit
Conclusion
Balancing an affordable price, superb design and excellent features, the Elac Debut 2.0 SUB3030 Subwoofer is a fantastic option for any home cinema.
Its biggest downside is the lack of controls on the unit. Instead, it is controlled by a smartphone app, including a range of EQ options. However, it's likely you're already using your smartphone to control your home cinema set up, so adding another app isn't a stretch too far.
That said, the app allows much more options than rear controls would ever allow. Plus, the app can calibrate the subwoofer to your room using your smartphone's microphone. A truly superb feature usually found on AV receivers.
It offers plenty of power with a peak of 1000 watts and up to 500 watts RMS, allowing it to compliment even the louder home cinema amplifiers currently availably. Using a unique design, Elac ensures it produces a clear, punchy low end without any rattle or hum. 10/10
Klipsch SPL-150 SW Subwoofer
Description
Sporting a 15″ Spun Copper Cerametallic™ Woofer, the Klipsch SPL-150 delivers floor-shaking, deep bass! The built-in Class D Amplifier offers 400W RMS (800W Peak) to ensure a low end that keeps up with the rest of your cinema's speaker set up.
Its premium quality is clear from first glance and is manufactured using the finest materials. The premium scratch-resistant ebony finish exudes luxury albeit subtly and with sophistication.
The luxury look and feel continue to the shock-absorbing rubber feet, steel grille posts and a woven cloth grille. All of which ensure a product that not only looks superb but is built for longevity.
Unlike some amplifiers that colour the sound, the one built-in to the SPL-150 simply amplifies the signal, delivering a smooth low end. the speakers offer bass-reflex thanks to the built-in exclusive front-firing internal flare port, that allows for placement flexibility
Like other subwoofers from Klipsch, the SPL-150 is compatible with Klipsch WA-2 Wireless Kit, allowing you to place the speaker in the optimum position and not where your audio cable dictates.
Pros
400W RMS
Scratch-resistant ebony finish
Compatible with Klipsch WA-2 Wireless Kit
Conclusion
If you're only satisfied with the best and have a budget to match, then Klipsch SPL-150 Subwoofer is a fantastic option. Yes, it's expensive but worth it if you're serious about building the ultimate home cinema or listening to music as the composer intended.
What makes the SPL-150 superb is its flat frequency response with no distortion and no cross over effects. And that's without mentioning the low pass and gain knobs, and phase switch.
You can quite easily use a pair of these subwoofers in your cinema room for a full 7.2 surround sound that should rival any professional system. 9/10
Polk HTS 10 Subwoofer
Description
The Polk HTS 10 Subwoofer features a distinctive design that's finished in washed black walnut. With a long-throw 10" driver, patented Power Port technology and 200W Class D amplifier, it delivers the powerful bass you crave.
A strong, rigid, and acoustically inert enclosure reduces unwanted internal standing waves producing a more focused sound that's ideal for listening to music or use in a home cinema.
It's designed around a front-firing 10" driver that uses Polk's patented Dynamic Balance technology. The speaker is Klippel optimized to provide clean, clear bass with lower distortion and greater durability.
Multiple inputs and built-in controls enable you to connect and adjust the subwoofer to your requirements. These consist of a volume control, low pass filter and phase (0/180°). Choose between Auto on/off or DC control (12V trigger) for fast and easy on/off power switching.
Pros
Uses patented Power Port technology
200W RMS
12V trigger in (allowing you turn on/off externally)
Cons
Can shake the walls/floor if allowed!
Conclusion
While the Polk brand might be new to us, the HTS 10 Subwoofer offers a strong, warm low end and plenty of control. The unique design compliments the high-quality workmanship and finish. It looks superb in any setting.
With up to 200 watts of power, it delivers a very good frequency response, regardless of the overall volume. It even performs well for playing background music, although this should be a crime as you'll want to turn the music up! It shines even as part of a stereo speaker set up.
Offering a trigger input, it's a nice touch, allowing you to remotely control the subwoofer, ideal if your cinema room is already automated. Overall, its fantastic value for money. 9/10
DALI SUB E-12 F active subwoofer
Description
The Danish-designed DALI SUB E-12 F is an elegant subwoofer ideal for listening to music or watching movies. Featuring a 12-inch woofer, it can reproduce a range of low frequencies with precision. Available in Black Ash, Light Walnut, and White finishes.
Built around a solid MDF cabinet, this subwoofer exceeds the tough DALI specifications. An elegant aluminium base decouples the subwoofer from the floor, allowing seamlessly integrates into the room.
The front grille is mounted by magnets only. When removed, the unit takes on a completely different visual appearance as the pure aluminium cone is revealed.
With the choice of LFE or LINE inputs, this DALI subwoofer is compatible with almost any amplifier, receiver or processor. The integrated 170 Watt RMS Class D amplifier is designed not only for continuous power but also for peak power, this subwoofer is able to deliver 220 Watt Peak Power.
An integrated limiter helps protect your subwoofer against overloading. It uses soft limiting to reduce volume without harming peak performance. Fitted with controls for gain, cut-off frequency, and phase, the E-12 F is ideal for any home cinema room.
Pros
Pure aluminium cone
170 Watt RMS
Available in Black Ash, Light Walnut, and White finishes
Cons
Underpowered compared to other subwoofer
Conclusion
Available in three finishes, you can match the DALI SUB E-12 F to your interior with ease. It offers a superb range of features and controls as well as an iconic design, which can be transformed by simply removing the grill.
DALI has produced an excellent 12-inch subwoofer, which can handle all of the lower frequencies with ease. Delivering everything from the clear rumble of a truck to note clarity of the bass guitar, it's ideal for music and movies.
The rear contains all the controls you'd expect, including gain, low-pass filter, and phase switch. It even offers an auto-standby/power switch, allowing you to never need to reach down and turn it on again.
However, what lets the DALI SUB E-12 F down is that it offers less volume than other comparably priced subwoofers. Just a quick look over our list, and you'll see most offer 200 watts RMS (with a peak figure of much higher), which is larger than the 170 watts RMS of the SUB E-12 F. 9/10
Cambridge Audio Minx X201 Subwoofer
Description
Whoever said size matters, clearly hadn't tested the Cambridge Audio Minx X201! Yes, it's tiny. The smallest subwoofer they've ever made, in fact. But it still delivers 200 watts of deep, tight bass with power.
Ideal for listening to music, watching TV or movies, the X201 is available in either high gloss black or high gloss white, allowing you to pick the one that most complements your interior.
At the heart of the Minx X201 is a sophisticated Digital Signal Processor (DSP), which provides real-time control of equalisation and dynamic range. The result is a tighter bass and less distortion at high volumes. Control it using the volume and crossover knobs, to tune it to your room.
There's no power switch, as it uses an intelligent 'auto-on' mode to power up when it detects an incoming signal. When in standby mode, it uses minimal electricity.
Using an Auxiliary Bass Radiator (ABR) in addition to its primary driver, it doesn't need a closed box or enormous cabinet to give great bass. The three 6.5-inch speakers work effortlessly in harmony to produce a rich, deep sound despite its mini size.
Pros
200 Watts RMS
Uses a sophisticated Digital Signal Processor
Good amount of control options
Cons
Auto-on requires a strong signal
Not design for a professional-level home cinema
Conclusion
Designed for a TV room that doubles as a space to watch movies, the Cambridge Audio Minx X201 Subwoofer is an exceptional unit. Able to produce up to 200 watts of tight low-end, it competes with subwoofers double its size.
Of course, it's not designed nor idea for a dedicated home cinema room but is flexible enough for a multi-purpose TV snug. Unlike comparable options, it has a fantastic set of controls on the rear, including phase switch, volume, and crossover frequency.
It's also built for multiple voltages (with a switch to change between UK and US power). It might only have a single input but it does offer an output, both are dual phonos. The auto-on is acceptable but isn't ideal as we'd like a switch rather than hoping the signal is strong enough. 8/10
KEF KUBE 12b Subwoofer
Description
As the biggest subwoofer in the range, the KEF KUBE 12b Active Subwoofer effortlessly unleashes explosive power. Boasting a 300-watt amp, the 12b uses is a 12-inch front-firing driver that sits in a sealed box, allowing for a musical yet impactful low-end.
KEF designs, engineers, and assembles the driver, cabinet and circuitry in-house. Thanks to this dedication of perfecting each step in the process, the results are a driver and amplifier that are perfectly in tune.
Easily fine-tune this KUBE subwoofer to your room using the 3 pre-programmed custom EQ settings. There's also a gain control, phase switch, low pass filter, and crossovers allowing you to further adjust the sound to your liking and listening habits.
Engineered to deliver the deepest bass for music and movies, The KUBE 12b subwoofer features KEF Smart Compression limiting and iBX technology. Both of which allows the subwoofer to play louder and remain dynamic and effortlessly musical.
The built-in Smart Connect automatically detects whether an LFE or stereo input is connected, then adjusts the KUBE 12b subwoofers volume level accordingly. An expansion port allows wireless integration within a theatre system using the KEF KW1 Wireless Adapter Kit.
Pros
3 pre-programmed custom EQ settings
300 watts RMS
KEF Smart Compression limiting and iBX technology
Cons
No metal protective grille
Fails to wake if signal is too quiet
Conclusion
Thanks to its closed design, the KEF Kube 12b Subwoofer produces a tight low-end that compliments the other speakers in the set up. The construction is excellent featuring decoupling rubber spikes, which ensure it doesn't move even when reproducing the lower frequencies.
Setting up this subwoofer is easy thanks to the LFE channel, which offers a lot of flexibility. The three EQ options are superb, offering different flavours depending on the setting. Plus, neither phase nor EQ switches pop when being used.
 
While level changes are smoothed by auto fading, the knob doesn't have marking. A small negative but one easily fixed. Unlike other subwoofers, the driver isn't protected by a metal grille. If someone slips, they might rip the driver's membrane, resulting in a broken unit.
It lacks an off switch, so it is always on, while this isn't a problem as its power usage is minimal, if the audio is too quiet, it fails to wake up and jump into action. Thankfully, it has plenty of gain on tap. 8/10
Yamaha NS-SW300 subwoofer
Description
Asethacially pleasing, the Yamaha NS-SW300 subwoofer delivers up to 250 watts RMS through its 10-inch driver. The elegant design seamlessly slots into almost all types of speakers and interiors. It's ideal for your living room, TV room or home cinema.
A built-in power amplifier delivers 250 watts with high efficiency, low noise and zero distortion. Yamaha's Advanced YST II (Yamaha Active Servo Technology II) delivers an accurate bass response and improved sound quality.
Featuring a Twisted Flare Port, the NS-SW300 produces a clear and tight bass. The port design takes advantage of extensive subwoofer development experience. From special effect sounds in movies to the atmosphere of a live venue, you hear bass that is clear, tight and realistic.
A 25 cm (10") large woofer unit is used in a front-firing configuration. It delivers high drive force, permitting tight and deep bass reproduction.
In terms of controls, the front feature a power switch and volume control. On the rear, are several inputs and speaker outputs, allowing for multiple different configurations, as well as a voice selector (movie/music), high cut filter, phase switch and auto-standby mode selector.
Pros
Built using exclusive Yamaha Advanced YST II technology
250 watts RMS
Front volume control
Conclusion
With the NS-SW300 subwoofer, Yamaha has demonstrated their ability to produce top-quality speakers for the home. Thanks to a range of controls on the rear, you can easily fine-tune this unit whether you're listening to music or watching a movie.
What makes it special is the front power switch and volume control, you no longer need to feel around the back for those. And while it could be argued that the front power switch is redundant as you can turn auto power mode, it is still a nice touch.
The rear offers plenty of connectivity options, too many in fact if you're using it with an AV receiver. That said, it is probably better to have more options than you need just in case, even if that complicates the set up process. 8/10
Q Acoustics 3060s Active Subwoofer
Description
As arguably the slimmest subwoofer currently available, the Q Acoustics 3060s Active Subwoofer is available in four distinct colours (Arctic White/Carbon Black/Graphite Grey/English Walnut). But don't let its slender size fool you, it's still a very powerful unit.
Discretely slotting into any home cinema system, you could place this subwoofer on the floor using the rubber feet/spikes provided or wall-mounted thanks to the included wall bracket.
Utilizing the technology included in the rest of the 3000i series, the Q 3060S features an infinite baffle enclosure type. It delivers every nuance of an acoustic double bass or rumble of a cinematic explosion thanks to the onboard, powerful 150-watt amplifier that's partnered with a high-performance 8-inch driver.
The rear control panel is made up of a volume knob and crossover control. But that's not all! A further array of controls and connections are hidden behind a magnetic hatch. Completing this is a down-facing port allowing for discrete cable runs.
Pros
150-watt amplifier
Available in four colours
Comes with spikes and wall mount
Cons
Not design for a professional-level home cinema
Conclusion
If you want to improve the sound of your TV snug, then Q Acoustics 3060s Active Subwoofer will probably be ideal. It won't keep up with an AV receiver that's able to produce 175 watts per channel in a professional-level home cinema. But it's not designed for that.
So, judging it on its own merits. It performs well in a smaller room despite only offering 150 watts of output through its 8-inch driver. The 3060s still packs a punch, delivering a solid low-end whether you're listening to music or watching a movie.
It does offer some clever features. One is being able to change between spikes and a wall mount. Another is the majority of the controls sits behind a discrete panel, which doubles as a cable tidy. Of course, the range of colours is excellent too. 8/10
Audioengine S8 Subwoofer
Description
Sporting an ultra-compact design, the Audioengine S8 Powered Subwoofer is available in both black and White. It offers excellent performance for music, movies, and gaming, delivering 125 watts RMS (250 watts peak).
Built using an anti-resonant steel frame and heavy-duty rubber speaker surround, it's designed to recreate an accurate low end. The bottom-firing and front-ported design means you'll hear precise bass with low distortion, even at higher volume levels.
The class D amplifier offers a power output of 125 watts RMS with a peak power of 250 watts and feeds an 8-inch custom down-firing woofer.
Thanks to dual audio inputs on the rear panel, connecting the S8 to all your gear is painlessly simple. An auto-sleep standby feature turns the S8 Subwoofer off when you're not playing music. In terms of controls, there is a volume knob, crossover knob, phase switch and power indicator.
If you decide to locate the Audioengine S8 away from your powered speakers or AV receiver, check out the Audioengine W3 Wireless Audio Adapter for high-quality wireless. It makes using the unit even easier yet maintains all of the functions and features.
Pros
Build using anti-resonant steel frame
8-inch custom down-firing woofer
Wireless ready
Cons
Small output of 125 watts RMS
Conclusion
Offering some superb features, the Audioengine S8 Powered Subwoofer, sadly, lacks power with its 125 watts RMS of output. That said, it's ideal for TV snug or small home cinema as it does deliver a punchy low-end with flexibility.
Despite the low output, the compact design is pleasing to look at. It slots in well, even into tight spaces. The isolation elastomer feet ensure a clear sound regardless of the situation with low distortion and rumblings.
Offering dual inputs is a nice touch, as is the wireless-ready capabilities. With the correct wireless kit, you're no longer limited to where your cable dictate the position should be. Plus, the onboard controls allow you to fine-tune it performance to your set up. 8/10
Wharfedale Diamond SW-150 Subwoofer
Description
Affordable and compact, the Wharfedale Diamond SW-150 Subwoofer is ideal for listening to music or as part of a surround sound system. Using a 14-inch driver that delivers 150 watts, it offers plenty of low-end frequencies.
A specially designed driver and power amplifier sit in an attractive enclosure that's built to minimise rattles and distortion while delivering a strong frequency response. A controlled roll-off control allows for superb integration with all hi-fi and home cinema systems.
The filter section controls the integration with your main speakers, ensuring the transition is seamless. As signal purity is paramount, the SW-150 uses six discrete circuits. Each circuit has a different crossover frequency (35Hz to 85Hz in 10Hz steps).
It is possible to switch off all filters and allow your AV receiver to control the effective frequency range of the subwoofer. The Tri-lam cone is revolutionary in terms of technology and performance.
Pros
150 Watts RMS
Line level high pass output
Auto power on option
Conclusion
Despite the budget-friendly price, the Wharfedale Diamond SW-150 Subwoofer leaves much to be desired. It's complex to set up, and the instructions are of little use. Finding the ideal cross-over point requires trial and error unless you're using an AV receiver with a pre-set frequency.
Many users have had issues with the auto on functional, which can become defective within months, requiring you to switch the unit on/off rather than the unit doing it.
Overall, it delivers a strong low end, even if it only offers a maximum output of 150 watts RMS. That said, you get what you pay for, so you might want to consider other options on our list. 7/10
And the best powered subwoofers are?
Having explored ten of the best powered subwoofers currently on the market, a few stand out. Our top picks are: Elac Debut 2.0 SUB3030 Powered Subwoofer and Klipsch SPL-150 SW Subwoofer.
Before explain why those two were picked, it's worth giving an honorary mention to Cambridge Audio Minx X201 Subwoofer. It might not be the best overall powered subwoofer for a home cinema room, but it is highly flexible and ideal for smaller spaces such as a multi-purpose TV snug.
The Elac Debut 2.0 SUB3030 Powered Subwoofer is excellent despite the fact you have to use an app to control it. it offers superb value for money, features and an impressive 500 watts RMS of output.
If you want controls on the unit and have a bigger budget then the Klipsch SPL-150 SW Subwoofer is a fantastic option. It delivers a professional level subwoofer for the home cinema and uses a unique Copper Cerametallic™ Woofer design that's interesting to look at too.