15 Dining room lighting ideas for setting any mood
Successfully using lighting in your dining room is more than having the best pendant light dangling over the table. There are plenty of dining room lighting ideas you can try, which allow you to create a range of moods.
As the dining room is now a multi-purpose space, you might want to use it for family meals, working and the odd romantic night. Not mention family game nights or completing (well, in our case, trying) a 1,000 piece puzzle!
Just as with lighting a living room, the dining room represents a few unique challenges. However, we have a range of tricks and tip as well as some inspiring dining room lighting ideas you can use to illuminate your space, regardless of the occasion.
#1 What are the basics of dining room lighting?
Before you can start to incorporate any of our dining room lighting ideas, you first need to consider what emotions are you trying to create? Also, what roles your dining room plays in your life?
There's little point in creating a nuanced lighting scheme if you only use your dining room for quick family meals. Likewise, you'll struggle to adapt to the room's mood if you only have a pendant light over the family dining table.
It's also worth considering how can you extend the lighting ideas and interior style you already have within your home. In addition to lighting the table, do you want some spotlights to add ambience or to highlight your artwork?
As a multi-functional space, the lighting in your dining room should be as versatile as the room. With a few clicks of the light switches, you should be able to transition from bright light for working or kids doing homework to a more subtle scheme for relaxed dining with a bottle of wine.
#2 Small dining table? Use a single large pendant light
As scale is everything, if you're working with a small space and dining table, it's best to go big! By using a larger pendant light over the table, you draw the eye away from the table's small size.
You also might not have the space to add multiple different dining room lighting ideas in a small room, so choosing a bigger, bolder light fitting such as this Antique Brass Lantern can help add drama.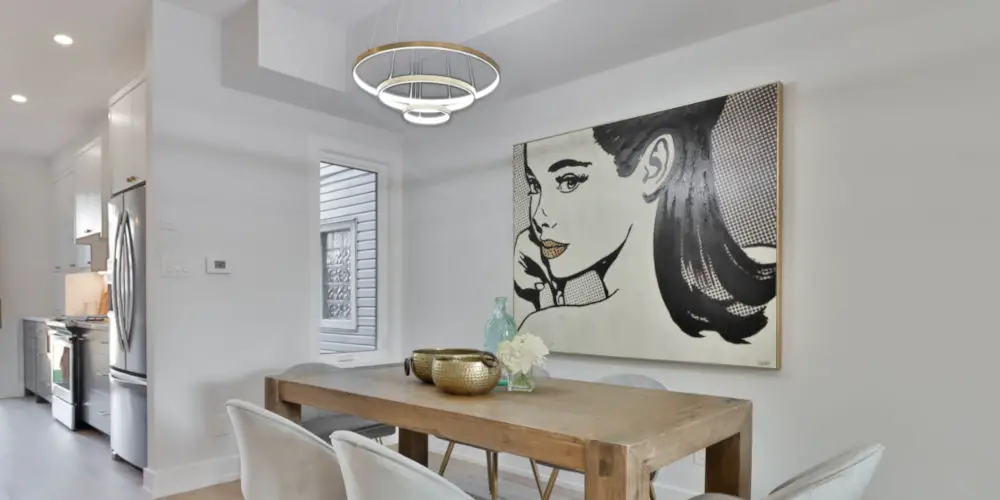 #3 Try using multiple pendants in odd numbers
Rather than using a single large pendant over your rectangular dining table, experiment with an odd number of smaller pendant lights. Think in terms of three or five pendant lights in a line. You could even add some interest by setting each at a slightly different height!
#4 Dimmers are your secret weapon!
The difference between good and great lighting is the dimmer switch! By day, you can leave your lights on full, allowing you to work and your kids to complete their homework. Come night time, you can soften the lighting by turning it down, creating a more romantic ambience.
Lower light levels create an intimate atmosphere while drawing out the natural beauty of your guests! Even if it's the only lighting idea you try, invest in a dimmer lighting switch and experiment with different levels of ambience.
#5 Recessed lighting but not as you expect
Less is more when it comes to adding recessed lighting in a dining room. Instead of creating runways of lights across the ceiling, consider what feature they are trying to highlight. For example, it far more interesting to have a light illuminating a painting or sculpture than general brightness.
Again think about using a dimmer switch to control these lights as this will allow you to experiment with multiple different moods in an instant. You could, of course, invest in a simple home automation system and control different lighting options and brightness from your phone.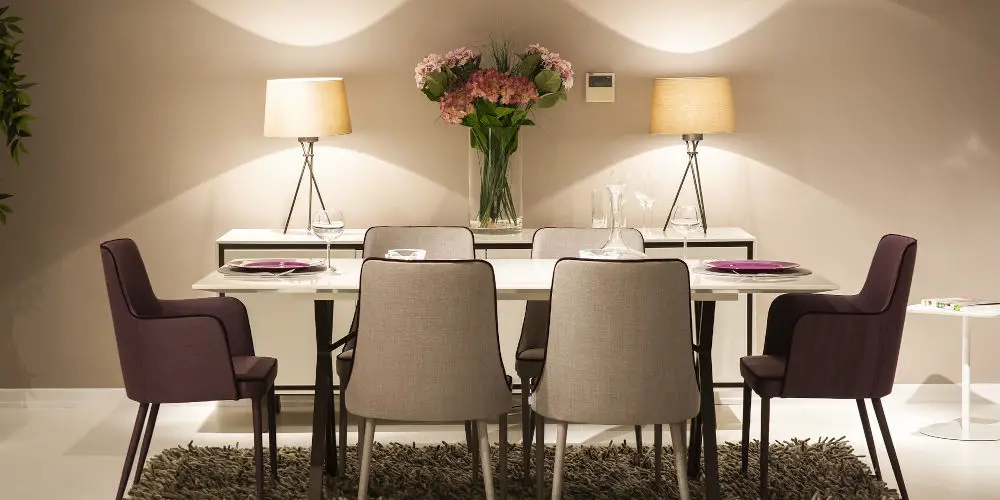 #6 Choose your bulbs with care!
Bulbs are often overlooked when it comes to dining room lighting ideas. Yet the right bulb can change the room's feeling with the flick of a switch! You could prefer a more warm light over sheer brightness. As bulbs are affordable, it sensible to want to experiment with different ones.
You could even try vintage-inspired filament bulbs, a unique shape or simply use Philips Hue bulbs as you can tweak the brightness and colour from your phone.
#7 No dining room is complete without candles
Little more is as romantic as a room lit by candles. However, it's not very practical! That said, you can introduce candles into your dining room for special occasions. You could use a large hurricane vase with an equally sized church candle or use a pair of antique silver candelabra, filled with creamy beeswax candles.
Another way to use candles on your dining table is to dim all your other lights and lay rows of tea lights down the centre of the table. You could even place your tea lights in a mix of dishes and glassware to add a sense of whimsy to your table.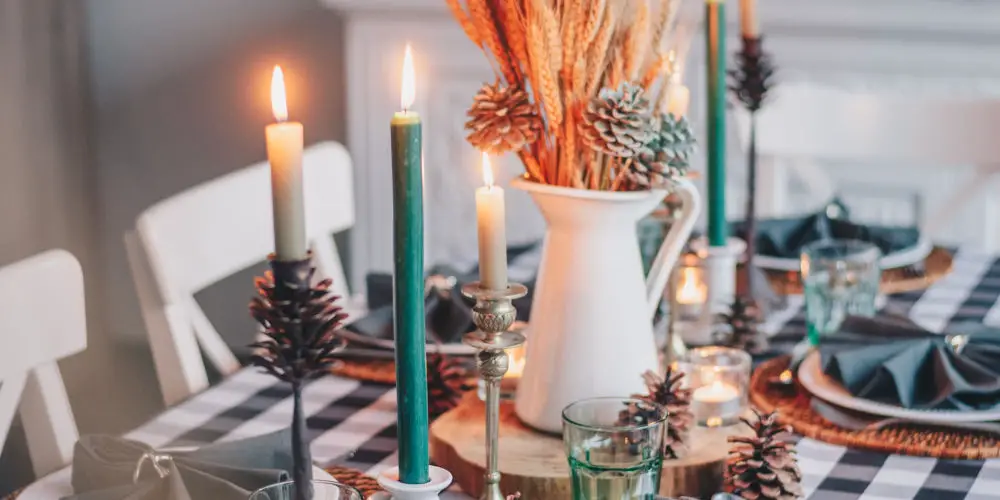 #8 Don't be afraid to make a statement!
If you only use your dining room for eating, then you can afford to do something bold and dramatic with the lighting. For some, this will be choosing a unique shaped pendant light, others might settle on a bright and colourful lamp shade.
Thankfully, creating a statement doesn't have to break the bank. There's plenty of dramatic and bold options under £500 including this Rustic Orb Chandelier, which adds a serious 'wow' effect to any dining room.
#9 Under the spotlight
Highlighting a beautiful object within your dining room is a superb way to make the space unique. It could a console table with flowers or family photos; or a large antique Chinese blue and white vase.
Nothing is quite as romantic or dramatic at a dinner party than just the paintings are lit, and the chandelier or sconces are dimmed right down. Achieve this effect with small plug-in uplighters that can sit on the floor or table and shine up toward the art or object.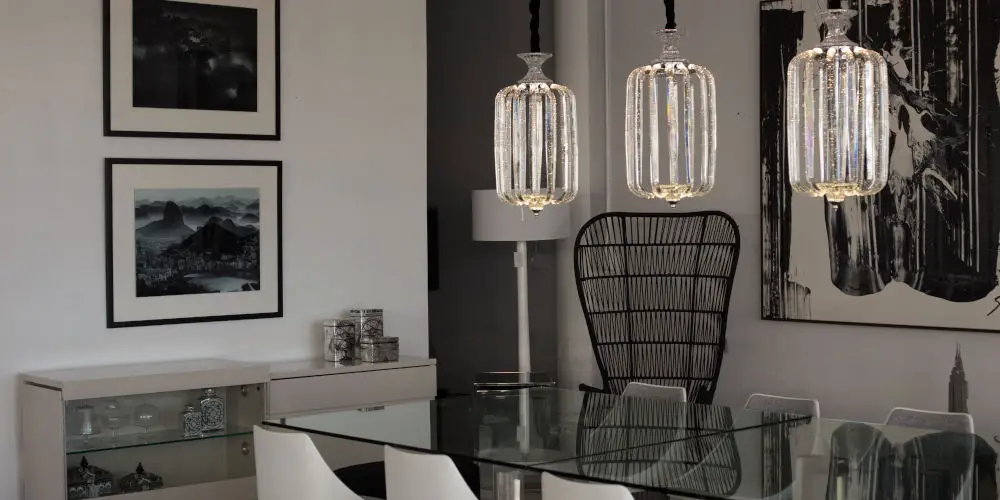 #10 How can fix glare?
An issue that can kill your dining room's ambience is glare. You might be able to solve it with a simple adjustment of the light fixture as most glare issues stem from the aim of the bulb.
If you have recessed lighting, another solution is to change the trim to a raised or adjustable one. These allow you to conceal the bulb a little more and decreasing the glare. Lastly, you can install a dimmer.
#11 My electrical outlet isn't centred over the table, what can I do?
Easily the most common issues with dining room lighting. Luckily, it's very easy to fix! Firstly, you could suck up the expense and hire an electrician to drill a new hole and fill the old.
You could install a swag hook. In this set-up, the hook is installed over the centre of the dining table to suspend the cable from the junction box to the swag hook. If you don't like the look of a loose cable, then you can conceal it by painting it to match your ceiling colour.
Another superb option is to use a track lighting system, especially if a swap hoop doesn't appeal. A fantastic array of design options are available, allowing you to hang pendants over your dining table without worrying about the location of the outlet.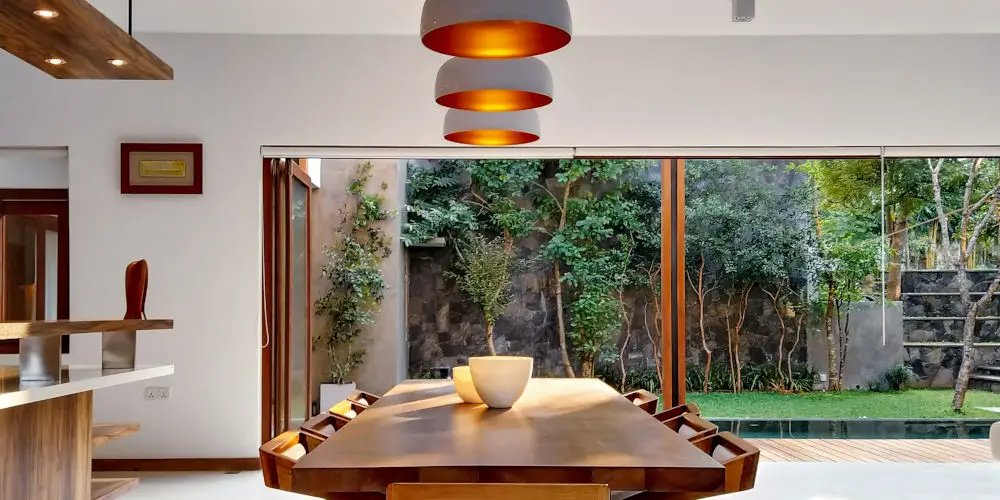 #12 Create layers with table lamps and wall lights
You might not always want to use the bright pendant light when sitting in your dining room yet having a single light source won't be enough. The solution is to layer lighting, providing you with plenty of options.
By combining multiple dining room lighting ideas, you can easily change between different moods with a few clicks. So consider how you can add more lighting elements into your space. How about a table lamp on a sideboard, or a couple of wall lights to match your pendant?
#13 Add drama with an arc floor lamp
You don't need a pendent light hanging from your ceiling to have overhead lighting for your dining area. Instead, consider using an arc floor lamp. They plug into a wall power socket yet their long, curved neck that will position the bulb and shade directly over your table.
Available in a range of styles and colours, you can create interest in your dining room. You can also mix and match with other dining room lighting ideas to create a range of moods.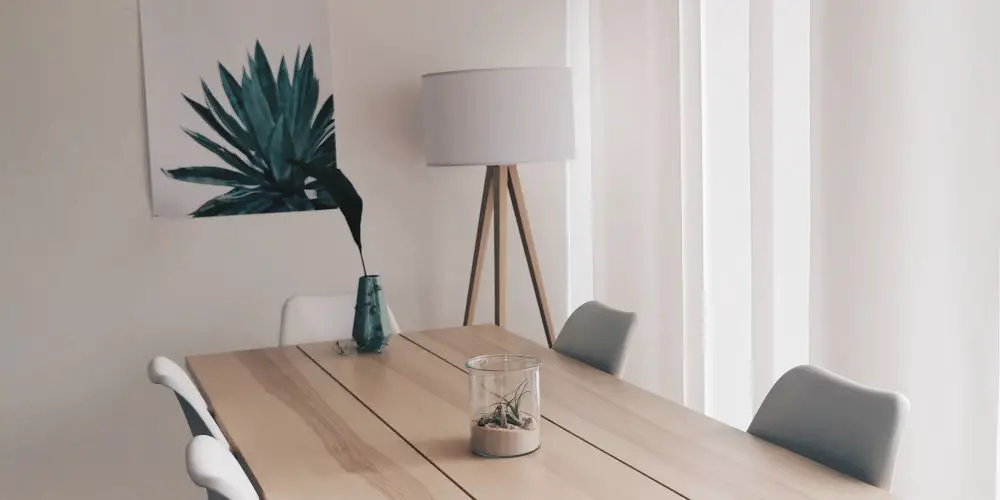 #14 Does the table shape matter when choosing a lighting fixture?
Not always. Over a round table, a chandelier, pendant/suspension, or non-linear multi-pendant light fixture will complement the shape. Whereas a linear suspension or linear multi-pendant light fixture makes sense over a rectangular table.
You probably wouldn't want a linear light over a round table. However, you could use two round lights over a rectangular table. You can also centre a circular fixture over a rectangular table and place a recessed downlight on each side.
Another option for a rectangular table is to use a track lighting system with small pendants as this would provide an attractive backdrop. Regardless of the fixture you use over your table, consider adding soft lighting to provide a warm background and a comfortable atmosphere.
#15 Best dining room lighting ideas: Go minimalistic!
Instead of having lots of ceiling fixtures, use sconces, floor lamps, and even table lamps. All of these dining room lighting ideas can create a more subtle scheme while providing you with plenty of options. So, don't force one if you're not sure you like the look at all