How to build your Lightwave smart home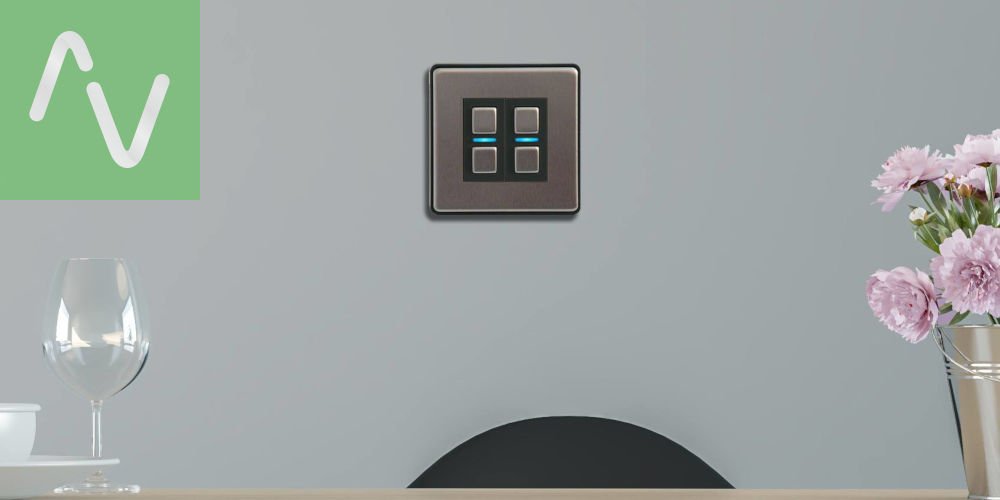 In the past decade, home technology has moved at lightning fast speed. It seems like just yesterday that we were trying to make the transition from iPod to Spotify!
However, with the rise of the internet, we've ushered in a new age of technological enlightenment. And so, it's no surprise that new technology has re-shaped how we live.
And while many of these new ideas and inventions, disappeared due their complexity or an inability to find a problem it actually solved! What remains is, in most cases highly use-able tech which enhances modern life.
One such brand is Lightwave, and as a UK publication, we're slightly biased to favour British brands! Let's take a look at the brand, their products and try to make some predictions of what they'll do next.
What is Lightwave?
Before jumping into the products and how they work. It's worth talking about the company's history and the innovations which came before Lightwave.
The beginning
The story starts with John Sinclair and John Shermer. Both worked for decades helping disabled people live better through the application of the latest technology.
Their company, JSJS designs, as it was known back made the transition in 2008 from helping the disabled to devising systems for the consumer market.
The Lightwave brand grew out of a number of partnerships, where JSJS designs handled the product design and another company distributed the products under their own brand.
You might have seen their HomeEasy range in B&Q or what became early LightwaveRF designs, that were released under the Siemens name.
Launching their own brand
Having done a number of licensing deal, the two John decided to go it alone and re-branded as LightwaveRF. They also decided to float the company on the AIM share market.
By 2019, they rebranded simply as Lightwave.
Without getting too technical
So that's a plotted history. However, we still haven't answered the question, what does Lightwave actually do? Without getting too technical, Lightwave uses wireless technology to allow user more control over a range of household devices.
Since releasing their first products in 2011, the brand has enabled the average consumer the chance to create their dream smart home without the cost usually associated with the technology.
While it might be preferable for all of us to install a top of the range wired systems such as Crestron or Control4, it's unlikely to add any substantial value to the property's market value.
However, a simplified and cheaper system which does the lion's share of a high-end system will always be a welcome addition to the marketplace. Not only by consumers and DIY enthusiasts but by potential home buyers who have such features on their list.
Changing the game
In our minds, Lightwave changed the game in many ways. Firstly as a British company, they are designed for the UK market rather than simply releasing a version of a US designed product.
While it could be argued that this puts them at a global disadvantage, it does make them unique.
Secondly, by simplifying the features, they've created a superb line of affordable products and inspired many homeowners to dream about how tech can change their daily life.
Exploring the basics
The simplest way to experience Lightwave is to start with set plug in and play sockets. This comes as a pack of three sockets and a remote control.
As the name suggests, you can plug in the Lightwave socket into the normal mains and then plug in your device into the Lightwave unit. Using the remote control, you can turn sockets on and off. While this isn't the highest tech solution, it does offer a solid introduction to home automation.
Imagine this, you have two lamps in your living room and the switches are hard to locate, maybe there's a sofa or furniture in the way. Using two plug-in-and-play devices, you can now control these lights with a remote.
The days of having to move the sofa or trying to bend over to find the switch, are over!
Automating the whole house
So now that we've covered the simplest system available, let's look at how we can begin to build a home automation system.
The real fun begins when we start to build a system around the Lightwave Web Link Hub. This small device is the brains of the system and can be paired with up to 200 Lightwave devices such as the plug-in-and-play sockets in our previous example.
The biggest downside to using the plug-in-and-play devices is the remote as it only allows us to switch single devices. So let's exchange it for a Web Link Hub! This single change enables us to control the three sockets using an app, either on a phone, tablet or computer.
This Web Link Hub communicates with all the devices you have linked to it. And at the same time also connects to the internet through your WiFi router. Therefore most people choose to place the Web Link Hub next to their internet router.
While the first apps where quite basic and quite buggy, over the last few years Lightwave have invested a lot into designing and releasing apps which work very well and look clean and modern. Currently, there's an app for Apple iOS and Android. As well as an online web version.
Back to our three sockets. We can now, using the app control single devices or all three at once. By having more control, we can manipulate our lighting in a number of ways. Also by using a phone or tablet rather than a remote, we're less likely to lose it!
So we can use the app like the remote, to simply turn a single device on and off. However, we could create a scene which turns on two sockets and turns the third off. Quite exciting!
By now, we're starting to really get the hang of it!
Power sockets
Let's next upgrade the plug-in-and-play sockets for DIY friendly retrofit sockets. These contain all the tech we need in a much better-looking package. While looking quite like a normal socket, they are deeper than the average power socket.
So you might need to get spend some time doing some preparations before you can wire them into.
Once installed and paired, we can use the app to control single devices or set up scenes to control multiple devices.
You can purchase single and double Lightwave power sockets
Light fittings
Like power socket, the Lightwave range also includes light switches, again they are DIY friendly retrofit sockets. However these devices have in build dimmers, hence they feature two buttons.
These can easily be swapped with your current light switches and then pair them with the Web Link Hub.
Some bulb have no issues being dimmed while others will flicker when run at a lower voltage (due to a lack of resistance – usually fixed by adding a resistor).
Lightwave have tried to solve this issue by releasing their own bulbs, however, as this is a limited range it's unlikely to satisfy all of your requirements. Therefore, it may take you a bit of trial and error in order to get all your lights to play nice and fully integrate.
In terms of available units, you can purchase single-gang, double-gang, triple-gang and quadrupole-gang dimmers.
Getting close to the dream?
Controlling both lighting and power at the same time could be the system you've dreamed off. Or we could be getting close! And again as the app allows us to assign devices to our preset rooms and then control each element in a number of ways, we're fully in control.
Heating
Let's move on to heating. While some of the first heating devices had problems, it seems that Lightwave has solved these issues. Included in the heating range are TRV smart radiator valves and a smart home thermostat. Again all of these devices are DIY friendly and enable us to control our spending.
Imagine not heating rooms when they're empty? Or coming home to a warm house, because the system has kicked in and started to heat the house.
You can purchase TRV valves, Boiler Switch, Thermostat and energy monitor
Additional control
The final element of an Lightwave smart  home is additional controls. Whether you plan to integrate blinds or curtains into the system using a relay.
Or maybe use strategically placed movement sensors to turn a light on/off in the middle of the night or turn off the heating if a window is opened. All of this and more is possible.
What we love the most Lightwave is the fact it's a modular system, which can change and adapt to our need. And that it doesn't require specialist skills to install, programme or update.
There's two types of relays available along with PIR sensors, magnetic sensors and a door bell.
Real-life uses
Now let's use some real-life examples to explore how Lightwave smart home can change your life.
Firstly, imagine you always came home at 5:30 pm and you switched on the hall light and turned up the thermostat. Now picture that since installing and configuring your Lightwave automation system, you arrive home to find the house is at the right temperature and the light is already on. Life changing? Maybe!
Another example. Say you travel a lot and your home is quite often left empty. You can set the system to mimic your movements, so it looks like you're still there. Plus while you're away you can monitor what happens and your spending.
One last example. For most of us, we imagine having a snug or cinema room in our house, if we don't already have one. Using Lightwave in combination with a TV or projector and a Hi-Fi system, we can set up a scene to close the blinds and dim the lights.
Just think how adding a few bits of tech to a room could transform how you enjoyed watching a Movie?!
Can Lightwave be used with…
Apple Homekit?
In short yes. The company is one of only a handful of UK brands who have been accepted as partners by Apple.
Amazon Alexa?
Again the answer is yes! There are a number of great videos on YouTube from people who have successfully integrated Lightwave with Amazon Alexa.
Other home automation?
As the system can be set up to work with IFTTT, then Lightwave can integrate with other smart home automation systems and devices. If you don't have a clue about IFTTT, then read our introduction to IFTTT for home automation.
However, as the system is considered entry level and only UK focused (unlike most which are USA focused) by the big brands, don't expect them to offer compatible kit anytime soon.
Where is the best starting point?
It really depends on a few factors. If you're completely new to home automation then start with a plug-in-and-play set. Get used to that then expand your system as you feel comfortable. You could even lower the cost by buying devices on eBay.
If you're more adventurous then our best advice would be to start with either a starter pack and build your system up from a single room.
However, you could consider buying a hub and automation one feature in a room, then as you're comfortable, slowly expand that one feature into the whole house.
Then add a new function to that first room and expand that out into the whole house. And keep going until you've automated every device you can.
It's worth doing your research and thinking about how you will use the system, and what the end cost will be. While install a high-end system can easily cost £100,000, if you were to add a complete Lightwave system to your property you could be looking at at least £5000.
This is still quite a bit of money and so it's worth preparing first rather than having a very expensive mess on your hand!
Are the products reliable?
Overall yes, however, it hasn't always been that way and some users may experience the odd issue. For example, the first app was bad, truly horrendous! But Lightwave has upped their game in this area.
Another product which had issues was the TRV heating valves, making a loud clicking noise. However, Lightwave were quick to act and many consumers mailed their TRVs back to the HQ to be fixed.
As generation 2 gets rolled out, it seems from the forums, that people are experiencing issues getting the 1st generation to work with the 2nd as the technology has changed from single way communications to two way communications.
While this is fine if you're just starting out and so are purchasing the latest version. It's not great if you're planning to start small buying from say eBay and then scale up.
It's also not ideal if you're looking to expand your current, 1st generation system.
So our advice would be stick to either a first generation system and use websites like eBay to uncover all the devices you need. Or start building a generation 2 system from scratch, it'll be safer, stronger and enable you to protect your smart home from hackers.
How good is the customer support?
It seems that Lightwave has gotten better at support over the years. They have become more active on Facebook and are willing to answer comments.
From the start, they have offered technical support using a ticketing system, and still continue to do so. They also offer phone support, which could be the quickest way to get an answer. So we would rate their support as good.
What is next for Lightwave?
While it's impossible to say what they've got their hand busy with, the introduction of generation 2 is likely to keep them busy for a while.
It would also be great to see some more security products such as video cameras and doorbells.