Does Amazon Fire TV Stick have Ethernet ports?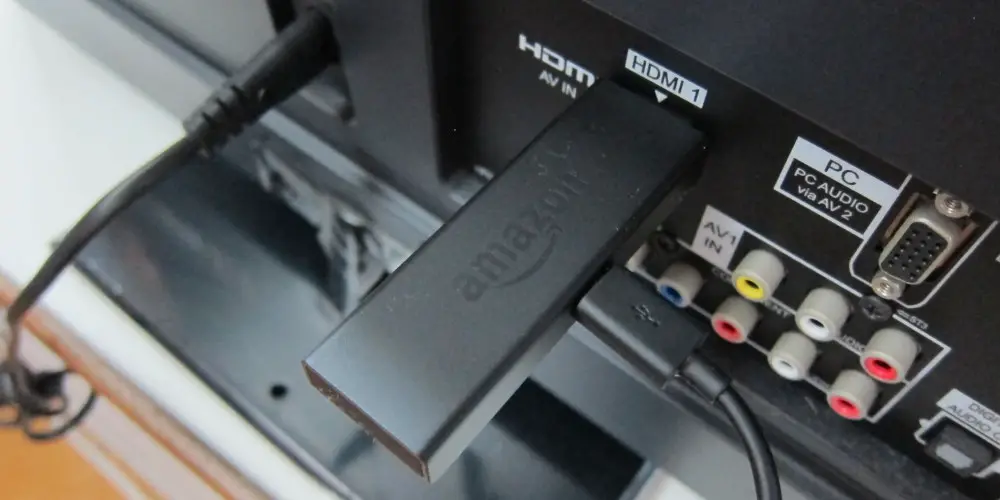 Typically, we connect an Amazon Fire TV Stick to the internet using Wi-Fi. However, if you're running a ton of devices on your Wi-Fi network, you'll notice a drop in speed. So, it's worth connecting the Fire dongle directly to the router. But, Does Amazon Fire TV Stick have Ethernet ports?
Unfortunately, none of the Fire TV Stick models have an Ethernet port. So you'll need to purchase an Ethernet adapter. Using one of these adapters will enable you to connect your Fire TV Stick to the internet via a wired network.
If you're frustrated by the current quality and want to guarantee 4K Ultra HD streaming, you should be connecting to a wired Ethernet network. Before you think an Ethernet adapter is expensive, several are available around the £20 mark. So, they're highly affordable.
Amazon Ethernet adapter
It's no surprise that Amazon offers an Ethernet adapter to use with their Fire TV sticks. Costing £14, the Amazon Ethernet Adaptor for Fire TV is affordable and allows you to take advantage of the speed and reliability of wired internet. 
It's easy to set up as all you need to do is connect the Amazon Adaptor into the USB port on your Fire TV and plug in an Ethernet cable directly from your router. So, remember to buy an Ethernet cable if you don't already have one!
The Amazon Adapter is compatible with Fire TV Stick Lite, Fire TV Stick (2nd and 3rd generation), Fire TV Stick 4K, Fire TV Stick 4K Max, Fire TV Cube, Fire TV (3rd generation, pendant design) and Fire TV Basic Edition.
Cable Matters Micro USB to Ethernet Adapter
If you prefer using a non-Amazon brand, consider the Cable Matters Micro USB to Ethernet Adapter, which is a little more costly at £16! It works with the 2nd and 3rd gen Fire TV sticks. So if you have an original Fire TV stick, you'll want to buy the Amazon adapter above.
As a plug-in and play device, there are no drivers to download or complex set up. Simply, connect the adapter to your TV, Fire TV stick, and router, and you're all set!
Eliminate video buffering caused by a weak wireless signal and enjoy a data transmission rate of up to 480Mbps with backward compatibility (almost 5x Fast Ethernet speed). 
Connecting your Ethernet adapter to Fire TV Stick
Regardless of whether you use the Amazon Adapter or the Cable Matters Adapter, connecting them is similar. Both have an Ethernet port and a micro USB cable that connects to your Fire TV stick.
Where they differ is, the Amazon has a micro UBS socket that allows you to use the existing power cable. Whereas the Cable Matters adaptor has a separate USB cable, allowing you to connect to any USB port (i.e. on the TV) or power adaptor.
That said setting either up is the same. You need to connect an Ethernet cable to the adaptor and one of the LAN ports of your Wi-Fi router. You need to connect a power cable that will power both units. Finally, connect the micro USB cable end to whatever Fire TV stick you're using.
Configuring your Fire TV Stick Ethernet connection
If your physical connection stops working, the Fire TV Stick will just automatically switch to using Wi-Fi. So, there's little you need to do to keep things running.
If you want to, you can check the status of your Fire TV Stick Ethernet connection by going to Settings > Network. You should see a message that Fire TV Stick is now connected via Ethernet. When you press the play/pause button, you can check on your wired network status.
You can also assign your Fire TV Stick a static IP address manually. Doing so ensures that your streaming device is always assigned a dedicated IP address. We don't recommend this, but if you have a more complex set up such as connecting to the Fire TV Stick via ADB or a File manager or FTP, then a dedicated IP address makes sense.
Does Amazon Fire TV Stick have Ethernet ports?
If you're asking: Does Amazon Fire TV Stick have Ethernet ports? The answer is no. However, you can buy an adapter that allows you to add an Ethernet port to your Fire TV Stick. Plenty of affordable options are available.