Krups Evidence EA893D40 bean to cup coffee machine review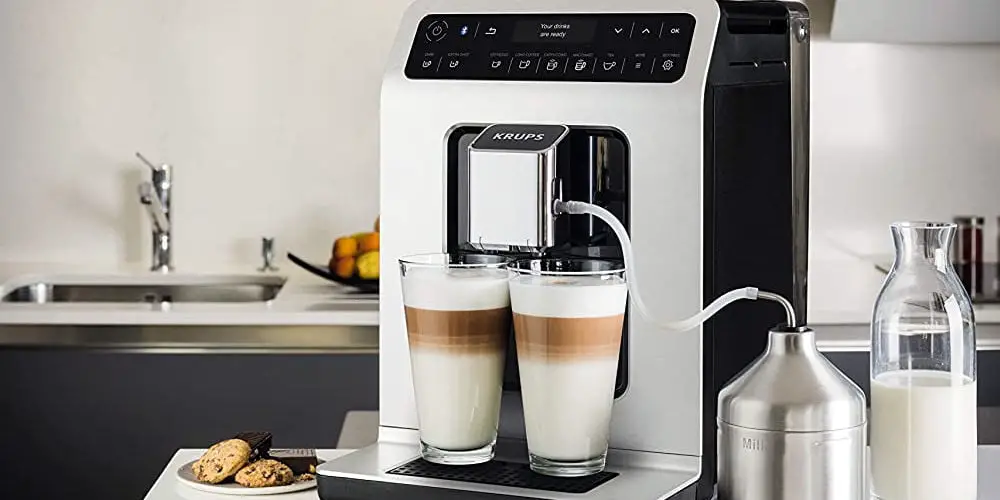 Enjoy a premium coffee experience at home with the Krups Evidence EA893D40 bean to cup coffee machine. As an automatic machine, it easily recalls and produces up to 15 preset hot drinks with perfect consistency, every time. It can even create two drinks at once!
As a bean to cup coffee machine, you have full control over each step in the process. A generous 260g bean hopper and 2.3-litre water tank, allow you to create more drinks before refilling. Easily customise the grind, strength and texture to your preference thanks to the built-in Krups Quattro force.
A OLED screen and controls are very intuitive, allowing you to quickly create drinks and monitor what's happening. It also allows you to easily save and recall your favourite drinks.
Customising preset drinks is easy and can be done on-demand with a few clicks. There's even a dedicated app for remote operation and more!
Easily recreate your favourite black coffee with seven presets that include rich espresso and intense ristretto. If you prefer white coffee, select one of the five presets that cover a range from a creamy cappuccino to a luxurious latte. You can even use the machine to make Teas and Hot chocolates.
An issue with many bean-to-cup coffee machines is keeping them clean and well maintained. Thankfully, the Krups Evidence EA893D40 offers both automatic rinsing and cleaning programs, allowing you to easily clean the machine between drinks.
As one of the best bean to cup coffee machines currently available, the Krups Evidence EA893D40 scores a respectable 8/10.
Pros
15 one-touch hot drinks
Dedicated Krups espresso APP
Active Speed Grinder that's up to 20% faster
Cons
Expensive
Large footprint
Design
With a sleek, compact design, the Krups Evidence EA893D40 machine measures 29 cm (w) by 38 cm (d) by 36cm (h). As an automatic unit, control knobs have been replaced by an OLED screen and an array of buttons.
Looking down onto the unit, you'll first notice the sizeable 260 g bean hopper. As this sits under a plastic lid, you can monitor it with ease and add more beans when it's getting low. Hidden beneath the hopper is a metal conical burr grinder, which is controlled by buttons above it.
The 2.3-litre water tank is located at the back and is easily removed, thanks to a handle. It provides plenty of storage, allowing you to create a lot of drinks before it needs refilling. Used coffee grounds are collected in a bin that easily accessed on the left-hand side.
Moving to the front, the OLED screen and control panel allows you to access a range of options, presets and settings. Below this area is the one touch cappuccino block, which can be dismantled for cleaning. This element pours the drink into the mug below and is height-adjustable.
The included Milk tube and connector enables you to texturize milk and hooks into the cappuccino block. You have the option to leave it off or remove it for cleaning. Below the coffee outlets is a removable drip tray which catches any loose droplets yet is wipe clean.
For added peace of mind, the Krups Evidence EA893D40 is guaranteed for 2 years and repairable for 10 years.
Features
Every cup of coffee starts with the beans. So the Krups Evidence EA893D40 has a generous 260g bean hopper, which feeds a metal conical burr grinder that's up to 20% quicker than others. This ensures precise bean grinding and a more consistent coffee yet is fully customizable.
Grinds past through the Krups Quattro force which regulates the amount used per shot as well as the volume and temperature of water used for that particular drink. A robust metal brewing unit creates full-bodied flavour from the very first cup.
As you have full control over each step, it's simple to create coffee exactly how you like them and experiment with different settings.
Separating the Krups Evidence EA893D40 from other bean-to-cup machines such as the Sage BES875UK Barista Express is automation. Gone are control knob, replaced by an OLED screen with menus and button. Rather than having to remember different settings for each person, you can store up to 15 preset drinks.
Don't worry if you've stuck for ideas as the Krups Evidence EA893D40 arrives preset with 17 drinks which cover a full range of coffees including full-bodied espressos to velvety lattes, teas and other hot drinks.
An extra coffee shot button allows you to create drinks that are a little stronger, ideal for mornings! It can even produce two drinks at once!
Another revolutionary feature is being able to control the unit using a smartphone app. You no longer have to waste time standing at the machine waiting for it. Although you'll have to check there's a mug waiting!
To produce the best coffee, you need a regularly cleaned machine. Typically, this involves a lot of work to remove and clean part. Thankfully, automatic rinsing and cleaning programs are built into the unit, allowing you to keep your machine in top condition.
Set-up
Out of the box, you might believe it's simple to get the best results with the Krups Evidence EA893D40 machine. However, this isn't the case as it's a highly configurable unit that requires time and experimentation to find the settings that produce your ideal coffee.
Before you can start to enjoy barista-style coffee, you'll need to add beans to the hopper and add water. After removing the water tank, you'll want to add a Claris Aqua Filter System cartridge to reduce the potential build-up of limescale within the machine and then fill it with water.
After turning the machine on for the first time, you'll need to work through the set-up wizard. This process includes adjusting the machine to work with the hardness of your water. The final step is to rinse the machine, ready for use.
Now for the exciting part, making coffee! With a plethora of preset drinks, it's worth starting using one of these and then customising it for your preference. As you can control every step in the process, it's worth experimenting with every setting.
Start by experimenting the how fine the beans are ground or the number of grinds used per shot. Even a small difference in either can produce massively different coffees. It's unlikely you'll make your perfect coffee the first time, so you'll need to make a few drinks and keep tweaking.
As it automatically textures milk based on the selected preset drink, there's no guesswork involved. Simply, attach the milk tube to the Krups Evidence EA893D40 and immerse the other end into a jug of milk, and the machine will do the rest.
When you're happy, then you can save your own presets, allowing you to produce your favourite drinks on-demand with the touch of a button.
As you become more confident using the machine, then you can download the app and attempt to make a drink from the sofa without touching your Krups Evidence EA893D40!
Performance
A problem with every bean-to-cup coffee machine is it takes some skill and time to produce good coffee. It's far more complex than grinding some beans and pour hot water over them! So expect a steep learning curve.
What the Krups Evidence EA893D40 does well is to guide you through each step of the process without having to resort to the manual or guesswork, permitting you to make better tasting coffees far easier.
Of course, as a highly configurable machine, there's more settings and options, that you'd ever be able to use. Even with a little experimentation, you can create superb hot drinks within 2 to 3 minutes.
As an automated machine, once set-up, the Krups Evidence EA893D40 produces consistently good coffee as it can remember and recall your specific setting, down to how fine to grind the bean and the type of milk you'd like.
There's no need to try and remember your preferred setting as presets allow you to save and recall them on-demand. Once you've learnt how to operate it, the Krups Evidence EA893D40 is a fantastic machine.
One highly useful feature is the auto rinse function, as this allows you to keep your machine in top condition. It's also worth running the full cleaning cycle every few months (after around 360 cups) using the Krups cleaning tablets. The cost is well worth it.
Is the Krups Evidence EA893D40 worth buying?
There is plenty to love about the Krups Evidence EA893D40 bean to cup coffee machine, once you've got over the initial steep learning curve.
As a sizeable unit, you'll need to make space for it. A small design flaw is the water tank placement, which is located at the rear and lifts up. This presents a problem as it can't sit on a worktop with cupboards above as you'll be constantly pulling the unit out to get to the water tank.
Some coffee aficionado will miss the knobs and milk wand. They'll find having to control the unit using menus and buttons uninspiring. Not to mention it's modern boxy design. That said, by automating the process, the results are far more consistent.
The manual is quite hard to follow but thankfully the machine guides you through each step both when setting up and operating. A water testing kit is included and helps get the unit set-up even quicker.
Coffee connoisseurs will enjoy being able to tweak to their heart's content and then be able to save and recall presets. Being able to tweak every step in the process is just as exciting as trying new beans!
As the milk tube can be attached when required, it doesn't get in the way of making coffees yet when added, it makes superb textured milk for lattes, cappuccino and even hot chocolates. It's just as consistent as the coffee side of the unit.
While it easy to use and offers an array of options including presets and self-cleaning, there are more affordable options available. If you're drinking multiple coffees per day and insist on a digitally controlled unit, the Krups Evidence EA893D40 bean to cup coffee will be ideal. 8/10