10 Best bean to cup coffee machine reviewed 2023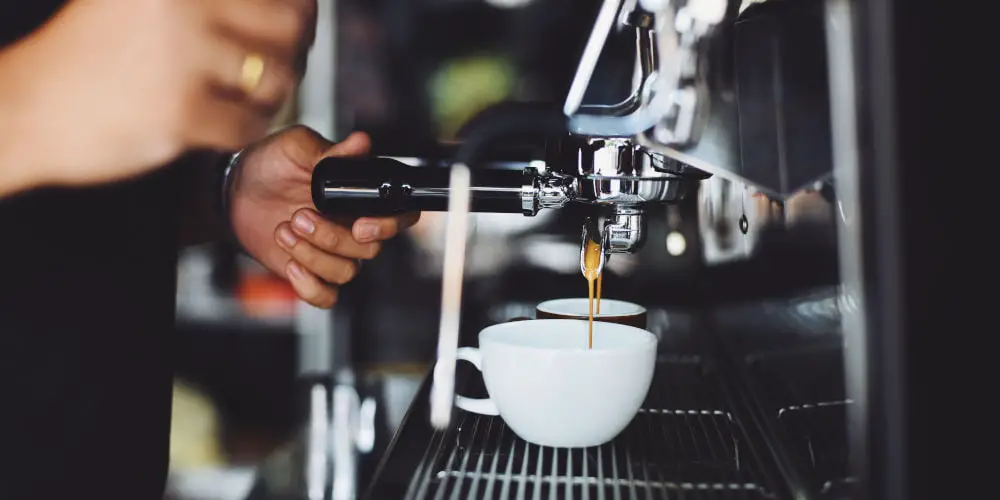 Who doesn't long for a proper coffee in the morning? Making fresh coffee requires recently ground beans, which puts a lot of people off in the morning. However, with the best bean to cup coffee machine, with a few clicks, you can enjoy fresh coffee, every morning.
If you haven't used a bean to cup coffee machine, the process is quite simple. You can either start with ground coffee or beans, which the unit then grinds. Next, it heats water and pours it over the beans into a cup. The result is a cup of fresh coffee, on-demand!
But that's only half the story. Most models have a steam arm for texturing milk, allowing you to make the perfect flat white or cappuccino. Together, these two parts enable you to produce every type of coffee imaginable.
Having researched the market, here are our top 10 best bean to cup coffee machines for your kitchen or bedroom.
* Prices correct at time of publishing
De'Longhi Magnifica ESAM 4200.S
Description
The De'Longhi Magnifica ESAM 4200.s sports a sleek yet traditional stainless steel design. Its built-in burr grinder allows you to control the whole process from bean to cup. Whether you prefer to grind beans or use already ground coffee, the results are superb.
Beans pass through an advanced dual boiler system called the De'Longhi Thermoblock system, which regulates both the amount of water and temperate it's heated too. This highly calibrated system ensures you enjoy the best tasting coffee.
That said, there's plenty of options to refine the taste and texture of the coffee, allowing you to experiment with settings for different types of beans. You can enjoy the perfect morning espresso or Americano every day!
If you prefer lattes or cappuccinos, then you'll enjoy using the traditional stainless steel milk frothing arm to texture milk. Controlled by a dedicated knob, it's easy to operate yet doesn't protrude when not in use as can be easily moved.
An issue with many coffee machines is keeping them clean, especially if you care about the quality of coffee the unit will produce. Thankfully, cleaning the EASM 4200.s is simple as there is a cleaning mode. Plus, the drip tray is removable and dishwasher safe.
Finally, this De'Longhi bean to cup coffee machine comes with a 2-year guarantee.
Pros
Simple 1-touch operation
Built-in burr grinder
Professional 15-bar pump pressure
Cons
Flimsy drip tray
Knobs feel cheap
Conclusion
With multiple professional features, the De'Longhi Magnifica ESAM 4200.s Bean to Cup is easy to use, highly configurable and affordable. And after a bit of experimentation, you'll be drinking excellent tasting coffee.
That said, as the unit has many moving parts, it can be hard to clean, and while the cleaning mode does help, there is still quite a bit to wash by hand. The plastic knobs and drip tray both feel somewhat flimsy, so you might want to look into metal replacements.
The built-in grinder is excellent, but you can also use ground coffee, making unit versatile. The wand is easily moved, allowing you to pull it out when needed for texturizing milk. The drip tray is movable, allowing you to comfortably position different sized cups under the sprout.
Finally, the cup storage on top is a nice feature, allowing you to display your finest china! 9/10 (read our full review)
Miele CM6150 bean to cup coffee machine
Description
Enjoy barista-style coffee on-demand with the Miele CM6150 Bean-to-Cup Coffee Machine. Like all Miele products, the CM6150 has been tested to the equivalent of 20 years use. Part of the testing is brewing more than 25,000 cups of coffee without any component failure.
The stylish CM6150 offers many features that allow you to optimize your coffee experience. A stainless steel conical grinding mill grinds each bean evenly, preserving its full aroma. However, you can use ground coffee if you prefer.
A 1.8-litre water tank ensures you have plenty of water for making drinks, yet is out of sight. The dynamic AromaticSystem brew chamber mixes the coffee and water thoroughly to deliver an intense aroma with fewer bitter tones.
The LCD touch screen is well-designed and allows you to select the right coffee within a click or two. User profiles allow you to save and recall, exactly how you want your drink made.
With OneTouch for two, you can brew two identical beverages at once, whether that's espresso, cappuccino, latte or something else. When it's finished making your coffee, the appliance automatically rinses itself.
On top of the unit is a heater, allowing you to pre-heat cups or glasses before making coffee, thus improving the overall flavour.
Keeping the unit clean involves a bit of work as it can be easily disassembled for cleaning, including washing parts in a dishwasher. Onboard, there are a few different cleaning programmes, allowing you to rinse the unit and easily clean it using tablets.
Pros
Stainless steel conical grinding mill
1.8-litre water tank
LCD touch screen
Cons
Difficult to clean
Milk jug sold separately
Conclusion
The Miele CM6150 is well-designed, full of feature and yet is simple to use. As a compact unit, it'll slot into most kitchens with ease and the case's black hue is sleek and modern. Within a few minutes of removing it from the box, you'll be set-up and ready to go, bar a quick clean.
There's enough space in the water tank for about eight cups of coffee. Like the coffee compartment, it's well-hidden yet easy to access when it needs refilling. The hidden milk spout gives the machine a more modern appearance yet is easily revealed.
The onboard self-rinsing mechanism is highly useful even if you don't consider it at the beginning. It ensures the machine is kept clean, improving the taste and quality of the coffee it produces. As part of the function, it also flushes the milk sprout with hot water on to the drip tray.
While many will be delighted at the OneTouch system, for the coffee aficionado, there are plenty of options to experiment with such as the water hardness, coffee grounds, cup size and pre brewing.
It includes many environmental features including an auto switch off and an Eco mode. As you might expect, this Miele unit is well-designed, easy to use and clean and highly configurable to your tastes. 9/10 (read our full review)
Sage BES875UK The Barista Express
Description
Available in black or Brushed Stainless Steel, this Sage BES875UK The Barista Express allows you to create great tasting espresso in under a minute.
The built-in conical burr grinder allows for both automatic and manual operation to ensure the best result, and it uses interchangeable filters. With full control over how the beans are ground and the quantity, you can always enjoy full-bodied coffee with rich and complex flavours.
An innovative grinding cradle allows any at-home Barista to grind directly into the espresso portafilter.
At the heart of the machine is a 15 bar Italian pump, which ensures that water passes evenly through the coffee grinds, resulting in a rich, sweet and luscious espresso.
A digital temperature control (PID) delivers water at precisely the right temperature, ensuring the optimal espresso, every time. This eliminates the chance of burnt grinds which always give off a bitter taste to the coffee.
A steam wand allows you to hand texture micro-foam milk with ease, yet can be pushed out of the way when not required. Being able to texture milk, allows you to produce lattes, flat whites and cappuccinos on demand!
The built-in cleaning mode means you can keep the unit in the best condition without needing to disassemble it after every use. Plus cleaning the removable metal drip tray is also easy. A stainless steel jug is also included.
Pros
15 bar Italian pump
Digital temperature control (PID)
2 Litre water tank
Cons
Uses a proprietary 'ClaroSwiss' filter
No water level indicator
Conclusion
Whether you enjoy grinding your own beans or using ground coffee, the Sage BES875UK The Barista Express allows you to create a variety of coffees with minimal effort. It's not a single touch unit but is easy to use nonetheless.
It might take a little while to master the intricacies of the unit. However, once you have, the coffee produced is excellent. The wand is easy to use and enables you to texturize milk in multiple different ways.
The 2-litre water tank is nice, but there is no level indication. So unless you're careful, you might end up damaging the heating element as it will attempt to heat whatever water it can and won't wait for the tank to be refilled to a suitable level.
Another issue is the unit uses a proprietary 'ClaroSwiss' filter in the water tank. These are difficult to obtain as they have been purchased directly from Sage, who recommend changing them every few months. It seems that there is no generic alternative available as yet.
Overall, it produces an excellent range of coffees and textured milk. 9/10 (read our full review)
Dualit Bean to Go Machine
Description
Enjoy an authentic taste without the hassle with the Dualit Bean to Go Machine. Simply add whole coffee beans and water and the machine does the rest. The unit features a built-in coffee grinder, steam wand milk frother and double shot function.
Dedicated 'one touch' buttons allow you to make espresso, lungo or a double shot of coffee with ease. If you prefer a Cappuccino, Latte, Ristretto or Long Filter Coffee, then the Dualit machine is also capable.
If you're in a hurry, use speed mode which starts up in under 40 seconds yet still produces an excellent cup of coffee. You no longer need to wait in the morning for an authentic Italian coffee!
For the perfect coffee, let the built-in grinder grinds your beans just before extraction. It offers multiple adjustable grind settings and dose controls to ensure fresh, authentic coffee. In the infuser, the grinds mix with the ideal volume of hot water to release the full aroma of the coffee.
Easily texturised milk for a range of coffee types and even hot chocolate with the easy to use frothing wand. Simply, place the wand into the milk and let the machine do the rest for you.
Cleaning is simple thanks to the removable drip trays, grinds container and infuser. An auto-flush and descale functions help to prolong the life of your Bean to Go machine ensuring it provides years of coffee making.
Pros
Easy to use control panel
Speed mode for quick coffee on the run!
Auto-flush and descale functions
Cons
Steep learning curve
Water tank is at rear
Conclusion
Stylish and easy to use, the Dualit Bean to Go Machine is capable of producing excellent coffees with minimum fuss. It's worth reading the instruction and tweaking the setting for the best coffee. Otherwise, you might be a little frustrated.
It delivers coffee quickly as it's fast as to warm up and grind beans, although you can use ground coffee if you prefer. Tweaking setting including how the beans are ground and the amount of water released is straight forward.
The milk wand is fun to use and easily textures milk, whether you're making hot chocolates, lattes or flat whites. That said, the water tank is at the rear and lifts out vertically, which isn't ideal if there's a cupboard above. Ideally, you'd place it on a worktop with plenty of space above.
In terms of cleaning, the auto-rinse function is simple to operate. In addition, a manual rinse cycle is available. It's also easy to wipe down. All of these ensure cleaning and maintaining the unit is easy. 8/10 (read our full review)
Krups Evidence EA893D40 bean to cup coffee machine
Description
As the most expensive unit on our list, the Krups Evidence EA893D40 Automatic Espresso Bean to Cup Coffee Machine will cost you nearly a grand. It offers 15 one-touch hot drinks, allowing you to effortlessly make your favourite drinks on demand.
Sporting a sleek, compact design, the unit slots into any kitchen with ease. The OLED display and touch controls ensure it's a pleasure to use. Plus there's a dedicated app for remote operation and more.
Out of the box, enjoy a range of preset drink options. There are seven types of black coffee, five white coffee types and three temperature settings for tea. So whether you dream of a rich morning espresso or a creamy afternoon cappuccino, with a single button, you can enjoy one.
Easily customize any coffee type to your preference. Want an extra shot of espresso for a bolder flavour? Select the dark setting. Need two coffees at once? There's a mode for that as well!
The Krups Quattro force system sits at the heart of the unit, ensuring barista-quality grinding that's up to 20% faster, ultra-flat tamping for a uniform crema, perfect percolation for a full-bodied flavour.
The Krups espresso APP allows full control remotely. You can easily brew coffee, save your favourites, keep a maintenance log and get the latest Krups news. There's also a built-in automatic cleaning mode to ensure easy maintenance and lasting performance.
Pros
15 one-touch hot drinks
Dedicated Krups espresso APP
Active Speed Grinder that's up to 20% faster
Cons
Expensive
Large footprint
Conclusion
You'll need quite a bit of space to dedicated to the Krups Evidence EA893D40 Espresso Machine. The sleek, modern design might not fit in a rustic kitchen but will look at home in most. For the price and size, it's not ideal for tiny kitchens or the occasional coffee drinker!
As a bean to cup machine, the resulting coffee is fresher, richer and easily customized to your preferences. Depending on how deep you want to go, you can tweak and experiment with every element in the chain, from the grind, amount of water, milk and temperature.
Drinks take about two to three minutes to make with the utmost consistency regardless of the beans or the settings. It can be set-up to rinse between uses and requires a full cleaning cycle every 360 cups or so, using the Krups cleaning tablets.
The price tag is steep. However, for the coffee addict who values consistency, then it's worth considering. That said, you might prefer another option, which provides a similar result at a more affordable price, albeit with more effort on your part. 8/10 (read our full review)
Gaggia RI8762/18 Anima Prestige bean to cup coffee machine
Description
Gaggia RI8762/18 Anima Prestige bean to cup coffee machine builds on more than 50 years on designing innovative, state-of-the-art coffee machines that are beloved by customers and bars alike. The iconic design is inspired by the Italian la dolce vita.
The sleek, modern appearance of the Anima Prestige is accentuated by its stainless steel front panelling. This exciting machine which will allow you to make great coffee, Cappuccinos and Lattes at home, for years to come.
As an automatic coffee machine, the Gaggia Anima Prestige features a one-touch espresso and milk texturizing capabilities. The sleek front panel features a digital touch screen display and six buttons, making controlling this coffee machine extremely easy.
The front panel offers four programmable buttons, allowing you effortlessly brew a range of coffees (espresso, long coffee, cappuccino, and macchiato). If you like to experiment, then you'll enjoy being able to adjust the temperature, volume, and strength to your liking.
The built-in ceramic grinder is strong, durable and precise. Unlike other grinders, a ceramic one protects beans from over roasting. As only the exact amount of beans is ground each time, freshness is guaranteed. In addition to bean hopper, the unit has a 1.7-litre removable water tank.
An integrated milk container makes texturizing milk painless. Simply pour the milk into the jug, connect it to the coffee machine, and choose your favourite drink. A few moments later, you'll be sipping on a cappuccino, latte or flat white.
Keeping the unit clean is made easier, thanks to the removable brewing unit and built-in rinsing program.
Pros
Digital touch screen display
Integrated milk container
1.7-litre removable water tank
Conclusion
As one of the most expensive on our list, the Gaggia RI8762/18 Anima Prestige is ideal for making a range of coffee with precision and minimum fuss. Whether you enjoy a dark espresso or a frothy cappuccino, both and much more is possible.
That said, as a highly versatile machine, it does take a little while to experiment and configure how it produces coffee to your preference. So you'll want to take some time to play with how the beans are ground, the water volume and temperature, and how texturized milk is added.
Once configured, you can easily save different drinks exactly, as you'd make them using the one-touch recall buttons, which sit around the display.
Refilling the beans and water tank is painless. Plus, it's easy to clean and maintain, great if you use it daily! 8/10
Cuisinart Veloce bean to cup coffee machine
Description
Enjoy coffee, exactly as you want with the Cuisinart Veloce Bean-to-Cup Coffee Machine which reduces the hassle of making a superb brew. Compact by design, it doesn't take up that much room as it measures just 20 cm wide and 40 cm deep (excluding the milk container).
Place your favourite beans into the built-in burr grinder, which automatically grinds the perfect quantity for your desired drink. The remaining beans will stay fresh in the sealed hopper. If you wish, you can also use ground coffee.
Using the intuitive touch screen, you can easily select from espresso, Americano, latte, cappuccino, hot milk or hot water. You can even save presets, allowing you to make drinks at the push of a button. Simply adjust the strength, temperature, the ratio of coffee, and milk.
The separate milk container with a built-in ice pack keeps the milk at a suitable temperature. It can be easily removed and stored in the fridge. When connected, milk is automatically drawn into the machine and heated, steamed or frothed depending on your chosen drink.
The machine is also able to make two identical drinks at a time, speeding the time it makes drinks, ideal for mornings or entertaining.
After switching the unit on or when it finishes making a drink which contains milk, it automatically runs a cleaning cycle. It will also take you through the simple steps to perform deeper cleaning when needed, including descaling and deep cleaning of the milk system.
Cleaning is easy as all parts are accessible from the front of the machine, including those which use milk. There is even a handy cleaning guide tucked away behind the drip tray.
Pros
Compact design
Intuitive touch screen with picture instructions
Milk container with a built-in ice pack
Cons
Steep learning curve
Expensive
Conclusion
As with many bean-to-cup coffee machines, the Cuisinart Veloce has a steep learning curve as it's highly configurable. That said, getting the unit set-up should take around ten minutes.
The touch screen is easy to use and provides helpful tips and prompts. It includes preset options for espresso, latte, cappuccino, americano and simple hot milk. Towards the bottom of the screen, there are four buttons for saving and recalling up to four user presets.
The separate milk jug is unique as it has a built-in ice pack. It's easily removed for fridge storage. When removed, the unit takes up minimal space. That said, it struggles to heat milk as efficiently as you'd like.
As it runs a rinse cycle both on start-up and shut down, the machine is kept clean, hygienic and well maintained. 8/10 (read our full review)
SCOTT UK Slimissimo bean to cup coffee machine
Description
Designed in France, the SCOTT UK Slimissimo bean to cup coffee machine delivers a seamless one-touch drink. At a slender 18 cm wide, the compact, counter-top Slimissimo includes a 19 bar pump pressure which guarantees fully aromatic, high-pressure brewed coffee.
Built around a patented brewing system, which produces a consistently optimal coffee extraction. It truly unlocks the full flavour potential of your coffee, creating a rich and flavourful creama for espresso to maximise your coffee experience one cup at a time.
An LED panel complete with touch keys, allows for seamless operation including an array of state of the art brewing functions. Functions include a cup quantity memory function which remembers how you like your coffee and how high to fill your favourite mug.
The built-in stainless steel grinder offers 5 adjustment settings. When the machine is running low on beans, it will notify you, allowing you to refill the hopper. Behind the bean store, is a 1.1-litre removable water tank, which again will notify you when it's nearly empty.
A nice feature is the cup illuminate light, which adds presence to the room! The coffee dispenser is height-adjustable and the drip tray can be removed for cleaning. In terms of keeping your unit in top condition, there is a descaling programme which makes the process easier.
Pros
19 Bar pump
Built-in stainless steel grinder
1.1-litre removable water tank
Conclusion
If you're after a bean to coffee espresso machine, then it's worth considering the SCOTT UK Slimissimo. It doesn't offer a milk frother, which will put some people off but is ideal for making espresso and Americano coffees.
As a compact unit, it packed quite a bit into a small unit including a grinder and 1.1-litre water tank. The touch screen enables one-touch coffee on demand, yet it has many options for those who like to experiment.
Thanks to the 19 bar pump pressure, it delivers a fantastic cup of coffee. Plus, the hot water function is ideal for making tea or hot chocolate without needing to boil the kettle!
Properly cleaning the unit is simple as there are only a few moving parts, most of which are removable and in-built cleaning mode. If you're after a simple bean to cup coffee machine, then we recommend it. 7/10
Melitta E950-103 Caffeo SOLO
Description
German designed and made, the Melitta Caffeo SOLO E950-103 bean-to-cup coffee machine is available black, red and silver and is highly stylish. Create a range of drinks with this low-maintenance and fully-automatic Caffeo SOLO.
With it's elegant, minimalist design, this unit features a height-adjustable spout and varied options in temperature and brewing intensity. It also provides a double-cup option for creating two drinks at once or fill one large cup at a faster speed.
The intelligent, integrated steel grinder offers three different settings, allowing you to fine-tune the coffee grind to your preference. Using one of the three brew temperatures, you can create the ideal coffee strength for the perfect cup of coffee.
The height-adjustable spout enables you to use a variety of different glass and cup sizes. A cup warmer ensures you'll always be drinking from a warm mug.
A removable 1.2-litre water tank is located at the rear on the left, allowing for easy refilling. The package comes with one water hardness test strip, enabling you to adjust the coffee's taste and texture for your water.
Designed to be easy to maintain, this Melitta Caffeo SOLO features a removable brewing unit and automatic descaling program. A bottle of descalent is included.
On the unit are the essential controls, allowing you to produce your favourite coffee with ease. However, a smart device App is available and includes tips and tricks, illustrated step-by-step instructions take you through the maintenance programmes and access to a diagnostic tool.
Pros
German designed and made
Only 20 cm wide
1.2-litre water tank
Conclusion
As a reasonably priced espresso machine, the Melitta Caffeo SOLO E950-103 bean to cup coffee machine delivers a superb cup of coffee. It doesn't have a milk frother, so you can't use the machine to make cappuccinos, lattes or flat whites.
As the cup size can be easily adjusted, making an expresso or americano in any strength you want is simple. Plus being able to make 2 cups or one strong cup at once is fantastic.
Unlike other machines who make it hard to remove the water tank, it's surprising easily as it filling the bean hopper. And as you'll notify you when either is running low, there's no guesswork involved, and the chance of overheating the element is reduced.
Cleaning the Melitta Caffeo SOLO is tricky as many parts can be removed. That said, it does offer a cleaning cycle mode allowing you to quickly clean the unit. 7/10 (read our full review)
Ariete 1313 Metal Espresso Machine
Description
With the Ariete 1313 Metal Espresso Machine, bring the taste of authentic Italian barista-style coffee to your kitchen. Made from stainless steel, it's robust and designed to last.
With 11 settings, the integrated coffee grinder enables you to find your perfect blend of intense, complex flavours no matter what coffee beans you use. The grinder combined with 1600W power and 15 bar pressure pump means you can easily create rich, full-bodied coffees with café quality results.
A 2-litre water tank, that's refillable and removable allows for instant hot water. So whether you're a tea drinker, coffee connoisseur or enjoy hot chocolates, this Espresso Machine can help!
The integrated milk frother is easy to use and allows you to create silky micro-foam in true barista-style for lattes, cappuccinos, flat whites, hot chocolates. A quality stainless steel jug is included, giving you a head start on frothing milk.
Store 1 or 2 cups of coffee at a time thanks to the stainless steel dispensers which allows you to instantly produce large or multiple coffees.
Cleaning is slighter trickier as there's no preset modes and only a few buttons for operating. That said, as the unit and the removable drip tray are made from stainless steel, they are easily wiped down.
Enjoy an authentic Italian Espresso with this machine which effortless blends technology, design and quality. It's simplicity at its best.
Pros
15 bar pressure pump
Integrated coffee grinder with 11 settings
2-litre water tank
Conclusion
As a compact and easy to use unit, the Ariete 1313 Metal Espresso Machine only offers the simplest of controls. There's no hidden menus or smartphone App, just a solid bean to cup machine.
The grinder is easy to configure for the perfect taste as it has 11 settings, which can be adjusted on the side. As you can control the amount of water heated, making tea, hot chocolates or a mug of hot water, is simple.
If you're used to using an Integrated Milk Frother, you might find the wand on this Ariete unit on the small side, but after some experimenting, it's perfectly useable.
Designed for espresso and cappuccino cups, so you'll struggle to fit a regular-sized mug underneath. And as two cups can be stored on top, allowing you to always have cups at the ready. 7/10
And the Best bean to cup coffee machine is…?
When it comes to picking the best bean to cup coffee machines, ideally you want a unit with a built-in milk frother, not just a unit which only produces several coffee types. Being able to texturize milk, allows you to create more types of drinks, even if you don't end up using that function.
Three units stand out. Starting with the De'Longhi Magnifica ESAM 4200.S which is affordable, packed full of features yet simple to use. If you prefer to have all the controls in front of you, then this probably is the unit for you.
Next, the Miele CM6150 bean to cup coffee machine, which is more expensive but has a sleeker, more modern look. Again it highly versatile, built to last and has the ability for you to save preset and easily recall them at the touch of a button.
Finally, Sage BES875UK The Barista Express. Like the entire Sage range, The Barista Express is affordable, high quality and user-friendly. It features a 2-litre water tank, 15 bar Italian pump and digital temperature control. Just expect to pay dearly for the filters every few months or hope that a company brings out a generic version!