McCulloch ROB R600 robotic lawn mower review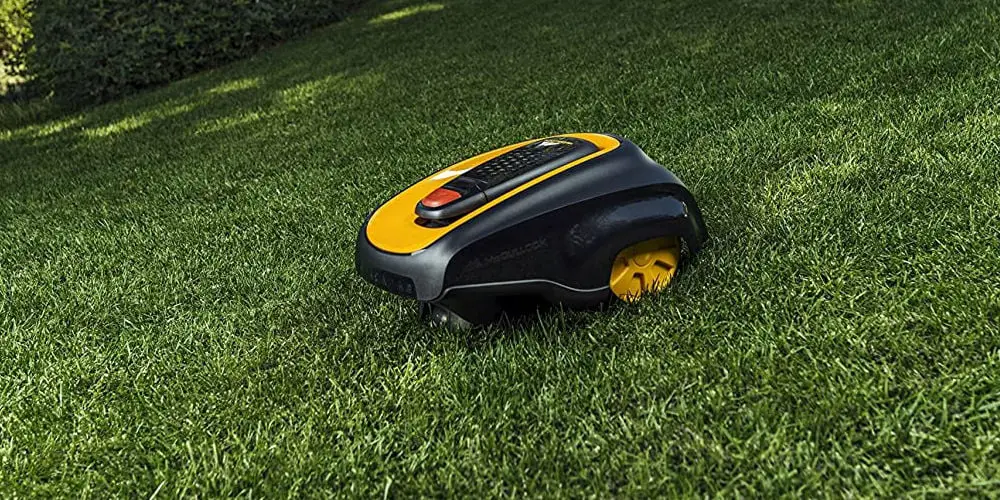 PUBLISHED: 6th August 2020 | LAST UPDATE: 15th June 2022
Ideal for mowing small and medium-sized lawns, the McCulloch ROB R600 robotic lawn mower is reliable, quiet and efficient.
At the heart of the Rob R600 is Lithium-ion battery which typically charges in 50 minute and provides 65 minutes of operation time per charge.
Designed around a powerful yet quiet motor, it only emits 59 dB of noise during mowing. You can enjoy your garden while it mows or set it run through when you're not using your garden.
Suitable for gardens up to 600 m2 and gradients of up to ±25 % (14°), the McCulloch ROB R600 is ideal for the majority of small and medium-sized lawns. It's 3 sharp rotating blades cut through the grass with ease ensuring a consistent grass height throughout the lawn.
Easy to install and program, the ROB R600 is a fully automatic robotic lawnmower takes care of your lawn by cutting it and feed the clippings back on top, meaning there's no collection box to empty. The Rob R600 knows when it's battery is low and so will dock and start to recharge.
The onboard navigation uses sensors to ensure your lawn is cut to perfection while avoiding obstacles and drops. It will automatically stop when lifted or tilted. Plus it's equipped with an anti-theft system and a PIN code.
As one of the best robotic lawn mowers currently available, McCulloch Rob R600 score 9/10.
Pros
Efficient charging system
Wide range of cutting heights (between 2 and 5 cm)
Easy to operate
Design
The stylish mix of charcoal grey and yellow, ensure the McCulloch Rob R600 is visible yet isn't an eyesore. It weighs 7 kg and measures 59 cm (l) by 44 cm (w) by 26 cm (d).
The top features a control panel which is covered by a hood to protect them from the elements. This panel allows you to operate the Rob R600 robomower. Above these controls and display screen is the cutting height adjustment knob. Modifying the cutting height is very straight forward.
Finally, a large stop button is located on the top. However, unlike the main control panel on the Rob R600 , it is open to the elements, allowing you to quickly stop the unit as and when.
Flipping the unit over, you'll notice a carry handle at the front, which makes moving it easy. Three wheels keep it moving. In the middle of the two rear wheels is the cutting disk complete with 3 blades. The battery, motor and electronics sit below this.
Next to the front wheel are charging strips which match up with the dock, allowing the unit to slide in and automatically recharge. The sensors, which also form part of the navigation system are located on the underneath but aren't visible.
The McCulloch dock comes with plenty of boundary wire, pegs and a power cable as well as screws for securing it into the ground. It has an LED which displays different colours depending on the various functions.
Features
Regardless of how many excellent features the McCulloch Rob R600 offers, two are more important than the rest. These are the battery performance and the overall noise. Thankfully, on both, the Rob R600 passes with high marks.
Powered by a 2.1 Ah Lithium-ion battery, the ROB R600 charges in around 50 minutes. Each charge provides up to 65 minutes in operation. This is not just good, it's unheard of. Ideally, you'd want a charge to use ratio close to 1:1, and this robomower beats this comfortably.
Ask anyone what annoys them about mowing, other than the act and it's likely they'll say the noise. It's not uncommon for an electric lawn mower to create at least 90dB in noise. Thankfully, due to the design of the Rob R600, it only creates 59 dB or two-thirds of the noise created by the typical mower.
Designed to cover up to 600m2 in area and inclines of up to 25%, the McCulloch ROB R600 can handle most small and medium-sized lawns. Using a combination of sensors and boundary wire to navigate, the R600 move efficiently around the lawn ensuring every blade gets cut.
When it finished or need to recharge, it'll locate the dock and navigate to it. So you don't need to monitor it for the unit to work.
In terms of cut, the McCulloch ROB R600 uses 3 blades which attach to an adjustable plate. Together they provide a cutting width of 17 cm and a cutting height between 2 and 5 cm. As clippings are fed back onto the lawn, there's no collection box to empty and your lawn is naturally fertilised.
Many safety features are built-in ensuring peace of mind. These include collision, lift and tilt sensors which protect the robotic lawnmower from hitting obstacles or falling down drops. When the unit is lifted or tilted the robot's blades stop immediately.
In terms of security, the McCulloch ROB R600 has an excellent inbuilt anti-theft system that includes a programmable PIN code. If someone does try and steal your robomower, they will find it impossible to operate your Rob R600.
Set-up
As the McCulloch Rob R600 uses a boundary wire for navigation, getting set-up takes a bit of time. In the box are 150 metres of wire and 200 pegs. You'll need a plastic mallet and pilers.
Locating the dock
Before you can lay the boundary wire, you need to secure and power the dock. Ideally, you'd use an outdoor power socket that's close to your lawn. The dock needs around 3 metres clearance in the front and about 1.5 metres each side to allow the unit plenty of space to dock.
It's best to avoid corners or tight spots where there might be slightly less clearance than required. You'll also want to ensure the dock is placed on even ground to allow for the robomower to gracefully slide on!
Laying the boundary wire
With the dock in place, you'll need to mark the perimeter of your lawn using boundary wire, leaving 20 cm from the edge. If you have raised beds, water features or trees, then you'll want to ensure they are protected by boundary wire to stop the McCulloch ROB R600 from getting to close.
By now the boundary wire should be in place and attached to the dock. So, you'll want to power it up and place the R600 on the dock. It will between 80 and 100 minutes to fully charge for the first time. After which, it takes around 50 minutes to charge.
Basic set-up
The first time you switch the unit on it will take you through the set-up wizard including setting the date, time, a PIN and default language. You will also want to select from the 3 security levels (Low, Medium, High) to ensure your robomower is safe.
First mow
Next, pick from the 4 modes (AUTO, MAN, HOME and ECO) and set the timer to control when it operates. It's worth remembering that roughly half of the operational hours will be taken up by charging. So, unless you have a postage-stamp-sized lawn, you'll want to set the timer to double the time you think it needs.
With it all set-up, your McCulloch Rob R600 should operate freely and require little input from you. If you need to stop it at any point, hit the stop button on the unit and it will automatically shut off and return to the dock.
Performance
With it set-up, how does the McCulloch Rob R600 preform? Very well, in fact. Setting the cutting height to 3 cm (bang in the middle), it sets off at random angles, ensuring it covers the entire lawn. After about 60 minutes of cutting, it'll gracefully glide back to the dock and start to recharge.
Random cutting pattern
With the battery charged, it'll set off at on a random trajectory guided by the onboard sensors and boundary wire. Within hours of laying the wire, it will sink into your lawn, only to be recognised by the ROB R600. The boundary wire as a force field repelling the unit when it gets close!
When it senses the boundary wire, it'll quickly reverse and shoot off in a different direction. The flexibility to move using a random pattern means the lawn is evenly cut and every centimetre is covered. While this might sound noisy, overall, it's virtually silent.
No more raking clippings
One of our pet peeves, when it comes to mowing a lawn is clearing up the cuttings. Collection boxes help but don't pick up every last blade of grass. As with all other robomowers, this issue solved by finely chopping grass into tiny pieces and then dropping them onto the soil.
You'll never need to rake clipping with the McCulloch Rob R600 as it does it for you! Also, your lawn will look superb with no uneven strips or missed patches as the Rob R600 ensure every centimetre is cut to precision.
That said, if you have large beds or tight borders, you'll still need to strim them occasionally as the R600 does need a little help. You might want to adjust the cutting height depending on the season to care for your lawn in the best way possible.
Wet weather
While it's designed to work in wet weather, we'd advise hitting the stop button when it starts to pour as this will dock the unit, keeping it from the rain. We'd also recommend using a robotic garage to protect the dock and unit from the elements and moving them inside during the winter.
Overall the McCulloch Rob R600 requires minimal input from you and will keep working, blending into the background.
Is the McCulloch ROB R600 worth buying?
If you're looking to enjoy your garden more without having to do so much to keep it in shape, then you'll want to consider the McCulloch ROB R600 robotic lawn mower.
It doesn't have onboard Wi-Fi or works with an App but thankfully it's simple enough to use without. Some will prefer to look at other models with these features as it improves operation.
Overall, we're highly impressed with its charge to use ratio, ease of operation and navigation. Not to mention the built-in security features. Of course, setting the unit up isn't easy but once done it will operate largely without you.
As robotic lawn mower go, this isn't the cheapest option nor the most affordable robomower, but if you're looking for a rock-solid unit that will still be scurrying around your garden in years to come, then you'll want to consider the McCulloch ROB R600. 9/10