Best robotic lawn mower for hassle-free gardening 2023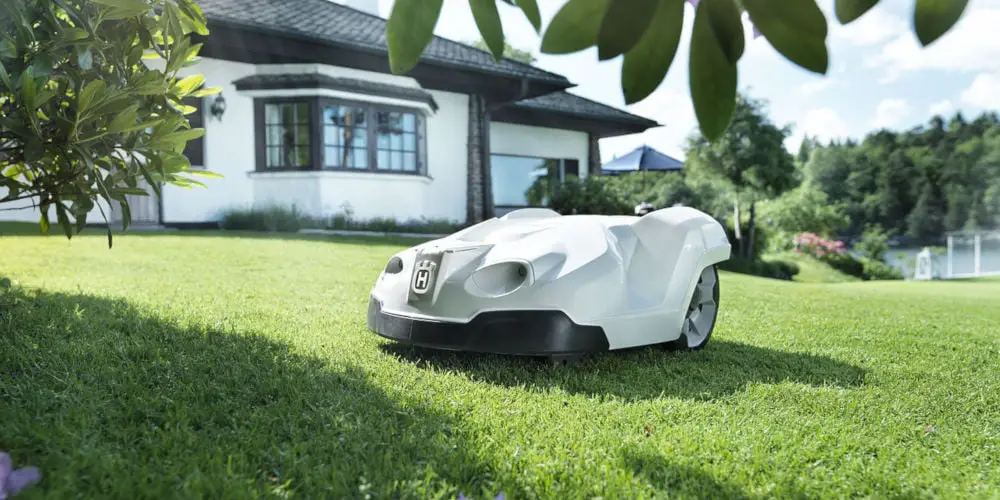 PUBLISHED: 5th February 2021 | LAST UPDATE: 2nd January 2023
If we're honest, we enjoy relaxing in our garden, there's nothing quite like catching some rays or spending time with a glass of wine and a book. So, it makes sense to use the best robotic lawn mower to reduce our gardening workload.
Something we don't (really) want to admit is gardening kind of sucks. Sorry! It's hard work that requires continuous maintenance. While some gardening is therapeutic, what if we could automate some of the heavy grunt work?
Introducing the best robotic lawn mowers. These small yet powerful devices aim to save time and cut bowling green quality lawns. As we've covered yearly lawn care in the past as well as 10 electric mowers and are avid tech geeks, robotic mowers definitely appeal to us.
As always, we've picked a range of the best robotic lawn mowers from several leading brands across the price scale. If you haven't purchased one before start with our guide: how do robotic lawn mowers work as this will help you pick the ideal unit.
* Prices correct at time of publishing
WORX WR153E L1500 Landroid Robotic Mower
Description
The WORX WR153E L1500 Landroid Robotic Mower is worth the price of a second hand Ford Fiesta! Yet offers many useful features for keeping a lawn looking fresh!
Powering the WR153E is the same 20V battery found in a range of WORX tools. After charging for 2 hours, the unit provides 60 to 80 minutes of mowing time. When the battery is low, it navigates back to its base and starts recharging.
If it starts to rain, it will automatically return to base and will only restart when the grass is dry. It will continue to run with very little input from you! Plus it's virtually silent, so you'll hardly notice it working!
Covering most gardens thanks to its range of 1500 m2, the WORX blades can be set anywhere between 3 and 6 cm with a cutting width of 22 cm and can cut right up to the edge. Cuttings are fed back into the lawn, helping to fertilise it and maintain a healthy lawn.
While you have to lay a boundary wire, the unit uses Patented AIA technology for smart navigation and faster cutting. Operating the WR153E is painless thanks to a range of options including 5 different modes.
There are controls on top of the unit as well as a new app. Not only does the app concisely communicate key information, but it also allows you to fine-tune the unit's performance.
Pros
Controlled via Wi-Fi
Patented navigation technology
Quiet 57dB operation
Cons
Long charge time to use ratio
Controls are open on top to the elements
Conclusion
With many unique features, the WORX WR153E L1500 Landroid Robotic Mower is worth it's high price tag.
The charge to use ratio is acceptable with a 2-hour charge only providing slightly over an hour of use. This would be easy to overlook if a charge produced a runtime of near to 90 minutes.
Another element which bugs us is the exposed top control panel as it could be adversely affected by bad weather. And while the unit will dock if it starts to rain, the dock doesn't cover the controls, meaning they'll get wet.
For small gardens, then this WORX with its 22 cm cutting width will quite literally fly around it efficiently cutting your lawn in the process. Even if you have a larger garden, it will still take a fraction of the time someone with a push mower would.
As tech nerds, we love that the WORX WR153E Wi-Fi ready and is easy to programme and also has superb navigational technology built-in. 9/10 (read our full review)
Robomow RC 312 Pro SX Robotic Lawnmower
Description
As Robomow's premier product, the RC 312 Pro SX is designed for lawns of up to 2000m2. That said, it offer the best performance around 1200m2.
There are more ways to control the RC 312 Pro SX than you'll ever need. In addition to controls on top, you can use an app, a website and even Amazon Alexa.
A 26V LiFePO4 (lithium-ion) battery powers the unit and delivers just over an hour of mowing time when charged. A charging time of an hour and a half is quite good. As expected,the RC 312 Pro SX auto-charges as it needs.
The large tri-sided blade provides an impressive cutting width of 28 cm. The blade sits on a floating plate, which rises and falls with small changes in the lawn. The cutting height is easily adjusted from 1.5 cm to 6 cm.
Whether you're mowing one or many zones, the RC312 Pro SX can handle either with ease.
There's two mowing modes. The turbo mode is perfect for longer grass in need of a quick trim. Whereas smart mode, the Robomow anticipates each turn and so doesn't stop at the boundary wire to plan it's next move.
As standard, it will take some time to get the boundary wire set up. Once done, the onboard sensors do all of the hard work. If it starts raining, the unit will return to its dock until it's safe for the Robomow to restart.
There's an impressive anti-theft system on board includes an alarm and pin code. The final thing worth mentioning is the dock. Called the Robohome, this handy shelter protects the unit when charging or not in use.
Pros
Large 28 cm triangle blade
Severalcontrol options including an app, Alexa and web
Dock protects the mower when charging/resting
Cons
Clunky app
Struggles on sharp inclines
Conclusion
Putting the price to one side for a moment, it's hard to find fault with the Robomow RC 312 Pro SX. It's a fantastic robotic lawn mower with unique cut and loads of control options.
Of course, it's not cheap, however, the features certainly match the price. For example, we are impressed by the wide cutting height range and the blade width. Both make easy work of mowing, whatever the season.
The charging time to use is quite impressive. As is the dock, which really is a robo garage and will provide added protection when charging or at rest.
It's quite likely you would want to use the Robomow RC312 Pro SX on medium size gardens, but it will handle smaller lawns in no time with great ease. 9/10
Mcculloch ROB R600 Robotic Lawnmower
Description
With it's black and orange styling, the Mcculloch ROB R600 is definitely the most stylish in our list.
Starting with power, the unit performs the best out of any our of robotic lawn mowers. After a 50 minute charge, the battery can provide 60 minutes of mowing. Again this flipped ratio makes the unit impressive.
When the ROB R600 is running low on charge or is complete, it will seamlessly return back to the dock and start recharging.
The cutting wheel uses three blades and covers a 17cm width. In terms of cutting height, the blades can be moved from 2 to 5 cm. This provides a nice range of options for each season.
Using a mixture of boundary wire and onboard sensors, the ROB R600 navigate the garden with easy and can handle slopes up to an incline of 25%. This mower is designed to handle a maximum area of 600m2 and so will be well suited to small and most medium-sized gardens.
In terms of control, under the lift up top, there's a control keypad and a cutting height adjuster knob. The stop button is easily accessed as it's not covered. While there's no app or another way to control, the keypad offers a range of setting and is user-friendly.
Keeping the unit safe, is a number of anti-theft systems including an Alarm and Security PIN Code.
Pros
Easy to understand keypad and LCD display
Efficient charging system
Wide range of cutting heights
Conclusion
The Mcculloch ROB R600 robomower is impressive despite its lack of multiple control options. However, if you have a small garden of less than 600m2 then we can't think of a robotic lawn mower we could recommend higher.
We like that it's the controls are hidden and that they include an easy read LCD display. This makes it fairly idiot proof and should be easy to tweak without having to consult the manual.
In terms of the cut, it follows it's own path rather than randomly flying across the lawn. Plus it's smart enough to see objects, reverse and take off in a different direction. 9/10 (read our full review)
Flymo 1200R Robotic Mower
Description
When you think of lawn mowers the Flymo is probably the first brand that comes into mind. And so we thought they would be a great starting point for robotic lawn mowers.
Introducing the Flymo 1200R, which is fairly expensive yet packed full of many exciting features.
Powering the unit is 18-volt Lithium-ion Battery, which provides 60 minutes of use when fully charged. As a self-charging mower, the Flymo 1200R returns to its dock when the battery is low.
Setting up is fairly easy. Simply mark the area you want the Flymo to cut with the supplied boundary wire, charge and set it to work. With a cutting distance of 400 M², you'll be able to cut most gardens.
Flymo estimates that the unit can cut 30 M² per charge, and so should complete most small gardens in one charge. As the Flymo finely cuts the grass, the cuttings act as a natural fertiliser. So you don't have to spend time emptying it.
In terms of the cut, the 17 cm wide blade can be adjusted between 2 and 5 cm in height. The unit uses an irregular mowing pattern to ensure an equal cut across the area mark by the boundary wire.
In addition to the boundary wire, the Flymo 1200R uses sensors to navigate obstacles such as furniture, humans and pets. The unit also uses these sensors to track uneven ground and slopes with an incline of up to 25%, while providing an excellent cut.
Finally, with a recorded noise level of 56dB, the unit is very quiet – much more than a tradition lawn mower. You won't hear it working but you'll notice the difference!
Pros
18 V Lithium-ion Battery
Easy to use
17 cm wide blade
Cons
Hard to read manual
Not home automation systemintegration
Conclusion
We had high hopes for the Flymo 1200R and we weren't disappointed.
It doesn't integrate with Z-wave or Google Home or comes with its own app. We do hope Flymo add some of these options soon as the price justifies it. However, the onboard controls are more than sufficient.
Like many users, we disliked the set-up process. Even in a small garden laying and pegging the boundary wire can take a few hours. The manual wasn't very useful in this regard. We would advise Flymo to rewrite the manual. Make it easier to read with less technical details.
Once set up and charged, it runs well and provides a good cut and doesn't need any human support. This is great if you're looking for a set and forget robotic mower.
While it's quiet, Flymo has programmed it to work for 12 hours a day. This means it doesn't operate overnight unless you manually start it. So, on average the unit provides 6 hours of daily mowing time (given it needs an hour to fully charge).
Overall we're impressed with the Flymo 1200R and it scores a strong 8/10. (read our full review)
Yard Force SA650ECO Robomower
Description
While you might not have heard of Yard Force. The American sounding brand but is actually in fact based in Yorkshire! They offer a range of mowers from electric to petrol and several robotic lawn mowers.
The Yard Force SA650ECO Robomower is powered by a Samsung Lithium-Ion Battery, which provides 60 minutes of use. As well as a short 60-minute charging cycle. And as a result, the SA650ECO has performance built-in from the start.
In terms of charging, the unit auto-docks and can self-charge. So you can leave it to get on while you enjoy your garden!
The SA650ECO navigates using a boundary wire and onboard sensors. So you will need to spend some time laying a boundary. The sensors guide the mower and ensure objects are avoided.
With a range of 650 m2, the unit can handle small and medium sized gardens easily. Plus with an adjustable cutting height of 2 to 6 cm, the Yard Force provides year-round lawn care.
Like the Flymo 1200R, the Yard Force SA650ECO doesn't collect the cut grass. Instead, it releases cuttings back on the lawn. This helps to keep the lawn fertilized and reduces the amount of TLC you need to give.
Using the onboard controls, you can set the Yard Force to automatically cut your lawn. The unit also features an anti-theft alarm for peace of mind.
Pros
28V Samsung lithium-ion 2Ah battery
Large 650 m2 range
Easily adjustable 5 cutting heights
Cons
No smart home integration or app
Conclusion
Highly affordable, the Yard Force SA650ECO Robomower is simple to use and doesn't require much intervention in order to keep working.
We don't like that there's no app or way to integrate into a smart home system. Also, setting up the SA500ECO takes a few hours as you have to lay a boundary wire. While these two points are annoying, they're hardly deal-breakers.
So what do we like about the unit? Quite a bit really. The adjustable cutting height provides 5 positions. The steel blades should last a long time and the 18 cm cutting width, means the machine can cover a sizeable area.
The Samsung Battery charges fairly quickly and is more than 50% larger than others. 8/10 (read our full review)
Honda MIIMO HRM310 Robot Mower
Description
Costing the price of a family holiday, the Honda MIIMO HRM310 Robot Mower is our most expensive mower. That said, it still provide great value for money.
It won't surprise you that a Lithon-Ion battery powers the MIIMO. What might is for a mower which can cover 2200 m2 is that it can fully charge in 30 minutes. Once charged it can run for 40 minutes.
Setting up is fairly simple. You'll need to lay the included 220-metre boundary wire. The HRM300 will automatically return to its dock for charging or when finished.
While there's no app or onboard Wi-Fi, the onboard controls are easy to understand and programme.
The 3 blades sit on a floating deck, which adjusts with the contours of your lawn. This means the overall cut is superior to other robotic lawn mowers, which don't have this technology. The cutting width is an impressive 22 cm and the cutting height can be set between 2 and 6 cm.
With a nearly silent motor, you can set the HRM310 to work day and night using one of the three cutting options. These are Random, Directional and Mixed.
The unit also features inbuilt programmes including yearly lawn care, which works hard on your lawn in the spring and summer. And then reduces its activity in autumn and winter.
While the unit won't stop for rain – a feature sorely missing at this price, the MIIMO has a superb range of safety features. The built-in sensors will guide the unit over and around objects. As well as stop it running if it lifted off the ground while in operation.
The last safety feature worth mentioning is the anti-theft alarm system – which protects your investment and makes criminals unable to use your MIIMO HRM310 once stolen.
Pros
Impressive charge to use time ratio
Built-in annual lawn care programme
Manufactured in France
Cons
No app or remote
Might require a dealer to install (additional cost)
Conclusion
If you're looking to get into robotic lawn mowers and not entirely sure, then you probably want to skip the Honda MIIMO HRM310 Robot Mower. With that said, if you have a medium to a large garden or want to replace a gardener then the MIIMO is worth the £1999 you'll pay.
What we dislike about the unit boils down to three issues. The first is a minor complaint. You might need to pay a dealer to install and set up the MIIMO HRM310. While this might cost another £200 or so, it's still a lot of money.
Since there is no rain sensor, you could find that the unit cuts wet grass, creating a built up in the blades, which requires removal by hand or damages itself by roiling through standing water.
Our third and the more major issue is the lack of control. Of course, if you're paying under £500, then only having onboard controls is to be expected. However, at £2,000, you would expect onboard Wi-Fi and an app or another way to integrate and control.
We like the overall cut and the fact it requires little ongoing maintenance. The programmes are useful and ensure the lawn is kept healthy and cut all year round.
While it will replace your gardener at a cheaper cost, in the long run, there are cheaper and better models out there. 8/10 (read our full review)
GARDENA smart SILENO city Set 500 Robomower
Description
Quite likely our second most stylish robotic lawn mower, the GARDENA smart SILENO city Set 500 is also the third most expensive on our list.
So what does slightly over a grand buy you? A smart mower which offers app control, efficient battery and detail cut on small gardens.
Let's start with the power source. The Li-Ion battery takes an hour to charge and once complete provides just over an hour of mowing time. This is very impressive yet a feature you would expect at the price.
Designed for smaller lawns of up to 500 m2, the Smart Sileno uses it's mapping feature to create efficient routes. Once planned, the onboard SensorCut Systems navigate around your garden including tight space and edges to give a complete cut.
The three wheels include a swivelling rear wheel, which aids navigation and allows the unit to turn quickly. This makes the Gardena perfect for small and narrow gardens.
In terms of cutting, 3 blades sit on the deck and this disc can be adjusted from 2 to 5 cm. This means you can adjust the cut for the season and nurture your lawn all year round.
Using built-in Wi-Fi, the mower connects with your router to allow control via an app. This means you can programme the unit to start working around your schedule. There's also onboard controls if you're looking for multiple ways to interact with it.
Also, you can wash the entire unit down with your garden hose, keeping it looking like new. Finally, there's no alarm but there is a pin code. So the unit is useless if stolen.
Pros
Multiple control method including app
Efficient battery charging
Easy to clean
Conclusion
It's stylish, can be controlled by an app, and has some cool features. However, the GARDENA smart SILENO city Set 500 is expensive for the features and area range.
Of course, if it could cover double the range and the set-up process wasn't as complex as it is then the price would make more sense. Also, it lacks in the anti-theft department, which is regrettable.
The battery efficiency is spot on and takes less time to charge than the useful time it provides. Gardena certainly gets points in this regards.
The onboard mapping software also drives efficiency and enables the mower to complete a cut quicker than if it was cutting a random pattern. Again this is a superb feature.
As you can wash it down with a hose, it's easy to clean and keep looking near new.
In conclusion, we would love to score it higher but this Gardena smart Sileno lacks in a few major areas. 8/10 (read our full review)
Robomow RX12u Robotic Lawn Mower
Description
As the cheapest robotic lawn mower on our list, the Robomow RX12u offers a range of useful features. It's well worth considering if you have a small garden or lawn yet require superior results!
Unlike the others we've covered so far, the battery is composed of Lead Acid. This means you could be waiting up to 20 hours, yes, 20, for the unit to fully charge. Once charged, it will run for an hour and a half to two hours.
The unit will return to dock and auto charge when finished or low on charge, however, someone has to be there to start it going.
While designed to cover up to 250m2, the Robomow RX12u works best on gardens of 150m2 or less. The unit has a cutting width of 18 cm and uses two blades. The cutting height is adjustable from 1.5 to 4.5 cm.
In terms of cut, the Robomow actually performs rather well. This is due to its small size and lightweight construction. Both of which allow the unit to navigate tight spaces.
Also aiding its navigation are two large wheels and a rear glide. This is a fairly inventive design and differs from the typical three-wheel configuration.
While it doesn't have a comprehensive anti-theft feature, it does have a child lock, which uses a pin code to block unauthorised uses.
What surprised us the most is the floating deck and multi-zone mode. The floating deck simply means the mower tracks the subtle movements in the ground level and adjusts the cutting height to overcome these differences.
The multi-zone mode is very useful on medium sized gardens and the mower can navigate between zones as long as there is a path. Again these two features are quite advanced and so you wouldn't expect them on an entry-level model.
As you usually have to assist the unit by moving it between different area, this is a valuable feature, which isn't always included in more expensive models.
Pros
Compact design
Unique drive system
Super low cutting height of 1.5cm (range of 1.5 to 4.5cm)
Cons
Charging time of 16 to 20 hours
Requires someone to start it
Conclusion
As the cheapest robotic lawn mower in our list, we didn't have high expectations for the Robomow RX12u. However, it's a good entry level unit for smaller gardens.
One feature which lets the RX12u down is the charging time. It takes between 16 and 20 hours. Yes, up to 20 hours to charge. As it's small in size, a normal Li-Ion battery doesn't fit. Hopefully, Robomow changes this in future versions.
Given its price, the controls are quite limited. While you have to start it going, the RX12u will dock and recharge automatically. As expected there's no app, control via Wi-Fi or remote.
Taking all of this into considerating, the Robomow RX12u is suitable if you're looking for your first robomowers or if you have a small garden as it should tackle it in one charge. That said, it will struggle to mow larger lawns in a single charge and could and up taking a weekend to complete the task. 7/10 (read our full review)
WORX Landroid WR105SI Robotic Mower
Description
What excites us about the WORX Landroid WR105SI, is the unique placement of the blade, the dual action cut and onboard Wi-Fi.
Unlike most robotic lawn mowers, the blades on the WR105SI are located to one side. This means you get a closer cut as the unit can navigate under hedges and near to borders or fencing.
While you might expect this feature would reduce the cutting width, it doesn't. At 18 cm, the cutting width is comparable to most models on the market.
The three blade cutting wheel can be adjusted from 2cm to 6cm and therefore provides options for every season of lawn care. The blades cut grass into tiny pieces which are then left on the ground, creating natural fertilizer for the lawn.
You can easily control the WR105SI using the WORX app via Wi-Fi. Plus thanks to the onboard programmable timer, you can set a weekly mowing schedule.
Looking under the hood for a moment, a Li-Ion battery power the unit and fully charges in an hour and a half. Once charged, it provides just over an hour (60 to 80 minutes) of mowing time. As you'd expect the WR105SI will return back to its dock when finished or running low on battery.
AIA (Artificial Intelligence Algorithm) technology paired with a boundary wire means the WR105SI can navigate both single and multiple zones with its unique cutting pattern. While the onboard rain detector, ensure the unit isn't damaged during a downpour and returns to the dock until the grass is dry enough to restart.
Pros
App control via built-in Wi-Fi
Great charging time to use ratio
Unique cutting system using side mounted blades
Cons
Offset blades increases sensitivity to small dips
Some users have issues with app
Conclusion
The WORX Landroid WR105SI should conquer small gardens in one charge. With medium size lawns being completed after a charging break in the middle.
We like the offset blades and while some have reported that this can cause issues on uneven ground, the WR105SI is more than capable of dealing with micro changes in terrain.
The biggest downside to this WORX seems to be the technology. Some users have had issues trying to register and therefore can't download the app. When they have installed the app, they have to stand very close to the unit to get it to communicate. Not great.
The charging to use ratio is very good with a 90 minutes charge powering the unit for 80 minutes. That said, as there are issues with the app, we would recommend looking at other units. 7/10
Bosch Indego S+ 350 Connect Robomower
Description
As Bosch is a long stay in the consumer DIY electronic business, it makes sense for them to release a robotic lawn mower. Introducing the Bosch Indego S+ 350 Connect, this robomower sits comfortably in the middle of our price range.
An 18V Lithium-ion battery powers the Indego S+ 350 and after a 45-minute charge, it runs for 30 minutes. This means it's very efficient when compared to other models in our list. And as you'd expect, the unit automatically docks and charges when it needs to.
Using 3 pivoting blades, the Indego S+ 350 delivers a cutting width of 19 cm. This is slightly bigger than other similarly priced models. There are 3 height setting available and range between 3 and 5 cm. With a recommended area up to 350 m², the Indego S+ 350 is perfect for small and medium-sized gardens.
If that all seems pretty standard, then hopefully the onboard technology will excite you. Once the boundary wire is installed, the Indego S+ 350 will map the area, assessing the ebb and flow of the lawn, as well as obstacles it will have to navigate.
Once mapped, the AUTO Calendar Function allows comfortable scheduling of mowing times. You can also control the mower via an app.
Using Bosch's Logicut technology, the Indego S+ will calculate the most efficient route to mow. As well as remembering where it has already cut. This technology also creates different mowing paths each time, and so reduces stress on the lawn. As it mulches as it goes, your lawn will be naturally fertilized by the cuttings.
Finally, there's a superb anti-theft system, which includes a PIN and alarm. Both make it useless if ever stolen.
Pros
Built for App control
Unique onboard technology including "Logicut"
Efficient charging system
Cons
Doesn't perform well on slopes over 10%
Some have issues getting the unit recharge
Conclusion
While the overall online real user reviews are fairly downbeat on the Bosch Indego S+ 350 Connect, we like some of it's unique features. There's little we dislike about the unit. Although reports of charging issues concern us.
We like the cut especially as the onboard technology is unique. Not only does the Indego S+ 350 map your lawn, but it also makes sure it uses different paths on each mow.
The app enables control from anywhere in the world or from your sofa! Again this is a nice touch.
There are only 3 cutting heights, which is a bit disappointing, especially seen as they only cover 3,4,5 cms. This means you might struggle in autumn when you want a higher cut in order to protect from frostbite.
All in all, Bosch Indego S+ 350 Connect has some unique features. However, the reported charging issue concern us. 7/10 (read our full review)
vidaXL Lawn Mower Robot Garage
If you're planning to spend hundreds or thousands on a robotic lawn mower then you also want to invest in a garage. And while you can do down the DIY route, the vidaXL is affordable, stylish and will protect your robomower from theft and the weather.
The metal frame forms a stable and secure base, which can be anchored into the ground. Whereas the durable roof will protect your robot and it's charging dock from the elements.
Regardless of what robotic lawn mower you end up buying, it worth ensuring it can fit comfortably in a garage before buying it. So measuring tapes at the ready.
What's the best robotic lawn mower?
We'll start with our usually tech disclaimer. If you're not entirely sold on the concept of robotic lawn mowers, then either start a cheaper one or try to borrow one. It's worth doing your own research and buying the unit you consider to be the best robotic lawn mower.
Overall, you will have a lengthy set-up, which involves is laying and pegging a boundary wire. You'll also need to trouble shoot this wire before being able to run your robomower.
Firstly we would avoid the Robomow RX12U completely. Well, until they sort out the battery. If you like to watch paint dry then you'll have fun watching the Robomow RX12U charge for up to 20 hours.
For small to medium sizes gardens we recommend the Flymo 1200R. It's affordable, works like you'd expect a Flymo too and is quiet.
Should you have a bigger budget then we don't think you can go wrong with the Mcculloch ROB R600. This unit impressed us with its battery efficiency and ease of use.
If you've got money to burn or a large garden and are looking forthe best robotic lawn mower, then the WORX WG798E L Landroid won't disappoint.