Miele CM6150 bean-to-cup coffee machine review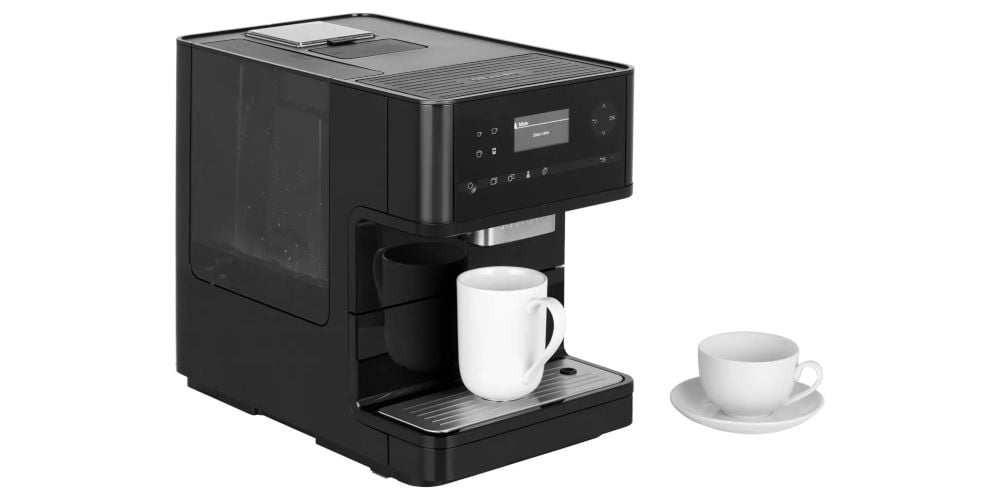 Enjoy barista-style coffee at the touch of a button with the Miele CM6150 bean-to-cup coffee machine. Beneath it's compact and sleek Obsidian Black case is a powerful machine capable of creating a variety of speciality coffees.
As a bean to cup coffee machine, at the heart of the Miele CM6150 is a stainless steel conical grinding mill which grinds each bean evenly to preserve its full aroma. If you prefer, you can bypass the grinder and use ground coffee.
Ground coffee mixes with water in the brew chamber, allowing the coffee aroma to unfold, for a full-flavour experience. A removable yet hidden 1.8-litre water tank supplies the machine. The special mixing formula is designed to deliver an intense aroma with fewer bitter tones.
While you can create coffees and other drinks at will, the 10 user profiles allow you to store and recall drinks at the touch of a button. Depending on how you like your coffee, you can adjust every step in the process from the number of beans, brewing temperature and volume of water.
For the first coffee of the day or if you're in a rush, the OneTouch system allows you to produce two delicious coffees simultaneously at the touch of a button.
A hidden milk wand makes texturized milk for Cappuccino, flat whites and lattes is easy, yet can be safely pushed out the way when not required.
Many parts of the Miele CM6150 can be easily removed for cleaning and are dishwasher safe, allowing you to quickly maintain the machine and ensure peak performance. And as a Miele machine, it's built to stand the test of time in your home.
As one of the best bean-to-cup coffee machines currently available, the Miele CM6150 scores 9/10.
Pros
Stainless steel conical grinding mill
1.8-litre water tank
LCD touch screen
Cons
Difficult to clean
Milk jug sold separately
Design
At first glance, it's hard not to be impressed by the design of the Miele CM6150 bean-to-cup coffee machine. The sleek, glossy Obsidian Black finish is pleasing to the eye. Plus its compact footprint of 25 cm (w) by 43 cm (d) by 36 cm (h), means it slots on the kitchen worktop with ease.
The excellent design includes many removable parts that make cleaning ease and allow you to maintain top performance.
Starting on top of the unit, to the rear left is a large, 1.8-litre water tank, which is cleverly hidden yet easily removed. It holds enough water for around ten drinks.
To the right of the water tank is the coffee bean container, which has a capacity of 300 g and ground coffee chute. Use either to quickly add more coffee to the machine.
Toward the front of the CM6150 is a place to store a couple of coffee cups or espresso glasses. Unlike other available Miele models, this area is unheated.
The right-hand-side panel is easily removable and reveals the Brew unit (which is dishwasher safe), grinder setting and a slot for the milk pipework.
Finally, the front, which has a large control panel at the top with LCD display. This section includes buttons for power on/off, drink selection, menu options and a button for easy access to the ten user profiles.
Below the controls, sits the central spout with integrated cappuccinatore. The bottom contains a drip tray with lid and waste container and there is also a milk tube aperture.
Features
As a bean-to-cup machine, take control of the entire process and ensure you only drink fresh coffee. The built-in stainless steel conical grinding mill grinds each bean evenly to preserve its full aroma.
If you'd prefer to use ground coffee, then the coffee chute allows you to skip the grinder yet still produce an excellent quality brew.
Regardless of the starting point, the dynamic AromaticSystem brew chamber mixes the coffee and water thoroughly by expanding during the brewing process. This unique system ensures an intense aroma with fewer bitter tones.
It's simple to produce a variety of coffees, thanks to the onboard list of automatic programmes, all of which are customisable. Easily create creamy lattes, powerful espressos, plus an array of teas and hot chocolates.
In addition to the basic preset drinks types, easily configure and store ten user presets. These allow you to consistently make drinks exactly to your standards with the simple push of a button.
As you shouldn't have to wait long for your coffee, the built-in OneTouch for Two feature produces two drinks at once at the touch of a single button. Not only does this cut down the preparation time, but allows you more time to relax with a drink in hand.
Easily prepare hot milk or milk froth thanks to the Cappuccinatore, which allows you to quickly texturize milk for a variety of coffees and hot drinks.
A clean machine is one that operates at peak performance. Many parts of the Miele CM6150 are dishwasher safe and are easily removed for cleaning. After making a drink, the machine will automatically Rinse, ensuring any coffee residue is removed.
As an eco-friendly appliance, the Miele CM6150 turns itself off automatically in the evening or when it hasn't been used for a while, saving your energy bills.
Set-up
Getting your Miele CM6150 bean-to-cup coffee machine ready to use is quite simple. After unpacking the unit and placing it in a suitable location, you'll need to remove and fill the water tank. Next, add some roast coffee beans to the bean container.
When turning the machine on for the first time, you'll need to set the language, country and time. With these basic settings in place, your Miele CM6150 will heat up and rinse the pipework. The central spout will also release some water. You'll need to wash the milk pipework yourself.
You'll need to adjust the water hardness level to match your water supply. The machine has four programmable levels and arrives pre-set for hard water. Your water's hardness impacts how efficient your Miele CM6150 is, the quality of coffee produced and how often it needs to be descaled.
Next, adjust the central spout to suit the height of the cup you plan to use. Thankfully, this is easy, allowing you to adjust the central spout to different cup sizes quickly.
Next, you're ready to test the machine. Start by selecting an espresso and allow the machine time to produce one. You'll notice after it has created the drink, it will flush hot water through the system, keeping the unit clean.
Using this first coffee, you can start to tweak how your Miele CM6150 creates drinks including how fine the beans are ground, how much beans are used per drink, the volume of water and the water boil temperature. After finding the ideal combination, it's worth saving them to a user preset.
Performance
As a coffee aficionado, you'll know exactly how you like your coffee. And while mastering the basic operation of the Miele CM6150 is fairly straight forward, you'll need to invest time in to tweak it for the best results. It may take up to four coffees for you to find the ideal settings.
That's not to say that out of the box it doesn't produce good coffee, because it does. However, with plenty of adjustable settings, you'll want to tweak how it grinds your chosen beans, the amount of water it uses per coffee or the water temperature.
If you're unsure how to get the best results from your Miele CM6150 or how to correctly texturize milk, then there's plenty of YouTube videos of professional teaching you how.
After some experimenting, it's worth saving a preset or two. Doing so will allow you to able to enjoy consistently good coffee without having to remember various settings. User presets also enable you to make your favourite drinks by clicking a single button.
It's also worth trying the OneTouch for Two especially if you like to share a coffee with a friend or loved one, or simply need dual morning espressos to wake you up!
A downside to any bean-to-cup machine, including this Miele CM6150, is keeping it clean. Thankfully, it does flush hot water through the system after producing a drink. The system also monitors when it next due for descaling and when the brew unit needs degreasing.
It's worth pointing out that Miele recommends changing the water every day. Since the machine doesn't monitor the water level or the amount of beans level in the container, you'll need to check it periodically.
Is the Miele CM6150 worth buying?
If you're looking for a superb all-round bean-to-cup coffee machine and want to invest in a quality unit, then you should seriously consider the Miele CM6150.
It does have a few negatives that are easily overlooked, including a lack of notifications for low water and empty bean container. Also, the location of the water tank means you'll need plenty of space above to remove it. Sadly, you can't put it on a worktop with cupboards above.
Putting those to one side, as far as coffee machines go, the Miele CM6150 is easy to operate and programme. You'll enjoy being able to easily save and recall preset, create two drinks at the same time and use the eco-friendly option to keep your bills down.
As a highly configurable machine, the learning curve is steep. It'll take quite a bit of trial and error before you can enjoy coffee made to your preference. However, once you've mastered making coffee and texturizing milk, you can appreciate barista-quality coffee at home for a fraction of coffee shop price.
Keeping the machine performing it best does take a bit of work despite its auto self-cleaning, again, that's to be expected from any bean-to-cup coffee machine.
If you have the budget and want to buy the best quality bean-to-cup machine, then you should consider the Miele CM6150 bean-to-cup coffee machine. 9/10